The desert is where Chile really came into its own for me. Our aim was to go sandboarding during the day and star-gazing at night-time, taking in Atacama's legendarily clear skies.
After a 24 hour bus ride from Santiago, we arrived, tired and in need of a nutritious meal after the copious crisps and cheese snacks we'd eaten during the journey. Our ears had popped and bottles had pressurised during the journey due to the increasing altitude. Luckily we turned up at a very chilled, laid back and stylish hostel in the town of San Pedro, in the middle of the Atacama desert – said to be the world's driest – and found a great café to replenish and revive our bones.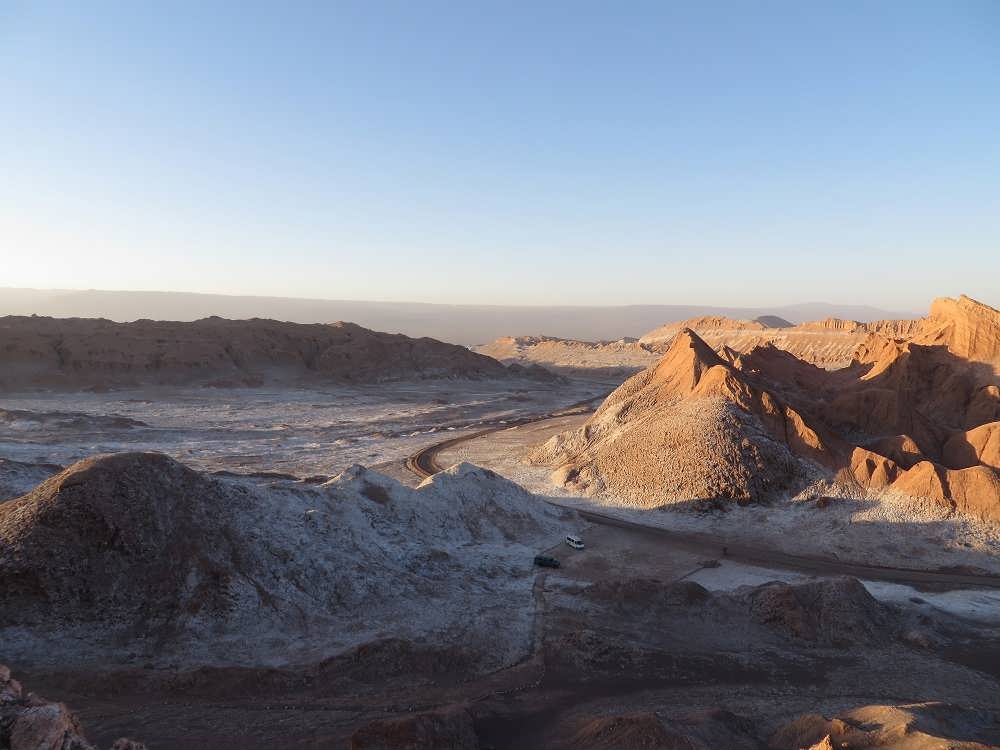 After visiting some of the many tour operators in San Pedro, we opted for a star-gazing trip that evening, run by a local company that has its own mini-observatory, complete with one of the country's largest telescopes. Our host was knowledgeable and a great storyteller, clearly passionate about astronomy from a human perspective as well as scientific. He led us into the backyard where he used a powerful laser to point out various constellations. The sky was so vast with twinkling stars as far as the eye could see and the moon beamed like a torch.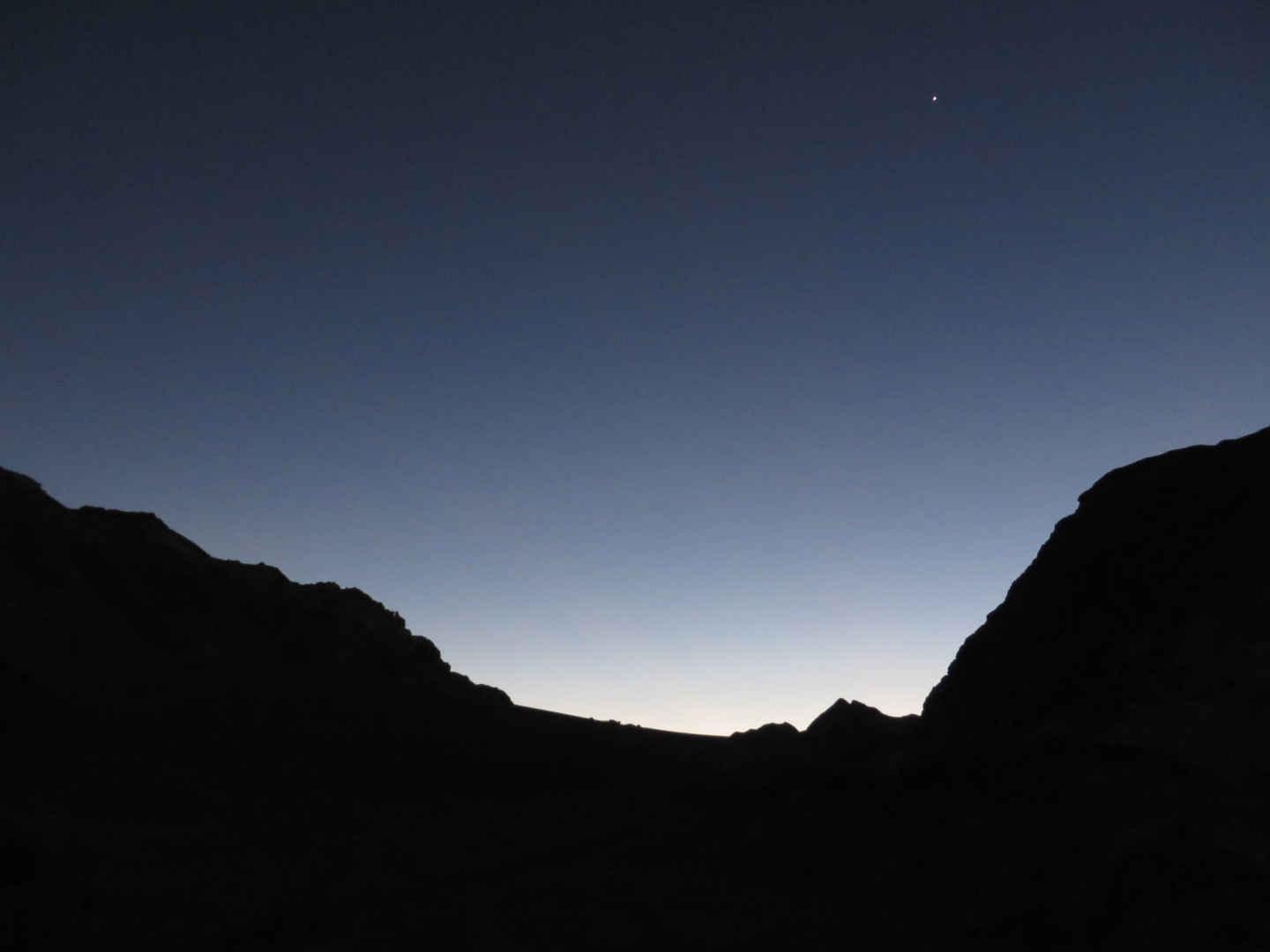 Then we entered the observatory. Here we were invited to peer into the telescope to see some of the constellations up close. It was incredible. One star that we could see with the naked eye, under the telescope's magnification – more than 180 times – revealed itself to actually be a cluster of twinkling stars. Another was a pair of stars orbiting each other in a flirtatious galactic dance, each emitting a beautiful blue and yellow glow. I was lucky enough to see a shooting star fly past as I looked through the telescope's lens. More stars were pointed out, each more stunning than the last, some as radiant and glittering as diamonds. When each of us took our turn using the huge cannon-sized telescope, there were gasps of delight as we realised what we were seeing. An awe-inspiring experience.
The next day we were booked onto a trip to go sandboarding and visit the Valley de la Luna.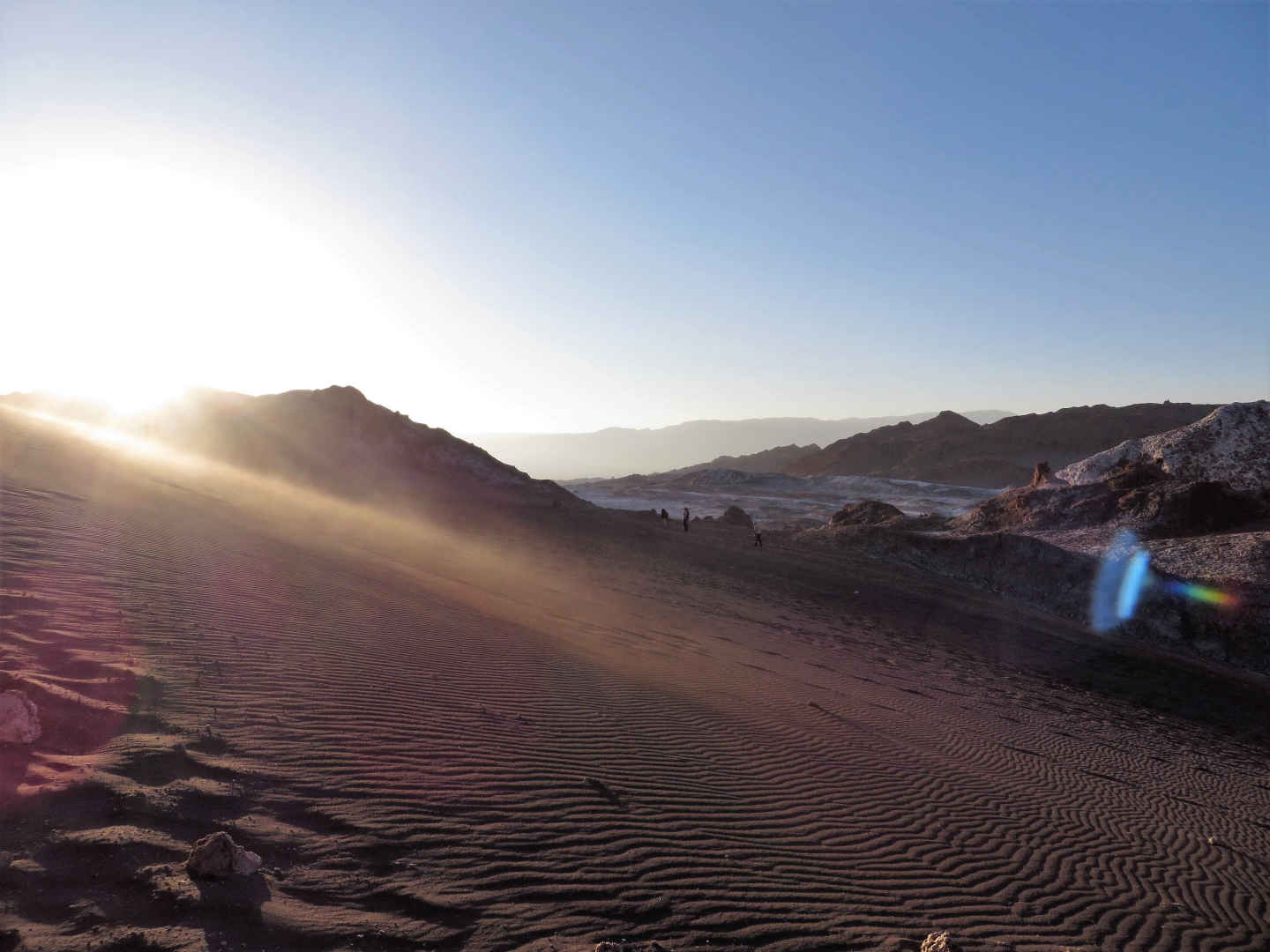 With my sandboarding boots, I trudged up the sand dune in the afternoon heat and fixed them to the newly waxed board. After a short tuition from our guide, I propelled myself down what seemed like an intimidatingly steep slope. I steadily gained speed and, after a couple of strategic falls into the soft sand, soon found myself really enjoying it. If I get the opportunity to try this brilliant sport again I will have to hone my skills, though the instructor was happy with my control of the board. I'm clearly a natural.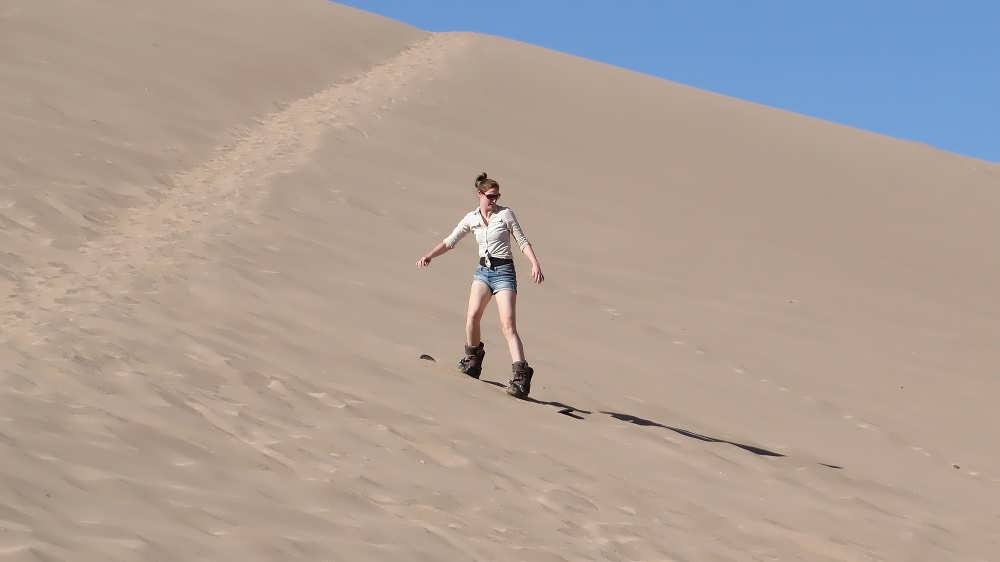 After the excitement of the boarding, we got back on the bus. Our next stop was the salt caves, which we squeezed through, discovering walls covered in salt stalagmite-type scales, which made twinkly musical note sounds when stroked gently with your fingers.
Then we entered deep into the Valley de la Luna. Named because of the landscape's resemblance of the moon's surface, it was beautifully desolate with mile-wide craters and a amphitheatre naturally created from the rock worn by the elements over thousands of years.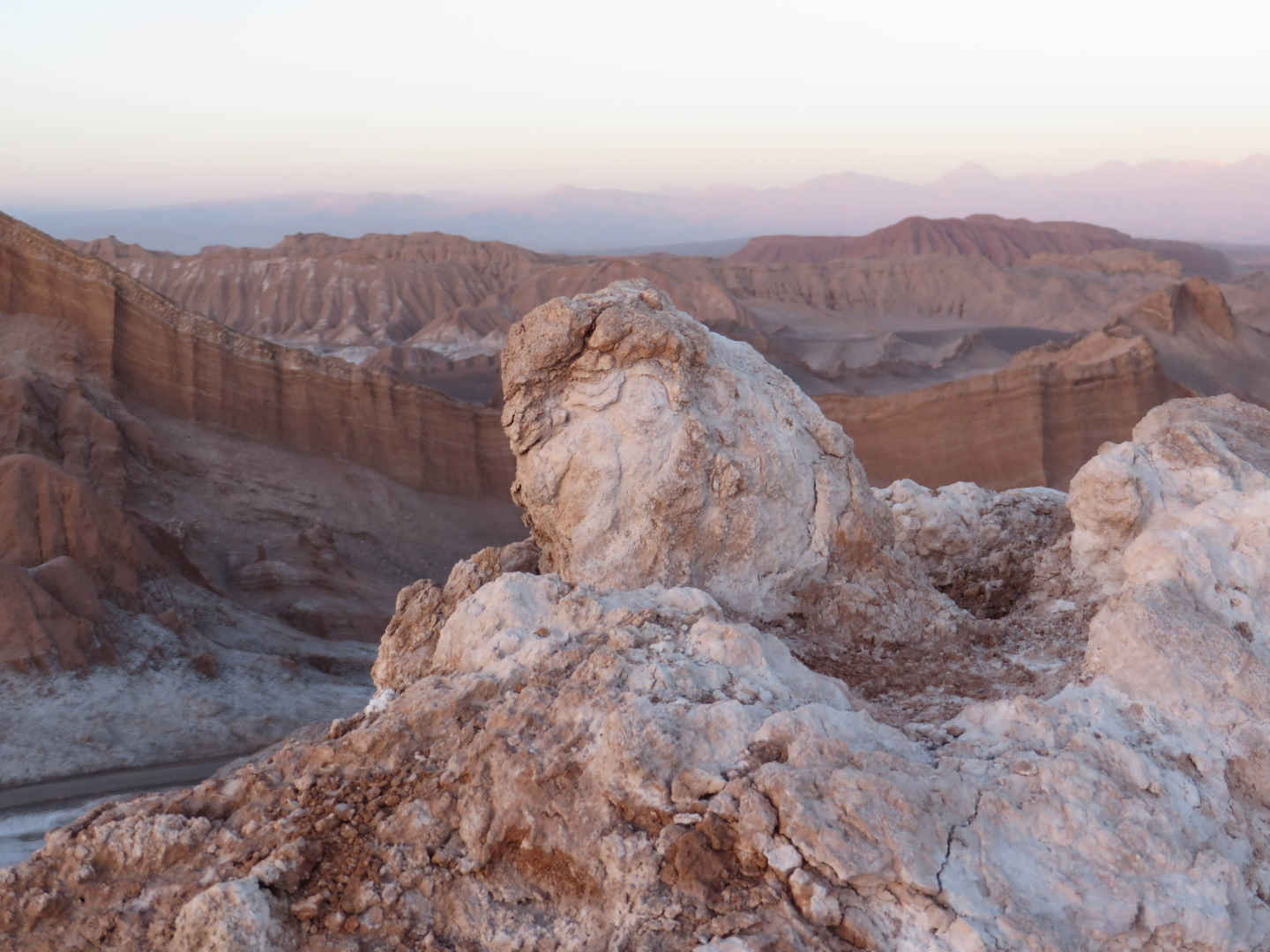 We started making our way up one of the mountains. Many tours are known to visit the same places in Valley de la Luna, resulting in crowds of people, which must lessen the impact of this unique place.  Our tour guide goes a different route.While my trainers weren't ideal for gripping on the loose sand and parched rock, slipping in places, I made it to the summit. Here we took photos and watched the sun go down, sipping pisco sour while our guide shared the mythological tales of the mountains.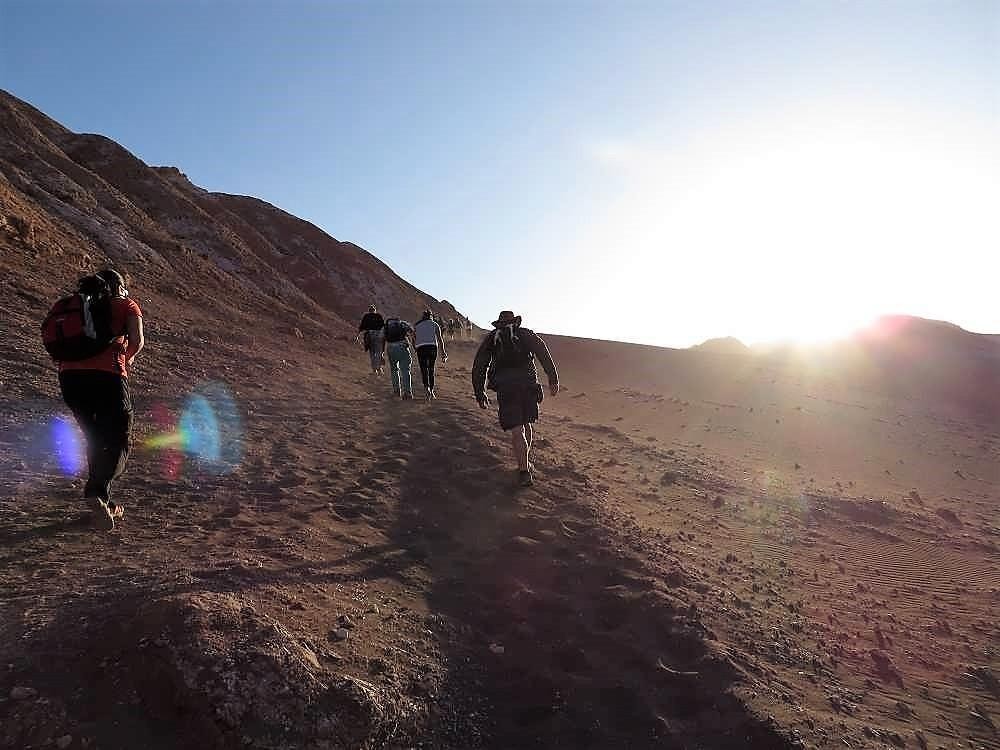 There is so much more to see at San Pedro that we didn't have time to explore – lagoons so salty you can float in them, spurting geysers, rare rock formations and a variety of flamingos. I'm gutted I didn't get to see these awesome birds in the wild. We even spotted a yoga trip to one of the lagoons. Sitting beside a serene blue lake in the mountainous desert while practising yoga sounds blissful to me.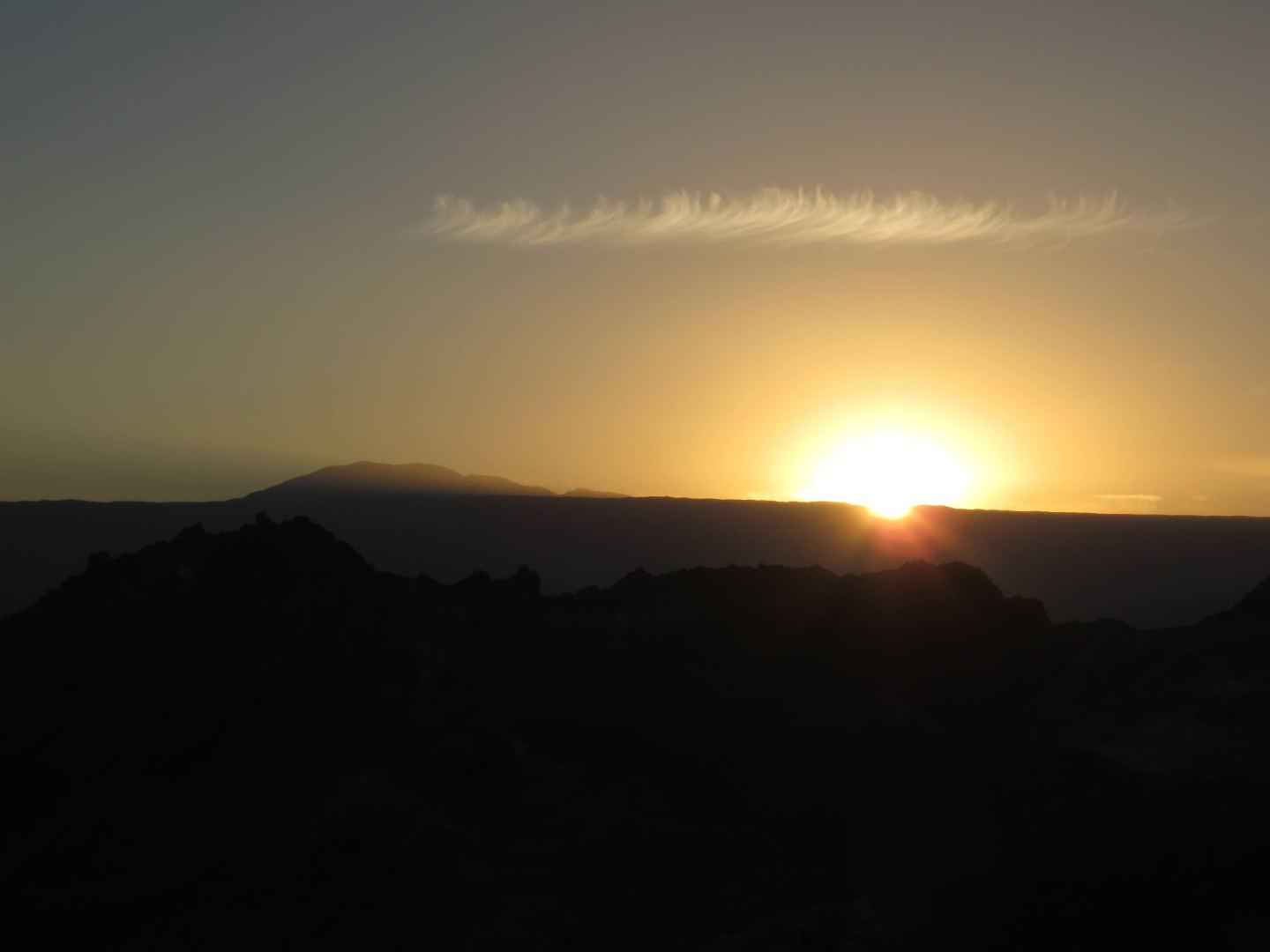 It is said that if you eat mango in the Atacama desert that it is destined that you will return. While I didn't taste any of this deliciously tempting fruit, I may well still be compelled to come back to this special place.