As soon as I arrived in Ubud, it had me spellbound into a blissful feeling of relaxation and reflection. This is the place to experience Eat Pray Love in Bali.
Situated in the heart of the island, there may be no beach here, but the town – recently made famous by Elizabeth Gilbert's phenomenally popular memoir is surrounded by rolling green rice paddies and jungle foliage. For nature fans like me who want to feel like you're in the movie Eat Pray Love in Bali, you won't be disappointed.
I probably shouldn't admit this, but I actually liked the movie version of Eat Pray Love and the way it evoked the richness of the colours, tastes, sounds and textures of each of the locations she visited. But then I am a sucker for a good, no-brain-required chick flick, and I liked Julia Roberts' portrayal of Gilbert. I'm still hoping to bump into Javier Bardem here in Bali so he can whisk me off on his boat to a romantic island hideaway. Yeah, I definitely shouldn't have admitted this bit.
Where was I? Oh yes. Arriving on my birthday, I was lucky enough to find a real gem of an guest house on Airbnb, located just south of the centre of Ubud and close to Yoga Barn, a yoga, movement and healing centre I was keen to check out during my Ubud backpacking trip.
With colourful, beautifully-styled furnishings, a stunning outside bathroom – including a bath (bliss!)  – and freshly prepared organic breakfasts, it was a real treat to enjoy some 'me' time here, after weeks of shared accommodation of varying standards. As well as being easy on the eye, this place was meticulously clean, with towels, toilet paper, hand soap and other such luxuries – what a joy.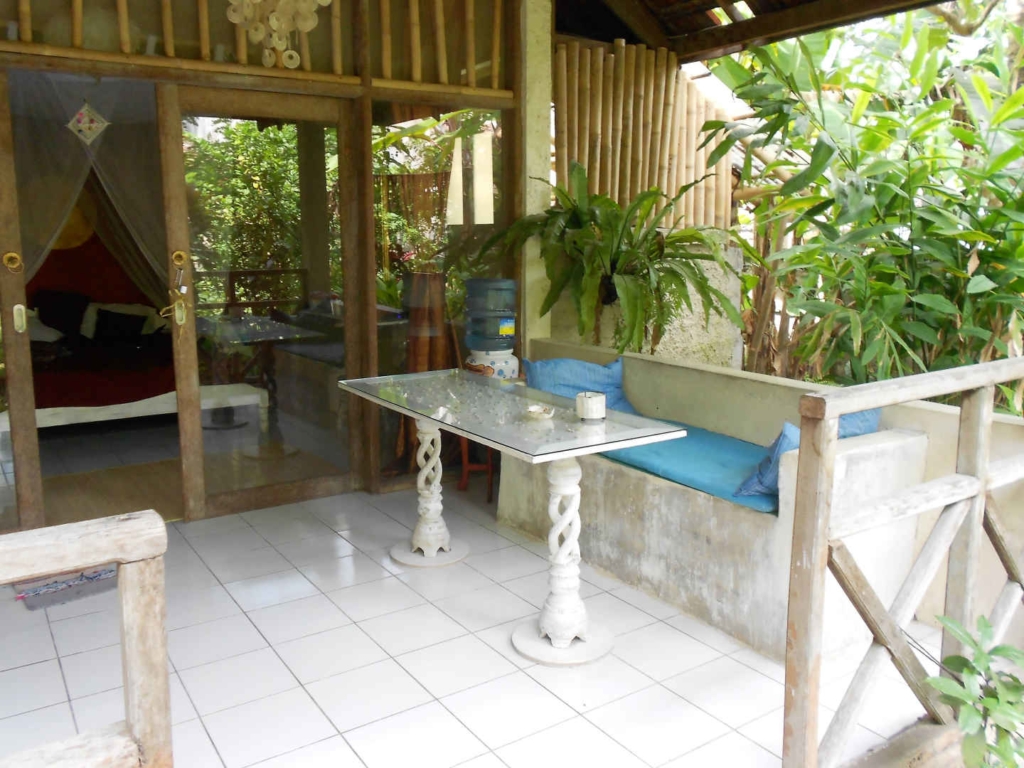 After a few weeks of travelling around by plane, boat, train and bus, I was ready to stop for a while. And this I did. Indulging in the 'eat' part of my Bali Eat Pray Love experience, I stuck to the nearest places to eat in the neighbourhood – great little Mexican and Italian restaurants, before exploring more restaurants in town. I did venture out for a group cycling tour, bike rides to see the local sites, take classes at Yoga Barn and drinks with new friends, but mostly I just took time to soak up the laid back Ubud lifestyle.
Unfortunately due to other people's advance bookings (how rude) I needed to move on somewhere else, but it gave me the opportunity to stay at traditional family homestays in the heart of Ubud, where all the cute cafés and tempting shops are. Most come with breakfast included – typically copious amounts of tea, served with banana pancake and tropical fruit salad. And occasionally a rabbit would hop by in the garden as you dine.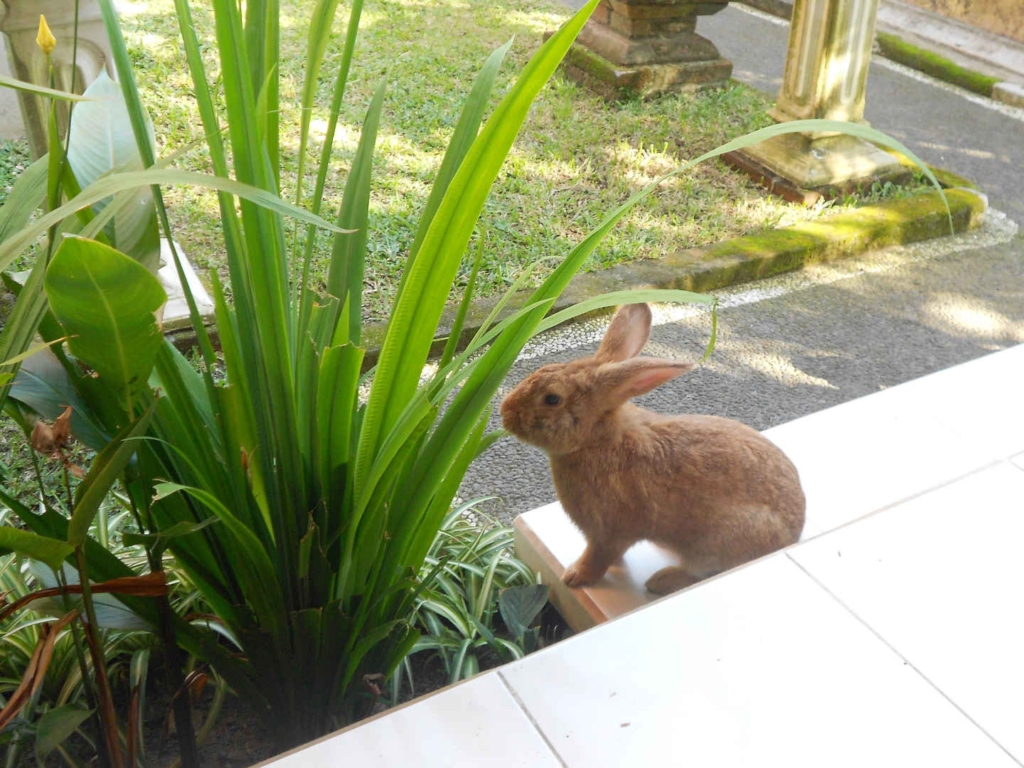 After a while, I tired of being in the hustle and bustle of town and craved the quiet life again. After a tip-off from a local, I found a stylish new-build, a short walk to the south of Ubud, and overlooking a rice field. With monochrome detailing, a wet room and even its own little kitchen, it is a serene hideaway where I can hear the birds calling and the wind blowing through the trees. Here is the view from my terrace.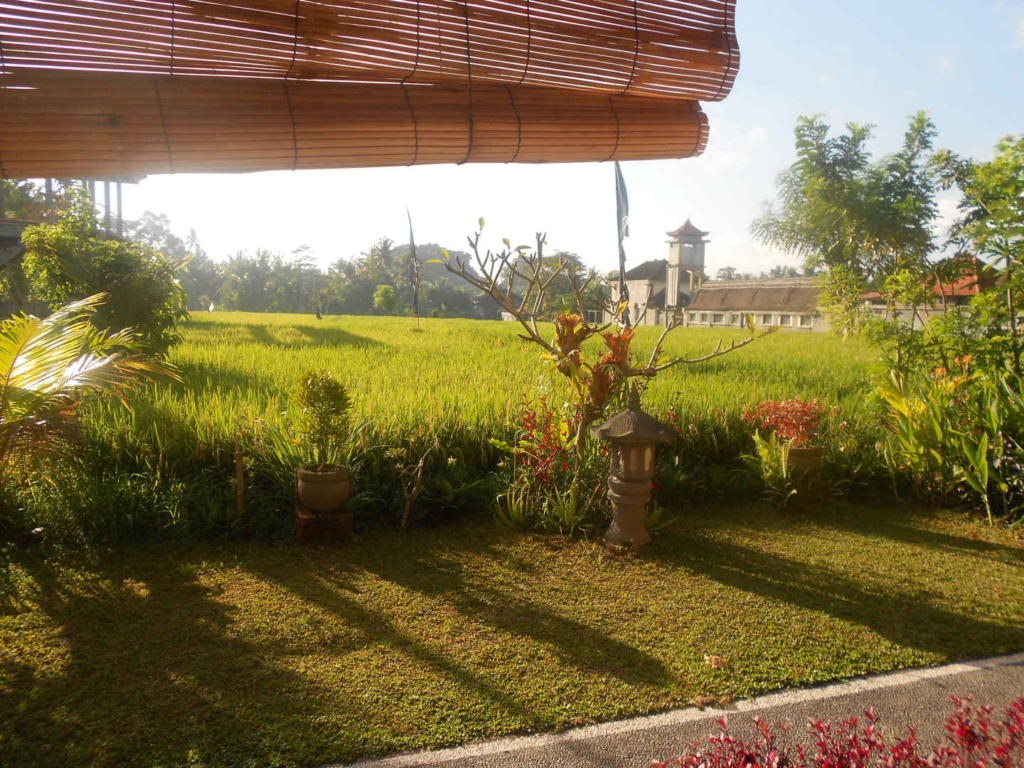 I think I'm going to just sit and enjoy it, with another cup of tea.
Now, read about the activities to that will make you fall in love with Bali backpacking, here.