Do you know the feeling when you've planned a big trip, been excited for ages, then at the airport you suddenly feel reticent and don't want to say goodbye? This is how I felt two years ago this week, when I packed my backpack for a round the world adventure, starting with a flight to India. By myself. All alone.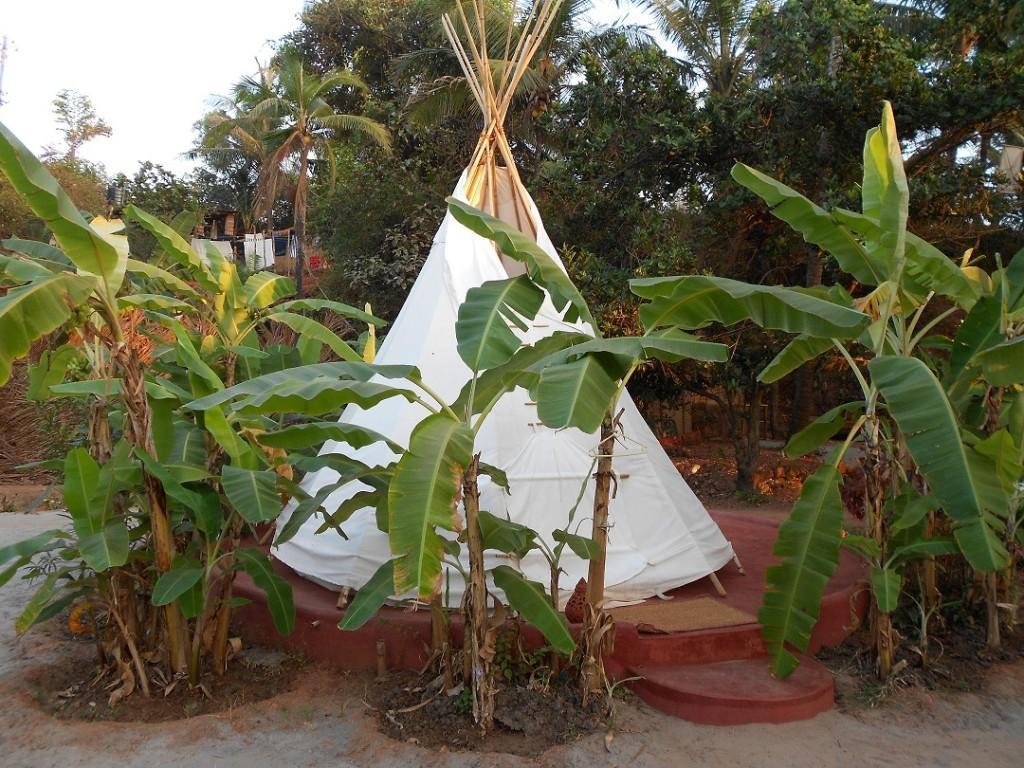 Why the photo of the tipi? Because this would be my first night's accommodation. No fancy hotel for me. So, back at Heathrow airport in London, my lovely parents were waving me off for my extended travels, which would last for, what? Eight months? A year? Longer? I really didn't know.
All of a sudden, flying by myself to Mumbai seemed like the craziest thing anyone could do. It's India! Land of hustle and bustle and dirt and frenetic energy. I was preparing myself for a culture shock. Thankfully, on the plane I sat next to a sweet guy from London, who was travelling to India to attend a wedding with his boyfriend. We ended up watching the same romantic chick flick on the in-flight movie system and chuckled along together. Maybe this trip wouldn't be so scary after all.
My resort in Goa, Yogagypsys, organised for a taxi for me on arrival at the airport, after my connecting flight from Mumbai. While it was probably more expensive than a government taxi, it made things easier, as I didn't have to have to deal with the taxi reps hustling for my attention – just find my driver, Krishna. As he drove me past all the beach resorts, I smiled, as I realised I felt no culture shock.
Arriving at Yogagypsys, next to Ashvem beach, I found a charming little resort in an attractive jungle setting. Having given up up my London flat, one of their Native American tipis would be my home for the next few days.
I would get to share meals with the other guests. Enjoy invigorating sunrise yoga on the beach and again at sunset, with a relaxing class on the candlelit yoga platform.
I would even meet the legendary Rocky the Rooster.
At night, as I looked up from my bed, through the hole in the tipi's roof, I felt calm and relaxed. I was here. Everything was good. The weather was warm. and sunny – totally different from the wintry British weather I'd left behind.
Despite my fears, I wouldn't be alone for long. In fact, I was enjoying my own company. There was no looking back. Even though I felt residual anxiety, I was so happy to have made this journey.