If you're interested in backpacking Portugal, this article is for you. Last year, Portugal was named the world's leading destination in the World Travel Awards, for the fourth year in a row. This is thanks to the perfect Portugal beaches and charming cities, such as Lisbon and Porto. But unlike other European destinations, in Portugal it can still feel like you're stumbling across a secret. Here, you can still discover hidden island escapes and wander along quiet cobbled lanes.
I've explored this country twice in recent years, staying in some of the best places to visit in Portugal along the way. Read on to discover my guide to backpacking Portugal and find out how to create your perfect Portugal trip.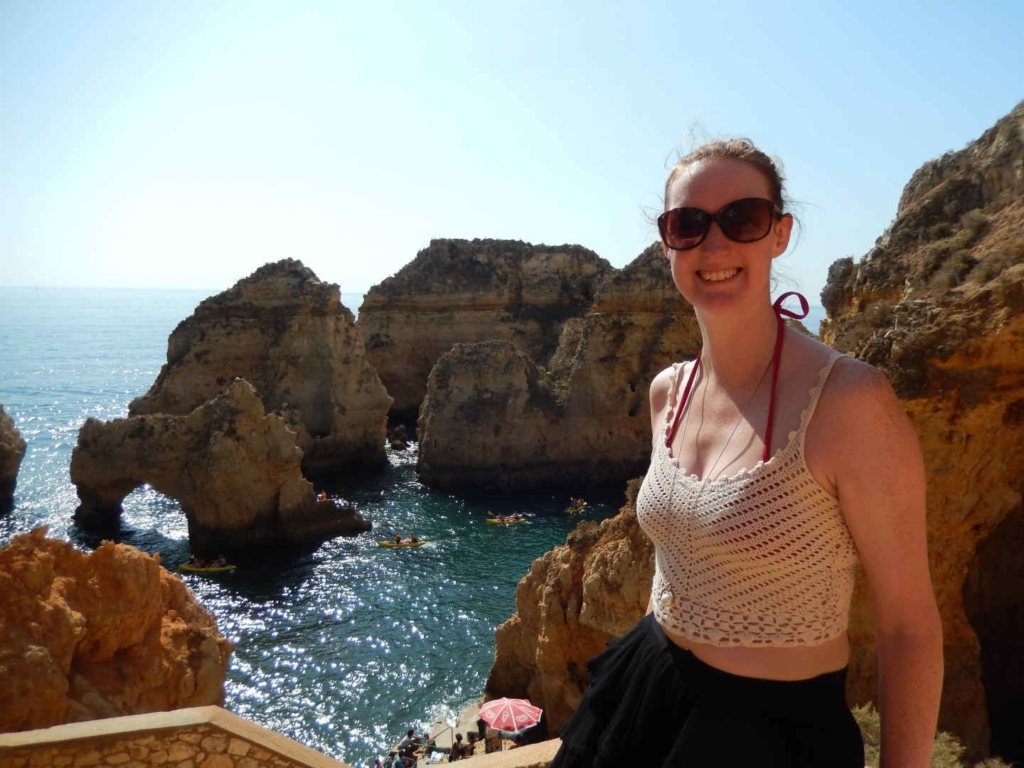 This post may contain affiliate links. That means, if you make a purchase, I may receive a small commission. As an Amazon Associate I earn from qualifying purchases. For more information, read my disclaimer.
Where are the best destinations for backpacking Portugal?
Portugal is a backpacker's dream. People backpacking Portugal can find many fantastic hostels in the cities of Lisbon and Porto, as well as exploring the cute coastal towns and gorgeous beaches along the Algarve.
The weather is warm, the food is delicious, the people are friendly and it's safe for solo travellers. Also, for a western European backpacking destination, it isn't too expensive. Read on to find out how much you can expect to pay per day.
How much does backpacking Portugal cost?
So how much money will you need for a backpacking Portugal budget? Here I will break down the costs of my solo Portugal trip.
My accommodation was an average of just over €70 a day for private rooms in guest houses, but you could easily spend around €20-25 in your daily backpacking Portugal budget if you stay in hostel dorm rooms.
I spent around €45 a day for food, transport and sightseeing expenses on my solo travel Portugal itinerary.
Tipping in Portugal isn't obligatory, but feel free to round up your bill in a café or restaurant.
Planning your backpacking Portugal travel itinerary
Portugal has three international airports: Lisbon, Porto and Faro. If visiting the Algarve is on your agenda, why not book your flight to Faro airport and start your backpacking Portugal itinerary with its sunny southern beaches. Read on to find out all about the Algarve.
Buy the Lonely Planet Portugal travel guide book to help you prepare for your trip.
The Algarve
When planning your backpacking Portugal route, you must not miss the Algarve, the naturally beautiful region along Portugal's south coast. It has long been one of the most popular places to go in Portugal thanks to its outrageously beautiful beaches, unique rocky outcrops, tasty seafood and balmy weather. So take some time for a little Algarve backpacking to explore what it has to offer – I recommend allowing around a week.
The Algarve has a fascinating history: since the Stone Age, it has been invaded by both the Romans and the Moors, and you can still see their influences, especially in the architecture. Its Moorish rulers named the region Al-Gharb in Arabic, meaning 'the West', as it is Europe's westernmost point.
Budget travel on an Algarve backpacking trip is easy, thanks to the region's affordable public train and bus services along the coast.
Faro
As it is the capital of the Algarve, you can find many budget flights to Faro airport from across Europe. Many people arrive at the airport and immediately leave for one of the main Portugal destinations along the Algarve, such as Lagos. However, if you stay in Faro for a night or two you will be pleasantly surprised. It's easy to catch the bus into town, which only costs just over €2 one way.
The funkiest hostels in Faro
You will be pleased to know that backpacking Faro accommodation includes a range of friendly hostels.
If you're keen to be beachfront from the moment you arrive, the top-rated WAX Hostel is for you. Located right on Faro beach, it has a sun terrace, an on-site restaurant and bar, and relaxing views across the sea.
In the heart of Faro is the stylish Alameda Hostel, which offers a buffet breakfast, rental bikes and an incredible rooftop terrace and bar. Alternatively, check out the cool Casa da Madalena Backpackers Hostel which has a shared kitchen where you can save money by preparing your own meals. Meanwhile, the Hostel A Casa da Árvore also has a shared lounge and free WiFi.
Check out the latest deals on all the best Faro accommodation.
Discover Faro's secret paradise island
The highlight of staying Faro is to visit a nearby uninhabited island, which is a real hidden gem. Called Ilha da Barretta, it is known by locals as Ilha Deserta, meaning 'deserted island'.
At only four miles (7 km) long, this isolated island is continental Portugal's southernmost point. A walk around this island is one of the most peaceful hiking trails in the Algarve. You will be exposed to the elements and there are no shops, so make sure you bring sun protection and water. The only building on the island is a solar-powered organic restaurant and bar called Estaminé.
Otherwise, you can simply rent one of the blissful sunbeds on Ilha Deserta's pristine sandy beaches. Lay back, listen to the waves and read a good book with hardly another soul around.
You can reach Ilha Deserta from a small boat terminal right next to Faro Old Town, called Porta Nova Pier. From here you can catch a regular daily ferry (€10 return) or a speed boat (€20 return) to the island.
Save time and book your boat trip to Ilha Deserta in advance online.
Faro's small but fabulous Old Town
Faro is tiny so you can easily explore it on foot. One thing you will notice is the area's colourful buildings, flowers and fruit trees.
Take a walk to the picturesque historic centre and see the neoclassical Arco da Vila archway. Leading to Faro Old Town, it is located on the site of an original Moorish gated wall. If you look up, you can see storks perching in their giant nests on the top.
Inside the old quarter is the 13th century Faro Cathedral and the Municipal Museum, a converted 16th-century convent, which showcases historic artifacts and artworks giving insight into the area's Moorish past.
Where to find the freshest food in Faro
One of the best things to do in Faro is taste its sensational seafood. There is also a good range of local vegetarian dishes. On a walk around this small city you will see plenty of terraces where you can enjoy a drink or a bite to eat in the sunshine.
For drinks, head to the O Castello bar near the Old Town, which has a great cocktail menu, cool tunes and panoramic views across the sea.
The best fresh seafood dinner can be found at Portas de São Pedro. Seriously, the prawns and octopus they serve here are out of this world. This tiny, old-fashioned restaurant is popular so you usually need to book a table in advance.
If you're not able to secure a table at Portas de São Pedro, try its sister restaurant just around the corner. At A Venda the vibe is chilled, with its wooden tables and stools in the street. This is a fantastic place to go if you're vegetarian, as there are plenty of meat-free specialities on the menu.
Tavira
Forty minutes east of Faro by train (just over €3 one way) lies Tavira, an ancient port town on the banks of the Gilão River, just under 20 miles (30 km) from the Spanish border. With a population of just over 26,000 this small, laid-back place doesn't get overrun by tourists, even in the summer. No-one feels in a hurry so it's easy to relax here for a few days.
The best places to stay in Tavira
I would recommend staying central in Tavira, otherwise it could be a 15-20 minute walk to reach its main area for shops, restaurants, attractions and transport to the beach. This is an important consideration, especially as a solo traveller. If you're based close to the Roman Bridge, it means it's easy to cross the river and explore the other side of town too.
I ended up staying at the Hotel do Castelo, which is set in a 16th-century stately home. Nearby you can find Tavira yoga classes in English at Áshrama Tavira, where the owner Andreia runs beautiful classes in the studio or on the rooftop.
Check out the great deals on hotels in Tavira and book your room in advance.
Check out Tavira's incredible Camera Obscura
Visit the Tavira Tower (Torre Tavira) to discover the fascinating Camera Obscura. This 10th century invention is simple but incredibly effective. It uses a mirror and two lenses installed on the top of this old water tower to project a living, moving image of Tavira onto a large white bowl-shaped screen.
Watch in amazement as the guide gives you a panoramic 360 degree tour of the town and zooms in on certain parts of the town, as people and cars go by. It looks like a live video, it's unbelievable that it's such an ancient contraption.
I did this on my last day, but it would be an ideal way to get an introduction to Tavira when you arrive. Entrance is €4 per person.
Take a trip to one of Europe's finest beaches
The beaches of the Algarve are regularly listed among Europe's top beaches and Tavira has one of its finest. This makes it one of the best places to go when backpacking Portugal for sun-worshippers, especially because there are no crowds there.
Regular ferry boats transport visitors from the port in the town centre to the idyllic sands of Tavira island (Ilha de Tavira) for just €2 return. The ferry sails through the local inlets and lagoons of the Ria Formosa Natural Park, which has barrier islands all the way to Faro (including Faro's Ilha Deserta).
If you simply want to sunbathe on Tavira island, arrive in the morning to reserve a VIP sun lounger area at the front of the beach, with an uninterrupted view of the Atlantic Ocean's Gulf of Cádiz. You can grab a beer or snacks from Xiri Beach Bar or buy a doughnut (bolinha) from the passing donut-seller on the beach. Total indulgence.
There's more to do here than simply sunbathe. Ria Formosa Natural Park has salt flats that attract wading birds including flamingos and spoonbills. You can explore this protected natural reserve by kayak or via its hiking trails. At Tavira's Praia do Barril, discover the unique Anchor Cemetery, where dozens of rusting anchors stand embedded in the sand dunes in honour of the area's former tuna fishing fleet.
The prettiest things to see in Tavira
An attractive, seven-arched bridge known as the 'Roman Bridge' connects the town across the river. It was recently discovered that it in fact originates from a 12th-century Moorish bridge so it's not Roman at all.
Tavira was occupied by the Moors for five centuries and its name comes from the Arabic Tabira, meaning 'the hidden'. You can see the ancient Moorish influence in the style of the town's buildings.
Colourful painted ceramic tiles adorn buildings across the region. Known as azulejos, named after the Arabic for 'polished stone', they were originally inspired by Roman mosaics and Persian geometric patterns. The Portuguese adopted the Moorish tradition of using them to completely cover walls and these distinctively decorated houses are among the prettiest things to see when backpacking Portugal.
It is a joy to simply stroll around Tavira's cobbled streets and take in the colourful buildings decorated with flowers and azulejos, among the historic squares and churches. You can also visit the remains of the medieval Tavira castle (Castelo de Tavira) for stunning views across the town.
Tavira's hidden gem – a secret garden restaurant
If you're looking for a unique dinner experience, I highly recommend you track down a magical restaurant hidden in a secluded garden. A British expat in Tavira told me about Jorge & Lia's Secret Restaurant, but even some other locals have never heard of it, let alone tourists.
The restaurant doesn't have a website but you can find it on Google maps here – it's just outside the town centre. The best way to access it is through the orange trees between the buildings on Rua Manuel Virgínio Pires. While it can be tricky to find, the experience more than makes up for it.
Jorge and Lia have been running this restaurant for years and they are fantastic hosts. The home-cooked food and wine is simply wonderful. I loved chatting with them and hearing their story. It's a rare treat to dine in such a tranquil setting.
Lagos
Lagos is an unmissable stop on your backpacking Algarve trip and one of the best places to stay in Portugal. Travelling between Tavira to Faro by train, it is an hour's train journey and costs just over €12 one way. I didn't have time to stop along the way, but if I did I would have visited the beautiful Benagil Caves. To Lisbon from Lagos, it's around three hours by train or bus and costs about €30.
Lagos is a larger and livelier town than Faro and Tavira. While it's certainly busier, it has some of the most incredible scenery I've ever seen and is well worth staying for a few days.
The most delightful places to stay in Lagos
Staying central in Lagos is a good idea, so it's only a short walk to the beach and cliffs. However, there are parties and bars here, so it can occasionally get noisy. Bring earplugs to help you get a good night's sleep if you're sensitive to sound.
Solo travellers may prefer to stay in hostels in Lagos, so you can easily meet other travellers. Luckily for backpackers Lagos has plenty of sociable and top quality accommodation.
The centrally located 17 Hostel has many rave reviews and a sunny rooftop terrace. Another of the best hostels Lagos has to offer is the popular Boutique Taghostel, which overlooks the marina. Staff here organise activities such as surfing lessons, dolphin watching trips and bicycle tours.
There are also beautiful guest houses in Lagos, if you're after a private room. In the heart of the city's lively restaurant area, I stayed at the Blue Moon Guest House, which is a stylish and comfortable place to stay. I loved my gorgeous, airy room with its own balcony and private bathroom.
I also spent a few nights at the nearby Lalitana, which is located on a quieter street. Run by the fabulous owner Lita Santos, this guest house has an on-site vegetarian restaurant and yoga studio. I really enjoyed getting to know Lita and her family and friends. Each of the rooms is beautifully styled in different colours, themed around the chakras. Perfect for a yoga lover like me.
Look up the latest prices for your dates at the best places to stay in Lagos
Take a hike in Lagos's stunning rocky scenery
Backpacking Lagos is a highlight for hiking fans, as you can clamber across the golden clifftops, over its famous beaches and marvel at the natural rock formations.
You can hike high up along the Lagos coastline from Batata beach (Praia da Batata) to the impressive Ponta da Piedade viewpoint.
It takes around an hour, as you will definitely want to stop and take in the views along the way or maybe take the steep steps down to the beaches. Be sure to bring water, snacks and sun protection.
Enter the hidden Lagos caves by sea
Another way to discover this area is by sea. You can take a small boat tour, which costs around €20 per person, to enter the otherwise inaccessible coves and caves. Your guide will tell you about the history and legends of the area as you go. The many unusual rock formations include one that looks like an elephant.
Another option, for more adventurous travellers is to explore the area by kayak, as part of an organised tour.
Where to tuck into the tastiest meals in Lagos
The tiny Café Odeon, on Rua do Castelo dos Governadores, is known for serving the best brunch in Lagos, whether you prefer American, vegetarian or a hearty full English breakfast. Prices start from just €3.
One of my favourite places to eat lunch and dinner in Lagos is the Mexican-themed Beats & Burritos, where you can tuck into tacos to your heart's delight.
Lisbon
From Lagos, you can travel by bus or train north to Lisbon in around three hours (around €30 one way). Your backpacking Portugal route simply must include its capital city. From fado to food markets, there is plenty to see and do if you're spending a few days here.
The loveliest places to stay in Lisbon
I would recommend staying near the Bairro Alto, Baixa and Chiado neighbourhoods, as they are fun, central and convenient for getting around.
Lisbon backpackers will be pleased to know that there are plenty of accommodation options. In Bairro Alto, the Lookout Lisbon Hostel is one of the best hostels in Lisbon for solo travellers looking for a sociable place to stay and meet other people. The nearby SafeStay Lisbon hostel has modern facilities in an impressive 18th century building with polished floorboards, authentic fireplaces and a huge roof terrace.
In the Baixa and Chiado area, check out the superb Goodmorning Solo Traveller Hostel, which guests of all ages love for its friendly staff, fun activities and tasty breakfast. A short walk away is the beautiful Home Lisbon Hostel, which has female-only dorms and offers home-cooked meals.
Browse and book the best places to stay in Lisbon for your solo travel in Portugal.
The most unique things to do in Lisbon
Being the capital city, there are plenty of things to do in Lisbon, including taking the iconic yellow tram to visit the various neighbourhoods and enjoying the views of this attractive city.
Tram 28 passes through Lisbon's popular tourist districts of Graca, Alfama, Baixa and Estrela. There is one stop where there's a long queue of tourists, but if you find another stop you may be able to jump on straight away.
At various points on the journey you will see signs for miradouro which means a viewing point with panoramic views across the city. Sometimes there will be stalls selling glasses of wine for you to sip as you look out at Lisbon.
Another way to see Lisbon from above is from the Santa Justa Lift in the centre of the city, which was built at the turn of the 20th century. You can get to the viewing platform at the top via the elevator during the day or in the evening for a different perspective.
If you scale the steep hill to the medieval Castelo do Sao Jorge, you'll be greeted by more spectacular vistas across the city, as well as the peacocks that roam the area.
Belém Tower is another medieval fortification, around 50 minutes by tram from the centre of Lisbon. You will need to buy a ticket if you want to enter the tower but even from the outside it is simply stunning, especially around sunset.
On the way back to Lisbon city centre, you'll no doubt spot the Padrão dos Descobrimentos (Monument of the Discoveries) proudly facing the river. It celebrates the Age of Exploration in the 15th and 16th century, when Portuguese adventurers such as Vasco da Gama traversed the world and traded with merchants from India and the Far East.
The tastiest places to eat in Lisbon
For the city's best brunch, I recommend the popular Nicolau Lisboa cafe in Chiado which has outdoor seating.
In Belém, you can taste one of Portugal's most famous delicacies, the pastel de nata. Located here is the original cafe-shop, called Pastéis de Belém. There's always a (fast-moving) queue to buy these world-renowned custard tart treats and it's usually quicker to take one for the road rather than waiting for a table.
For dinner, head to the Time Out food market, in the neighbouring Cais do Sodre, which offers a wide range of high quality dishes from different local chefs, all under one roof. I opted for a contemporary twist on the traditional Portuguese dish of bacalhau com natas (salted cod in cream sauce), washed down with a passion fruit soft drink from the Portuguese islands of Madeira. Afterwards, head to Bairro Alto for port wine and cheese tasting at The Old Pharmacy, followed by a fado performance at Tasca Do Chico.
Where to find a secret rooftop bar in Lisbon
If you like chilled hip hop beats in a tranquil garden setting, track down Lisbon's coolest secret rooftop bar called PARK, which is on Calçada do Combro 58 in Bairro Alto.
You have to go through a grim-looking parking lot, but when you reach the top floor you'll find a beautiful garden terrace with gorgeous people and a DJ spinning the decks. I stayed here until the sun set and it was just awesome.
Sintra
With castles in the sky, set in steep pine-covered hills overlooking a chocolate-box historic town, Sintra is one of the most magical places to visit in Portugal, so allow at least a couple of days. Just over an hour by train from Lisbon (€5 one way), it's like entering a fairy-tale.
Here is where to stay in Sintra
There are a handful of hostels in Sintra – try the Moon Hill Hostel, which is centrally located, with stylish decorations and an excellent breakfast. There are many restaurants around, as well as pastry shops selling the area's traditional sweet treats, queijadas de Sintra.
For the Sintra part of my trip backpacking through Portugal, I stayed at the Lanui Guest House. In a traditional house with rooms named after some of Sintra's best loved landmarks, it is just a five minute walk from Sintra train station. Accommodation in this historic house set in attractive gardens starts at €20 per night including a buffet breakfast.
Discover the latest prices for your dates at the best places to stay in Sintra.
Don't miss these spectacular places in Sintra
The Palácio da Pena (Pena Palace) is the most colourful castle I've ever seen. Completed in the 19th century, this UNESCO World Heritage Site is one of the world's most important buildings dedicated to the period's artistic and intellectual Romanticism movement. Like Lisbon's Belém Tower (above), Pena Palace is one of the Seven Wonders of Portugal.
The best way to reach Pena Palace is to catch bus number 434 outside Sintra train station (€6.90 per person). This bus also goes to the Castelo dos Mouros (Castle of the Moors). The Moors completed the construction of this medieval castle in the 9th century, as a strategic defensive point against the Christian forces, who ultimately overpowered them. The castle is now a UNESCO World Heritage Site and the views from here are spectacular, though it requires a certain level of physical fitness and ability to scale the steps.
If you're feeling adventurous, there are a number of hiking trails in Sintra that take you up the hills to Pena Palace and the Castle of the Moors. Some of the best hiking in Portugal can also be found in the nearby Sintra-Cascais Natural Park.
My heart was stolen by Sintra's Quinta da Regaleira. Completed at the start of the 20th century, it is a sprawling rural estate with a romantic palace and chapel surrounded with gardens you can get lost in. Entry is priced at €6 per person.
Winding pathways lead to grottoes, wells and Roman, Gothic and Renaissance style architecture, all built to meet the vision of the property's former owner. It is now a UNESCO World Heritage Site and one of Sintra's most popular attractions. Allow at least an hour to make the most of your time in this inspiring place.
Porto
Porto is one of the main cities in Portugal, second only to Lisbon in size and significance. It's just under three hours north of Lisbon by train (around €30 one way). Situated on the Douro River, it was an outpost of the Roman Empire and it's still magnificent today. Its most famous export is port, a fortified wine named after the city. It's an ideal place to stop for a few days as you backpack Portugal.
The best places to stay in Porto
Porto isn't a large city so you can't go too far wrong in terms of location. If you're looking for a backpacker hostel, Porto offers plenty of excellent accommodation.
Try the beautiful and sociable CATS Porto Hostel, arguably the best hostel in Porto for solo travellers. Alternatively, check out the So Cool Hostel Porto, which has contemporary facilities in a 19th-century building with a lovely garden. Both backpacker Porto hostels have rave reviews and are conveniently located in the centre of the city.
Browse the latest deals and book your room in one of the perfect places to stay in Porto.
The perfect things to do in Porto
As it is so compact, Porto is a convenient city to simply walk around and see its many beautiful buildings and squares. You will only need a day or two for your Porto backpacking trip, so a weekend in Porto is perfect, but its laid-back charm means this city will have a special place in your heart.
Head to the historical centre, which is now a UNESCO World Heritage Site. There you'll find Porto Cathedral, one of the city's oldest monuments, dating back to the 12th century.
Head to the Douro River and cross the impressive Luis I bridge (Ponte de Dom Luís I) to Vila Nova de Gaia in the south, the hub of the port wine industry.
The most delicious things to eat and drink in Porto
If you're craving something to eat, why not try the typically Portuguese sardinhas assadas – freshly grilled sardines – which you may see being sold on street food stands. Summer is the most popular time to eat these tasty and nutritious snacks, as July and August is sardine season. There are even festivities across the country in honour of this popular local fish.
Along the lively waterfront at Vila Nova de Gaia, you'll find port cellars offering tastings and tours. We visited the cellar of the internationally renowned Sandeman port, which dates back to 1790. Here, we learned about its history and production and tasted three different types of their deep, rich port.
Close to the nearby Luis I bridge you'll find the Garden of Morro. This is a popular spot for people to relax on the grass, sipping mojitos, listening to music and watching the sun set over the Douro river. It is the perfect way to end your backpacking Porto experience in this marvellous city.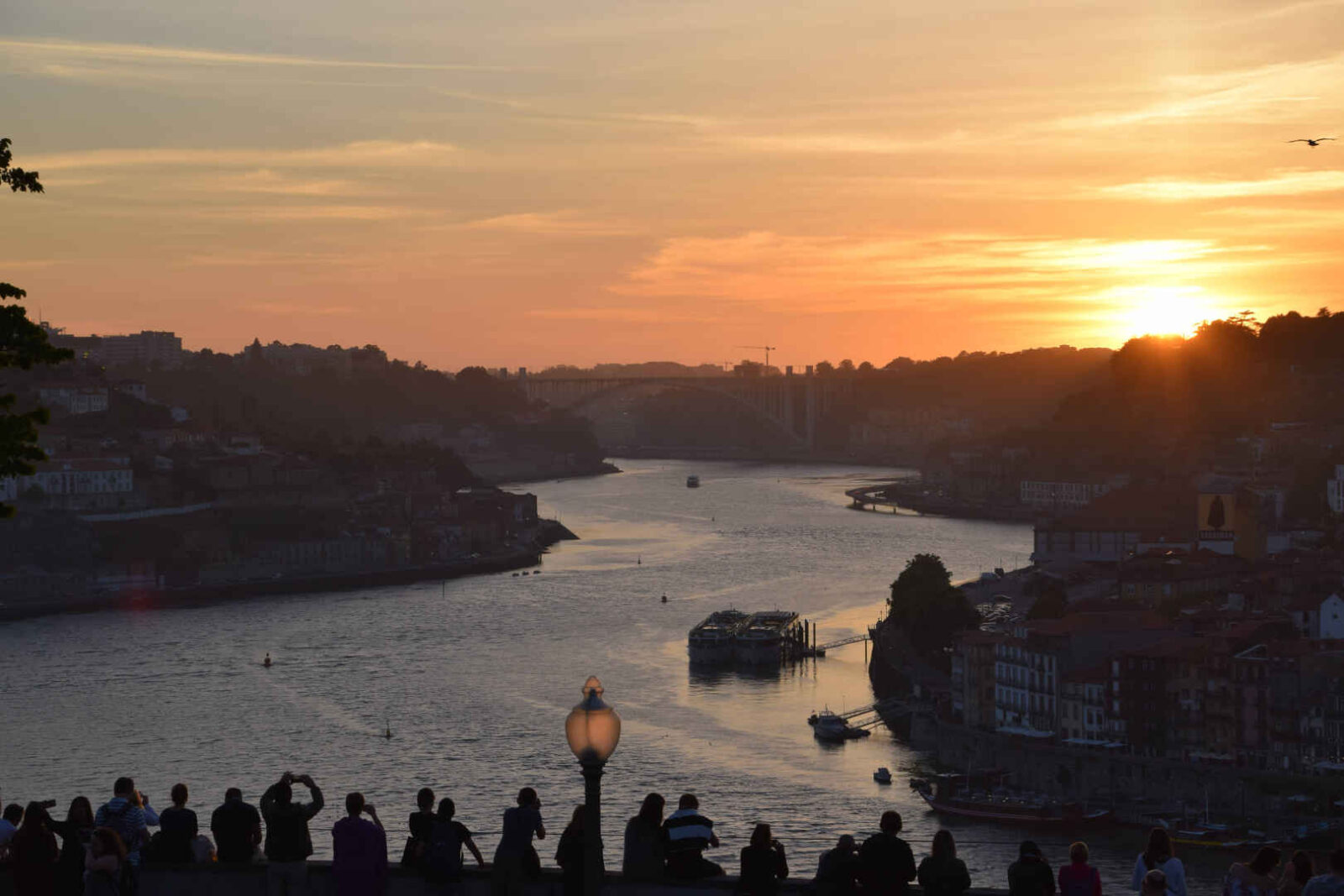 The best (and cheapest) time of year to go to Portugal
Summer in Portugal is wonderfully sunny and warm, especially in the south. However, the weather is usually fine any time from April to October. Avoiding the peak tourist season of July and August often means lower prices, so spring and autumn are good options for travelling Portugal on a budget.
Interested in joining a group tour? Check out this highly-rated trip for backpacking Spain and Portugal.
Why backpacking Portugal is the best
From idyllic beaches to romantic castles, and adventures from kayaking to hiking, there are so many things to do in Portugal for backpackers. There are plenty of Portugal tourist attractions, or you can simply walk around and soak up the culture, or sip a local beer in the sunshine on a café terrace.
With stylish guest houses and hostels, for the solo backpacker Portugal offers plenty of affordable accommodation. Cheap travel via Portugal's well-priced public transport helps to keep costs down too.
Whether you're down south in the Algarve or up north in Porto, for backpackers Portugal offers something for everyone. Maybe, like me, you'll find it so irresistible that you're compelled to return.
Want to save this post to read later? Pin it!