Japan has long been a top tourist destination, thanks to its unique and inspiring culture and food. If you are travelling to Japan for the first time, you will want to see as much of the country as you can. Three weeks is the perfect amount of time. Here is how to plan the ultimate Japan 3 week itinerary for backpacking Japan.
This post contains affiliate links. This means, if you make a purchase, I may receive a small commission. As an Amazon Associate I earn from qualifying purchases. For more information, read my disclaimer.
How to plan the ultimate backpacking Japan 3 week itinerary
If you're wondering how to plan a trip to explore Japan in 3 weeks, the first place to start is what inspired you to visit in the first place. Are you hoping to see temples and castles, eat sensational street food, relax on beaches or in the mountains, explore its modern city life, or all of these things on your backpacking Japan itinerary? In Japan, 3 weeks is enough time to do all of these things, though it is such a rich country you may still find you cannot visit all the places you'd like to.
While travelling through Malaysia with my boyfriend a few years ago, we met a young Japanese couple who sketched us a map outlining their recommendations of all the best places to go in Japan.
If you're interested in joining a group tour in Japan, check out the latest deals from Intrepid Travel.
Five years later, we finally did it. We planned our Japan backpacking route to spend 3 weeks in Japan from mid-April to May. We hoped to visit as many places as possible on our Japan itinerary of 3 weeks that our friends had suggested.
As you can see from the map, their recommendations ranged from Niigata, in the north of Honshu, Japan's main island, all the way 1250 miles (2000 km) down south to Okinawa, the tropical islands in the East China Sea.
If like us you're planning to spend around 21 days in Japan, you are lucky. On a 3 weeks in Japan itinerary, you will have time to fly to places like Okinawa, that not as many people visit. Still, we found that we had to make the choice between heading north or south from Tokyo, because we couldn't fit everything in. In the end, we chose to head south and leave northern Japan for another time.
My first tip for planning a trip to Japan is to pick a few places that you really want to see, as even with Japan's famous high speed bullet train, travelling between cities can take several hours. Read on for more tips and a sample 3 week Japan itinerary.
Don't forget to bring Lonely Planet's essential Japan guide book on your trip.
This is the ultimate backpacking Japan 3 week itinerary
Tokyo – 5 nights
When deciding on your best itinerary for backpacking Japan, Tokyo is a must-stop on your list. You will probably fly in or out of Japan's capital city and there is so much to see and do here.
The super SIM card to buy for your backpacking Japan trip
If you land at Tokyo's Haneda airport, like us, make sure you head to the Bic Camera store on the third floor of arrivals and buy a B-Mobile 21 Days Visitor SIM.
This SIM card is perfect for a 3 week trip to Japan: mobile internet access done in one. The only thing you need to keep in mind is it doesn't allow you to make calls.
Top ways to travel to and from the airport
Haneda airport is around 10 miles (16 km) from Tokyo city centre. The city's other international airport, Narita, is around 40 miles (64 km) away. Rather than tackle the public transport from Haneda airport, we took a taxi to our accommodation as we were tired from our long-haul flight from Europe.
Be sure to take a print-out of the name and address of your accommodation in Japanese kanji characters, as some taxi drivers will not understand the names if they are written in the English alphabet. We liked how clean the taxis were and the lace seat covers. Some of them even have passenger doors that automatically open and close for you.
There are limousine shuttle buses operating between some areas of Tokyo and the city's two main airports. This is a comfortable and cost-effective way to travel with all your luggage while backpacking through Japan. This is what we ended up doing for the rest of our trip when we were catching flights. Ask at the airport information desk, your hotel's reception or click here for more information on locations and timetables.
An awesome area to stay in Tokyo (with a hidden shrine)
For this first stop in our backpacking Japan travel itinerary, we stayed in a central part of Tokyo called Akasaka. This part of Tokyo is close to tourist attractions and parks, as well as being a convenient location to get around the city, as there are a couple of metro stations nearby. It's a great place to stay.
In Akasaka you'll find the peaceful Hie Shrine which is well worth a visit. This is known as Tokyo's hidden shrine and has a numerous red torii gates marking its entrance. We saw local business people come here to pray and make offerings in this shrine, which is an oasis among the modern skyscrapers.
Find an awesome selection of accommodation in Akasaka here.
There are also a large number of great restaurants in Akasaka, so you will have plenty of choice of places to eat every day. Keep in mind that the menus may not be in English and the staff may not speak English either so you may have to point at a picture and hope for the best. We were lucky that a friendly local guy at the next table gave us his recommendations of the best dishes, so we were off to a good start.
A beautiful place for brunch in Akasaka is the Aoyama Flower Market teahouse. Located at the base of the Akasaka Business Tower, here you can dine on creative and tasty breakfast options, surrounded by stunning plants and flowers, as you sip their special tea of the day. Such a treat.
Tokyo backpackers guide to brilliant budget accommodation
Accommodation in Tokyo is relatively expensive and the rooms are smaller than usual Western hotel standards. Our favourite budget hotel in Tokyo was the Super Hotel Lohas Akasaka which has friendly staff and is in an ideal location with a 7-11 supermarket right next door. The hotel even its own onsen public bath, with specific times for men and women, which is dreamy and incredibly relaxing. Perfect after a long day of sightseeing.
The nearby top-rated Kaisu hostel is a brilliant choice for backpackers in Japan, as it is clean, friendly and quiet, with a tasty free breakfast served daily in its cafe-bar. It offers the choice of mixed or female-only dorm rooms, as well as private rooms. Hostels in Japan are usually very clean and safe, so it's a pleasant experience.
If you're looking for a female-only hostel in Tokyo, try the fabulous Urban Hostel Kanda Jimbocho. Guests love this hostel's helpful staff, cleanliness and cute kitchen area, including a washing machine. On top of all that there's excellent WiFi and free coffee.
The two UNPLAN hostels in Tokyo's Shinjuku Ward area are friendly, modern and offer female-only as well as mixed dormitories. UNPLAN Kagurazaka has air-conditioned rooms with free WiFi, coffee and breakfast served daily in the on-site bar and cafe, while UNPLAN Shinjuku is conveniently located close to Shinjuku station and tourist attractions.
Browse and book the best budget accommodation in Tokyo for your dates.
These are the top attractions in Tokyo
One of the reasons it's good to spend a few days in Tokyo is because the city is larger and takes longer to travel around than you may think. One of the closest attractions to Akasaka is the Tokyo Tower, but it still takes 20-30 minutes to reach by public transport or on foot.
If it's your birthday – like it was for me – they will give you a special package with free entry to ride to the top of Tokyo Tower and a complimentary drink or snack. From the summit there are incredible views over the city, so you can see for yourself how large it is.
Not far from Tokyo Tower – and by that I mean only 30 minutes on the metro – is Shibuya. Here you will find great shopping and the famous Shibuya Crossing, said to be the world's busiest intersection. That said, it is incredibly well organised. Many people go for a coffee in the Starbucks in order to take photos from the window of all the people down below, scuttling across the road. Even though it's only a pedestrian crossing, it's quite the spectacle and a lot of fun, with people posing for shots along the way.
If you are a fan of Nintendo, you can book a tour where you don a onesie and drive in a convoy of go-karts around the city, Mario Kart-style. We saw one of these groups go past in Shibuya.
Following our Japanese friends' recommendation, we visited Akihabara, a shopping hub full of electronics retailers, manga memorabilia shops and the Tokyo Anime Center. This was one of my favourite areas of Tokyo as it's so colourful and lively. It is 30 minutes north of Akasaka via the city's metro system.
Here we stopped for a drink and a cuddle with the cats at the MoCHA cat cafe. You can buy treats to attract the cats to eat from your hand.
In nearby Asakusa – still 20 minutes away by public transport – you can visit Sensō-ji, Tokyo's oldest temple which dates back to 645. Be warned, it gets incredibly crowded here, as it's one of Tokyo's most popular tourist attractions.
Around 25 minutes east of Sensō-ji is a much smaller Shinto temple called the Kameido Tenjin Shrine. This is a perfect place to go if you're backpacking Japan in the spring, as during a few short weeks there is a special festival when the gardens bloom with hundreds of wisteria. They hang over a tranquil turtle pond with cute bridges, paths and wisteria tunnels you can walk through. It was also crowded here when we came, but with more Japanese rather than international tourists.
A 15 minute walk from this temple is another of the city's famous towers, the Tokyo Skytree. At 634 metres (over 2,000 feet) tall, it is hard to miss. In fact, it is the tallest tower in the world and there is a whole complex of restaurants inside. When we visited, we found it to be overwhelmingly busy so we didn't go to the top.
If you're a foodie, a great place to visit is Tokyo's Tsukiji Market, around 20-30 minutes east of Akasaka, where you can find all kinds of local delicacies for sale.
Okinawa – 5 nights
The next destination in our backpacking Japan itinerary was Okinawa, as recommended by our Japanese friends. Known as Japan's best-kept secret, they are located hundreds of miles south of mainland Japan in the Pacific Ocean, close to Taiwan and Hong Kong. The Okinawa islands have a subtropical climate, with average temperatures above 20°C all year round.
We took a domestic ANA flight from Tokyo for the three hour journey and took a limousine bus from the airport to our accommodation.
Browse and book the best hotels and hostels in Okinawa here.
The most interesting area to stay in Okinawa
Okinawa has a large international cultural influence, notably that of the U.S., which has a large military base there. We stayed on the main Okinawa Island in Chatan, close to American Village.
This colourfully-lit area feels like a mini-Vegas which is totally in contrast to the rest of Japan. It is full of restaurants, shops and entertainment venues with an American touch.
For accommodation close to American Village check out this selection.
This is a truly fabulous hotel in Okinawa
Our hotel was the gorgeous new Doubletree by Hilton Okinawa Chatan resort overlooking the sea, a short walk from American Village. We decided to spend more money on accommodation here than we would normally because it was for my birthday. It was well worth it.
Our large room included two double beds and a wet room with an absolutely blissful rain shower head.This contemporary hotel is stylish with great facilities, including a cafe/shop, and the staff are incredibly friendly and helpful.
I would recommend choosing an ocean-facing room because the sunset views are absolutely stunning. We sat on our balcony and looked out over the ocean as much as we could. I've never stayed in a hotel like this that was so close to the coast.
Check the latest prices and availability for this fabulous hotel.
Beautiful beaches and scuba diving in Okinawa
There are beautiful beaches in Okinawa with hardly a soul on them. One of the best is Oodomari beach on the remote Ikei Island. It can be reached by car – one hour from Chatan – thanks to a series of bridges from Okinawa island. You will need to pay a small fee to the beach's owners and you can enjoy the area almost to yourself. The sea is ideal for swimming – clear, clean and full of fish. There are basic showers where you can wash off the sand afterwards.
For all the best things to do in Okinawa, check out my Okinawa itinerary.
If you are feeling adventurous, there are many scuba-diving sites around Okinawa. The islands are surrounded by coral reefs. We headed towards the neighbouring island's Kerama National Park on our scuba-diving trip.
For your perfect backpacking Japan three week itinerary, you may prefer to leave Okinawa until the end of your trip so you can relax on the beaches after all the sightseeing around Japan's cities.
Nagasaki – 2 nights
After Okinawa, we were looking for the most convenient direct flight back to the south of Japan's main islands. We discovered an affordable price for a flight to the city of Nagasaki, taking just 1.5 hours, so we went ahead and booked it as the next stop on our backpacking Japan itinerary.
We had only heard of Nagasaki because of the devastating atomic bomb attack the city suffered during World War II at the hand of the United States. But the place has a fascinating history that started long before this tragedy befell it.
Today a city of over 425,000 people, Nagasaki began as a small fishing village. In the mid-16th century, Portuguese explorers landed here and over the years it became a popular port city for traders from China and countries across Europe.
On our walk from Nagasaki station to our accommodation, we were surprised to see a Christian church: the Nakamachi Catholic Church. It turns out, the arrival of the Europeans in the 16th century brought Christianity to Japan and the religion gained popularity in Nagasaki and beyond. However, Christianity was soon suppressed by the Japanese rulers of the time, who persecuted anyone declaring themselves a Christian. Japan was then officially secluded from international influence for two centuries, until the 1850s. Nagasaki's 'Hidden Christian Sites' are now on the UNESCO World Heritage List as they tell the story of how the religion was revived when Japan opened its doors again in the 19th century.
Where to stay at a traditional ryokan in Nagasaki
Here in Nagasaki, we stayed in a traditional Japanese ryokan, called Fujiwara Ryokan, where the floors are covered with tatami straw mats and the futon bedding is folded up in the corner.
The host is Isamu Fujiwara-san, a delightful older man whose English is limited, but who is incredibly kind and welcoming His partner prepares a delicious traditional Japanese breakfast for guests. When you arrive, you will find yukata robes to wear and a fresh pot of green tea to help you re-hydrate after your journey.
Just a a 9-minute walk from Nagasaki train station, Fujiwara Ryokan is conveniently located and has five rooms. At first glance, it is basic accommodation, but there is free Wi-Fi, air-conditioning and flat-screen TVs in each room. It was a unique, traditional experience – with modern conveniences – for our three week backpacking Japan itinerary, which was very special.
For more outstanding accommodation options in Nagasaki, click here.
Make a stop here for melt-in-the-mouth yakitori
Isamu Fujiwara-san at Fujiwara Ryokan gave us a map of recommended local restaurants. Thanks to him, we discovered a restaurant called Yakitori Torimasa Ebisu, where we ate heavenly yakitori – chargrilled meats, seafood and veg on skewers. Seriously, it all tasted so good and simply melted in our mouths.
Helpfully, the restaurant has an English menu and the chef can also recommend dishes for you, before cooking them right in front of you. He told us he has been making yakitori like this for ten years. Our favorite dishes included the miso pork belly. Highly recommended – one of our favourite dining experiences while backpacking Japan.
The most memorable and moving things to do in Nagasaki
Why not walk off dinner with an evening stroll just over a mile (2 km) to Fuchi Shrine Station. From here you can catch the half-hourly Nagasaki Ropeway up to the scenic Mount Inasayama Observatory and viewing platform, which sits of 333 metres (1,093 ft) above the city.
The panoramic sights from up here of Nagasaki's '10 Million Dollar Night View' of the city's many twinkling lights, mountains and reflective river ranks as one of the world's top 3 night view spots, alongside Monaco and Hong Kong.
Every evening shortly before closing time at 10pm, the three large TV and radio station transmitters light up in a special colourful display.
A short tram ride from Nagasaki's main station is the Nagasaki Peace Park. Even the trams themselves have a cute retro style.
In Nagasaki Peace Park, you will find the 'hypocenter', the exact spot where the atomic bomb landed on the city in 1945, destroying the north of the city and killing 35,000 people in less than a second.
Nearby you can see a remnant of a church that was one of the area's only buildings left standing. You can also find a preserved part of the ground, exactly as it was after the bombing. Tools and teacups show the sheer devastation at ground level and the lives that were lost here.
As you walk through Nagasaki Peace Park, you will find a number of moving statues dedicated to the people of Nagasaki and calling for world peace, including the striking Peace Statue. It is an emotional experience.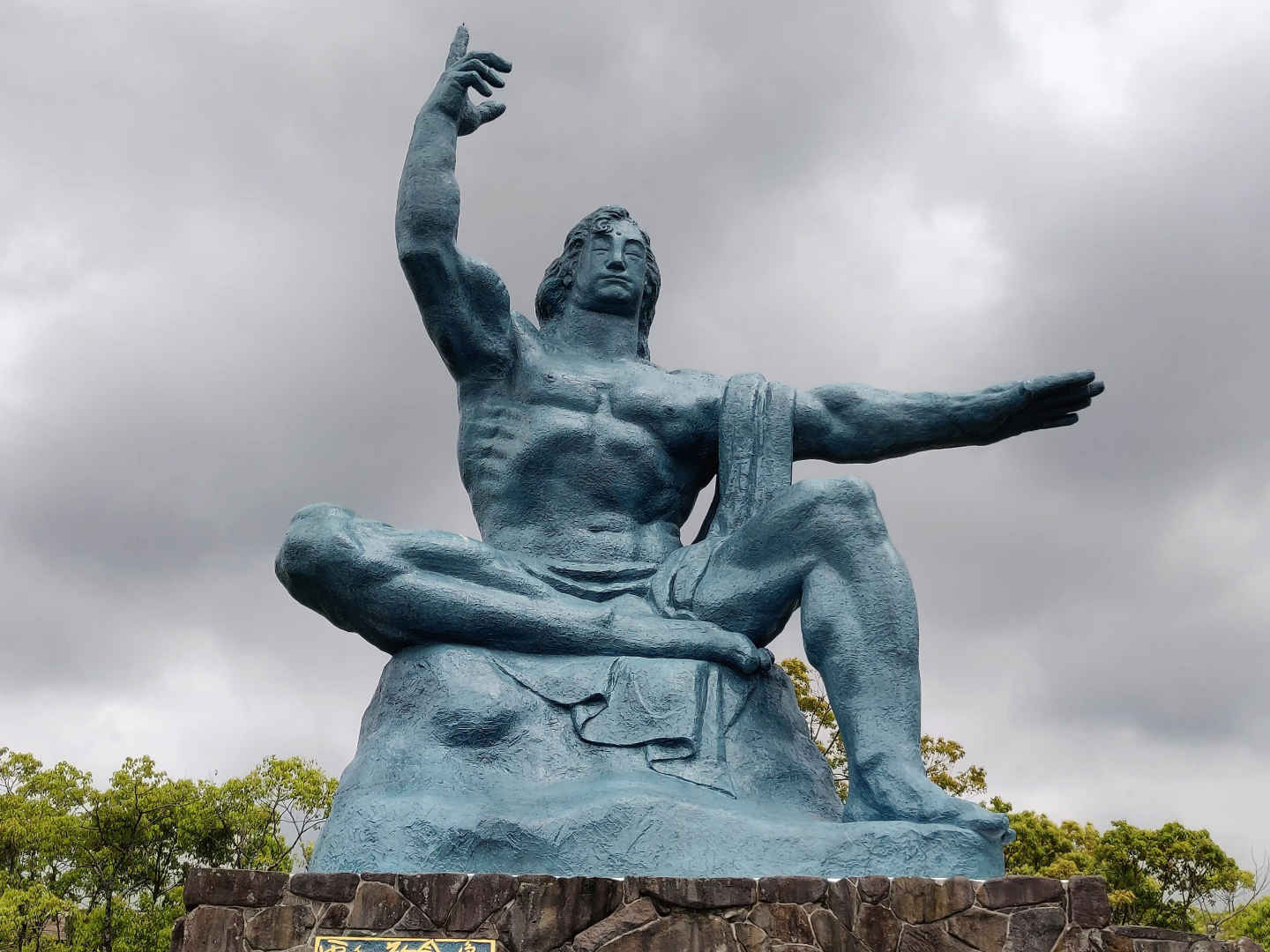 Hiroshima and Miyajima island – 4 nights
From Nagasaki, it's a four hour train journey to Hiroshima, with a transfer at Hakata station that we had paid for in advance thanks to our JR Passes.
The best hotel in Hiroshima for fabulous city views
In Hiroshima, we stayed at the fabulous Rihga Royal Hotel. It was my birthday and the hotel staff had kindly upgraded our room to a corner room on a high floor of the tower, with panoramic views over the city. You can even see as far as the island of Miyajima.
In the evening, we went to the hotel's rooftop bar and tasted deliciously fragrant and spicy Japanese gin, served by an expert bartender.
Check out the full list of excellent hotels in Hiroshima.
The most moving thing to see in Hiroshima
Hiroshima is well known, along with Nagasaki, for being the site of the devastating atomic bombings during World War II. Here, you can visit the Atomic Bomb Dome, an iconic building that was one of the few constructions left standing after the bombing.
The attack killed more than 70,000 people instantly, while 70,000 more succumbed to radiation poisoning. The building was preserved exactly as it was, serving as a memorial to the lives lost. It is now a UNESCO World Heritage Site and part of the Hiroshima Peace Memorial Museum and Park.
Marvel at the shrines and friendly deer of Miyajima Island
The picturesque Miyajima Island is the perfect day trip from Hiroshima. Many people recommend staying overnight there too, but rooms are in high demand.
The island's 'floating' Great Torii Gate in the bay is a popular spot for photos. It marks the entrance to the 12th-century Itsukushima Shrine. This is another UNESCO World Heritage Site.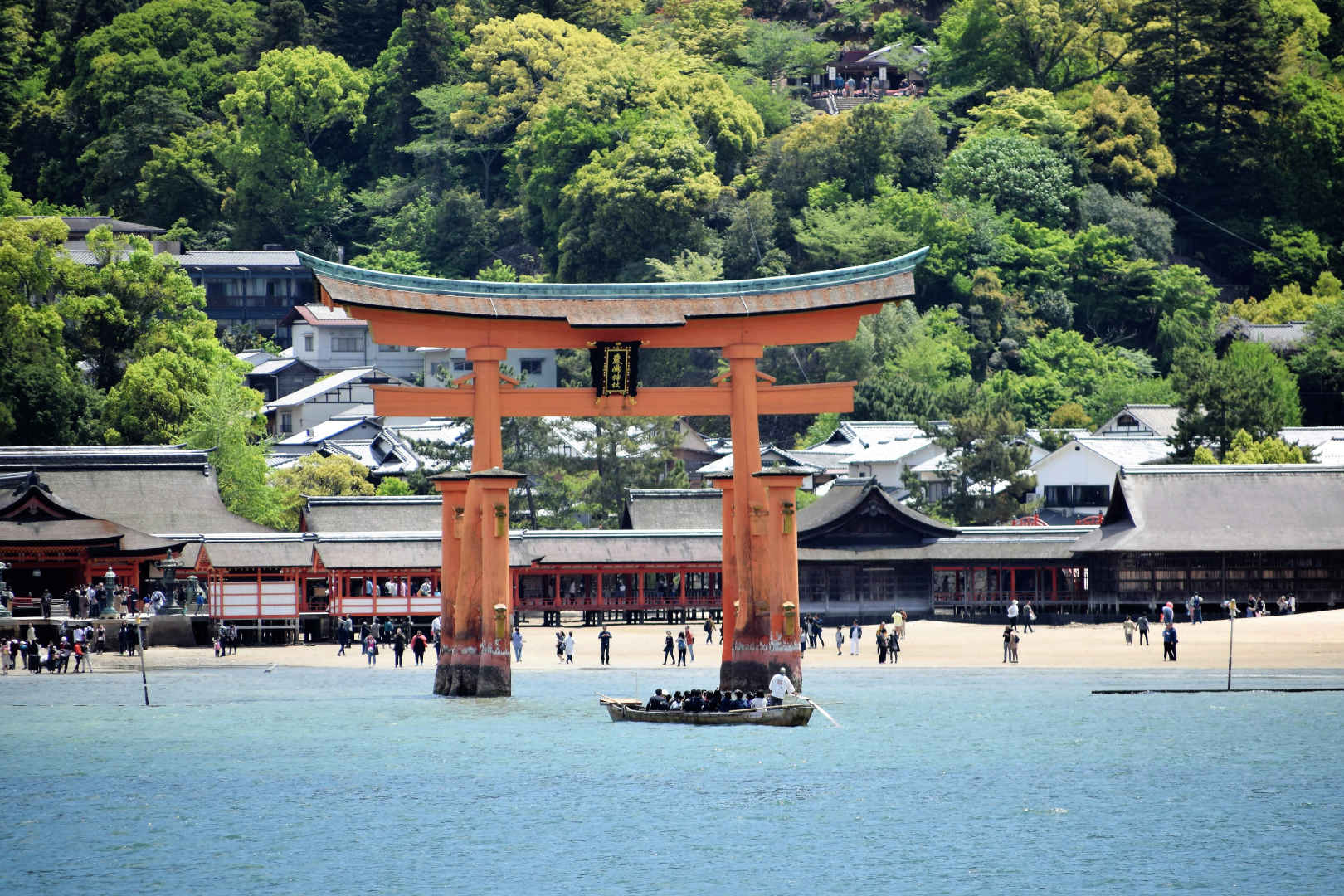 For me, the most impressive structure is the Tahoto Pagoda, a striking red Buddhist temple built in 1523.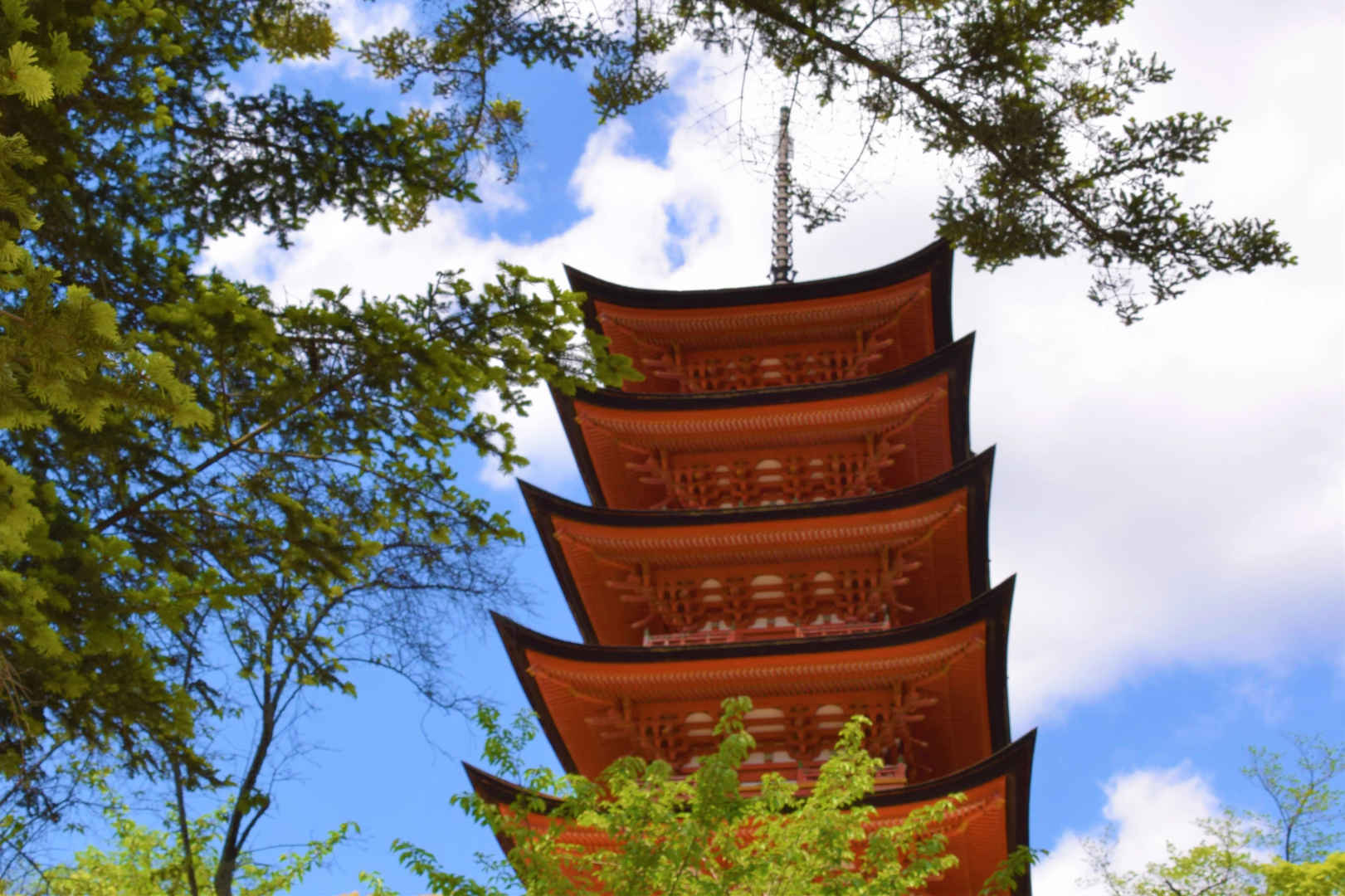 On Miyajima, friendly deer roam fearlessly among the tourists, searching for snacks. It's rare to see these normally shy creatures up close and be able to pose for photos with them.
In the afternoon, take the Miyajima Ropeway the two journeys to the top of the mountain for incredible views. There will probably be queues, but it is worth it.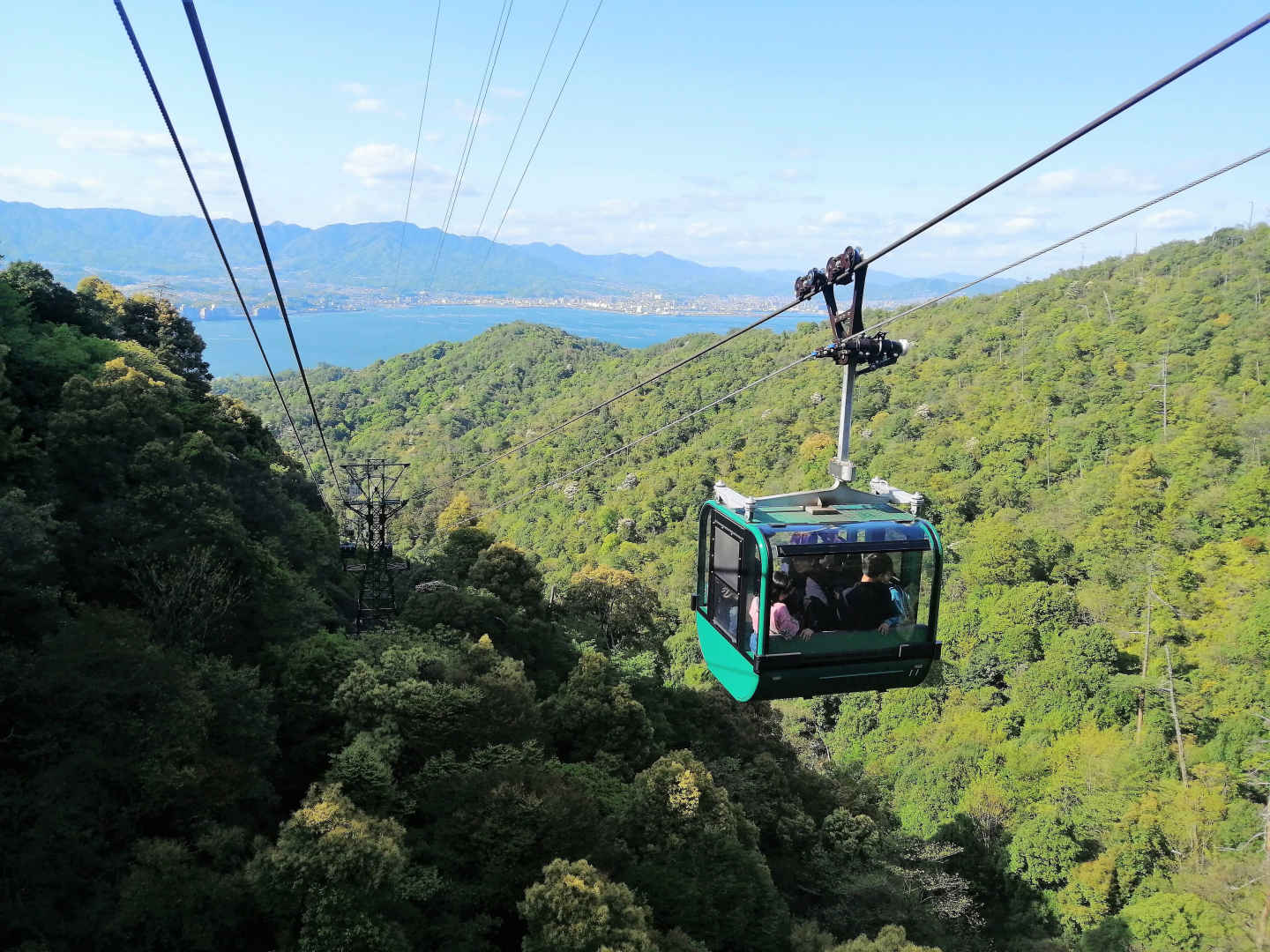 At the top of this sacred mountain, if you have time, you can hike around the forests and discover the Seven Wonders of Mount Misen.
It is so special here that you may wish to stay overnight so you can appreciate it after most of the tourists have left for the day. However, there are only a few places to stay and they are in high demand. You can book your room online in advance here.
Miyajima island is a charming and magical place that will stay in your memory for a long time.
Osaka – 3 nights
From Hiroshima, it's a 2.5 hour journey by high speed bullet train to Osaka. Home to 19 million people, Osaka is a huge port city known for its modern architecture which lights up at night. While you can do one day in Osaka, two nights is great so you can take your time.
Browse and book from the extensive list of places to stay in Osaka here.
Its main historical landmark is the 16th-century Osaka Castle, which is surrounded by a moat and park with plum, peach and cherry-blossom trees.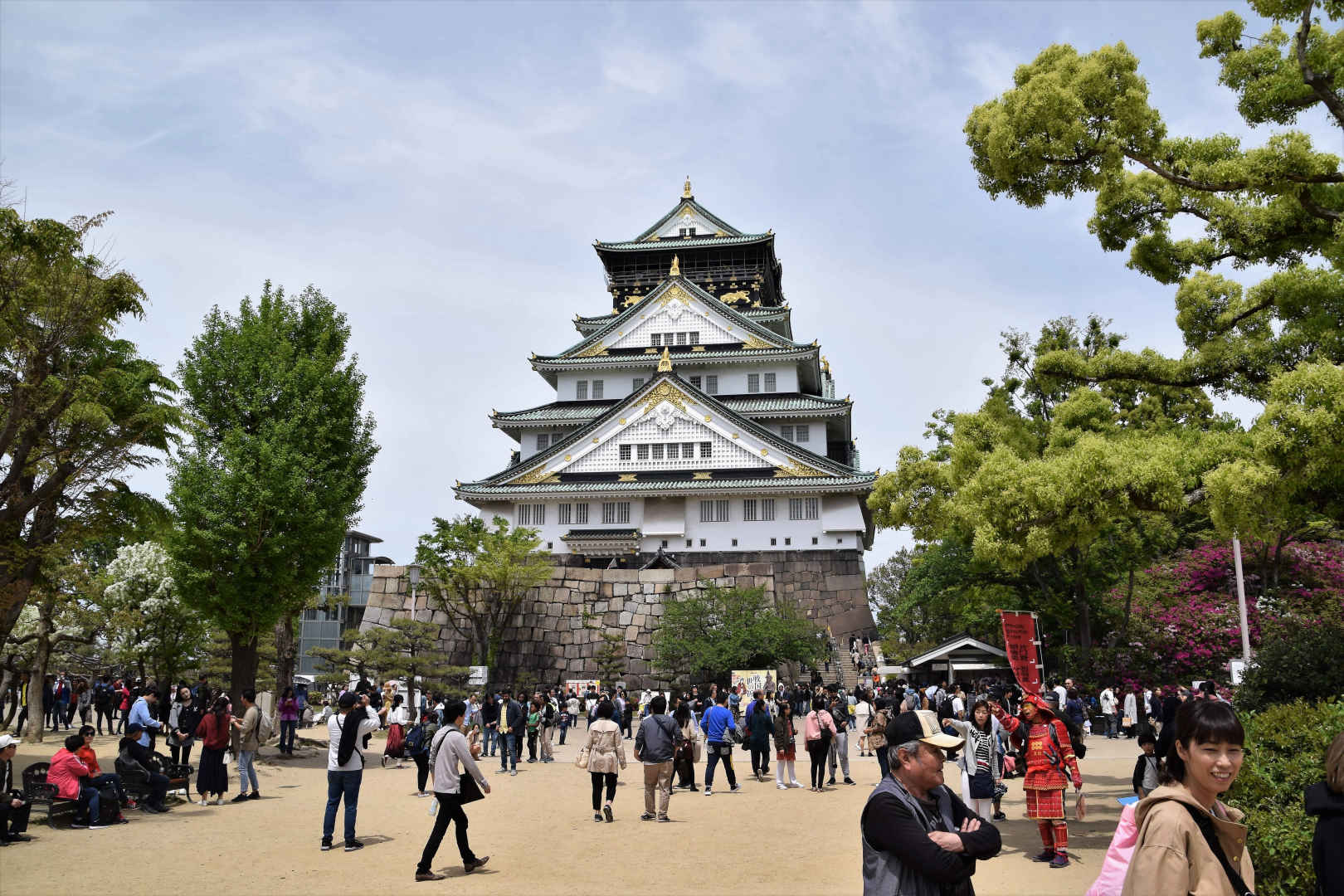 The street food you need to try in Osaka
Osaka is renowned for its tasty street food so, as guided by the notes on the rudimentary map drawn by our Japanese friends, we had to try it.
First up, was takoyaki, stuffed batter balls topped with sauce. Even watching these little local snacks being made is a joy, as the market stall owners whip the batter around in the small moulds.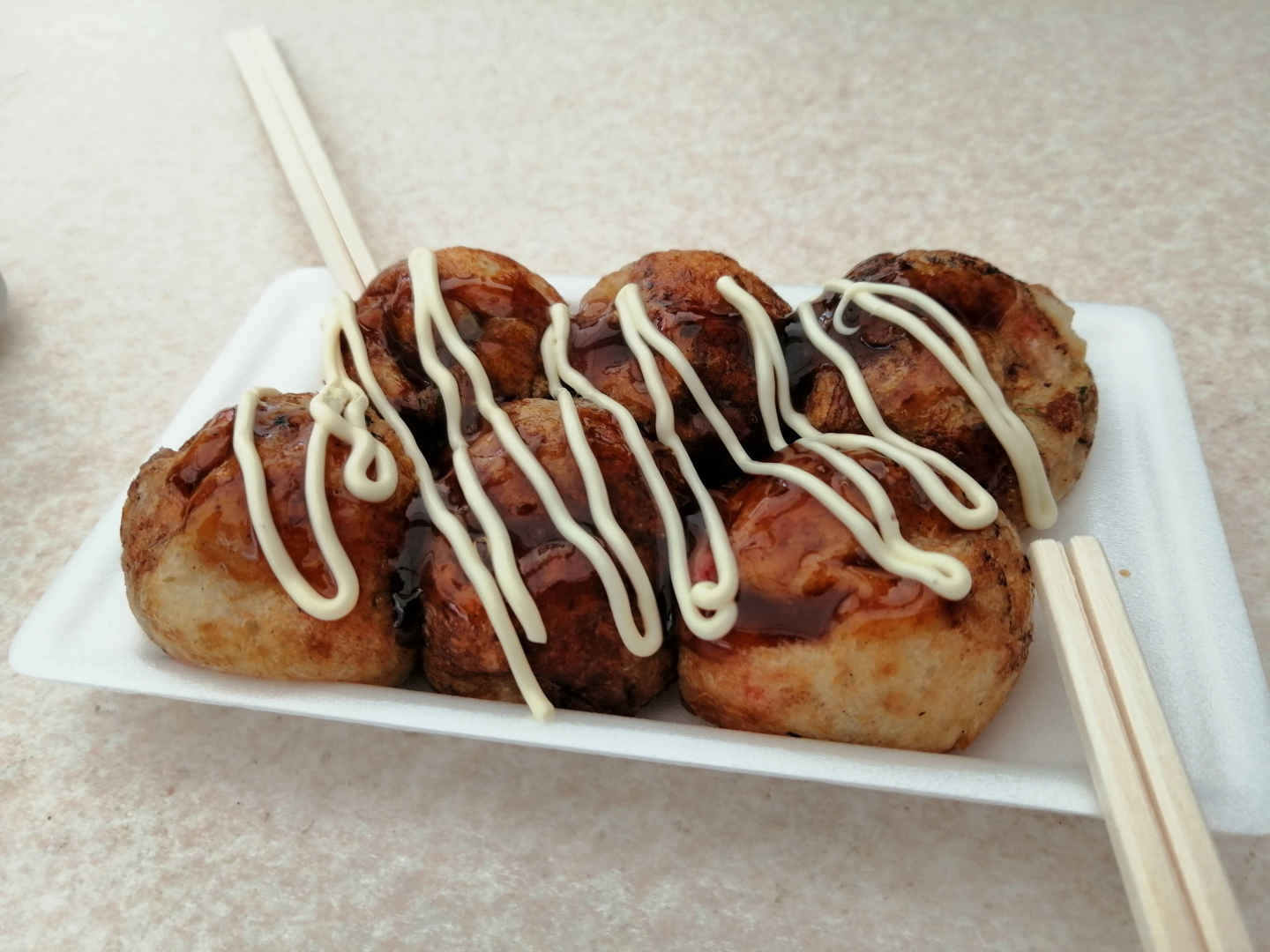 Next up, is okonomiyaki, delicious Japanese savoury pancakes filled with your choice of meat, seafood, vegetables and cheese, and topped with plenty of sauce. It's street food heaven.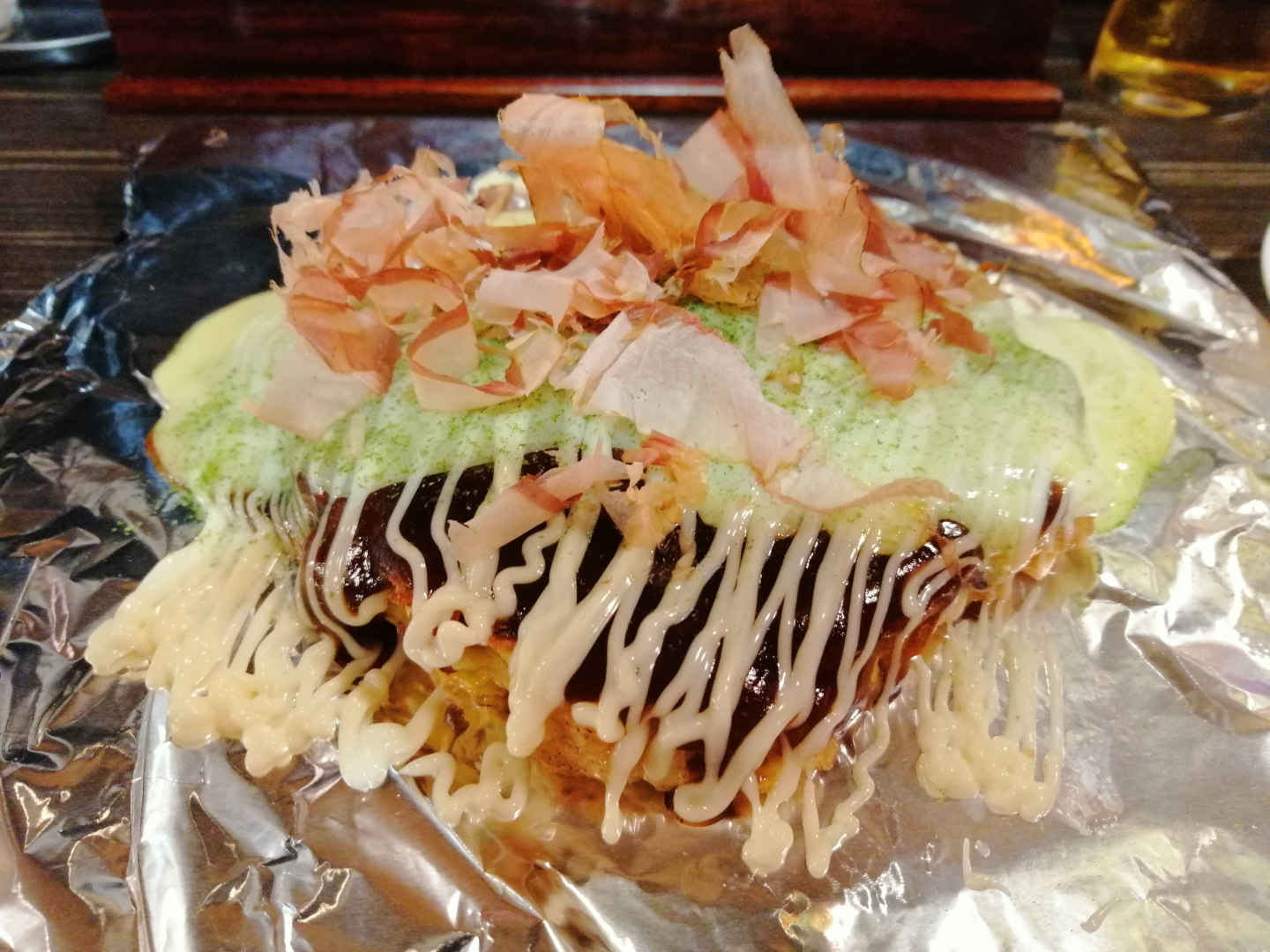 Osaka's not-to-be-missed nightlife
As day turns to night in Osaka, the Dotonbori area of the city lights up into bright colours wherever you look. It's awe-inspiring, simply walking along the streets and looking up at the giant, luminous adverts.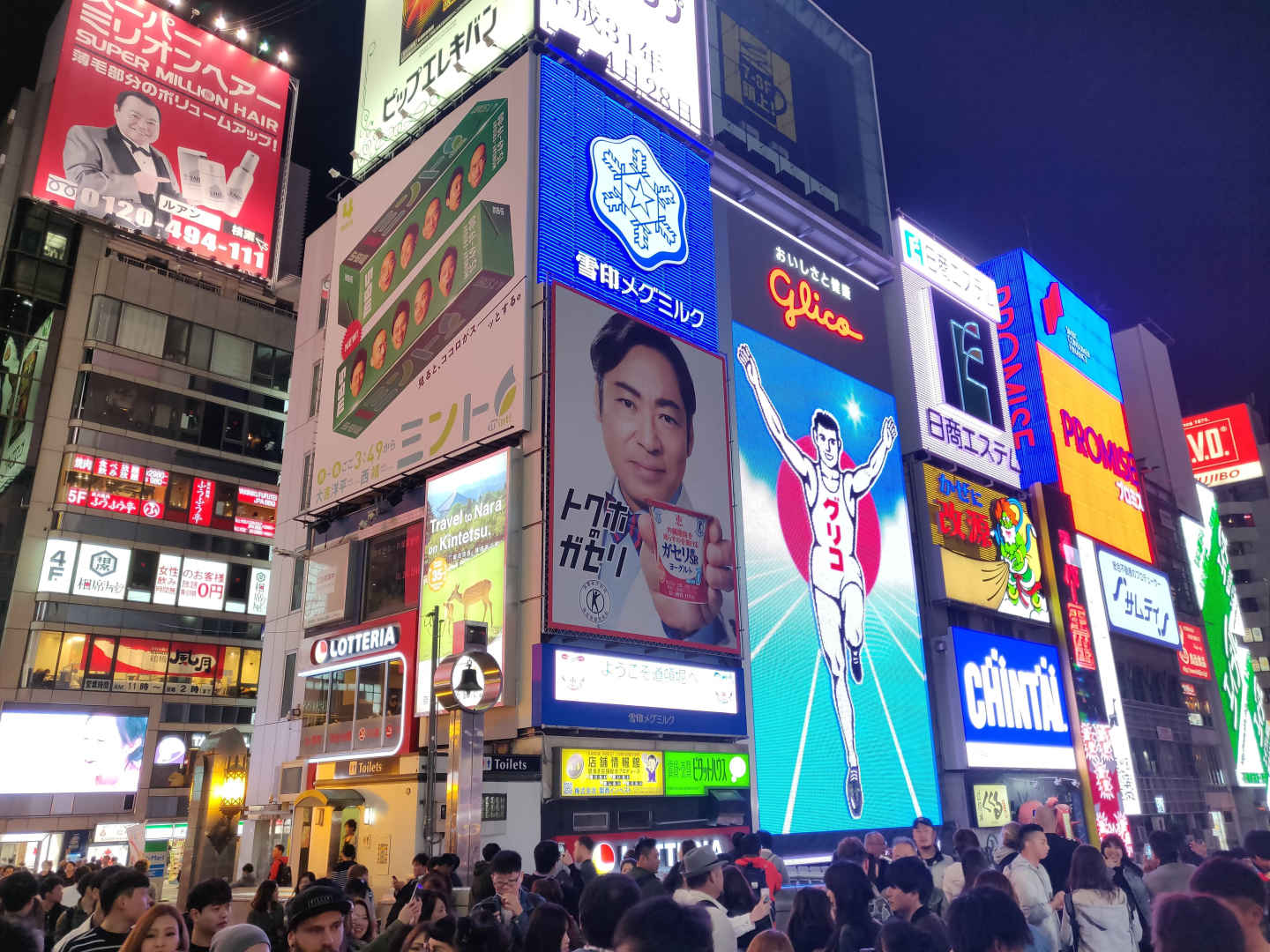 Look inside one of Japan's video game arcades any time of day or night and you will be struck by the amount of machine noise, cigarette smoke and coloured lights. These dedicated gamers don't seem to mind though.
Kyoto – 3 nights
Kyoto is just a 15-minute bullet train from Osaka. Once the capital of Japan, it is famous for its 2,000 beautifully preserved religious places, including 1,600 Buddhist temples and 400 Shinto shrines, as well as imperial palaces, gardens and traditional wooden architecture. The historic monuments of ancient Kyoto are a UNESCO World Heritage Site and the city is one of Japan's most popular tourist destinations, so be sure to allow at least two days in Kyoto.
Kyoto is in high demand so book your accommodation well in advance here.
Explore Kyoto's famous geisha district
As well as being a great place to go shopping, Kyoto has a long tradition of being a centre for geisha, the distinctive traditional Japanese female entertainers.
Kyoto's most famous geisha district is Gion, where you will find many traditional wooden merchant buildings containing shops, restaurants and teahouses, where geisha entertain guests.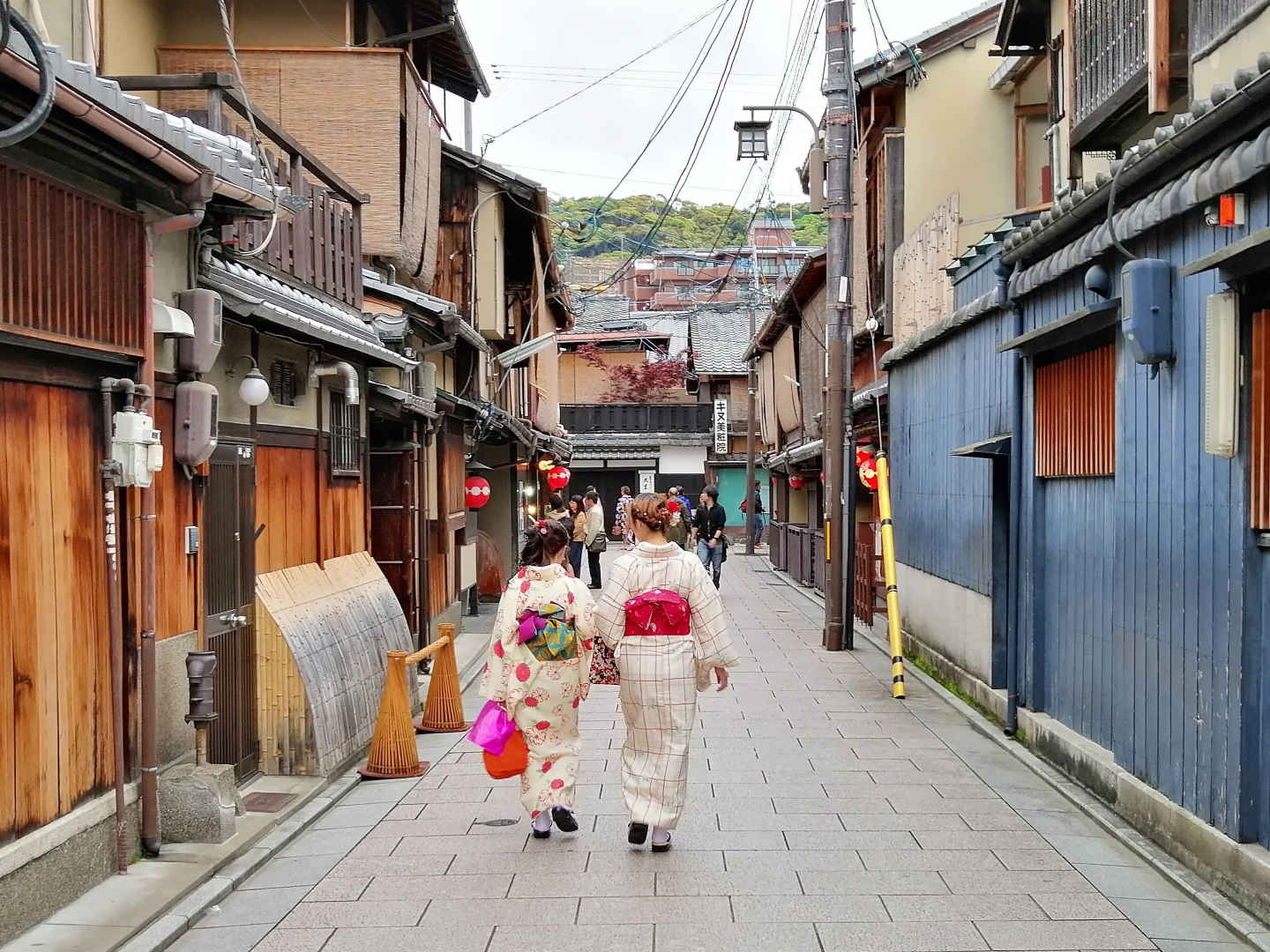 At the Gion Corner theatre, you can watch performances showcasing a variety of Japanese theatrical arts.
The nearby Ponto-chō district is also known for its preserved traditional architecture and entertainment. Pontocho Alley in particular is an atmospheric place to wander around after dark.
Here on its narrow streets you can discover tiny, moody bars where highly experienced bartenders mix you cocktails served with flowers, fruit and traditional Kyoto snacks.
Get lost in the bamboo forest
A popular day trip destination from Kyoto that you will recognise from Instagram photos is the Arashiyama Bamboo Forest. Just under an hour by public transport from central Kyoto, the bamboo forest walk is extremely popular with tourists so go early or be prepared for crowds.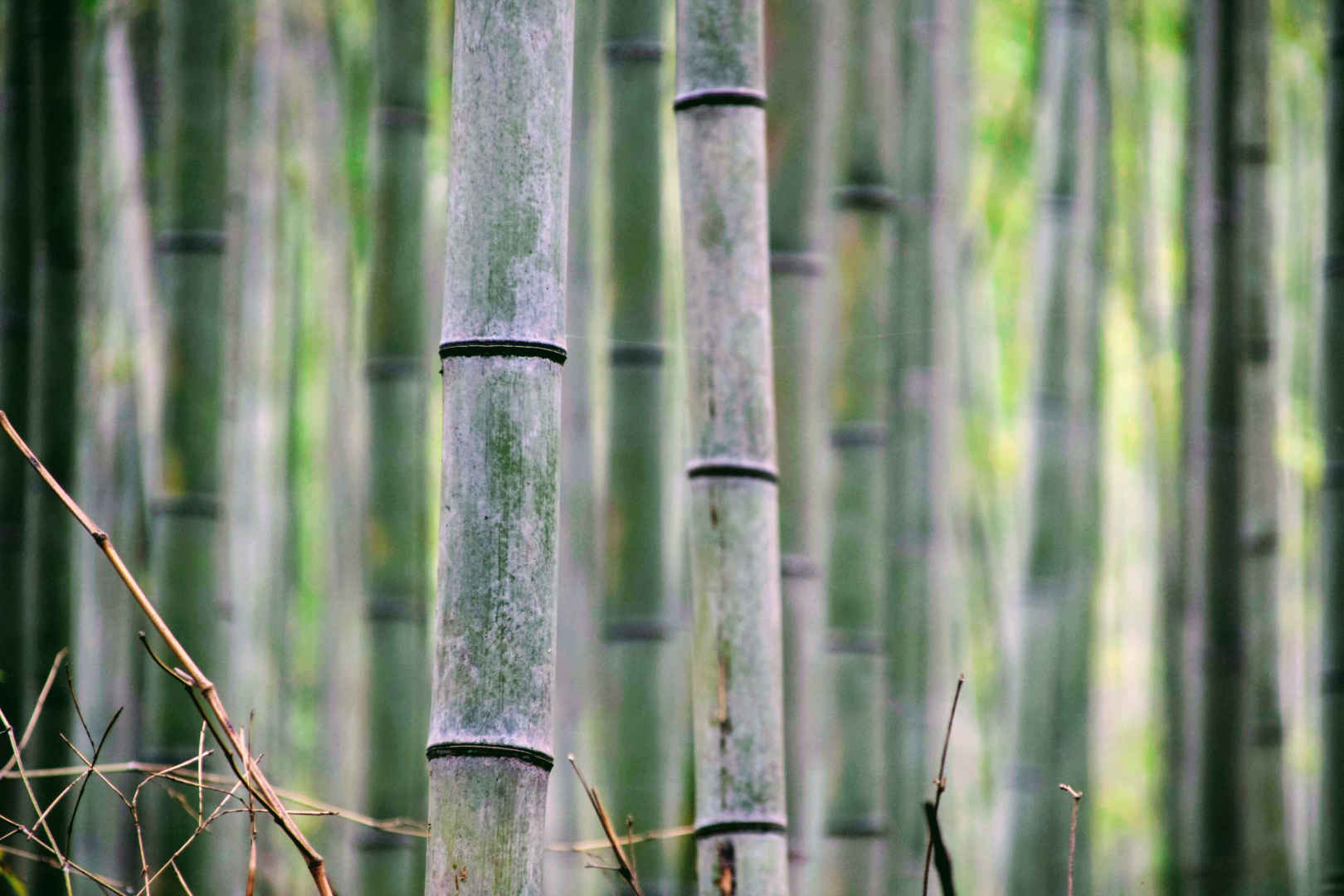 However, head off the beaten track and you will find secluded shrines and mossy pathways where you can enjoy a peaceful moment.
We found a great little Udon noodle restaurant called Ogura-ya, where you can tuck into delicious noodle soup.
From Kyoto it's a comfortable three-hour bullet train ride back to Tokyo, where you can catch your flight home after an incredible three weeks backpacking Japan.
Tokyo – 3 nights
Returning to Tokyo for our flight home, we took an extra day for what turned out to be one of the highlights of our trip – a visit to the majestic Mount Fuji.
Mount Fuji – the most fabulous day trip from Tokyo
About 1.5 hours from central Tokyo by train or bus is the famous Mount Fuji. This special place is well worth a day trip to enjoy the views. We were very fortunate to have perfect weather to see this magnificent mountain as often the summit is obscured by clouds.
Staying overnight in this beautiful location? Discover all the best places to stay.
From Kawaguchiko Station rent a bicycle or take the Red Line bus to Oishi Park. This route is usually not as busy as some of the others, so it won't be so crowded when you get there. The gardens, flowers and lake provide a beautiful foreground for your Mount Fuji photos. The blueberry ice cream from the cafe at the nearby Kawaguchiko Natural Living Center will make your experience even sweeter.
Is backpacking Japan expensive?
You may be wondering, how much does backpacking Japan cost? Japan is certainly more expensive than other countries in Asia to visit. In total, for our three weeks in Japan, I spent around €3500 (£3000), but you can definitely do it for cheaper than we did, if you stay in shared accommodation instead of private rooms.
So, how much money do you need per day when backpacking Japan? For me, it worked out at around €165 (£140) per day. I will break down the costs below, to help you calculate the price for your own trip.
Just over a third of the total cost was for accommodation. We stayed in simple hotel rooms, as well as a traditional Japanese ryokan and a nicer hotel in Okinawa for my birthday. You will save a lot of money on accommodation in Japan if you are staying in hostel dorm rooms, such as the ones suggested in the section below.
Around a quarter of the cost was for transport, including return flights from mainland Japan to Okinawa and the JR Pass for high speed train travel around the country. The JR Pass is an expensive upfront cost, but it works out cheaper than booking individual train journeys in Japan once you're there and gives you peace of mind. For more information, see the travel section below.
The next biggest cost, at 16% of the total, was for food and eating out at restaurants. The good news is you can dine well in Japan on a budget. We only spent around €27 (£22) per day on food. In Japan, you can find tasty street food and it's great to try the local specialities – read more on this below. Even in one of the neighbourhood 7-11 supermarkets, you can find delicious and inexpensive Japanese snacks and meals.
Of the remaining budget, the largest was for tickets to attractions, but this only comprised 8% of the total.
In terms of how much cash you should bring to Japan, you may be surprised to find that many vendors still take cash rather than credit card payment. For this reason, I would make sure you always have plenty of cash on you. Sometimes it will take a while to find an ATM, so once you locate one, it's worth taking out a large sum of money, as you will probably be charged by your bank, and maybe the ATM too, for each withdrawal. Luckily, Japan is a safe place to travel, so you don't need to worry about carrying cash with you.
This is the best (and worst) time to visit Japan
Spring is said to be the best time to visit Japan because it's cherry blossom season. For my trip to Japan, we decided to go from mid-April to the first week of May, over the Easter holidays. However, it's good to check with a Japan itinerary blog or planner first. It was only after I booked our flights with ANA (All Nippon Airways) that I realised that our dates coincided with Golden Week.
At the end of April and beginning of May every year, Golden Week in Japan is a time when there are a number of national holidays. At this time of year, many transport hubs, hotels and tourist attractions across the country are much busier than normal, if not fully booked. Normally the advice for international tourists is to avoid this period. For this reason, it's better to go to Japan in March or early April, if you want to see the cherry blossom. The mild autumn months between September and November is another good time to visit, as summer in Japan can get very hot.
For us, Golden Week in 2019 coincided with the abdication of Japan's Emperor Akihito and the ascension to the throne of his son Naruhito, Crown Prince of Japan, ushering in a new era for the country. As well as more extended national holidays, it was a momentous time in history to visit Japan. Read on for my full Japan trip planner to help you organise the best trip to Japan.
This is by far the fastest and best way to travel in Japan
As you will be travelling long distances in a relatively short space of time, the best way to travel around Japan is by bullet train, known in Japan as the Shinkansen. It is fast, comfortable and incredibly efficient.
Buying the bullet train tickets separately can be expensive, so I highly recommend buying a Japan Rail (JR) Pass. This allows you to travel on the Shinkansen as often as you want within your Japan 21 day itinerary for a fixed price. You need to order it in advance before you leave, then exchange your voucher for the pass itself at a train station when you arrive.
Find out more, buy your JR Pass and get a free Japan train planner here.
A Japan train tour like this is arguably the best way to see Japan if you are there for a week or more and visiting a few places – you can also buy a JR Pass for 1 week or 2 weeks. When you are looking into how to travel around Japan, you will see there are other options, such as buses and internal flights. Buses can be useful if your Japan travel route is more off-the-beaten path as the Shinkansen mainly serves the big cities. As we were taking flights for part of our trip, to visit Okinawa, we calculated that we didn't need a JR Pass for 3 weeks to travel through Japan; we only needed to organise a 7 day Japan Rail Pass itinerary.
After you have planned your JR Pass Itinerary, you will need to book the individual tickets for the journeys at the train station. Then, the only thing you will need to worry about is getting on and off the train in time, as they only allow around one minute at each station, before speeding off to the next stop.
To help you plan a budget and estimate costs for your trip to Japan, check out this useful site.
Final thoughts on a backpacking Japan 3 week itinerary
While we had a full Japan itinerary of 21 days, somehow it still didn't feel like enough time. Because we had chosen to go south to Okinawa on our Japan backpacking trip, we weren't able to visit the two destinations in northern Japan that our friends had suggested.
Niigata is a port city said to produce the world's finest sake, Japan's famous rice wine, while Nagano is a ski resort famous for the snow monkeys bathing in the hot springs of Jigokudani Monkey Park. Seems there's plenty left to visit on our return.
Whatever happens, you are sure to have an incredible time on your 3 week itinerary in Japan, as you eat, experience and enjoy everything this unique country has to offer.