Japan's remote Okinawa islands in the Pacific Ocean are its best-kept secret. Many of the islands are quiet and serene, despite their tropical climate, sandy beaches and delicious food. I recently visited the islands as part of a backpacking Japan trip. In this post, I will share my top tips on how to create the perfect Okinawa itinerary for 7 days.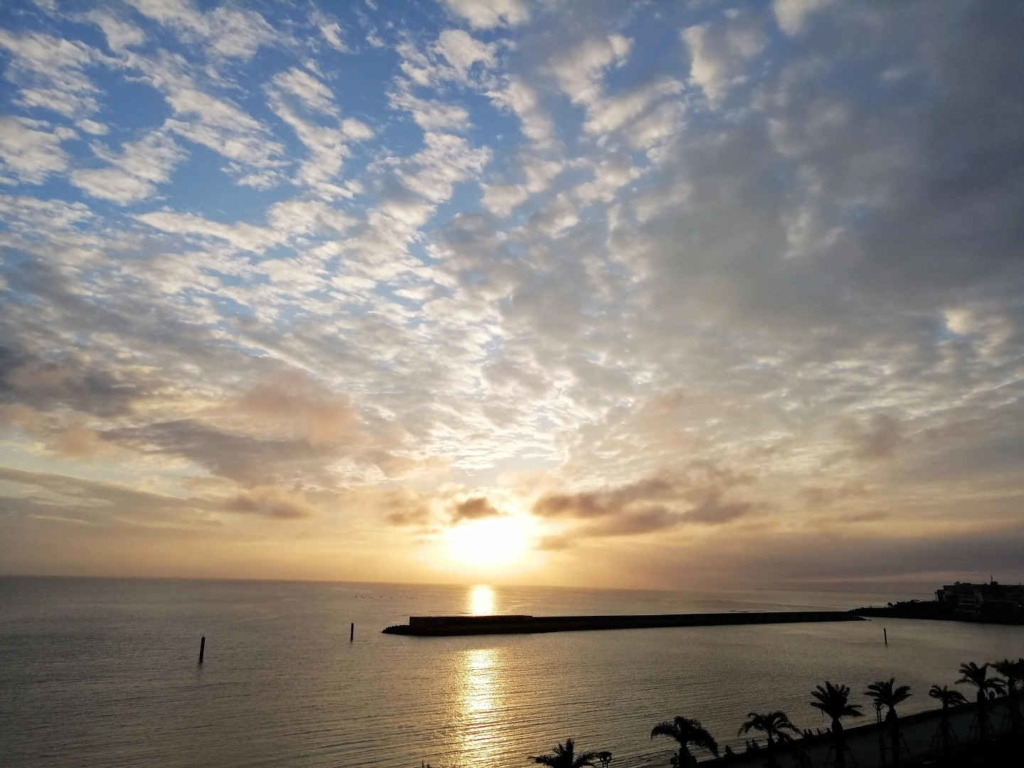 This post may contain affiliate links. That means, if you make a purchase, I may receive a small commission. As an Amazon Associate I earn from qualifying purchases. For more information, read my disclaimer.
How to create your Okinawa itinerary
So, how many days in Okinawa do you really need? If you are planning to stay on the main island, anything from 3 days to 7 days in Okinawa is ideal, so you can blend beach time with travelling and activities.
An Okinawa travel itinerary of 3 or 4 days could include a beach day, a scuba diving or snorkelling day and a day to visit local Okinawa attractions. If you have 5 days in Okinawa, you can discover beaches and places of interest further afield, especially if you hire a car.
If you plan to take flights or boat trips to visit some of the other islands in the archipelago, then an Okinawa itinerary 7 days or more is perfect. One week in Okinawa will give you time to see and do everything you want to, without feeling rushed.
These are the best places to stay on your Okinawa itinerary
If you're wondering where to stay in Okinawa, you have a number of options. The best place to stay in Okinawa depends how long you have on the islands and what you would like to do on your Okinawa itinerary.
You will need to bear in mind that the main Okinawa island is long. Even if you hire a car, the maximum speed limit is 60 km per hour (around 37 miles per hour) and you will find it takes a while to get to each of the beaches and Okinawa tourist attractions. This is why an Okinawa 7 day itinerary could work better than a shorter trip, so you can relax and see more. You can read more about all the best places to go in Okinawa below.
Naha – the capital city
The capital city of Naha is a great place to go shopping and it is also most convenient for the airport. One of the main places to visit in Okinawa for shopping is Naha's Kokusaidori street, also known as International street, which is full of bars, shops and restaurants.
If you choose to stay in Okinawa's capital city of Naha, there are some great hotels here. The boutique-style Mercure Okinawa Naha hotel is conveniently located less than ten minutes from the airport by monorail. Its Bistro de La Mer restaurant offers French dishes paired with excellent international wines.
If you are backpacking Okinawa and looking for a hostel, the stylish Okinawa Sora House is in a great location, close to all the shops and restaurants on the popular Kokusai Street.
Browse and book your room in one of the best hotels and places to stay in Naha.
Chatan – American Village
We stayed in Chatan, around an hour north of Naha. There is an affordable shuttle bus that travels between here and the airport.
As well as a beach, Chatan includes a lively area known as American Village, which has many restaurants, shops and entertainment venues.
This colourfully-lit area has a retro, Americana feel and is completely different from the rest of Japan. It is popular with the Americans stationed on the island's large U.S. military base. Its blend of Japanese and US culture feels quite unique.
Check out the latest deals on the top hotels and places to stay in Chatan.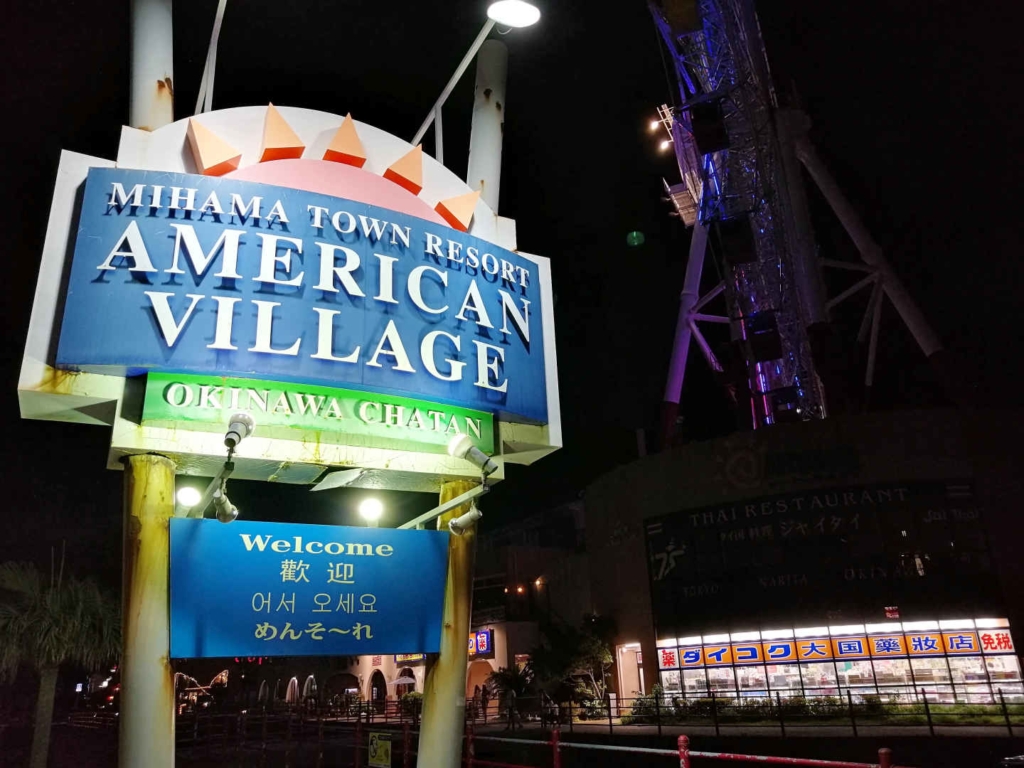 Hotels in Chatan, Okinawa include the fabulous Hilton Okinawa Chatan Resort, a short walk from American Village. Guests rave about its sea views and friendly staff.
We stayed at the neighbouring, brand new Doubletree by Hilton Okinawa Chatan resort. which also overlooks the sea. This is a gorgeous hotel with welcoming staff and useful amenities. Our large room had a balcony, two double beds and a wet room with a rain shower, which is perfect to relax under after a day of sightseeing or at the beach. I recommend choosing an ocean-facing room so you can see the stunning sunset views over the sea.
If you are on an Okinawa backpacking trip and looking for a hostel, there are some great options in Chatan. The hipster AIEN Coffee & Hostel serves a delicious breakfast and offers bike rental, while the colourful Seawall Hostel is just two minutes' walk from the beach.
Further north – Onna and Nago
If you plan to visit north Okinawa, it's worth knowing that Onna has one of the best-known scuba diving spots, while Nago is home to the most fun and quirky tourist attractions in Okinawa.
In Onna you will find one of the best Okinawa beach resorts. The ANA InterContinental Manza Beach Resort hotel is in an enviable spot surrounded by the ocean and with a private beach. The excellent Hotel Monterey Okinawa Spa & Resort offers a wide range of activities, while the superb Sheraton Sunmarina Okinawa Resort hotel has facilities for families and sports lovers.
One of the top-rated hotels in Nago is the Kanehide Kise Beach Palace, which has large rooms, sea views and sits on a sandy beach.
Backpackers in Okinawa should head straight to the Akachichi Guesthouse when in Onna, which has affordable private rooms with garden views and delicious breakfast served on the terrace. In Nago, the brilliant Backpackers Guesthouse Border has sociable dorm rooms and sea views.
What you need to know about travelling around Okinawa
There isn't yet a good public transport infrastructure in Okinawa and taxis are expensive, so the best way to travel around in Okinawa is by car.
The fantastic staff at our hotel booked us in at an Okinawa car rental place nearby so we could set off on an Okinawa road trip to explore the island.
In Japan, people drive on the left and the roads have a relatively low speed limit. For this reason, even with a car, we found it took longer than expected to visit places. However, in general the local drivers are calm and polite which makes driving in Okinawa quite pleasant, even if you are not used to driving on the left. Read on for our Okinawa self drive itinerary.
This is the best 7 day Okinawa itinerary
Day 1 – Spend a day at one of Okinawa's beautiful beaches
Our Okinawa 1 week itinerary included some local attractions and the best Okinawa beaches. This is why we had come to this tropical island after all. There are beautiful beaches here with hardly a soul on them.
One of the best beaches in Okinawa is Oodomari beach on the remote Ikei Island. It can be reached by car in around an hour from Chatan, via a series of bridges from Okinawa island, which is a fun part of your Okinawa self drive route.
As with some other Okinawa beach trips, you will need to pay a small fee to the beach's owners but you can enjoy the area almost to yourself. The sea is ideal for swimming – clear, clean and full of fish. There are basic showers where you can wash off the sand afterwards.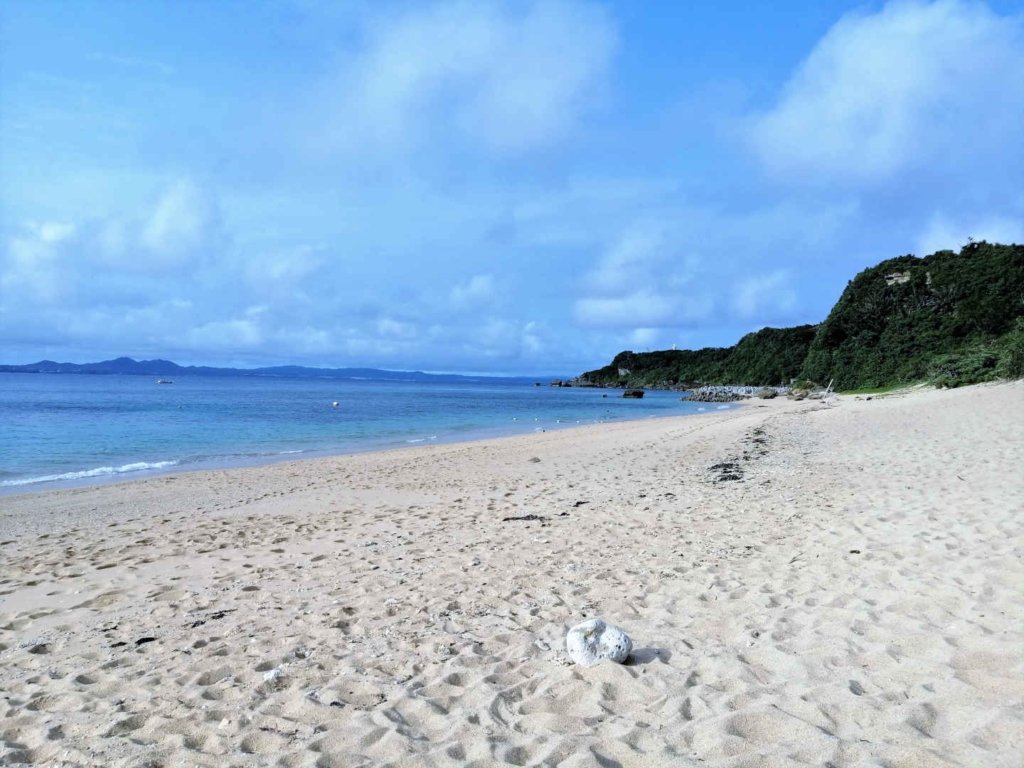 Day 2 – Pay your respects at the Peace Memorial Park
Okinawa's Peace Memorial Park, a 40 minute drive from Chatan and 30 minutes south of Naha, is one of the most thought-provoking places to go in Okinawa.
Here, you can walk around the various sites and pay your respects to the many lives lost on both sides of the Battle of Okinawa. In World War II's last major battle, over 180,000 American troops invaded Okinawa island, as part of their strategy to defeat Japan. There is a museum here where you can discover the devastating impact of the war on Okinawa and its people.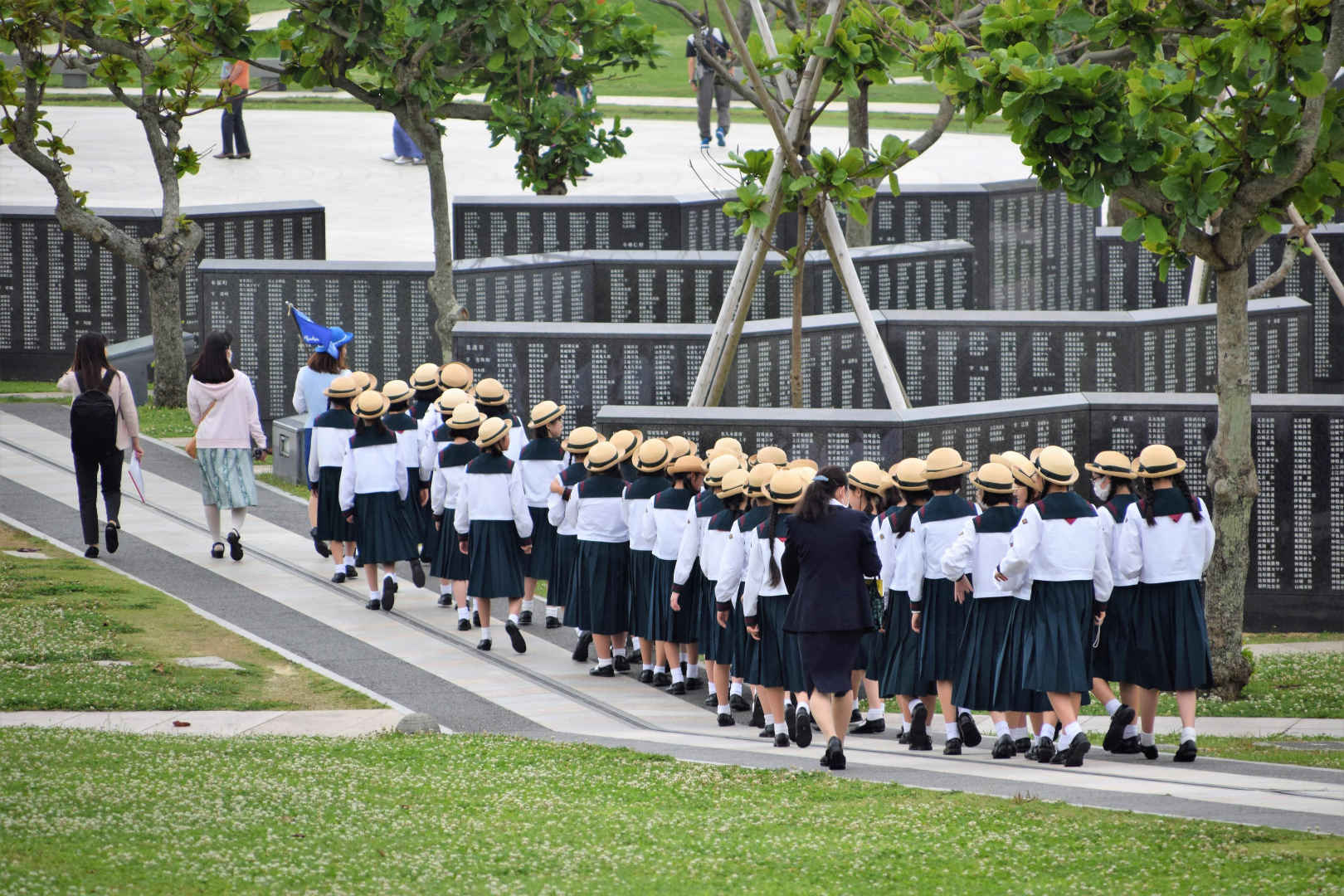 Day 3 – Visit Sefa-Utaki, a UNESCO World Heritage Site
I loved Sefa-Utaki, a sacred space with an enormous spiritual significance for Okinawa. It is 50 minutes from Chatan by car and 40 minutes east of Naha.
This UNESCO World Heritage Site is one of the main Okinawa points of interest. For thousands of years, people have come here to worship in Okinawa's native Ryukyuan religion. This religion values paying respects to our ancestors, as well as the gods and spirits of the natural world.
According to Ryukyuan texts, Sefa-Utaki was the spot where Amamikyu, the goddess of creation, first manifested and set foot on Okinawa. Kings and priestesses would make pilgrimages here to conduct important ceremonies and pray for the prosperity of the kingdom and its harvests.
Winding staircases and footpaths lead through lush jungle surroundings to shrine areas and notable rock formations. The last place you reach is the most sacred. Here, two huge rocks lean against each other, forming a triangle-shaped space, like a natural cathedral.
Day 4 – Go snorkelling in Onna
Explore the underwater world around the islands on one of the Okinawa snorkelling tours, notably at the popular Blue Cave site near Onna.
If you are feeling adventurous, there are many Okinawa scuba diving sites around the islands, which are surrounded by coral reefs. We headed towards the neighbouring island's Kerama National Park on our scuba-diving trip.
Also in Onna is one of the most notable places of interest in Okinawa. Ryukyu Mura recreates a traditional Okinawan village, complete with dancing and drum performances.
Discover the all best hotels and places to stay in Onna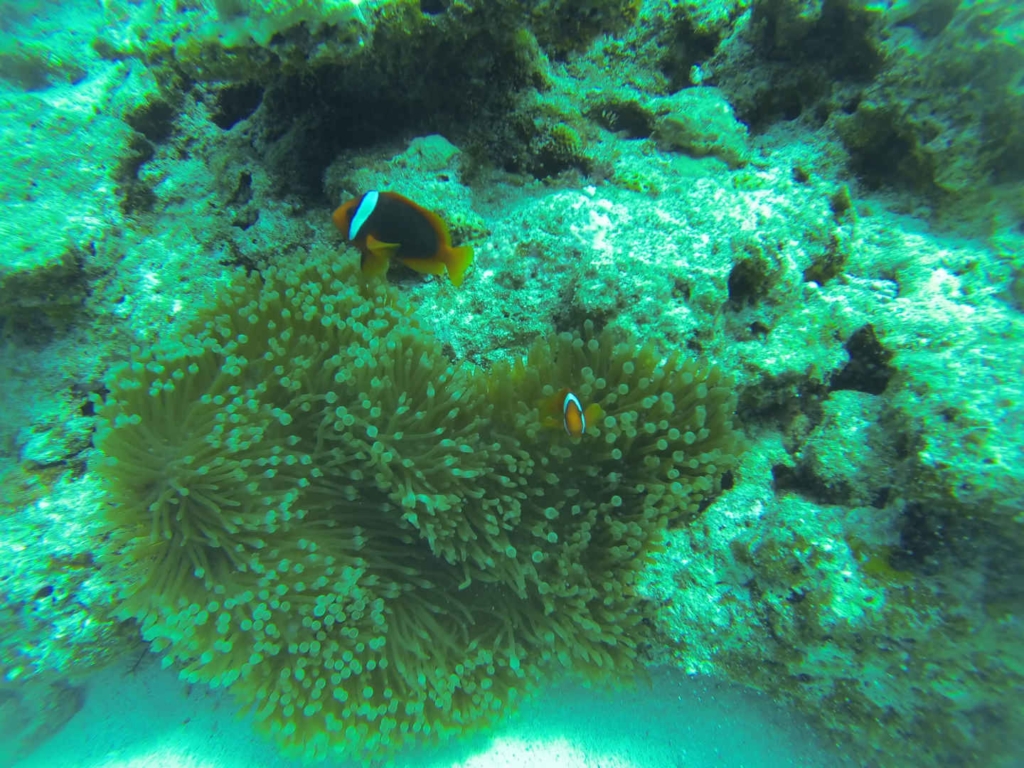 Days 5-7 – Check out the unique tourist attractions in Nago
If you're in Nago, don't miss Nago Pineapple Park, a theme park giving tours of pineapple fields, which is one of Okinawa's main tourist attractions.
Also in Nago is Okinawa Churaumi Aquarium. Once the world's largest aquarium, it contains impressive exhibits containing sharks, manta rays and a vivid variety of sealife. The nearby underwater observatory at Busena Marine Park is another one of the best places to visit in Okinawa.
Okinawa has its own brand of American-style beer, called Orion. It has been widely consumed on the island for the last 60 years. You can visit the Orion Happy Park in Nago and tour the factory where Orion beer is brewed.
You will need to allow a couple of hours to travel back to Naha airport.
Find out the latest prices for the best hotels and places to stay in Nago.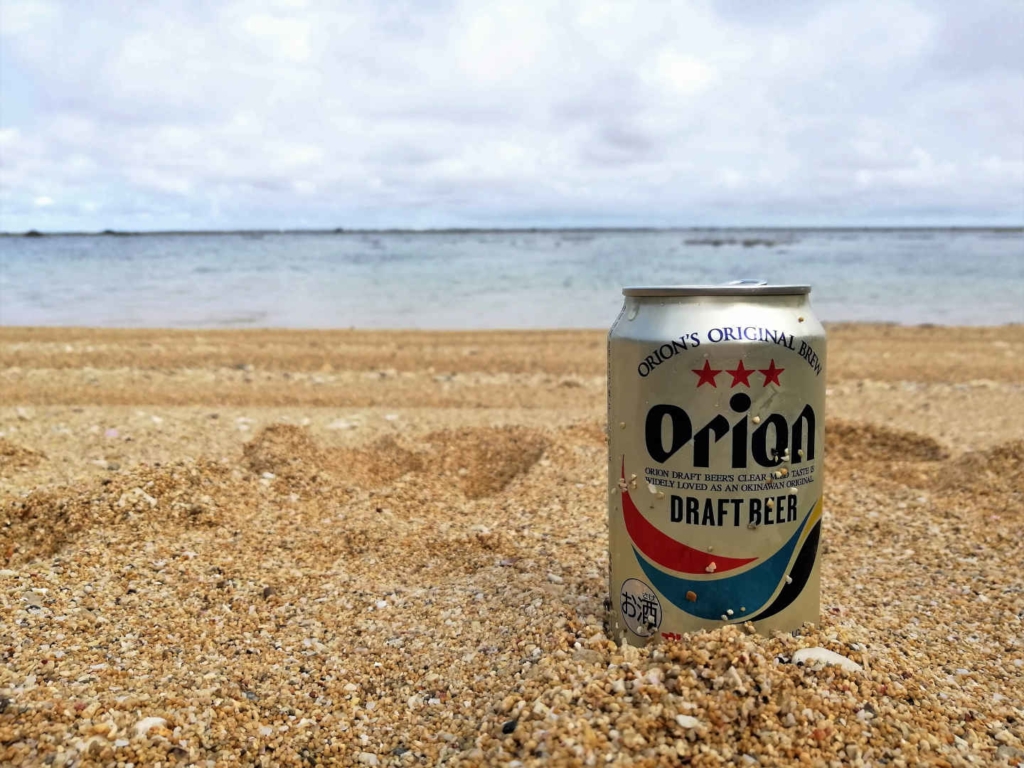 This is the best time to visit Okinawa
Temperatures on the Okinawa islands reach around 20°C all year round, thanks to the subtropical climate. While most of mainland Japan's beaches open in July for the summer, the best time to visit Okinawa beaches is a large part of the year. In Okinawa beach opening is from March all the way through to October. It's the perfect stop in Japan for beach lovers.
Okinawa's main rainy season is in May and June. In July and August, temperatures reach over 30° and there is a chance of typhoons hitting the islands from then until September. Okinawa's weather in December to February has the lowest temperatures, at closer to 20°, but also the lowest amount of rainfall.
If you're wondering, when should I visit Okinawa, the best time to visit is in the spring months of March and early April, or in the autumn, from October to November.
Keep reading this Okinawa travel blog post to discover how to create the perfect 7 day itinerary to see the best of Okinawa.
Don't go without Lonely Planet's essential Japan and Okinawa travel guide book – buy it here.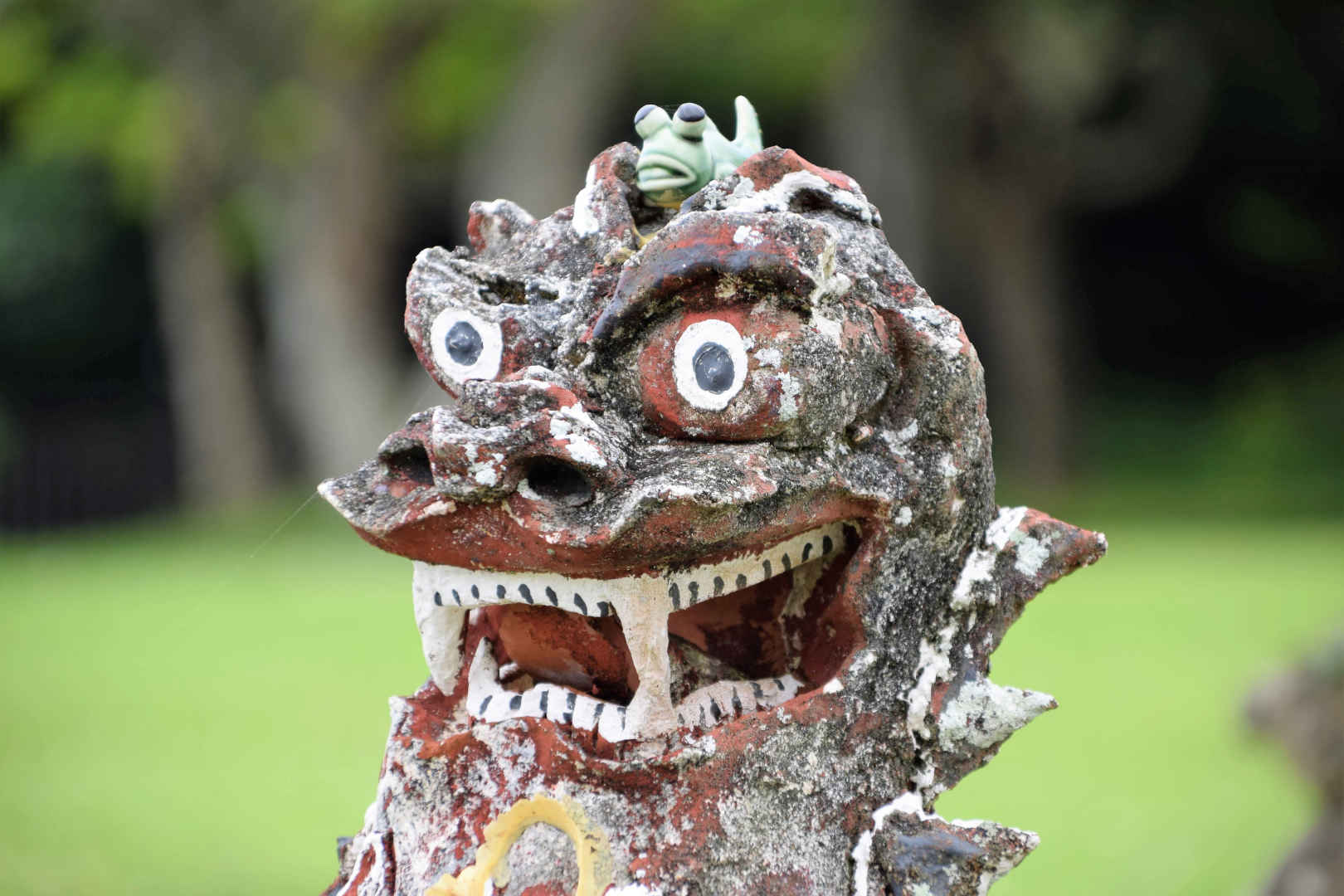 How to get to Okinawa
The main Okinawa airport is in Naha and there are different sections depending on whether you are flying to or from Japan or internationally. Airlines such as ANA operate cheap flights to Okinawa from the main islands of Japan, even though it covers a distance of around 900 miles (1500 km).
Check the flight times and prices for cheap flights to Okinawa.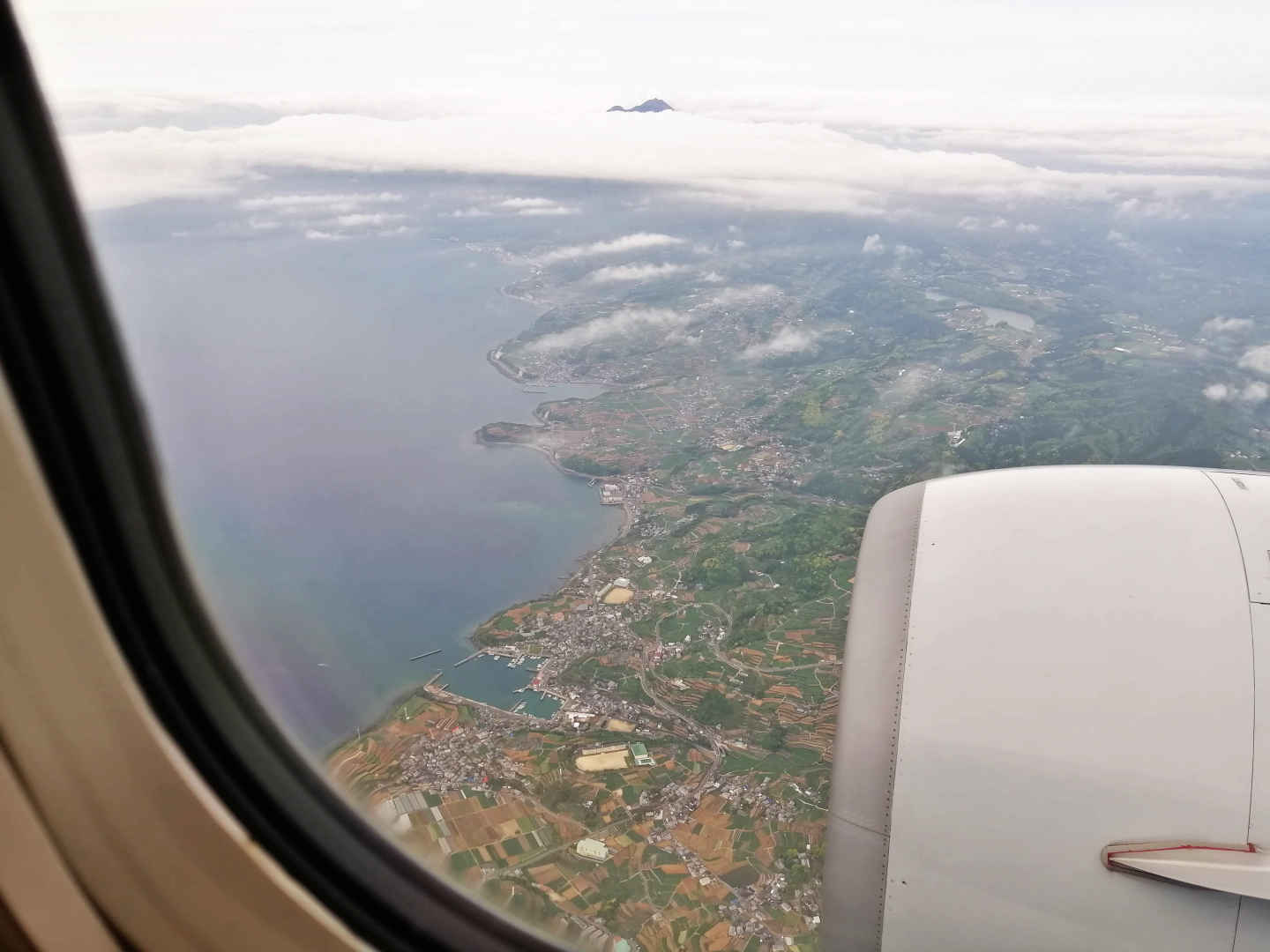 From Tokyo to Okinawa, the journey takes almost three hours. Flights from Haneda to Okinawa airport can cost as little as US$60, so it's certainly possible to book cheap flights from Okinawa to Tokyo.
Flights from Okinawa to Osaka take just under two hours and can cost from around US$45, while from Kyoto to Okinawa the journey is two hours and 15 minutes, priced from around US$80 depending on the time of year.
From Hong Kong to Okinawa the flight time is actually shorter than from Tokyo, at two hours 40 minutes, and it costs from around US$100. Meanwhile, Singapore to Okinawa flights take five hours and closer to US$300.
If you are wondering how to go to Okinawa from Malaysia, the cheapest flights are from Kuala Lumpur, with a stop in Taiwan. Costing around US$225, it takes 7.5 hours.
Feast on the unique food in Okinawa
One of the things Okinawa is famous for is its unique fusion food, thanks to its many international influences. These include taco rice, a Japanese-American dish inspired by the nearby U.S. military base.
For us, one of the best Okinawa restaurants was a semi-hidden restaurant called Oshino. Here, each table is fixed with its own teppanyaki grill, where your food is cooked in front of you. They even give you a special spatula to cut and serve your meal onto your plate. The restaurant specialises in original versions of teppanyaki dishes.
Everything we ate here was good but my favourite was a Tex-Mex take on Japan's famous okonomiyaki savoury pancake dish, which you won't find anywhere else in the country.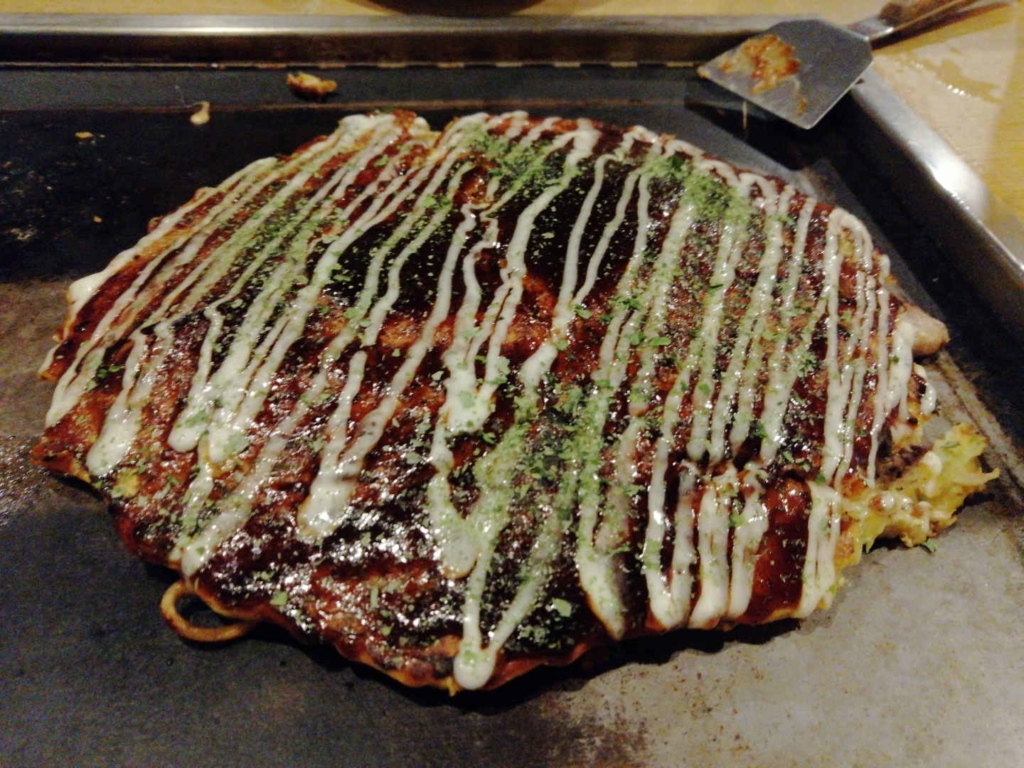 In the wake of World War II, Spam, the famous U.S. tinned pork brand, was one of the few sources of meat for the islanders and fit is still popular today. In the American Village's huge Aeon supermarket, you can find many flavours of Spam.
A popular breakfast for Okinawa residents is a Spam sushi sandwich. This breakfast sushi sandwich is rice covered with nori seaweed and filled with egg, Spam and tomato ketchup. It is surprisingly tasty.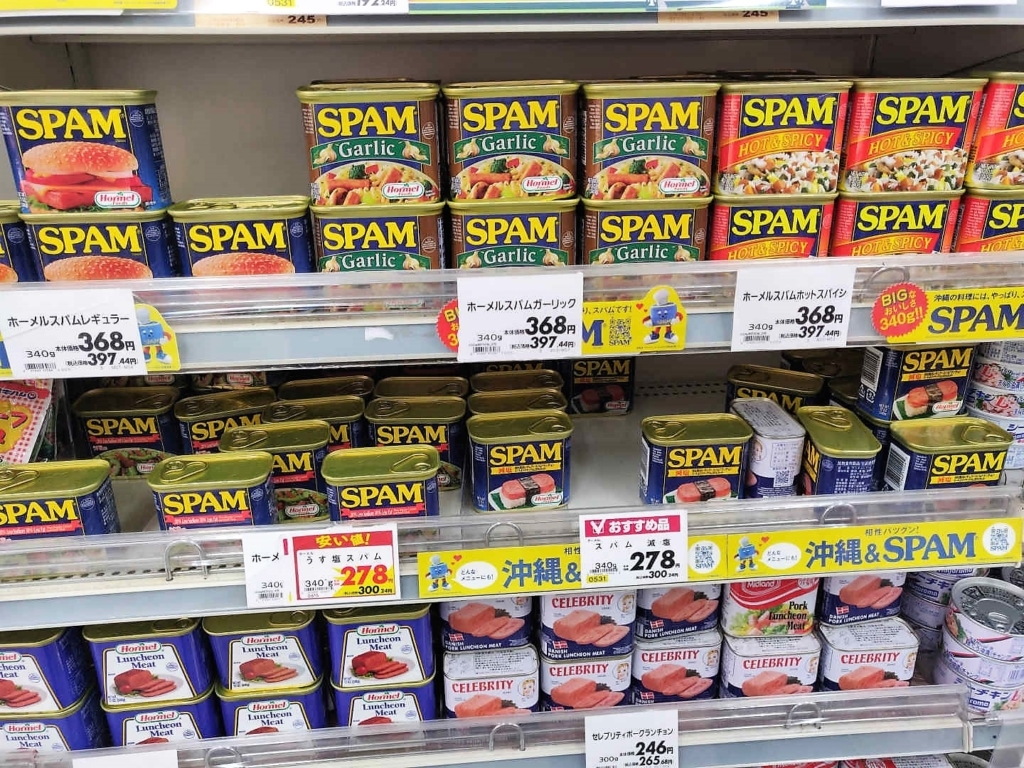 The famous Japanese dish of tempura – battered and deep fried seafood and vegetables – was in fact inspired by a meat-free, deep-fried recipe from Portuguese traders arriving in Japan's historic port city of Nagasaki (see below) during the 16th century. The best place to find it in Okinawa is at the Oshiro tempura shop on the tiny Oishi island, just off the south of Okinawa island.
In Okinawa, they use local ingredients in their tempura, including goya bitter melon and benimo, the purple sweet potatoes Okinawans love to use in both savoury and sweet dishes.
Buy Okinawan souvenirs to treasure
When you explore Okinawa, you will often see pairs of what look like guardian lions at the entrance of doorways and shrines. These are shisa, traditional Ryukyuan decorative beasts from Okinawan mythology, believed to ward off evil.
The left shisa traditionally has its mouth closed in order to keep the good spirits in, while the beast on the right has an open mouth to banish the evil spirits. You can find plenty of replicas of these shisa to decorate your home or give as a present.
Another popular souvenir from Okinawa is the region's famous sweet potato tarts. At the airport, you will find many examples of these bright purple treats to pick up as a unique gift.
Final thoughts on creating the perfect Okinawa itinerary
Okinawa remains a relatively overlooked part of Japan and many visitors do not venture down to these tropical islands. It's understandable when there are so many amazing things to do in Japan.
While there are some fabulous hotels, the islands are not yet set up to be major tourist destinations and this is part of its charm. If you are interested in culture, food, history and beaches and somewhere off-the-beaten track, Okinawa is a fascinating and rewarding place to visit.
Start researching your holiday in Okinawa here.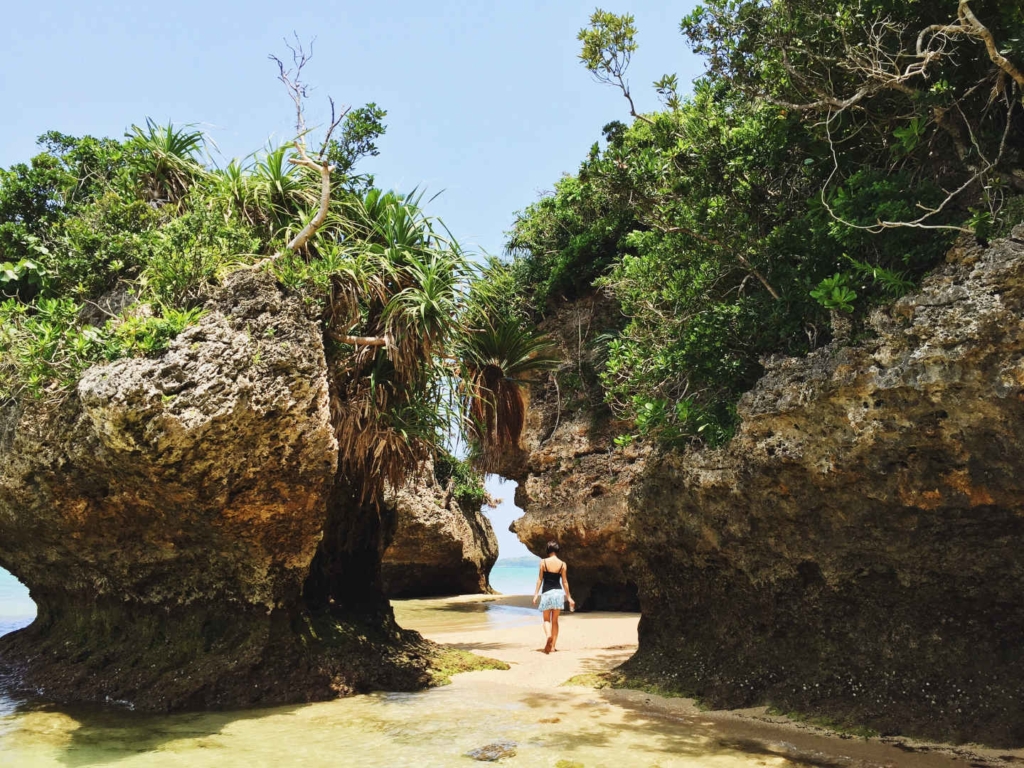 Next, read about how to create a three-week itinerary in Japan that you will remember forever.