If you're planning a Kerala backpacking trip, there are plenty of things to see and experience in South India's gorgeous green land known as God's Own Country. Here are my recommendations of eleven essential activities, including some of the best places to visit in Kerala.
1. Spend the night sailing in a houseboat

This one isn't cheap, but if you can afford it, it's well worth it. Head to Alleppey for the chance to spend the night on a traditional Kerala houseboat and sail along the backwaters. You will have your own crew to manage the boat and serve you mouthwatering feasts – all you need to do is put your feet up and relax. You can browse and book a great selection of Alleppey boat accommodation in advance here. If you haven't booked in advance, it's best to arrive at the harbour early for the biggest choice of boats – and be prepared to negotiate! Most of the houseboats have two double rooms, so you may want to pair up with another couple of travellers. This way, you can split the price of the houseboat, which is around £100 for the night, including all the food. This doesn't include alcoholic drinks but you can buy that yourself before you board, should you wish. We heard a cheaper option for a Kerala backwaters tour is to do a daytime group sailing trip, instead of overnight. But we went for our own private boat, as we wanted the full experience. Ours was called Alakapuri and just had one bedroom, which was perfect for us. In fact, as it was smaller than many of the other Kerala houseboats, it meant we could explore smaller backwaters that were inaccessible for most. It was a blissful experience to watch the local children play along the banks and to float into an expansive lagoon where we felt like the only people in the world. There were a couple of stops, to pick up fresh seafood for dinner and to explore an island, but otherwise you are cocooned in houseboat bliss until the sun rises and you enjoy breakfast as you sail back into the harbour to return to civilisation.
 2. See the Chinese fishing nets in Fort Cochin

Fort Cochin (otherwise known as Kochi) is one of the main tourist places in Kerala, as it's close to the international airport. Walking around, you get a sense of the local community and traditional customs. One of the most fascinating things is to watch the contraptions they use to catch fresh fish and seafood. Known as Chinese fishing nets, these lift nets are fixed and operated from the shore. Tall wooden beams extend branches holding horizontal nets over the sea. Operated by a team of fishermen, each structure is counterbalanced by large stones suspended from ropes at the other end. They move elegantly and slowly, as they make their catches. This way of fishing is unusual in India and almost unique to the area, as it was introduced by Chinese explorers who landed there in the 14th century. Indeed, one interpretation of the city name is  'co-chin', meaning 'like China.'
3. Smell the perfumes and spices
Sandalwood, cloves and cardamom are among the most popular perfumes and spices grown in Kerala.  Indeed, the region has been a prominent spice exporter since 3000 BC, attracting ancient Babylonians, Assyrians and Egyptians. Centuries later, the 15th century's burgeoning spice trade in Europe brought Portuguese traders to these shores. Kerala is still referred to as the 'Spice Garden of India'. It is also one of the world regions perfumiers are drawn to when creating their brands, thanks to Kerala's scented supplies of rose and jasmine oils. A stroll through Cochin's area known as Jew Town will reveal small streets with shops selling wares, including perfumes, incense sticks and spices. We stopped at one called IRS where they will match you with the perfect natural scented oil, if you tell them the designer perfume you normally wear.
4. Feel welcome in a homestay
If you're on a Kerala backpacking trip, you will be looking for affordable accommodation. In the smaller places, you may not find hostels, but one of the best options is to stay in a homestay. This means, essentially, you are staying in one of the rooms of someone's house and they are your host for the duration. This may or may not include meals – it's always worth checking this. In Cochin, one of the top rated places to stay is also great value. The Pod Cochin has countless rave reviews and for good reason. It's well located close to the main tourist areas of Cochin, with clean, comfortable and cool rooms. The homestay owners are very kind and friendly and full of good advice – they even booked a private hire car for us and organised for it to be shared with two other guests to keep costs down. We also stayed in a lovely homestay in Thekkady, not far from Periyar Wildlife Sanctuary, where the owner – despite being unwell – was incredibly kind and generous. Nothing is too much trouble for his guests and we enjoyed chatting with him and his lovely family.
5. Take in a traditional theatre show
One of the best things to do in Kerala is to take in a traditional show. We went to the Kerala Kathakali Centre in Cochin. Kathakali is a vibrant and colourful 17th century Indian dance form, conveying epic Hindu legend with an all-male cast wearing outrageous costumes and make up. The actors train for around seven years to be good enough to perform these roles. Arrive early and you can watch them prepare their make up. There are no words in the script – everything is communicated via intricate hand and eye movements, music, footwork and facial gestures. It's a bewitching and bewildering show, revealing how a green-faced prince is seduced by a screeching demon who is in fact a beautiful woman in disguise. Definitely memorable!
6. Discover the origins of tea in the Munnar plantations
The Munnar hills are famous for their rolling tea plantations and they are a sublime stop on any Kerala backpacking trip. Around 1,600 metres above sea level, the views are spectacular by vehicle and you can also embark on hikes from the hilltop station. Here you can learn how the different types of tea are selected from the plants and how the trees protect and irrigate the land. You can also see people at work, hand-plucking the tea leaves and collecting them in their baskets. Of course, you can also stop at a shop to buy some freshly picked Indian tea leaves and powders, for a taste of Kerala to take home.
7. Relax on Varkala beach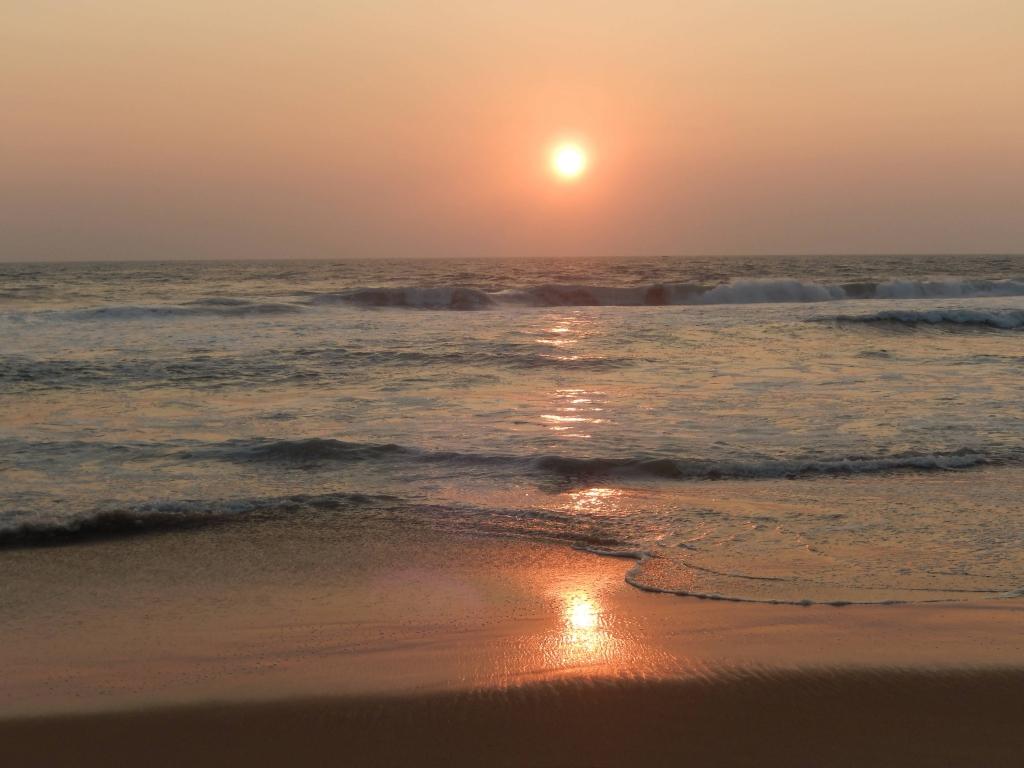 Varkala is a laid back, cliff-side beach resort in Kerala, around four hours south of Cochin by car or public transport. We ended up staying here for a few days. The pace of life is slow, there is a nice collection of bars and restaurants, and the views across the sea are wonderful. If you like shopping, there are plenty of retailers and market stalls to tempt you away from your money. It's also lovely for an evening wander along the clifftops or the beach, watching the local fishermen bringing in their seafood catch of the day. There are yoga classes, cooking classes, Ayurvedic massages and more to occupy your time. Or you can just enjoy a beer – given to you at the restaurants in a discreet mug, as alcohol consumption is frowned upon here – and people watch. It's a relaxing and charming place to unwind.
8. Take a train ride
It's not always easy to get around Kerala. While there are buses, a private car is simply less hassle, if you have the budget. But it's worth taking a train just for the experience. There are different classes on Indian trains – from third class where people seem to be more or less squashed in, to first class, which is what we chose as it was still very cheap compared with Europe – around £15-£20 for a four hour journey from Varkala to Cochin. You can use the official Indian railway operator website, but for ease I would recommend using the Cleartrip app, which is more efficient for non-Indian travellers. In first class, you are seated in four-bunk sleeper cabins, separated from the main corridor by a curtain. The seats convert to beds, with sheets and pillows provided. We met some lovely fellow passengers and got chatting with them in the comfort of our air-conditioned cabin. The best bit about the journey is that every few minutes someone will go buy selling cheap food and drink, so you won't go hungry if you forgot to bring snacks!
9. Be wowed by a martial arts spectacle
In Thekkady, we enjoyed a jaw-dropping martial arts performance at the Mudra Cultural Centre. This traditional show from Kerala is called Kalaripayattu and is over two thousand years old. A talented group of young men perform impressive gymnastics, including flying through hoops of fire. They brandish weapons in mock fights and punctuate the moves with clangs and bangs. In the corner of the hall is a 'puttara' or seven-tiered platform where candles are lit in honour of a guardian deity.
10. Be blessed at a temple
Visiting a temple can be one of the most memorable things to do in Kerala. There are a number of notable temples around the beach resort of Varkala. Visitors must respect the rules, which include covering your knees and shoulders, and removing your shoes. The one I enjoyed visiting the most is not the most ornate, but it is where we received our first blessing. Sivagiri is a hilltop pilgrimage centre, a short motorbike ride from the beach resort, which houses the tomb of the famed social reformer Narayana Guru. He believed in social inclusion and his concept was 'One Caste, One Religion, One God'. I found the experience very moving, as the Guru had clearly inspired a great many people, thousands of whom come to pay their respects every year.
11. Make new friends
You never know what to expect in India, including who you will make friends with – and that's part of the magic. The local people in our experience were all friendly, helpful, polite and kind – when we had the opportunity we spent time chatting and learning about their daily lives. On our Kerala backpacking tour we met homestay owners, local kids, drivers, fellow European travellers and local bar managers. At one point – when there was an sudden and unexpected ban on large-denomination rupee bills – we met almost everyone we'd met during our journey in a queue for the last remaining ATM in the town that was still dispensing cash! One of my most heart-warming memories of the trip is when I was spontaneously invited to a wedding. I was waiting next to a house which was lit up with decorations when one of the hosts spotted me and beckoned me over. He explained that his brother was getting married and invited me in to dine with them! It was a very special moment and encapsulated the openness and generosity of the people in Kerala.
Next up, check out more of India's best beaches and top tips for solo female travel in Goa.