Visitors to South America would be mad to miss Chile: its charming cities are full of personality, while its dramatic landscapes have the wow factor. On my round the world trip, I only had time to spend two weeks in Chile but it was one of the highlights of my whole journey. And now is the time to come. Chile has been named by Forbes as one of the top 10 most underrated destinations to visit in 2020. Read on for my ultimate guide to backpacking Chile and the best itinerary for 2 weeks in Chile.
This post may contain affiliate links. If you make a purchase, I receive a commission at no extra cost to you. As an Amazon Associate I earn from qualifying purchases. For more information, read my disclaimer.
How to plan your backpacking Chile itinerary
Chile's natural scenery ranges from the world's driest desert to vast icefields and glaciers, the highest mountain range outside Asia and even rainforests. Meanwhile, its cities are colourful and relaxed, the people are friendly and the food and wine is magnificent. Slow travel is the ideal way of backpacking through Chile, but if you only have two weeks in Chile you can still experience plenty of what this country has to offer.
Where to go in Chile depends on your preferences. As the country is very long and thin – over 2,650 miles (4,270 km) long, in fact, and an average of just over 100 miles (175 km) wide – your Chile backpacking itinerary will need to be selective.
If you are arriving on an international flight, chances are you will arrive in the capital city of Santiago de Chile. Would you rather head down from Santiago to the southernmost extremities of Chile and go backpacking in Patagonia? Perhaps you're keen to fly 2000 miles (3500 km) east to see the mysterious moai statues of Easter Island? Or to venture 1000 miles (1600 km) north to experience the delights of the Atacama desert?
For my two week Chile travel itinerary, I wanted to visit Easter Island, but unfortunately the flights at the time were too expensive. I'd recommend booking your flights to Easter Island in advance if this is your plan. As I'd just spent several winter months in Australia and New Zealand, I wasn't keen to head to the frozen south of Patagonia – even if they do have cute penguins there.
The best Chile itinerary for me was to head north from Santiago, via the UNESCO World Heritage site of Valparaiso, to the heat of the Atacama desert, the driest desert in the world. Not a bad set of sights for just a few days – so this is what I will outline in this 2 week Chile itinerary.
Buy the latest Lonely Planet Chile & Easter Island guide book to help you plan your trip.
Santiago – 3 day itinerary
Ancient snow-capped Andes mountains calmly cast their gaze over Santiago de Chile, where silver skyscrapers stand next to historic cathedrals. The country's capital is a charming and surprisingly understated city. You can easily spend a couple of days here at the beginning and end of your Chile backpacking trip.
Where to stay in Santiago de Chile for backpackers
For backpackers in Santiago de Chile, there are plenty of accommodation options. I stayed at the Rado Boutique Hostel near the bars and restaurants of the bohemian Barrio Bellavista district. This cool, contemporary hostel is decorated with rock music murals.
Using public transport, it takes half an hour to travel into the city centre, but we walked it most of the time. The hostel also has laid-back communal areas, which are great for meeting fellow backpackers, and a terrace with incredible views over to the mountains. Prices start at $19 (I paid $21 per night) including breakfast.
A nearby, similarly priced hostel is Santiago Backpackers. This one is located in building that is 100 years old and has all the vintage details you'd expect. As well as complimentary breakfast, staff serve weekly dinners and sometimes free drinks too.
Check the prices for your dates and book one of the best hostels in Santiago.
Day 1 – Take a walking tour of Santiago
We were recommended to take a walking tour of Santiago on our first day, in order to see the city highlights and to get our bearings.
Our local guide, Franco, showed us sights including beautiful cathedrals, statues and La Moneda Palace. You can still see bullet holes in the palace, from when it was attacked during the military coup d'état in 1971 and where President Allende made his last speech before he died inside.
Reserve your spot on a walking tour of Santiago, with a local guide who can show you all the city's highlights.
Franco described the country's shocking history and how that has informed its citizens' modern day life. Chile's spell under Pinochet's brutal 16-year military dictatorship in the 1970s and 80s saw the General's critics forcefully silenced and any attempts at culture or expression by the people effectively squashed.
These days, the ability to freely and happily express yourself in Chile, either creatively or politically, is seen as a gift. Every day you can see impromptu performances with costumes, stilts, and guys skillfully juggling in front of traffic stopped at lights for spare change. There are huge signs advertising music festivals and opera houses sell affordable tickets so everyone can access the performances.
In the city parks, dozens of couples, straight and gay, lounge on the grass snuggling up to each other. Political demonstrations are plentiful, despite a visible armed military presence, tanks and all. I heard that a fellow traveller's bus journey was delayed by four hours because of a demonstration in the city, while the police stood by and watched.
Important: there are currently serious protests disrupting Santiago city centre. Please check your government's Chile travel advice before you go.
Day 2 – Climb up to Cerro San Cristobal
A ride up the city's funicular cable car (around $4 for a return trip) leads to Cerro San Cristóbal, a mount with a small chapel and shops serving refreshments. High up at the top stands the statue of the Blessed Virgin Mary, gazing humbly over the bustling metropolis. She is reminiscent of Rio de Janeiro's Christ the Redeemer but without his giant-sized glamour.
Looking down at the city from here you realise quite high up you are, but it is a peaceful tourist spot that offers a welcome respite from the city's heat.
Reserve your spot on a guided tour of Cerro San Cristobal, including the cable car.
Day 3 – Take a tour of the famous Concha y Toro winery
Chilean wine is loved around the world, so we visited the Concha y Toro winery to have a taste of some of the best. It's just under two hours south of Santiago by public transport, which costs around $5 for the return journey. If you're on a backpackers' budget, public bus is often the best way to travel in Chile.
The Concha y Toro tours are priced from $25 so not cheap, but it's a great day out if you are a wine lover. As the region's largest producer of wines, Concha y Toro is one of the global leaders in its field.
Book a guided tour of the Concha y Toro winery including transfers from Santiago.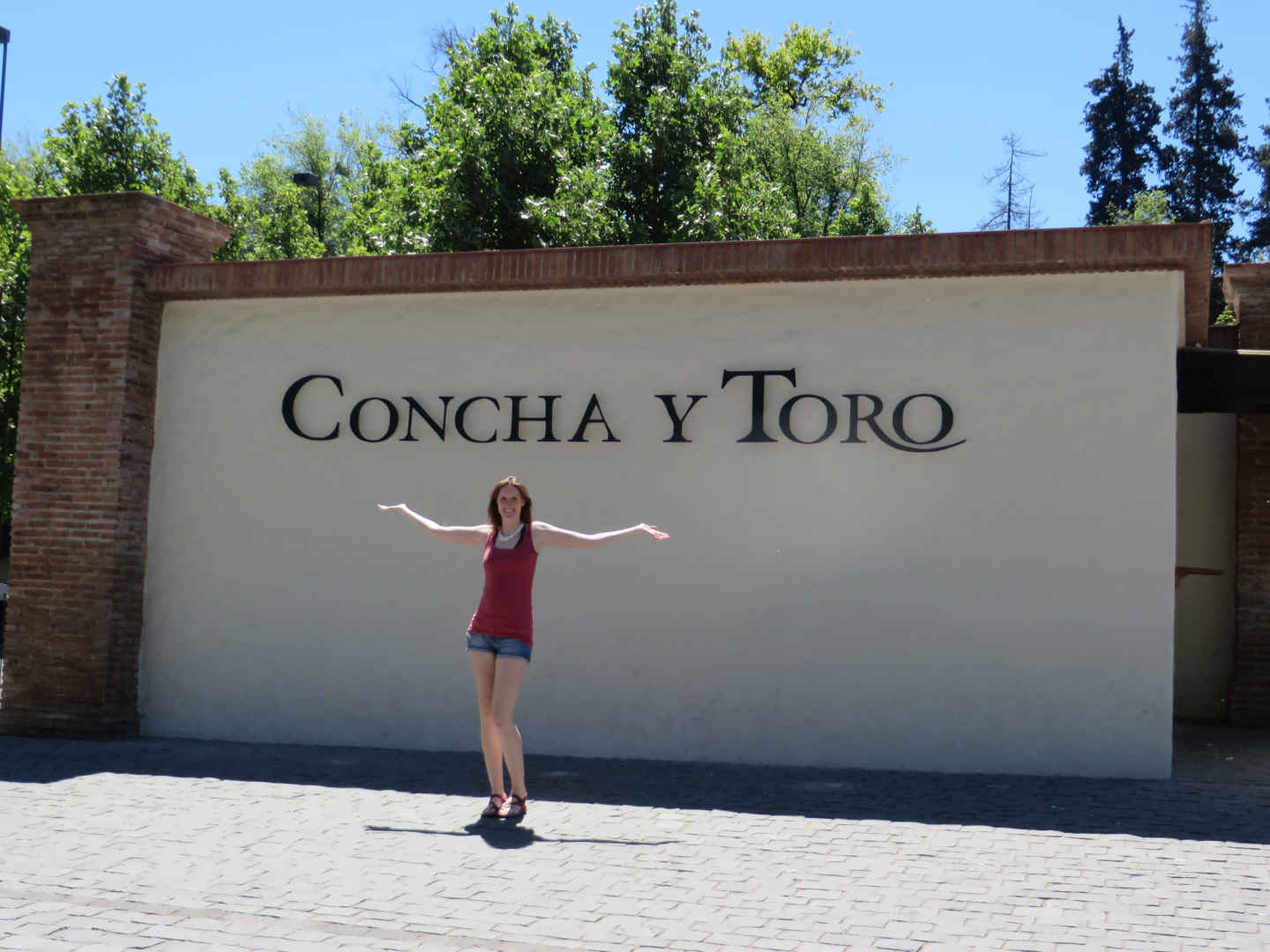 Don Melchor de Santiago Concha y Toro and his wife founded the winery in 1883, importing varieties of grapes from France. On the tour, we learned how the Andes mountains protect these vineyards in the Maipo River valley from the elements, providing ideal conditions for these grapes to grow.
As we walked around the beautiful sunny grounds and into the cool, dark cellars, the guide told us how local thieves kept breaking in and stealing the Concha y Toro wine. To deter the thieves, Don Melchor invented a rumour that the cellars and its wines were cursed, inspiring the winery's most famous brand name, Casillero del Diablo, meaning 'devil's locker.' Of course, at the end of the tour we sampled a few of these renowned wines.
Where to find the tastiest food and drink in Santiago
The Rado hostel in Santiago is close to the Barrio Bellavista neighbourhood, where there are many tempting restaurants.
I tried the fish and seafood ceviche, a dish comprising raw fish, squid and octopus marinated in citrus juices, which was light, tingly and fresh to taste. Another of my favourite seafood dishes here was machas con parmesan – razor clams topped with gooey, oozing parmesan.
Another Chilean dish I enjoyed in Santiago was chorrillana. This is a huge mound of a meal, made up of chips, beef, sausage, fried onions and topped with fried egg, often shared and is a student junk-food favourite. I happily devoured mine with a large Corona beer. We also sampled a 'gourmet' version with seared beef strips marinated in Merlot, alongside caramelised red onions and potato wedges, which was delicious.
Street food is also popular in the city, with stalls serving the famous local pastry treats empanadas and mote con huesillo, a sweet drink containing dried peaches and soft husked wheat. It comes served with a spoon, as it's almost a meal.
Another local drink I tried here was terremoto, which translates as 'earthquake' – presumably because of the raging hangover it gives you if you drink too much. It's made up of white wine, grenadine, bitters and pineapple ice-cream served in a huge jug to share. While I wasn't sure at first, once the ice-cream had melted, my hostel friends and I enjoyed it so much we ordered a second one.
Valparaiso – 3 day itinerary
Day 1 – Getting to Valparaíso
Santiago to Valparaíso is two hours by train or about an hour and a half by bus (around $15 for a return ticket), so it's an ideal next stop on your backpacking Chile route. I recommend allowing a day for the journey, then you can take your time to find your accommodation and settle into this pretty port city.
Where to stay in Valparaíso
If you are looking for hostels in Valparaíso, one of the best is the colourful La Casa Piola, which has comfy beds, clean bathrooms and cool staff. Alternatively, you can try the Casa Elias Valpo, which has a great roof terrace. For an affordable hotel in Valparaíso, try the charming and historic Hostal CasaPlan.
Day 2 – Street art tour of Valparaíso
One of the things that had attracted me to Chile was its street art. In Valparaíso, large colourful murals adorn the walls of its residents' homes. In fact, this city's historical quarter is a UNESCO World Heritage site.
To get to know Valparaíso, I did a three-hour walking tour with friends from my hostel to explore the city's renowned street art. Around every corner was another vivid and intricate artwork.
Exploring the city's maze of winding paths, steep streets and stairways uncovered the quirkiness and multicultural influences of this unique port city, as we shared this arty adventure with our walking tour group.
Book your Valparaiso walking tour in advance for instant confirmation.
What to do in the evenings in Valparaíso
There are some great restaurants in Valparaíso. Don't miss out on the opportunity to try some of Chile's sensational smoked pork.
In a Valparaíso restaurant a smoked pork leg I ordered was just enormous – almost the size of my head. But the meat was so tender it fell off the bone, so the friends at my table were more than happy to help me out with it.
The most popular alcoholic drink with the Chileans we met was pisco, a type of brandy which is usually drunk with Coke (called piscola) or bitter lemon (pisco sour). This drink is certainly a party starter.
For the evenings, Valparaíso has some fun bars and clubs in the city centre, where you can enjoy a pisco sour-fuelled party and dance into the night.
Day 3 – Take a trip to the beach at Viña del Mar
If you find yourself with spare time, why not take the 20-minute bus ride to the neighbouring city of Viña del Mar for a meal in a beachfront restaurant overlooking the Pacific Ocean.
If you decide to stay overnight in Viña del Mar to enjoy the beach, check out the Street Garden Hostel.
San Pedro de Atacama – 6 day itinerary
The next port of call on this Chile backpacking two-week itinerary is San Pedro de Atacama, a town at the entrance of the amazing Atacama desert.
Day 1 – Travel to the Atacama desert
It's a 24-hour bus ride to San Pedro from Santiago, which costs around $100 for a return ticket. Internal flights are available from Santiago to the nearby Calama, which only takes two hours, followed by a bus journey of just over an hour to San Pedro. If you book in advance and it's low season, you can get flights for as little at $40 return, but at the time I travelled, the 24 hour bus ticket was considerably cheaper than flying.
I took the bus. After the full day and night's bus ride, I arrived in San Pedro at 9am, tired and spaced out. My ears were popping and my water bottles had pressurised during the journey due to the increasing altitude, as San Pedro is 2,408 metres above sea level.
The coolest places to stay in San Pedro de Atacama
Luckily there are some cool places to stay in San Pedro. At the Anka Hostel, you will receive a warm welcome from the hosts. It's a little oasis in the heart of San Pedro, where you can relax in one of their awesome hammocks. The Hostal Campo Base is in a great area a 10-minute walk from the centre and guests love its delicious breakfast.
If you'd prefer a private room, head to the beautiful boutique-style Terrantai Lodge, which offers free wine and cheese tasting sessions where you can meet other guests. Alternatively, the tranquil Hotel Desertica has a divine pool area.
Day 2 – Go star-gazing in the desert
One of the best things to do in San Pedro de Atacama is to go star-gazing to take advantage of the desert's legendarily clear skies.
After the heat of the day, the temperatures plummet at night, so I recommend wrapping up in as many layers, thermals and fleeces as you can. Luckily, there are plenty of alpaca-wool gloves and hats for sale in San Pedro's souvenir shops.
Our star-gazing host was knowledgeable and a great storyteller, clearly passionate about astronomy from a social and cultural perspective, as well as scientific. He led us into the backyard where he used a powerful laser to point out various constellations. The sky was so vast with twinkling stars as far as the eye could see and the moon beamed like a torch.
Reserve your spot on an incredible astronomical tour to discover the secrets and stories of the night sky over Atacama.
Then we entered the observatory. Here we were invited to peer into the telescope to see some of the constellations up close. It was incredible. One star that we could see with the naked eye, under the telescope's magnification – more than 180 times – revealed itself to actually be a cluster of twinkling stars.
Another was a pair of stars orbiting each other in a flirtatious galactic dance, each emitting a beautiful blue and yellow glow. I was lucky enough to see a shooting star fly past as I looked through the telescope's lens. More stars were pointed out, each more stunning than the last, some as radiant and glittering as diamonds. When each of us took our turn using the huge cannon-sized telescope, there were gasps of delight as we realised what we were seeing. It's an awe-inspiring experience.
Day 3 – Go sandboarding on the desert dunes
One of the coolest experiences in the Atacama desert is to sandboard its soft sand dunes. There are many tour agencies in San Pedro where you can book a day trip for around $27.
After driving into the Atacama desert in a minivan, we arrived at the sloping sand dunes. With my sandboarding boots, I trudged up the sand dune in the afternoon heat and fixed them to the newly waxed board. After a short tuition from our guide, I propelled myself down what seemed like an intimidatingly steep slope.
I steadily gained speed and, after a couple of strategic falls into the soft sand, soon found myself really enjoying it. If I get the opportunity to try this brilliant sport again I will have to hone my skills, though the instructor was happy with my control of the board. I'm clearly a natural.
Day 4 – Explore the Valle de la Luna
When you're in San Pedro, you simply must do a tour of the Valle de la Luna.
Valle de la Luna means Moon Valley and it's named because of the landscape's resemblance of the moon's surface. It is beautifully desolate, with mile-wide craters and an amphitheatre naturally created from the rock worn by the elements over thousands of years. This trip is excellent if you're keen on hiking in Chile, as the scenery is so unique.
Book your Valle de la Lune guided tour, which includes transfers from San Pedro.
Your tour may include a trek up one of the mountains, so don't do what I did and wear your beaten-up old trainers. I was constantly slipping on the loose sand and parched rock, so I'd recommend wearing proper hiking shoes. But it's worth it once you get to the top.
At the summit, we took photos of each other standing on the peak and watched the sun go down. We then sat and sipped pisco sour, while our guide shared the mythological tales of the mountains. The Valle de la Luna guided tour is a really special experience that you will remember for a lifetime.
Days 5 and 6 – More things to do in the Atacama desert
If you have two weeks in Chile, make sure you allow plenty of time in San Pedro. I only spent three days here but it didn't feel like enough, as there is so much more to do here.
You can visit lagoons so salty you can float in them, as well as spurting geysers, rare rock formations and huge flocks of wild flamingos on some of the incredible desert tours. I even spotted a flyer for a yoga trip to one of the lagoons. Sitting beside a serene blue lake in the mountainous desert while practising yoga sounds blissful to me.
Day 7 – Return to Santiago
I needed to catch the bus back to Santiago for my flight to Rio de Janeiro, so sadly I had to say goodbye to San Pedro. But it had been such an amazing experience. As I settled in for my return 24 hour bus trip to Santiago, I reflected on my time here.
It is said that if you eat mango in the Atacama desert that it is destined that you will come back one day. While I didn't taste any of this deliciously tempting fruit, I am compelled to return to this special place.
When is the best time to travel to Chile?
Before visiting any country for the first time, be sure to check the official guidance for travellers, in case of warnings. Here is the UK government's latest Chile travel advice.
For the most pleasant weather, if you're flying into Santiago de Chile, the best time to visit is in spring or autumn, which fall from late September to November and from March to May.
The beaches of Valparaiso and Viña del Mar are great in the summer months of November to March, while peak season in San Pedro de Atacama is from December to April.
Is it possible to travel to Chile on a budget?
You may be wondering, how much does it cost to travel in Chile? It's definitely possible to travel Chile cheaply. Over the two weeks I was travelling around Chile in 2013, I spent the equivalent of US$150 on transportation, $265 on food and drink, and $230 on beds in hostel dorm rooms. Overall, the cost of my trip to Chile (not including airfares) was just over $1000, which works out at around $77 a day. This included a busy schedule of travelling through Chile and taking several tours. If you are able to slow down and spend more time here, your Chile backpacking budget will work out even cheaper.
Some things to bear in mind for your Chile travel budget: it's customary to tip 10% in restaurants, while taxis drivers do not expect a tip, though you may wish to round up the fare.
Chile for non-Spanish speakers
If you are an English speaker, the language barrier is notable in South America compared with Asia. Many shop assistants and even tour operators don't speak English. When I needed to buy something, I often found myself trying to act out what I was after, like a game of charades.
Signing up for a yoga class in Santiago led to an amusing 90 minutes. The teacher, who spoke little English, didn't demonstrate the moves and everyone went at their own pace. I just attempted to keep up and try to look cool. Luckily, it turns out that many yoga terms are universal, so mostly I got it, I think.
Reflections on 2 weeks in Chile
As well as the memorable cities, natural scenery and experiences on my two week itinerary in Chile, I realised that travelling, for me, is a lot about the connections with people along the way. This is what makes it such a fun and enriching experience.
As well as other travellers I met in the hostels, the local people I met were so warm, welcoming and obviously enjoying life, it was just a joy to hang out with them. The beautiful sights I saw and the mind-blowing activities I experienced, as well as the friendly people I met, made it an incredible 2 weeks in Chile. I highly recommend it and would love to go back.
Next up, read my ultimate guide to backpacking Buenos Aires in Argentina.