Famous for its annual carnival and caipirinha cocktails, Rio de Janeiro is undeniably fun and fabulous. I spent a week here while backpacking Brazil, as part of my month-long tour of South America. This city is full of stories, parties and more than a hint of danger. It's a vibrant place, with its famous beaches, imposing Sugarloaf Mountain and colourful Selaron Steps, not to mention the iconic Christ the Redeemer statue that looks down over this bustling city. So buckle up: this is your essential guide to backpacking in Rio de Janeiro, including the best places to stay and all the top things to do in Rio.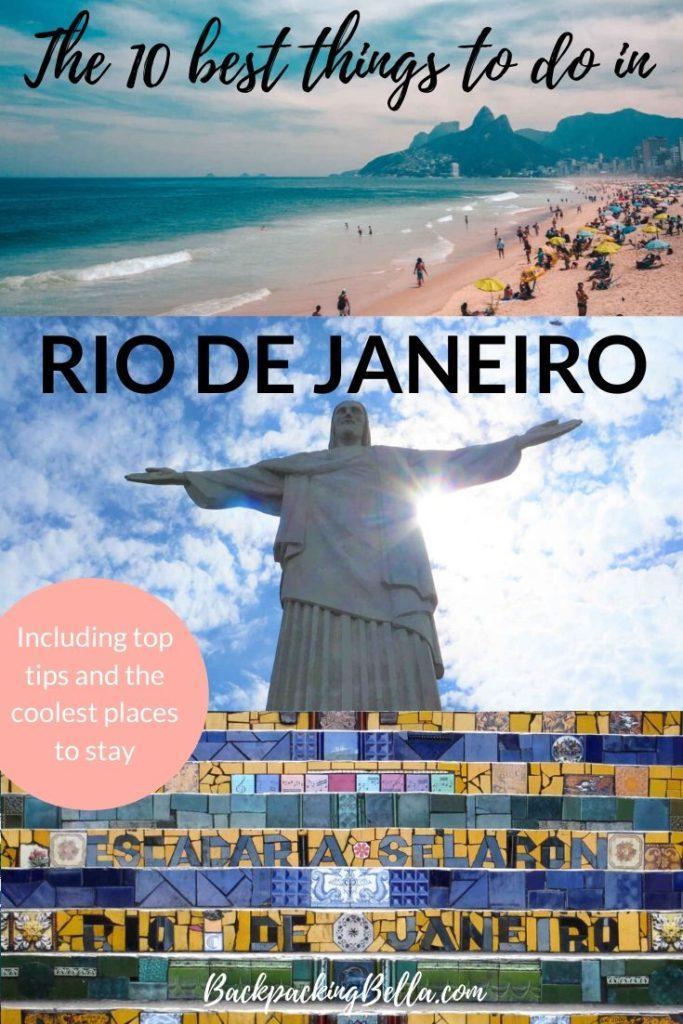 This post may contain affiliate links. That means, if you make a purchase, I may receive a small commission. As an Amazon Associate I earn from qualifying purchases. For more information, read my disclaimer.
These are the top 10 things to do in Rio de Janeiro
If you're wondering what to do in Rio de Janeiro, you're in for a treat. Visitors are spoiled for choice here, as there are plenty of fun Rio de Janeiro attractions and activities.
Go on a guided tour of Rio de Janeiro
One of the best things to do in Rio de Janeiro if it's your first day here is to take an organised tour of the city. This will help you get your bearings, as a local tour guide shows you what to see in Rio and shares tales the city's fascinating history.
Try this half day guided tour, which picks you up in a comfortable air-conditioned bus and takes you directly to several of Rio de Janeiro's top highlights over the course of a morning. By lunchtime, you will be able to cross off your list many of the coolest things to see in Rio.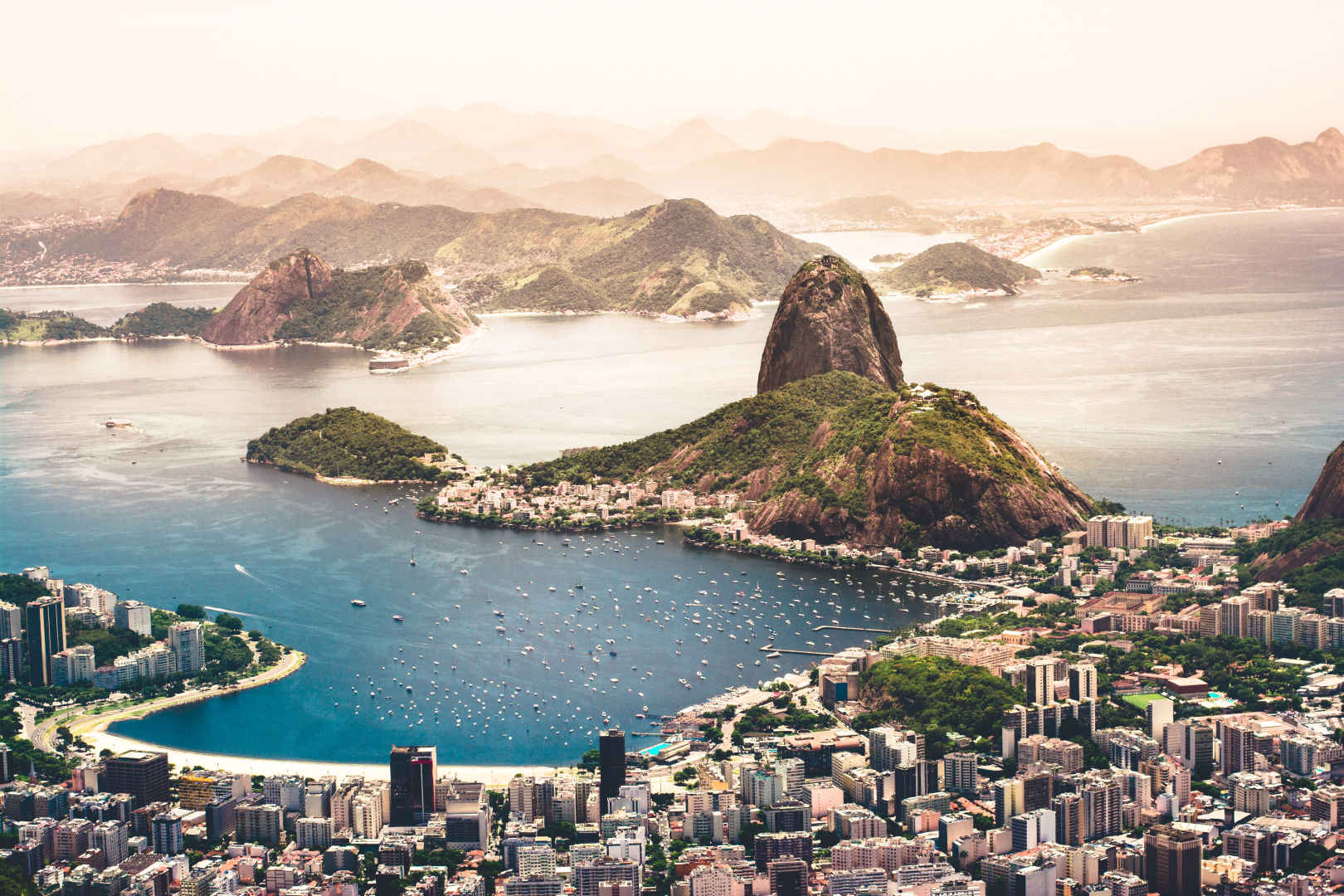 Climb the mountain to visit the Christ the Redeemer statue
If you're backpacking Rio de Janeiro, you will no doubt want to make a stop to visit its iconic Christ the Redeemer statue. This captivating statue of Jesus is the world's largest Art Deco sculpture and one of the New Seven Wonders of the World.
At 38 metres (125 ft) tall, it looks down over Rio from the top of Corcovado ("hunchback" in Portuguese), a 710-metre (2,329 ft) granite peak located in the tropical rainforest of Tijuca Forest national park. This means it can be easily spotted from great distances across the city.
However, to truly appreciate the scale and stature of this monument, you need to climb to the top of the mountain and stand at his feet. Luckily, there is transport available to take you up to the peak.
Book your train ticket to see the Christ the Redeemer statue and viewing platform at the peak of the Corcovado mountain.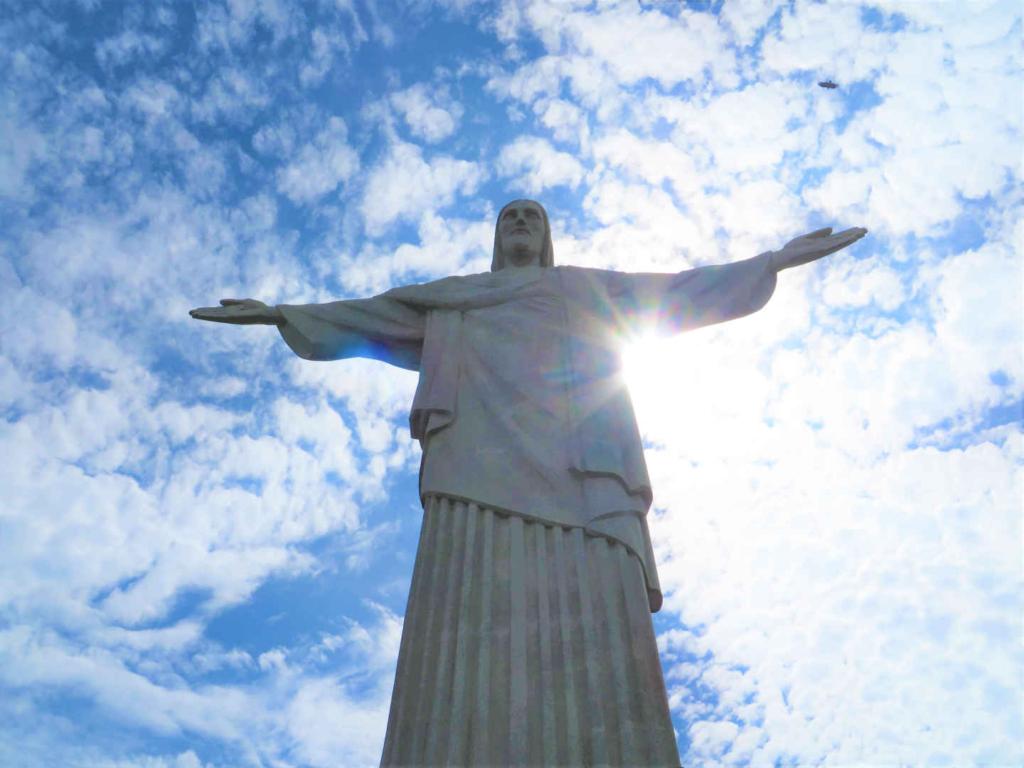 Visit a cathedral that looks like a huge Mayan pyramid
If you like cathedrals, one of the most impressive things to see in Rio de Janeiro is the Metropolitan Cathedral of Saint Sebastian. Named after the patron saint of Rio de Janeiro, this cathedral was constructed from 1964 to 1979 and designed to resemble a modern version of the Mayan pyramids.
Located in the city centre, it is a 75-metre (246 ft) cone, with a 8,000 square metre interior that can hold up to 20,000 people. Inside, it is just as impressive. The cathedral has four enormous stained glass windows which are 64 metres (210 ft) from floor to ceiling.
Reserve your spot on a guided tour of Rio de Janeiro that includes a visit to the Metropolitan Cathedral.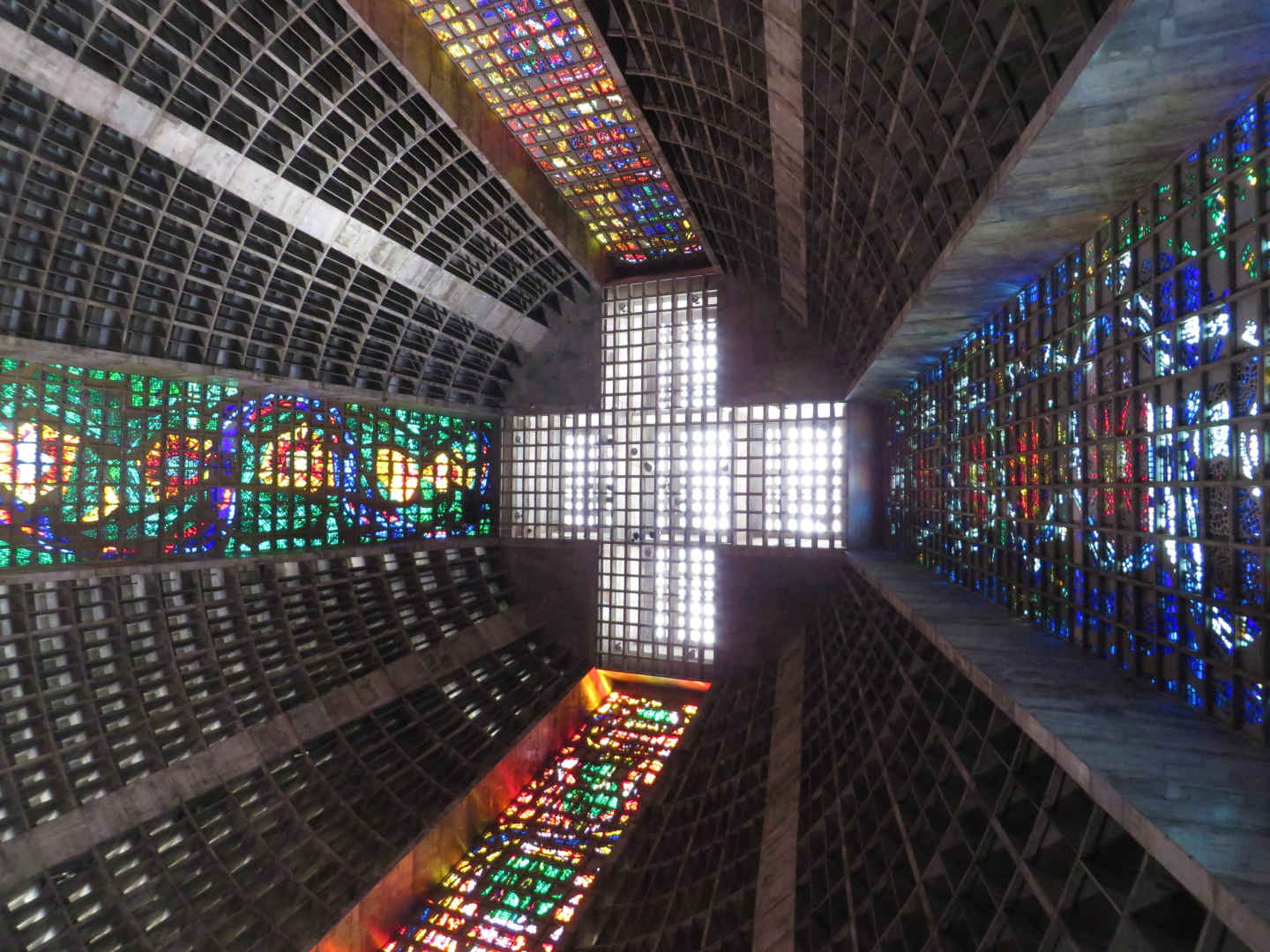 Sunbathe and people-watch on Ipanema beach
In terms of cheap things to do in Rio de Janeiro, sunbathing on one of its notorious beaches has got to be one of the best. However, a word of warning: don't take any valuables or cash, as theft is rife on Rio's beaches.
Ipanema is one of the prettier and quieter beaches. Here, you can people-watch to your heart's content, as a parade of bronzed, toned bodies and quirky beach vendors pass by. It's an inspiring place to be, as you lie back and take in the view of the sea, the mountains and the sky, dotted with buzzing helicopters and birds of prey circling overhead.
This famous Rio de Janeiro beach inspired the Grammy award-winning bossa nova song of the 1960s, The Girl from Ipanema. You can even enjoy a meal at the Restaurante Garota de Ipanema, where this song was said to be written.
Book your spot on this sunset bike tour with a local to discover Ipanema and more beautiful beaches in Rio.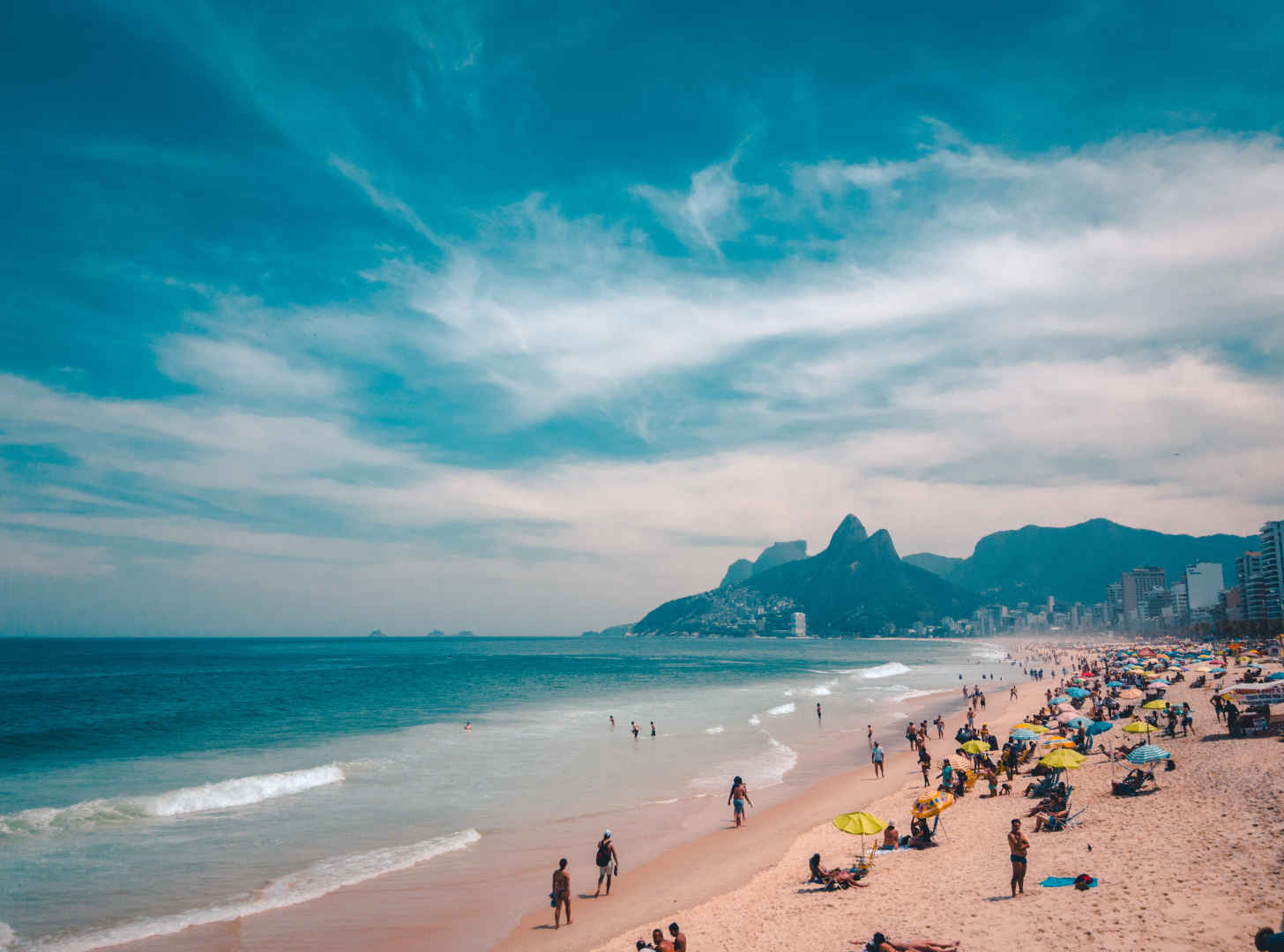 Sip caipirinha cocktails in Copacabana
Another world famous beach in Rio that inspired a popular song – this time by Barry Manilow – is in Copacabana, one of Rio's liveliest neighbourhoods.
This crescent-shaped beach runs from Princesa Isabel Avenue until the lifeguard watchtower number Six, after which there are two small surfer beaches, then the coastline becomes Ipanema. As mentioned before, keep an eye on your belongings while you're on the beach.
Things to do in Copacabana, beyond the beach, mainly involve eating, drinking caipirinha cocktails and enjoying the music at one of its many bars, cafes, hotels and hostels.
Check out this hiking and beach tour to one of Rio's most stunning viewpoints and discover even more beaches.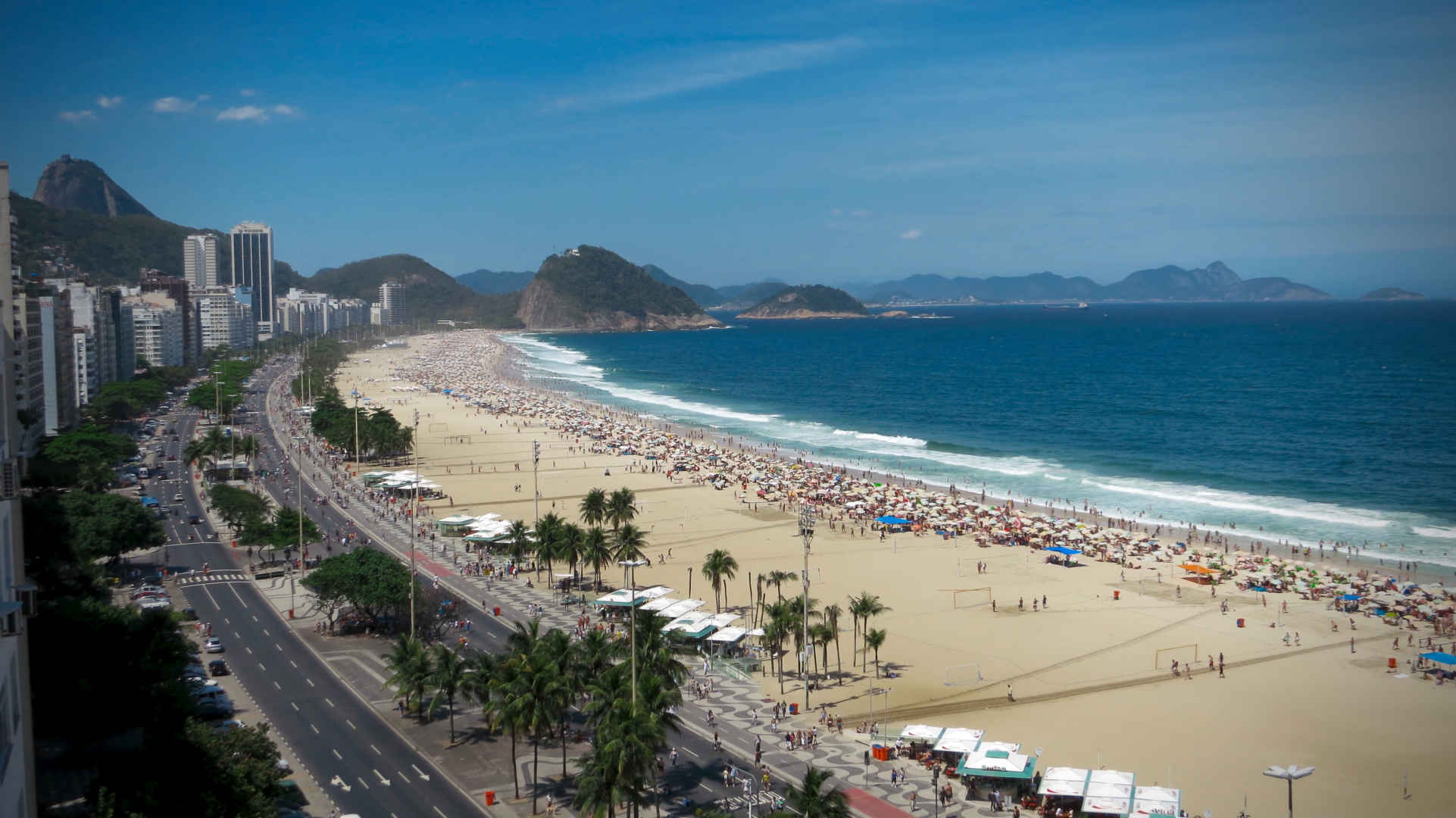 Ride the cable car up to Sugarloaf Mountain
One of the top things to do in Rio de Janeiro is to take the cable car to the top of Sugarloaf Mountain for panoramic views over the city and beyond.
This renowned Rio de Janeiro mountain of granite and quartz strikingly rises 396 metres (1,299 ft) directly from the waters of the city's Guanabara Bay. Its name comes from its resemblance to the cone-shaped blocks of refined sugar, which were one of Brazil's most recognisable exports from the 17th to the 19th centuries. The mountain is now a UNESCO World Heritage Site.
Enjoy the sights as you ride the cable car, then take your time with a cocktail from one of the bars on the summit, as you appreciate the incredible 360-degree views.
Reserve your cable car ticket online in advance with this popular guided tour.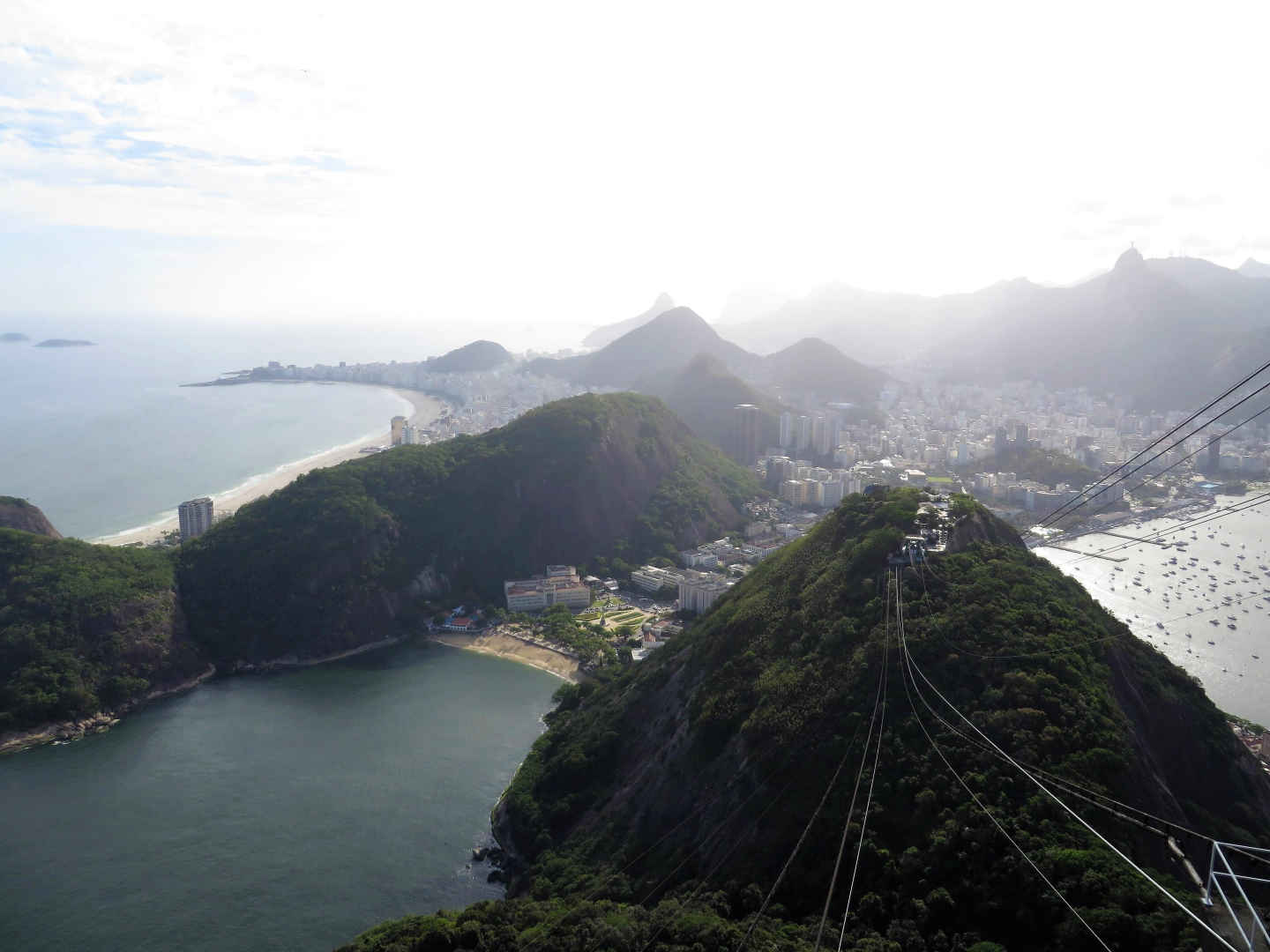 Walk up the colourful Selaron Steps
Anyone wondering what to see in Rio de Janeiro would be mad to miss the colourful Escadaria Selarón or Selaron Steps, which sit between the neighbourhoods of Lapa and Santa Teresa.
It was the life's work of Chilean-born artist Jorge Selarón, who decorated the 125-metre staircase with tiles in the colours of the Brazilian flag, as his tribute to the Brazilian people.
The story goes that Selarón's house in Rio faced a set of dilapidated grey steps, so he decided to take it upon himself to make them more beautiful. He started affixing tiles to them that he had collected from his travels. Every day he could be found pasting and polishing the tiles on one of these 215 steps. Soon, his friends and neighbours started to collect and donate tiles for his project. Selarón sold his artworks in order to fund its upkeep. With no city funding, he created one of Rio's most popular tourist attractions totally by himself.
Book your place on this half day tour of Rio, which takes you to the magnificent Selaron Steps.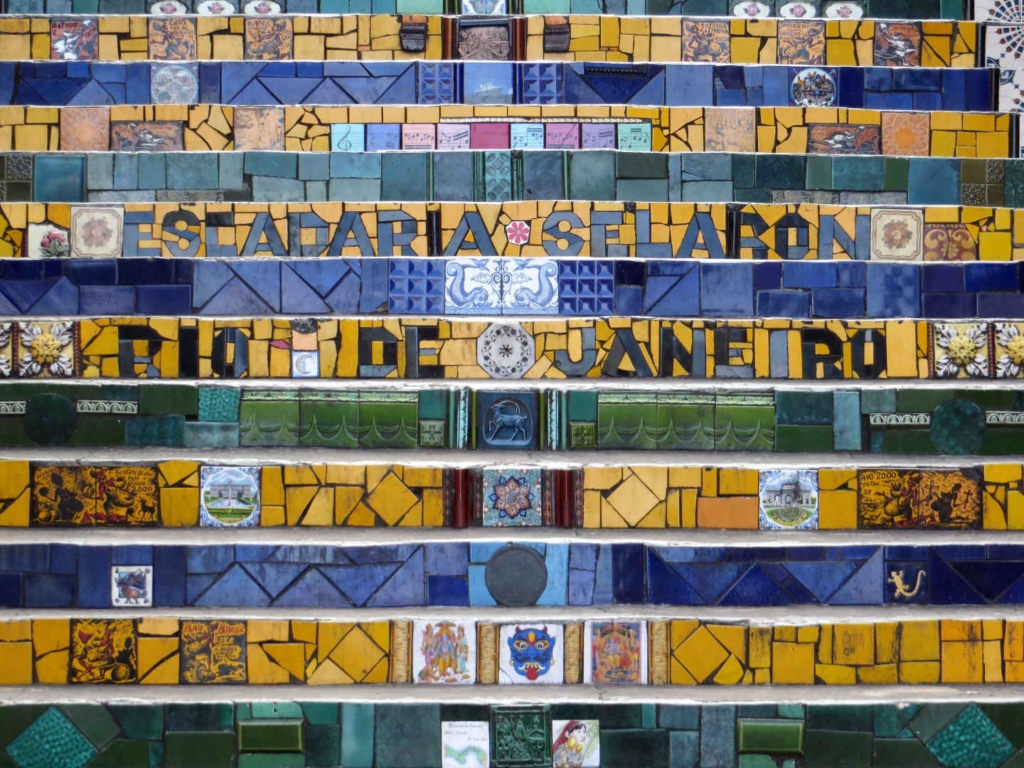 A gregarious fellow with a distinctive handlebar moustache, Selarón used to sit on the steps every day and chat with passersby. He would tell them that the steps were his lifetime's passion and he would only stop working on them once he was dead.
Sadly, in early 2013, Selarón was found laying lifeless on his steps in a death ruled by police as unexplained or possibly suicide. However, locals believe Selarón was murdered by a business partner's mafia associates. The Selaron Steps remain his legacy and one of Rio de Janeiro's most distinctive landmarks.
Enjoy the lively nightlife in Lapa
Rio's central Lapa neighbourhood is famous for its vibrant nightlife. A visit here is one of the best things to do in Rio de Janeiro at night. In Lapa there are also two 18th century attractions, an impressive aqueduct called the Arcos da Lapa and Rio's first public park, the Passeio Público.
Lapa has been known for its lively cultural scene since the early 1950s, when Brazilian artists and intellectuals would meet in its restaurants and bars. Today, there are still many venues where you can drink caipirinha cocktails or dance in the street to live Brazilian samba music.
If you decide to come here in the evening, locals advise not to carry a bag or phone, and to only take a small amount of cash, to avoid being a target for thieves. If you are backpacking in Rio alone, you might feel safer experiencing the nightlife as part of an organised Lapa pub crawl.
Ride one of Rio de Janeiro's traditional yellow trams
In Rio de Janeiro, things to do include taking a tram ride around the city. Rio's traditional, bright yellow trams are a much-loved local icon.
On this guided tour, you can catch the tram from central Rio de Janeiro and over the top of the Arcos da Lapa aqueduct to the bohemian neighbourhood of Santa Teresa.
Here, you can walk along the tree-lined cobblestone streets, winding through the hills of Santa Teresa and soak up the artistic atmosphere. Stops include Ruins Park, where you'll find an art gallery built around the ruins of a mansion, as well as the Selaron Steps, Lapa and some of Rio's most important cultural venues.
Go hang-gliding over Rio and see the city from the sky
One of the most thrilling activities in Rio de Janeiro is to go hang-gliding over the city. It's an incredible way to see this epic city from a different perspective as you soar through the sky.
Rio's upmarket São Conrado neighbourhood is the city's hang-gliding hotspot. With a group of other backpackers from my Rio de Janeiro hostel, I headed to Pedra Bonita, the main hang-gliding take-off point, in nearby Tijuca National Park. We were full of trepidation and excitement.
Book your Rio de Janeiro hang-gliding tandem flight to see the city from a bird's-eye view.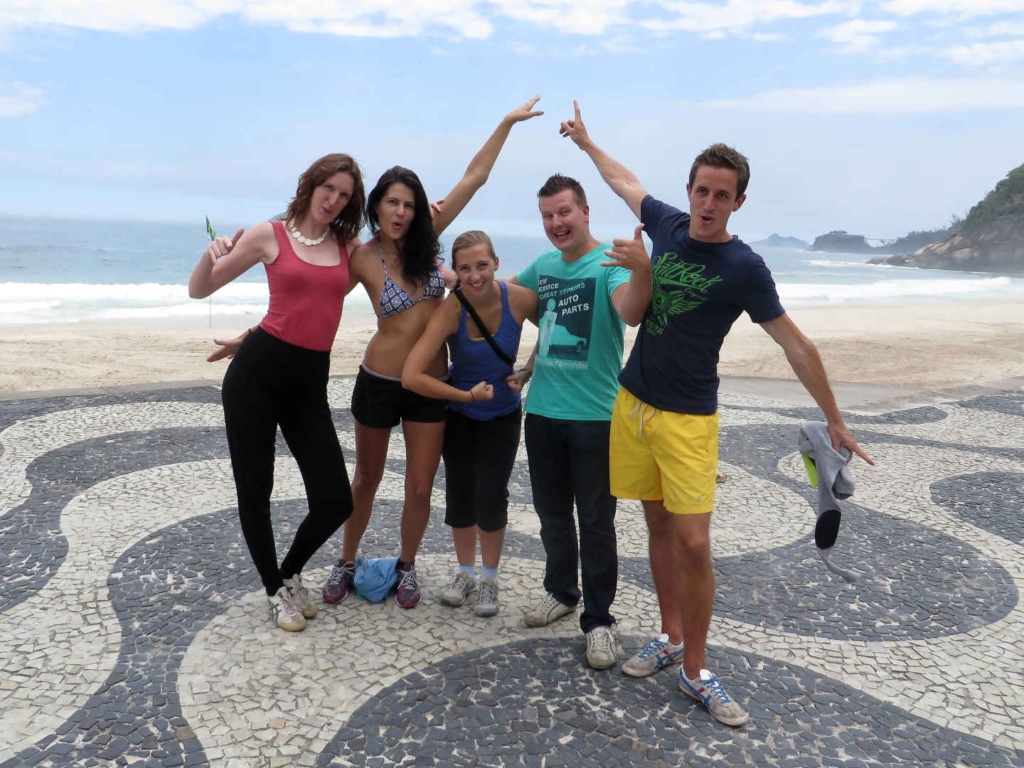 We were each assigned a tandem pilot. Clinging on, I ran as fast as my legs would carry me, off the wooden platform and the mountainside, and into thin air.
I don't like heights, so it was scary, but an amazing experience. Once airborne, the hang-glider caught a wind current and we soared like a bird, swooping gently over São Conrado's decadent hotels and pools and sculptured greenery.
By contrast, looking far left we could see Rio's most populous favela, where 100,000 people live crammed into tightly packed homes on the hillside (guided favela tours are another popular option for tourists). Far beyond that, we could make out the statue of Christ the Redeemer perched atop his hill. Finally, we landed safely on São Conrado's Praia do Pepino beach.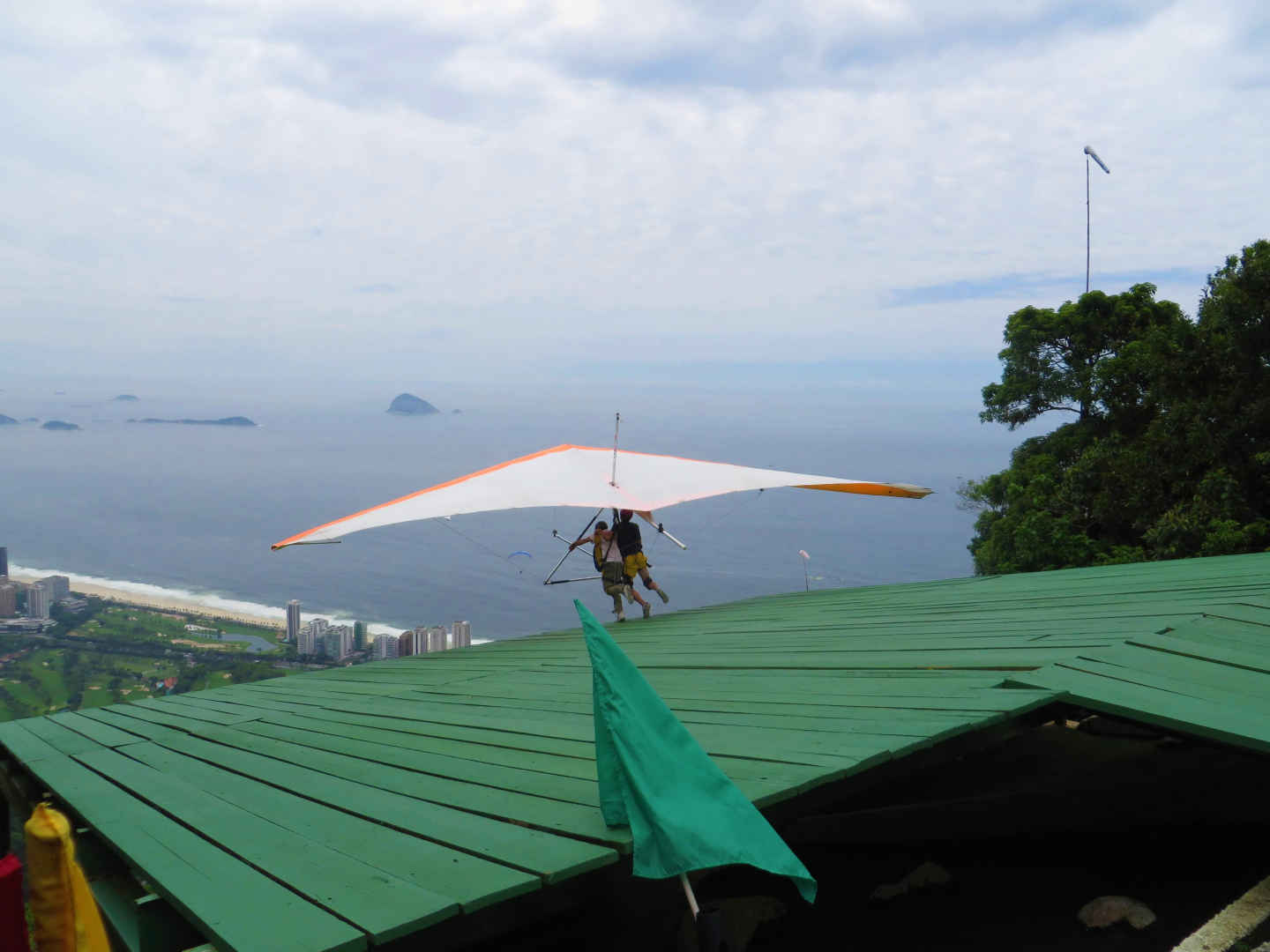 These are the Best Places to Stay in Rio de Janeiro
You will find lots of enticing accommodation options on a Rio de Janeiro backpacking trip. The best area to stay in Rio depends on your preferences, whether you want to be close to the coast or near the nightlife. Some of the best hostels in Rio can be found near the famous beaches of Ipanema and Copacabana, while the lively bohemian neighbourhoods of Lapa and Santa Teresa offer more of Rio de Janeiro's best places to stay.
Ipanema
When I first arrived in Rio de Janeiro on my backpacking trip, I stayed in Ipanema, a couple of blocks from the beach, and I loved it.
The best beach backpackers hostels in Rio's Ipanema neighbourhood include the fabulous Mojito Hostel & Suites. Here, you'll find well-priced, sociable dorms and private rooms in a great location, and a tasty free breakfast. The nearby boutique-style Ipanema Beach House has a cool outdoor swimming pool, while the Mango Tree Ipanema has a beautiful garden and terrace.
Copacabana
Many of the best hostels in Rio de Janeiro are in the popular Copacabana neighbourhood.
Beach-loving backpackers in Rio de Janeiro will love the stylish El Misti House Copacabana hostel, whose friendly staff are happy to organise activities and social events. The Social Hostel is a great option if you want to be in among the lively restaurants and bars, while the Casa del Mar Hostel has great facilities and a cool terrace for socialising.
Santa Teresa
In the pretty Santa Teresa neighbourhood, you will find some of the most beautiful Rio backpackers hostels among its green hills. It's cool to wander around the steep cobbled streets of this artistic area and hang out in its cafes. However, after dark it is considered one of the more dangerous places to be in Rio. That said, I stayed in this area for a few days and I really liked its bohemian vibe.
Top Rio hostels here include the fabulous Terra Brasilis Hostel, which offers unbeatable views over the city, and the Santa Tere Hostel, with its sensational outdoor pool and communal areas.
Lapa
Lapa is a popular place to stay for Rio de Janeiro backpackers, as it has a fantastic nightlife and non-stop samba parties.
The area's best backpacker hostels include the Lapa Casa Hostel, which is in the perfect location close to the aquaduct, Selaron steps and street parties. The nearby Books Hostel is a lot of fun, thanks to its charismatic host and on-site bar for a caipirinha cocktail or two to kick off your evening.
When is the best time to go to Rio de Janeiro?
If you are coming to Brazil to party, you may be wondering when is carnival in Rio? The world famous Rio de Janeiro carnival takes over the city every February.
In terms of weather, Rio de Janeiro has a warm and humid tropical climate. February is actually the hottest month in the city, with an average temperature of 27°C (81°F), while December is often the wettest month of the year. The peak tourist season in Rio runs from December to March, though some people may find this time of year too hot.
The best time to visit Rio de Janeiro, if you're not coming for the carnival, is in the transitional months of November (like I did) or April.
Getting to Rio de Janeiro
Rio de Janeiro's main airport is the Antonio Carlos Jobim/Galeão International Airport (GIG). The city has a second airport for domestic flights, the RJ Santos Dumont airport (SDU).
To avoid the taxi queues or the hassle of public transport, you can book a private or shared airport transfer to Rio de Janeiro in advance from either of these airports to your accommodation in Rio.
If you are travelling overland, you are most likely to arrive by bus, which run long-distance services all over Brazil, such as from the country's famous Iguazu Falls.
When you first arrive in Rio, be careful of the traffic. The city's streets are often full of cars and the drivers have a reckless disregard for pedestrians.
Final thoughts on backpacking in Rio de Janeiro
Rio is a city full of passion, drama and excitement. Couples kiss in the street as if their lives depended on it, and the street samba parties entice you to join in. However, you do need to be careful to keep yourself and your belongings safe, especially as a solo traveller.
I did the hang-gliding flight on my last day in Rio de Janeiro and I found it a fitting way to spend my last day in this place. It was a breathtaking experience to see the spectacular panoramic views of this epic and diverse city from the sky.
From the air, you can see Rio de Janeiro's warm sea, scattered with yachts, caresses the city's stunning sandy beaches. Meanwhile, the curvaceous forested mountains dominate the grand buildings, sprawling favelas and bustling streets. The contrast of rich and poor communities is eye-opening.
Rio isn't any old city. It may come with a set of warnings wherever you go, but this place knows it is something special and it will blow you away.
Next up, read about Brazil's incredible Iguazu Falls, one of the seven natural wonders of the world.