Rio de Janeiro is a city of stories. At times you can feel the vibrancy and danger in the air of this Brazilian city, like the heaviness before a thunderstorm. Then the lightening cracks as the party starts and the streets come to life, filled with samba music and provocatively potent caipirinha cocktails. It feels as if anything could happen. Here is my experience of backpacking in Rio de Janeiro, this fun and fabulous, sun-drenched and panoramic city.
Christ the Redeemer
The captivating statue of Christ the Redeemer – the world's largest art deco sculpture – looks down from the top of the city's highest mountain. Featured in Baz Luhrmann's movie adaptation of Shakespeare's Romeo + Juliet, to me it's the perfect literary metaphor. Rio is passion and life and death and pride, all rolled into one unique place. Every day comes with a new warning and new promise.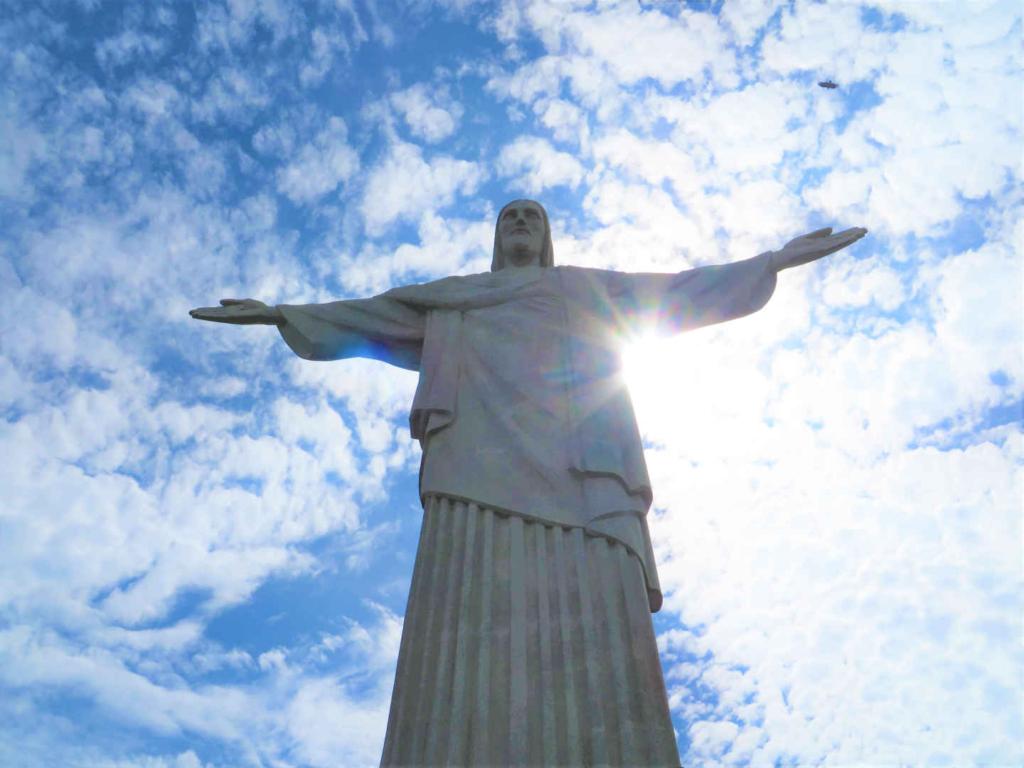 For starter's there's the traffic. The city's streets are often full of cars and the drivers are reminiscent of India in their reckless disregard for pedestrians. Warning number one: watch the lights and watch your back.
Ipanema
I made it alive and arrived in Ipanema, home of the famous beach and inspiration for the Grammy award-winning bossa nova song of the 1960s, The Girl from Ipanema. You can sip a cool beer in the bar where this song was said to be penned.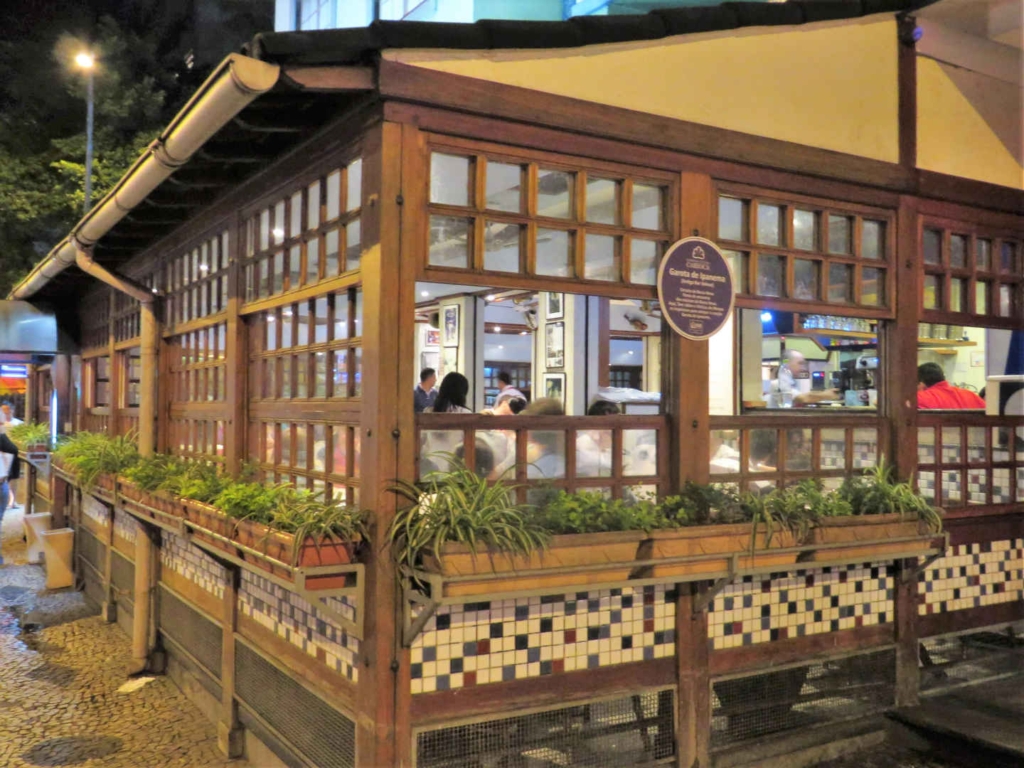 The beach itself doesn't disappoint. Despite the parade of bronzed, gym-toned bodies and wandering beach vendors, you can still lie back, relax and take in the view. The sea, the mountains and the sky, dotted with buzzing helicopters and birds of prey circling overhead. Warning number two: don't take anything of value to the beach or you won't walk home with it. And, in the words of Baz Luhrmann, wear sunscreen.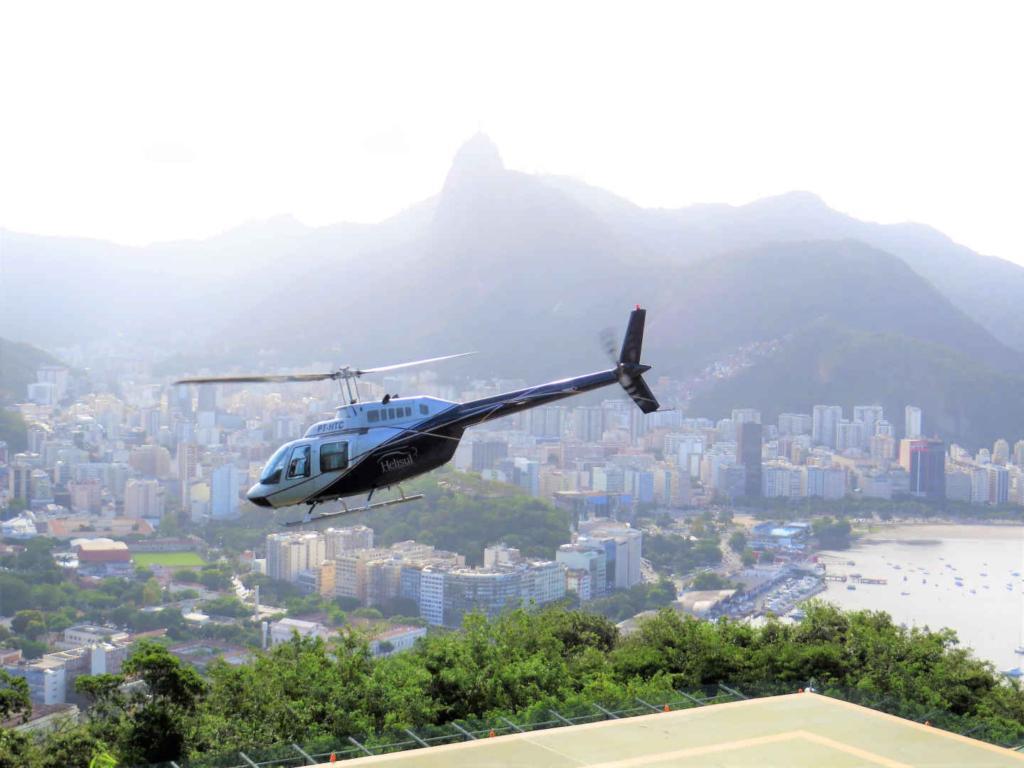 Tragedy at the tourist sights
What most people were associating with Rio de Janeiro when I visited in 2013 were its successful bids for the 2014 World Cup and the 2016 Olympic Games. There was palpable excitement as the preparations are taking place. The city's infrastructure needs to be ready to set stage for these upcoming global sporting events. All eyes would soon be on Rio. Two of the city's most famous tourist sights were prominently used in the promotional materials for the city's hosting bids: the yellow trams of Santa Teresa and the nearby Escadaria Selarón, a set of steps covered with colourful tiles from around the world. However, following Rio's delight in being chosen to host the two major competitions, both of these famous landmarks have been beset by tragedy.
Staying in Santa Teresa
In Santa Teresa I stayed with Vik, an English freelance writer and video-journalist. Thirty years ago, as a precocious 22-year-old, she had travelled alone on a passenger boat to Rio, intent on exploring South America. She made the city her home and still hasn't seen the rest of the continent. Instead, she created a family, by adopting orphaned children from a poor community in the Brazilian state of Bahia. They live together in a charmingly bohemian house, set back from the street, tangled high up in the trees of Santa Teresa.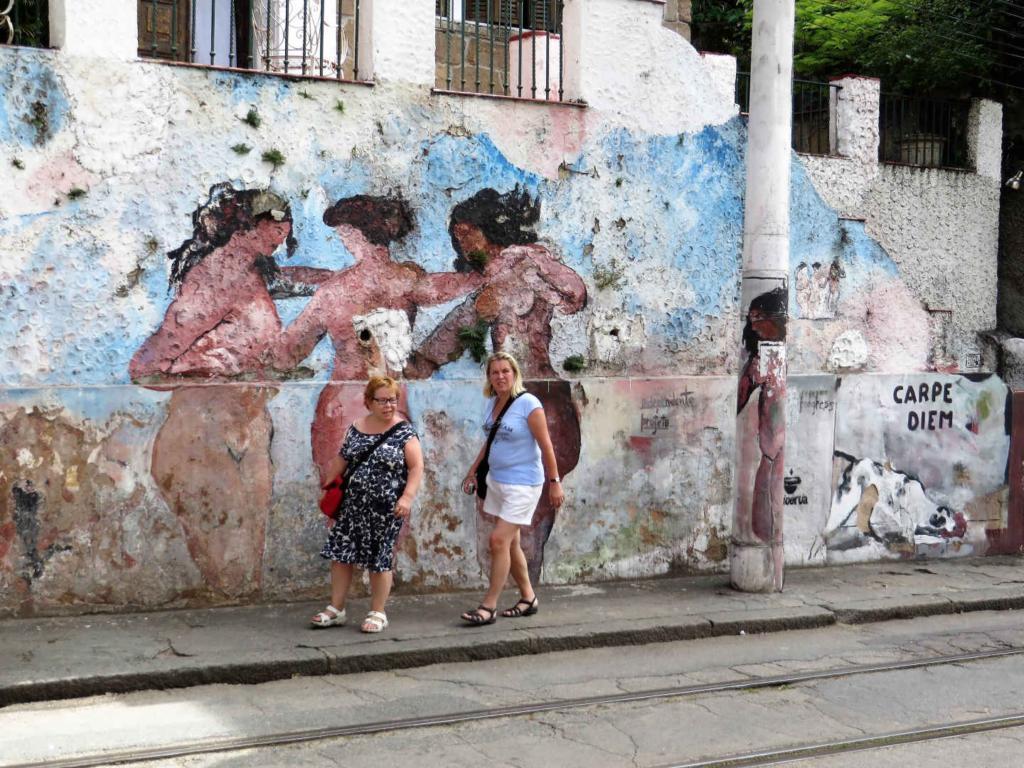 Vik, with her long hair trailing down in plaits and wearing a flowing ethnic yellow-printed maxi dress, is warm, open and seems constantly slightly disorganised. I liked her immediately. Her adopted son, Reginald is a 22-year old trainee engineer, who competes in rowing competitions for Brazil and paints in his spare time. His colourful artworks of animals are dotted around the walls. Enthusiastic and helpful, he rolls his eyes good-naturedly at his scatterbrained Mum. In response, she deplores his insistence on growing kale in large pots on the patio. Over our home-cooked dinner of roasted river fish, black beans and – of course – kale, she says to me with a smile, "some variety would be nice". There is a lot of love in this house.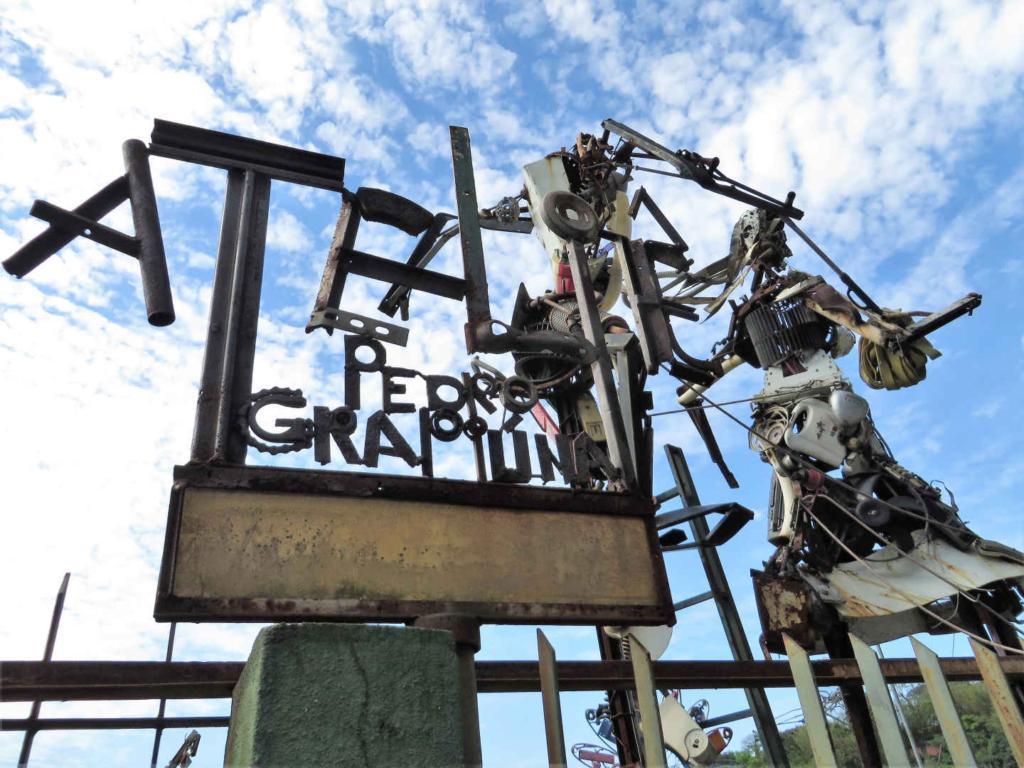 Santa Teresa Tram
Just a few metres from the gate of Vik's house on Rua Joaquim Murtinho, is a small, simple plaque, fixed to the brick wall behind a dried-out flower bed. It commemorates the six people who lost their lives when, in 2011, the brakes failed on one of the neighbourhood's iconic and well-loved yellow trams. It careered at top speed down the steep, winding road. Vik tells me that the driver purposely derailed the train at this corner. A few metres further and it would have probably nosedived off the white arches of the large aqueduct nearby and into the street of the Lapa neighbourhood below. People lost their lives, but by taking this brave step the driver undoubtedly saved many more. The trams haven't operated since.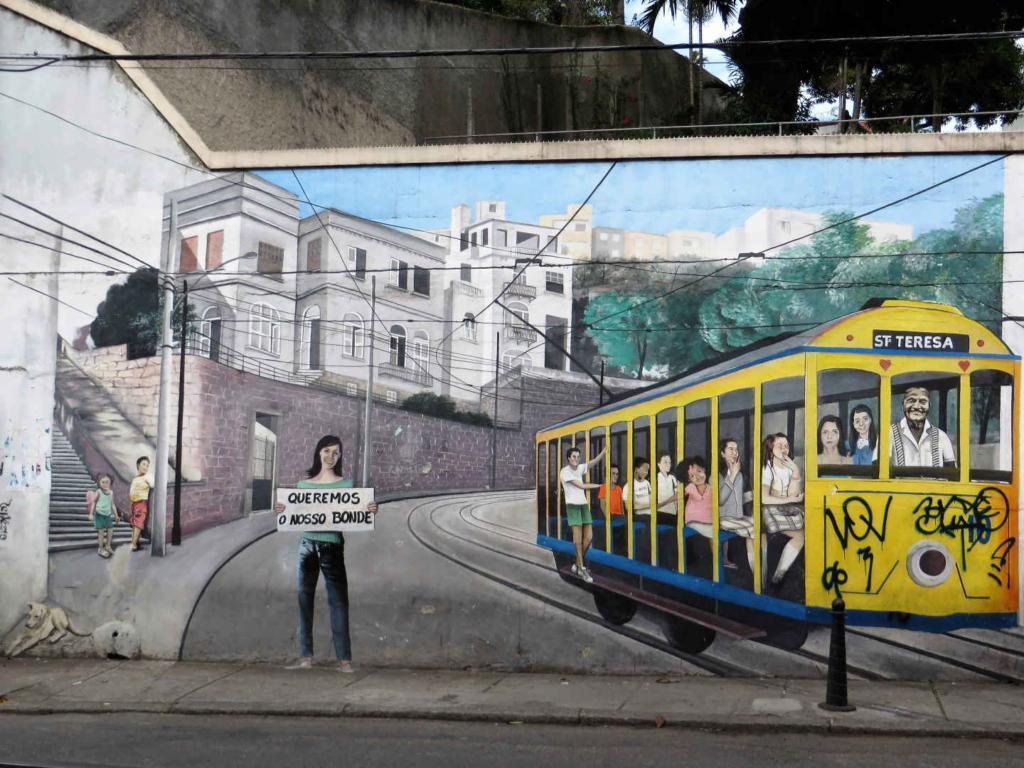 Around the city there are cartoon pictures of a yellow tram car, crying a big blue drop of a tear. This signifies the city's devastation and heartache at this terrifying accident happening to such an adored city treasure. However, at the time of my visit, the brightly coloured tram line was being renovated, with a brand new fleet with additional safety measures planned in time for 2014's World Cup.
Selarón Steps
Straddling Santa Teresa and neighbouring Lapa are the Escadaria Selarón, or Selarón Steps. This vividly colourful flight of steps is decorated with a variety of tiles from across the globe. It is the life's work of Chilean-born artist, Jorge Selarón, as his tribute to the Brazilian people.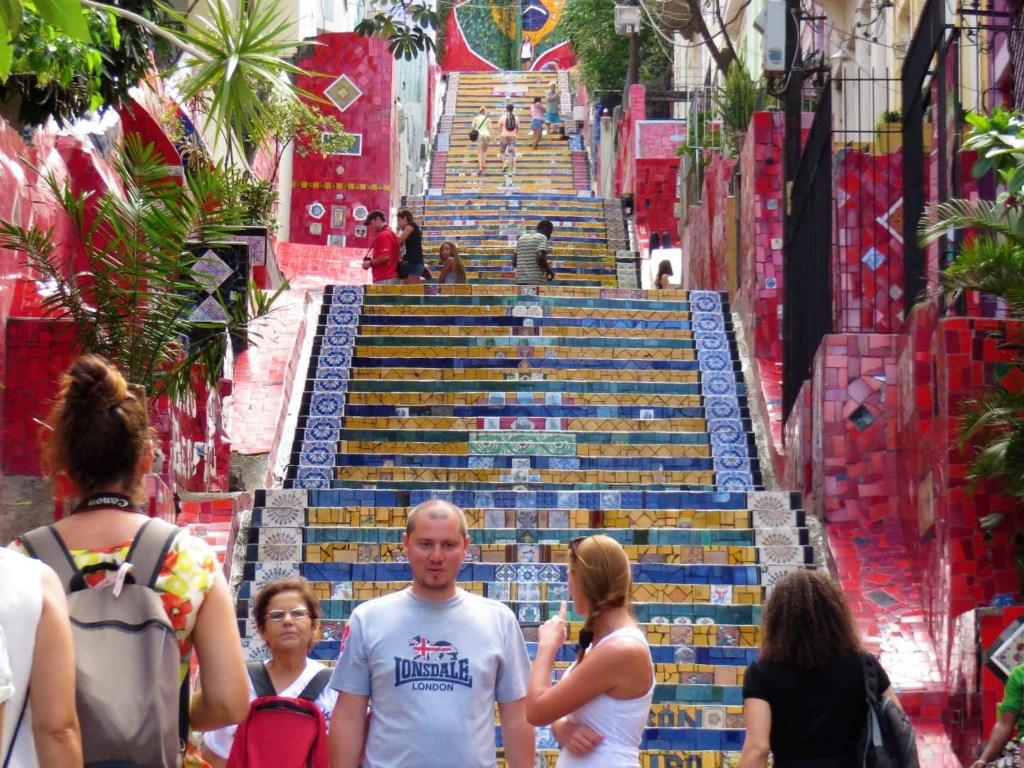 The story goes that Selarón's house faced a set of dilapidated grey steps, so he decided to take it upon himself to make them more beautiful. He started affixing tiles to them that he had collected from his travels. Every day he could be found pasting and polishing the tiles on the steps. Soon, his friends and neighbours started to collect and donate tiles for his project. Selarón sold his artworks in order to fund its upkeep. With no city funding, he created one of Rio's most popular tourist attractions.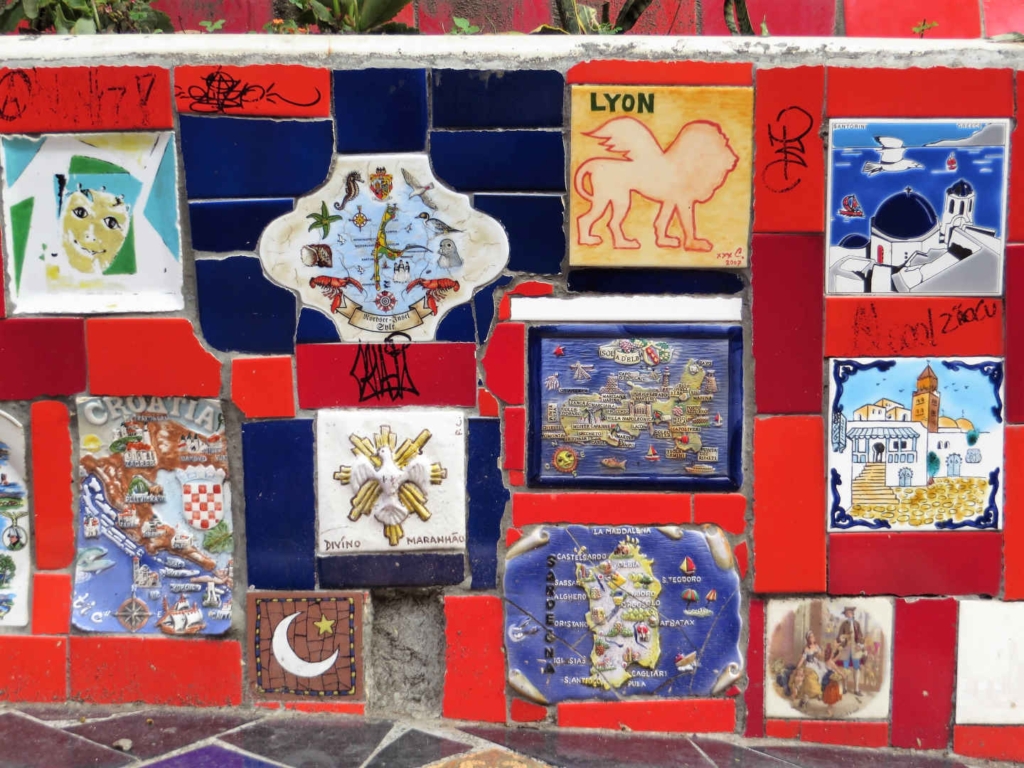 A gregarious fellow with a distinctive handlebar moustache, Selarón used to sit on the steps every day and chat with passersby. He would tell them that the steps were his lifetime's passion and he would only stop working on them once he was dead.
One morning in early 2013, Selarón was found lifeless, lying prostrate on his steps. A police investigation ruled his death as unexplained or possibly suicide. However, not everyone agrees. Vik tells me that Selarón had recently partnered with someone on a printing business. This businessman started to get greedy and wanted to acquire the rights to more of Selarón's work, but the artist refused. Locals believe Selarón was murdered by the man's mafia associates. The artist was found dead shortly after fetching bread for breakfast – not the most likely action of a man about to take his own life. There is suspicion that police officers were in cahoots with the mafia, hence the lack of prosecution for this well-loved man's mysterious death.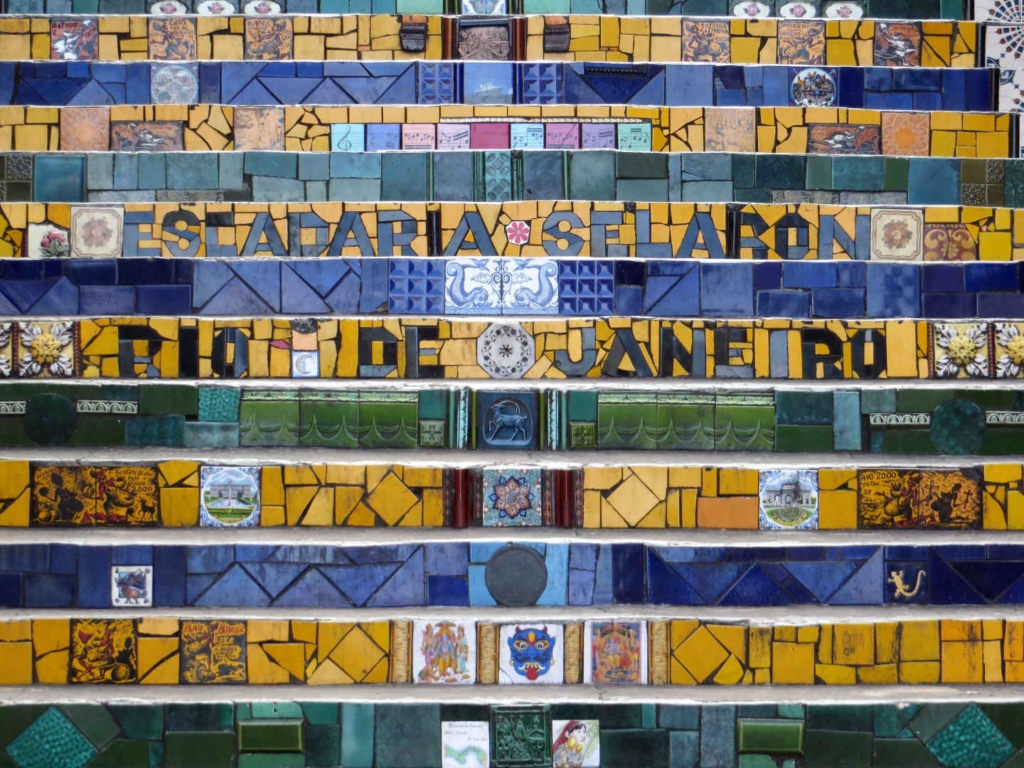 Nightlife in Lapa
One evening, Reginald took me for a walk through Lapa, where we saw crowds of people spilled into the streets, drinking and dancing to live samba music. One club had a queue snaking almost a mile down the road.
Every weekend here has the raw party energy of Notting Hill Carnival. Warning number three: don't carry a bag with you to Lapa – only take a little cash and your keys. Otherwise, it will be skilfully pick-pocketed or possibly robbed from you by armed assailants. If you have to carry a bag, hold it close in front of you.
The section of cobbled road that Vik's house sits on leads down to the aqueduct arches of Lapa and is quite pleasant in the daytime. However, it is known as a no-go area for anyone walking alone after dark, such is the risk of crime there (warning number four).
People from Latin America have a reputation for being passionate lovers. I had dismissed this as a stereotype, but in Lapa I spotted couples in the street kissing each other with such vigour you'd have thought they were relying on each other for air to breathe. Maybe they were parting for the last time, never to see each other again, Romeo and Juliet-style.
Hang-gliding in Rio
During my stay in Rio, I was lucky enough to meet up with Fernanda, a lovely Argentinian friend I had met in St Lucia a few years earlier. Her husband is on the management team of a five-star hotel in Rio's beach-side San Conrado neighbourhood. From their presidential suite, we spotted a nearby mountain. The following day, I was set to do my first ever hang-gliding session, launching myself off the side of that very mountain. Fernanda wished me luck.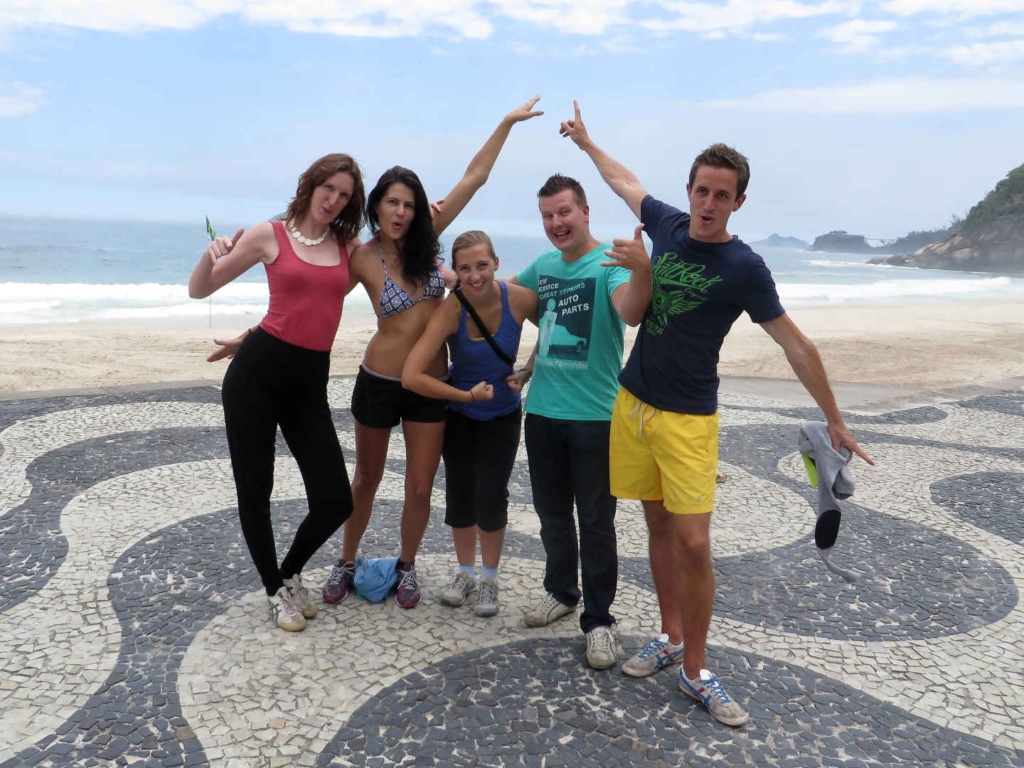 Heading to the mountain with a group of other travellers from the hostel, we were full of trepidation and excitement. We were each assigned a tandem pilot. Clinging on, I ran as fast as my legs would carry me, off the wooden platform and the mountainside. Into thin air.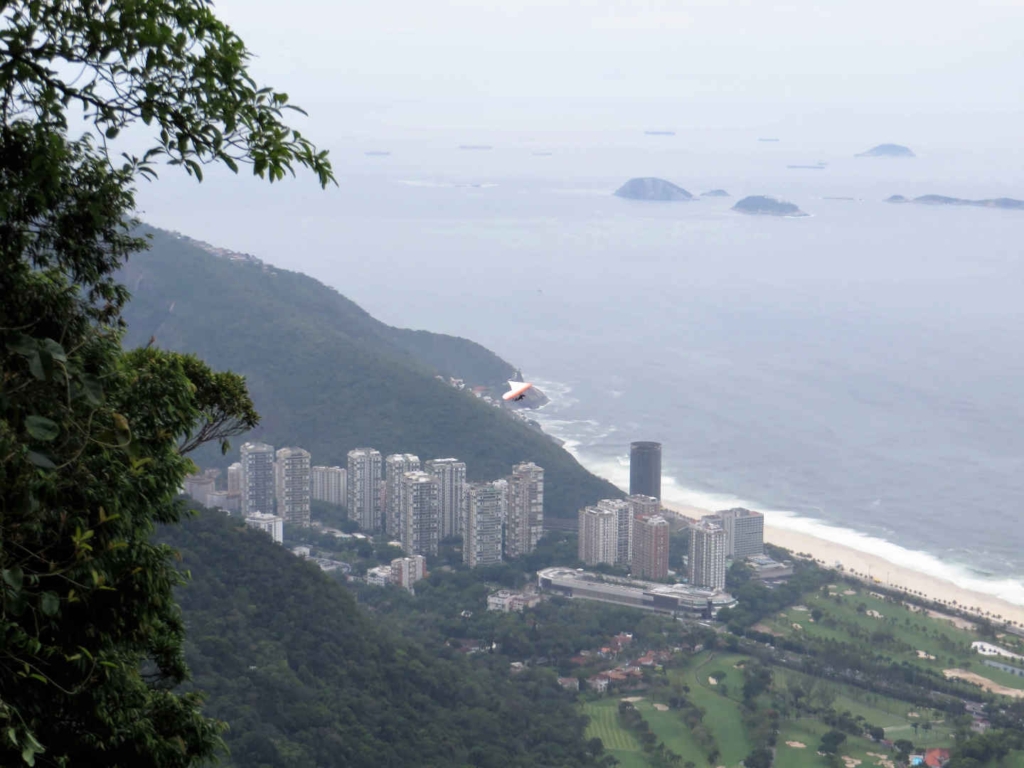 Once airborne, the hang-glider caught a wind current and we soared like a bird, swooping gently over the decadent hotels and pools and sculptured greenery. By contrast, looking far left we could see Rio's favelas poured around the hillside like thick caramel. People's homes in this devastatingly poor neighbourhood seemingly defy architectural logic to pin themselves to the mountain's curves, with barely any room to breathe in between them. Far beyond that, we could make out the statue of Christ the Redeemer perched atop his hill.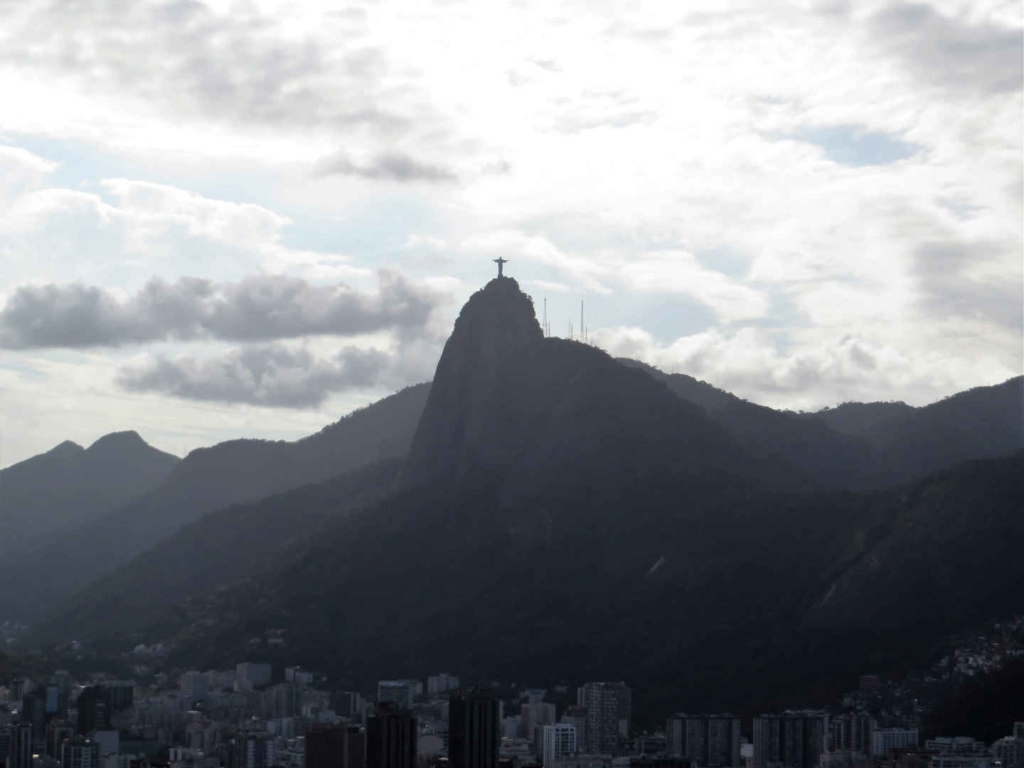 This was a fitting way to spend my last day in this place. Taking in the sheer epic-ness of Rio de Janeiro from the air, with spectacular panoramic views across its diverse cityscape. The warm sea, scattered with yachts, caressing the city's blonde beaches. The forested mountains dominating the grand buildings and bustling roads. The dichotomy of rich and poor communities. This isn't any old city. It may come with a set of warnings wherever you go, but this place knows it is something special and it will entice you anyway.
To read about the rest of my South America trip, including charming Chile and Argentina's Buenos Aires, click here.