I spent three weeks on my Australia backpacking route, flying into Cairns, then to Sydney, Melbourne and Adelaide. I was lucky enough to be staying with friends for most of it. This is what happened on my Australian adventure.
Cairns
My journey Down Under kicked off in Cairns. This small, laid-back city in tropical Far North Queensland is considered the gateway to Australia's underwater wonder, the Great Barrier Reef. That was to come. But first, I embarked on what was, and is still, the city's number one outdoor activity, according to TripAdvisor: Barefoot Tours.
This day trip around the rainforest and waterfalls of the Atherton Tablelands, located southwest of Cairns, is hosted by the brilliantly entertaining and insightful Captain Matty. After an introduction to the region's unusual looking Cathedral Fig Tree, we stripped down to our swimmers and jumped into the not-exactly-warm falls. Despite being in the tropical north of the country, we needed to be brave as it was wintertime.
The stunning Millaa Millaa Falls prompted dramatic wet-hair flicks in the style of a 1980s shampoo advert. Matty told us that these falls are also rumoured to be the location for the video to Peter Andre's classic 90s pop tune, Mysterious Girl. With more waterfalls and even a cane toad, this was a fun tour and a great way to get to know the area.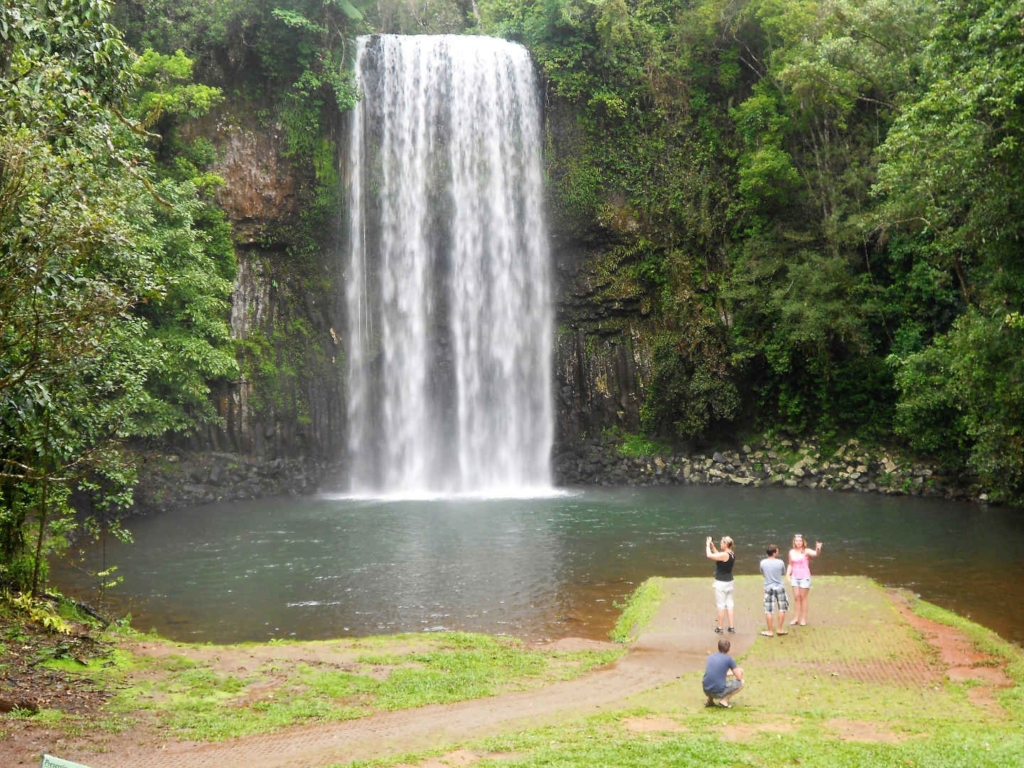 Diving the Great Barrier Reef
The next day it was time to explore even deeper waters: the Great Barrier Reef. Having passed my Open Water scuba diving certification in Malaysia, I was raring to go and booked myself in for three dives, taken from a large white cruiser vessel. I'd been fascinated by the Reef since I was a kid in school, though I was sad to learn on this trip that it is now irreversibly dying and will soon lose its UNESCO World Heritage Site status. So now is a good time to check it out.
In my dive group were two guys from Sydney, who were in Cairns to compete in that weekend's Iron Man triathlon contest and were just warming up with this diving trip. Our instructor, Kenzo, obviously loves his job –  as well as doing all the usual diving hand signals, he'd clap his hands excitedly and blow water rings. He encouraged me to do an underwater somersault, but I wasn't sure I'd be able to. On these three dives, among other things, I fed a turtle, posed for a photo with a giant blue Maori Wrasse fish, spotted a prehistoric-looking giant clam, held a pineapple sea cucumber, saw two sharks, stingrays, colourful walls of orange and purple coral and a large school of barracuda. And did a somersault! I was already very impressed with my Australian adventure and there was more to come.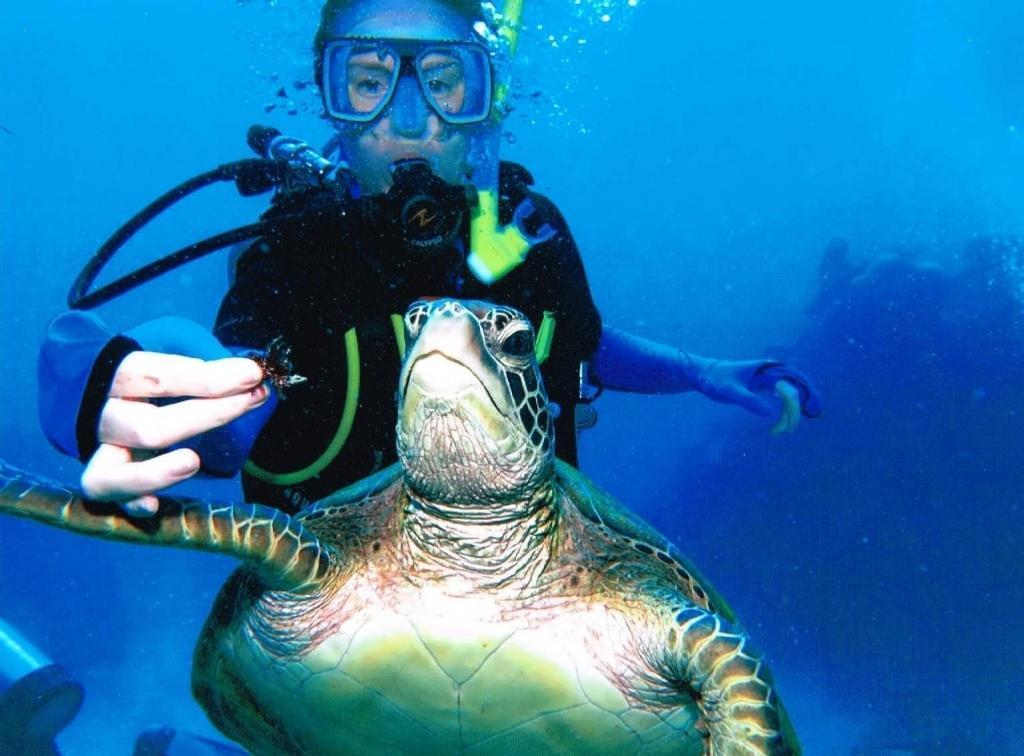 After all of this stunning nature, I was lucky enough to spend several days meeting up with friends in Australia and experience city life in Sydney, Melbourne and Adelaide.
Sydney
On the day I arrived in Sydney the city was hosting a Vivid arts festival, which saw its buildings – including the Sydney Opera House – spectacularly lit up with graphics, animated to music. Another day I got to see the Opera House close up and sipped a glass of wine or two with my friend Matt at the waterfront Opera Bar, though I had to fend off the hungry sea birds intent on diving in to snatch our potato wedges! There is also the Sydney Harbour Bridge, of course, and one evening we dined at the Glenmore pub's rooftop terrace which has a great view of this famous landmark.
I was staying with my friend Amanda in the famous Bondi beach area, a relaxed neighbourhood full of cafes and restaurants. It was such a treat to be living by the sea again, enjoying a walk along the front and watching the surfers tackle the huge frothy waves. Legalised graffiti along the beach wall included a moving commemoration for the Australians who lost their lives in the Bali bombings just over a decade ago.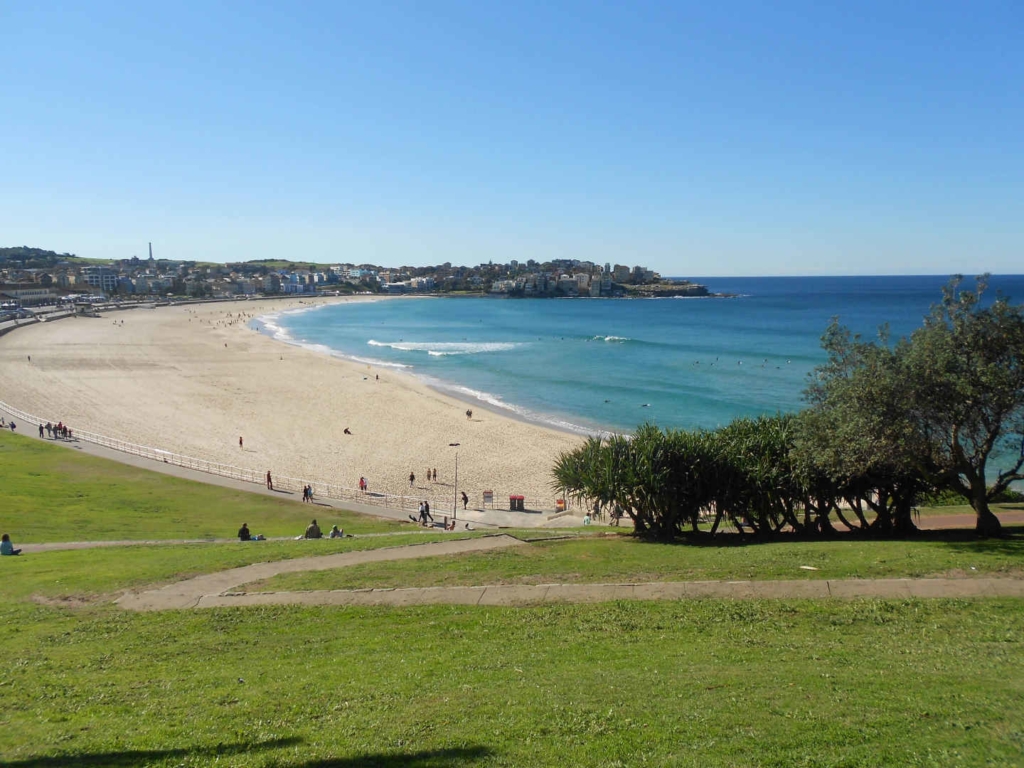 In Sydney, I was able to keep up the daily exercise with my new Bikram yoga practice and my spiritual enlightenment in a one-to-one session with Samantha Nolan Smith at her place near Coogee Beach. I also joined her group meeting in Sydney's glamorous setting of Rockcutters Bay, with its gleaming white moored yachts.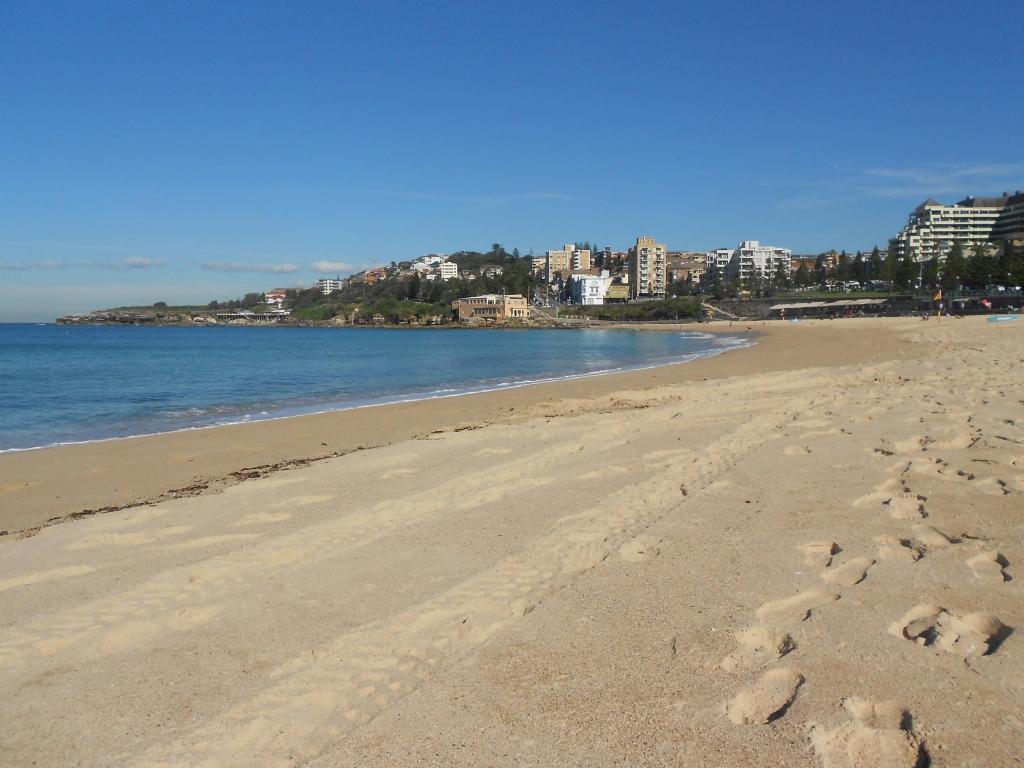 Melbourne
Then it was on to Melbourne. I had heard it was a city of arts, culture and sport, and I wasn't disappointed. There were so many exhibitions and events advertised, I was spoiled for choice. I decided on the Hollywood Costumes exhibition at the Australian Centre for the Moving Image (ACMI), which I visited with my friend Naomi. Here, there were outfits from more than 100 major Hollywood movies on display. Interviews with some of the industry's most celebrated costume designers, directors and actors revealed how the clothing for some iconic roles was selected and how it is an integral part of a character's creation. One of my favourite pieces was the deep green floor length silk dress made for Keira Knightley's role in Atonement, which draped beautifully and was designed to convey the character's dangerous jealousy and desire. Also on display were the glamorous costumes from the movie of The Great Gatsby.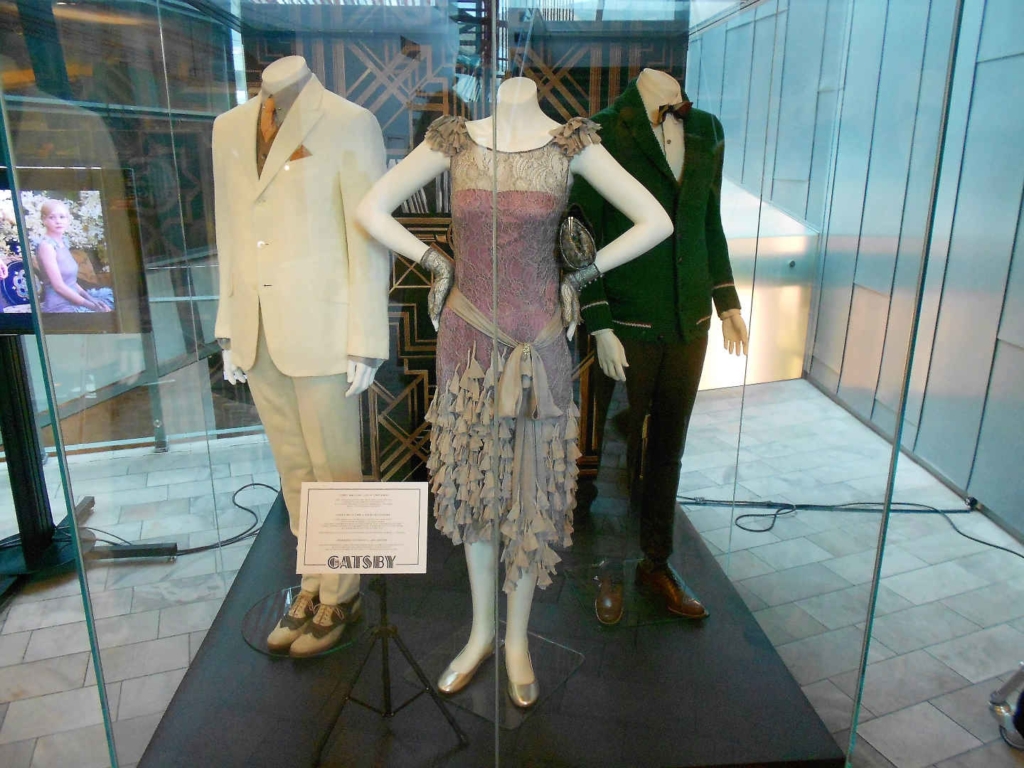 I was lucky enough to stay in the beautiful Melbourne home of my former London landlady, Jean, in the residential suburb of Glen Iris. In the evenings I caught up with Australian friends I'd worked with in London who'd subsequently made the move back home. It was so nice to catch up with familiar faces and reminisce. One of the bars we went to, Ampere, located on of the city's typical little lanes, was designed in a charmingly eccentric, shabby chic style with worn velvet sofas, dimmed lights and an indoor tree.
On my last day in the city I ventured out to a quiet little cul-de-sac near the suburb of Glen Waverley. This unassuming and surprisingly small road appears on TV as Ramsay Street, where the outdoor scenes of the Australian soap opera Neighbours are filmed. Having watched this show every day when I was a kid, it was great fun to check out the TV homes of characters including Madge Bishop, Toadfish and Mrs Mangel, which were introduced to me by a friendly security guard. One of the houses is owned in real life by a Neighbours fanatic who bought the house for $867,000 in 2013 and moved from the UK to live there.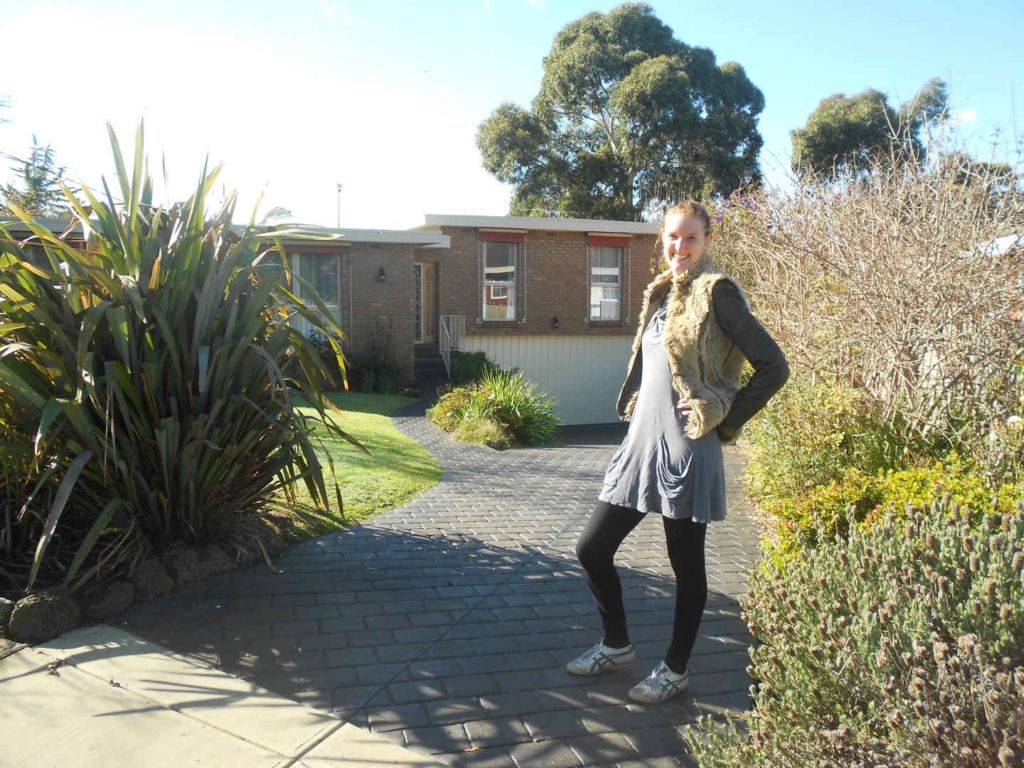 Adelaide
Then it was off to Adelaide. There I met my friends Dee and Kate, and had a treat of a time, enjoying great sushi, lazy days, leisurely lunches, a walk in the hills, copious cups of tea (oh how I've missed a decent cup of English breakfast tea), drinking wine from a local family vineyard, watching the Lions vs Wallabies rugby match (go Lions) and enjoying carefree evenings out partying (the lazy days were largely to recover from these nights out). 
For a great guide to the best Adelaide day tours click here.
Concluding my Australia backpacking route
On my final day back in Sydney I helped Amanda move to a brand new city flat in the enviable location of Surry Hills. It turned out to be a momentous day for the country too. While we were carrying boxes and catching the occasional TV update, Australian PM Julia Gillard was voted out of office in favour of former Labour PM Kevin Rudd by her own party in a surprise 'win or leave political vote. It prompted much debate about whether Gillard had been treated differently by her peers and by the media because she is a woman.
My final Australian adventure was an unexpected one. We narrowly avoided missing our early morning flight from Adelaide to Sydney following a big night out, after running to get to the gate in time. I thought the drama was over, but no. Amanda accidentally left her house key in Adelaide so we were locked out in the rain for most of the day. And the plane troubles weren't over either.
My flight from Sydney to Auckland in New Zealand was cancelled due to engineering problems. Predictably, communication was poor and it wasn't until several hours later than I knew for sure that I'd been put onto a later flight. The airline staff were kind enough to give us vouchers to spend in the airport. Along with a fellow stranded passenger, we thought it rude not to spend some of it enjoying some wine in the airport bar. Having a good glug of fine Australian wine is probably a fitting way to say farewell to this fantastic country.