Canada's capital city of Ottawa is often overlooked as a tourist destination in favour of larger cities such as Vancouver, Montreal and Toronto. But even if you can only spend one day in Ottawa it is well worth it, as the city has plenty to offer visitors, no matter if you're on a budget. Read on to discover the perfect way to see Ottawa in a day.
How to plan your trip to Ottawa in a day
If you're wondering what to see in Ottawa in one day, there are several options. If you arrive to pleasant weather, then a tour of the Parliament Building, followed by a stroll around the city and a bike ride along the canal would be a wonderful way to spend the day. This way you can truly enjoy the beauty of this city.
This post may contain affiliate links. If you make a purchase, I receive a small commission at no extra cost to you. For more information, read my disclaimer.
If you're a museum fan or an art lover – or it's a rainy day – then Ottawa has an array of top quality museums and galleries to keep you entertained. In fact there are 21 in total, covering a range of interests. A lot of thought has gone into Ottawa's museums to create something of note, rather than just another tourist venue. Inside and out, both the contents and the architecture, make them remarkable.
The best way to get around Ottawa
Ottawa is much smaller than Toronto, so it is easy to walk around the city within a couple of hours.
While Ottawa lacks Toronto's cosmopolitan, glamorous big city feel, its architecture sets it apart and makes it feel special. The Gothic and neo-Gothic Parliament buildings are reminiscent of old world European palaces, while the innovative contemporary architecture of Ottawa's museums provides a welcome contrast.
If you'd rather not walk, click here to book a hop-on hop-off guided 1.5 hour bus tour of Ottawa.
First stop – get the lowdown from Ottawa Tourism
Ottawa Tourism, on 150 Elgin Street, opposite the City Hall in downtown Ottawa, is an ideal first stop. Here, you can pick up an Ottawa street map and get advice from their friendly and helpful staff.
Second stop – the picturesque Parliament buildings
If you're deciding what to see in Ottawa in one day, the Canadian Parliament is an essential stop. The Parliament buildings were built between 1859 and 1927 and are dominated by the statuesque clock tower, clung on to by a gaggle of gargoyles. After all the modern buildings of Toronto, it was wonderful to see this proud architectural evidence of Canada's history.
There is a daily free-20 minute tour of Parliament, however when we were there an imminent visit by the Korean prime minister meant tours weren't running that day. You can find more information on these tours from Ottawa Tourism.
The statues gathered around the grounds of Canada's seat of government include a monument to the women's rights movement in Canada, which has a duplicate in Calgary, and a statue of Queen Elizabeth II.
There's also a tribute to the devastating fire of 1916, which destroyed much of the Parliament Building. The rebuilds and extensions since are thankfully faithful to the original architectural style.
On the front lawn sits water fountain with a constantly burning flame. Known as the Centennial Flame, it was lit in 1967 to commemorate the 100th anniversary of the Confederation of Canada, meaning it has been burning for almost 50 years.
Third stop – for the most sensational city views
From Parliament, cross the river to the Rideau Centre and Byward Market, where you will find plenty of opportunities to go shopping or grab some food.
Here at Major's Hill Park you will can admire the views over the river to Parliament Hill, see some of Ottawa's eclectic sculptures and appreciate what an attractive city this is.
Fourth stop – get arty at the National Gallery
The main thrust of Ottawa tourism seems to be centred on its museums – perfect for when the weather is unreliable. To the north of Major's Hill Park lies the National Gallery of Canada.
Even if you don't have time to go inside, there's an amazing art installation right outside, an enormous statue of a spider.
This creepy, bronze arachnid, created by artist Louise Bourgeois, is over nine metres tall. It is called Maman – French for 'mother' – because the spider's body includes a sack of 26 marble eggs.
The contemporary National Gallery of Canada building is an innovative space with panelled glass ceilings and interior gardens. The collection of art it houses is equally impressive, with works by notable American and European artists, including Van Gogh and Monet, as well as indigenous artists. Take a walk around the building and you'll find more sculptures, revealing this centre's commitment to art.
Fifth stop – this is where you learn about Canada's true history
Another architecturally interesting building is the Canadian Museum of History, which tells the story of Canada's people over 15,000 years of history. The museum is a 15-minute walk from the National Gallery, across the Alexandra Bridge.
It houses the world's largest indoor collection of totem poles and provides a fascinating insight into the country's native First Peoples. Known as Canada's most-visited museum, it also contains the Canadian Children's Museum and an IMAX Theatre.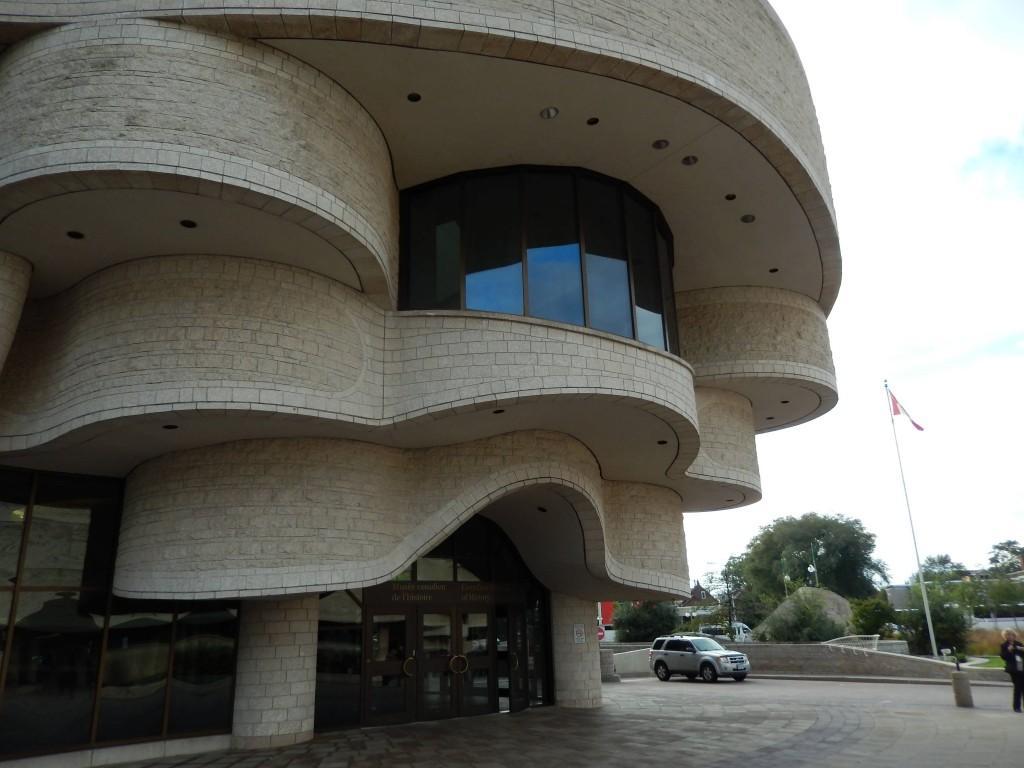 The museum's four floors also house temporary exhibitions. The one we say recounted Canada's most devastating sea disaster, the collision and sinking of the Empress of Ireland. In 1914, its short voyage from Quebec City ended up with 1012 people losing their lives, but this tragedy was overshadowed in history by the sinking of the Titanic two years earlier.
Book your ticket in advance for the Canadian Museum of History here for instant confirmation.
If it's sunny – ride along the beautiful Rideau Canal
If you are lucky enough to be blessed with sunshine, one of the most fun activities in Ottawa is to take a bike ride along the pathways next to the Rideau Canal.
You can rent a bike from a central location from near Parliament Hill, back across Alexandra Bridge, any time between 9am and 4pm. From there you can cycle 30 minutes along the Rideau Canal pathways to Hog's Back Park to where it meets the Rideau River.
Rent a bike for up to 4 hours, including a lock and maps for a self-guided tour of Ottawa, here.
Stretching for 125 miles, this waterway is a UNESCO World Heritage site. In winter, the canal is transformed into the world's largest skating rink, at an impressive 4.8 miles (7.7 km) long.
As we cycled along in the sunshine, we passed the autumn trees changing colour and spotted a romantic love lock bridge. It was sublimely relaxing to be surrounded by this beautiful natural scenery in the heart of a city.
We made our way to the Prince of Wales Falls in Hog's Back Park, where the crashing water created a mini rainbow with its spray.
The most affordable places to stay in Ottawa
There are so many things to see in Ottawa, you may be considering an overnight stay. This is a great idea. Slow down, spend a few days to take it all in and let yourself relax in this charming place.
If you are backpacking Ottawa and looking for a great hostel in the city centre, a popular choice is the HI – Ottawa Jail Hostel. Located in a restored jailhouse, this quirky accommodation includes a complimentary breakfast. One of the best-rated hostels in the area is the nearby women-only Barefoot Hostel, a modern, clean and comfortable property.
A 30-minute walk from the city centre is the beautifully styled Avalon Bed and Breakfast, run by welcoming hosts who prepare a cooked breakfast every morning. If you're arriving by plane, a great budget hotel close to the airport is Adam's Airport Inn, which has a fitness centre.
To browse and book your Ottawa accommodation in advance, check out the availability here.
This is a great way to meet the locals
If you arrive in Ottawa when there are lots of conferences being held in the city, you may find it harder to find a hotel room. In this case, a good option is Airbnb (discount for first time users here). An added bonus is that you may get to hang out with your local hosts.
We stayed at an Airbnb across the Ottawa River in Gatineau, the fourth largest city in Ontario's French-speaking neighbouring province of Quebec. It's a 20 minute bus ride from Gatineau into Ottawa. Our hosts were Annie and Vincent, a cool and friendly young French Canadian couple. Enjoying home cooked meals and wine together, we learned they came from Montreal to study at Ottawa's prestigious universities.
Book this city tour with a local, get picked up from your Airbnb and learn Ottawa's best-kept secrets.
How to travel to Ottawa in style
If you are travelling by public transport, as we were on our trip across Canada, you can easily book a bus or train to Ottawa from Toronto or Montreal. Having mostly travelled in Canada by bus, we decided it was time to try a train journey.
VIA Rail, Canada's national passenger rail service, spans the 7767 miles from coast to coast across this vast country. We'd boarded at Toronto for our journey across the Canadian province of Ontario to Ottawa. We were happy to find a pristine and modern train. There were electrical sockets by each seat, to charge our laptops and mobile phones, and a solid WiFi connection. The tasty meals and drinks were served by pleasant staff who seem to actually enjoy their jobs. It is a sophisticated and affordable way to travel in Canada, even if you are on a budget.
This post was brought to you with thanks to VIA Rail, the National Gallery of Canada, the Canadian Museum of History, Rentabike and Ottawa Tourism for hosting me.
Next up, find out how to plan a Canada backpacking trip from coast to coast, here.