Here is the ultimate travel guide for planning your backpacking Canada route, with tips on the best ways to cross the country and travel Canada on a budget. I spent two months travelling across Canada and stopping at many beautiful and fascinating places along the way, from Vancouver to Quebec. If you're interested in visiting Canada, you are not alone. In 2019, Canada had a third consecutive record-breaking year for tourism. This guide outlines all the stunning places to visit in Canada, from its multicultural cities to its breathtaking national parks. Read on for the ultimate Canada backpacking guide, so you can plan your perfect trip.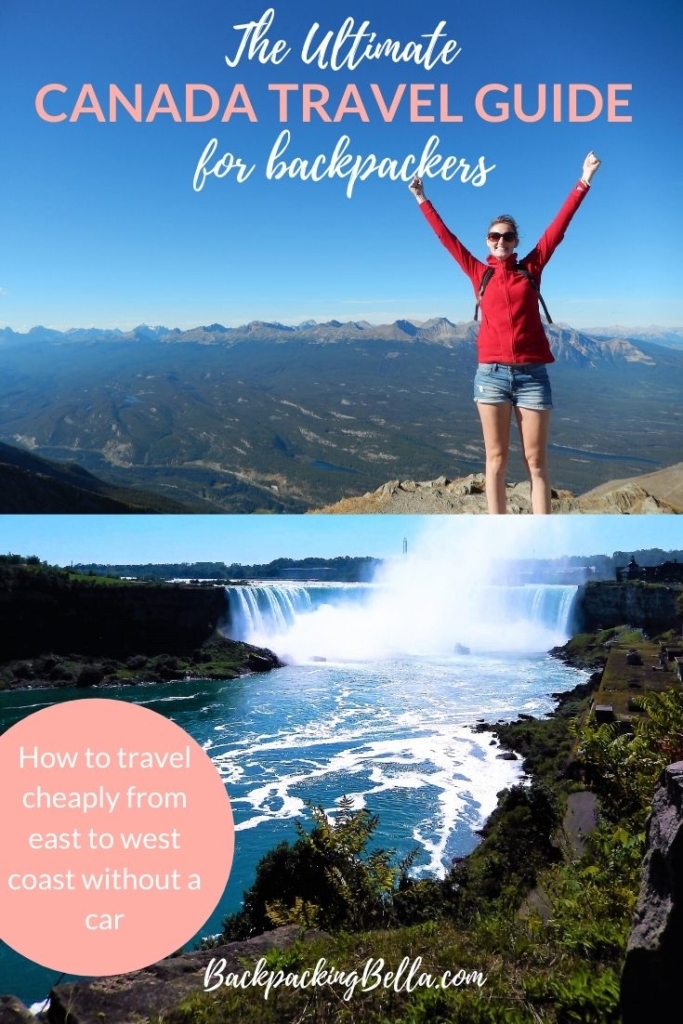 This post may contain affiliate links. If you make a purchase, I receive a commission at no extra cost to you. As an Amazon Associate I earn from qualifying purchases. For more information, read my disclaimer.
How to travel to Canada
Planning a trip to Canada is usually straightforward. If you're travelling to Canada from the UK as a passport-holding British citizen, like me, you don't need a visa to visit Canada. However, you may still need an eTA (electronic travel authorisation). For Canada travel information and to find out if you need a visa or an eTA, visit the government of Canada's visa section here.
Moving on to the best way to go to Canada, there are plenty of direct flights. Check out Skyscanner for the cheapest way to travel to Canada. I flew there from London with Air Transat but there are many airlines that fly to Canada, including Air Canada. A great place to start is like I did with Canadian Affair. They are travel experts on the country who offer flights deals, tours and cruises – a helpful resource for planning your backpacking Canada itinerary and determining the best way to travel to Canada from where you are.
What is the cheapest way to travel when backpacking Canada?
Canada is expensive, but by carefully managing your backpacking Canada budget you can make sure you travel across Canada cheaply and comfortably. But keep in mind that it's a vast country. The width of Canada from its eastern to western extremities is 9,306 km (5,780 miles). Most people seem to hire a car or a large campervan when travelling across Canada. For our backpacking Canada trip we initially looked into this. However, hiring a car as a non-Canadian is not cheap, so we decided other options would be the best way to move across Canada for us.
Via Rail runs comfortable and affordable train routes across the country. There are convenient bus services operated by Greyhound and Megabus, which are perfect for backpackers on a budget. Finally, there are low-cost domestic airlines that can transport you between cities, if you are short on time when travelling within Canada. We chose to fly with WestJet between Calgary and Toronto as at 2,714 km (1,686 miles), this was the longest part of our trip.
In the Canadian Rockies, we also booked special shuttles and tours that combined getting from A to B with sightseeing led by a local guide, as an extra bonus! For shorter journeys as a backpacker, it's easy to take local public transport, as the bus drivers are friendly and helpful. It's advisable to carry small change in Canadian coins with you, as the bus drivers prefer if you can pay the exact amount, rather than handing them large dollar bills.
Affordable accommodation when backpacking Canada
As backpackers, you will undoubtedly be considering hostels in Canada, as they are cheap and a great way to meet other travellers. In Kelowna, we stayed at the Kelowna International Hostel, which was fun and even offered free breakfast. For hostels, hotels and guest houses, check out Booking.com. We found this site especially useful for resort towns like Banff to find the cheapest places to stay.
Another useful site to find affordable accommodation when backpacking Canada is Airbnb. We enjoyed meeting our local hosts and hearing their insight and tips. If you've not used Airbnb before, click here for a discount off your first stay.
Finally, you could also pitch a tent in one of the country's national parks – just watch out for bears! We hired an easy-to-assemble tent and camping equipment from Bactrax Banff Camping Rentals and took it with us to Jasper for an enjoyable night under the stars. And we didn't need to worry, because we didn't see any bears (shame!).
Things to know about expenses when backpacking Canada
There are few things you will notice about travelling in Canada on a backpackers' budget.
When you buy something from a shop or restaurant, the prices displayed do not include tax. This may come as a surprise if you are travelling here from outside of North America. So always factor in that you will need to pay more when the bill arrives. Tipping in Canada is expected in restaurants or if you're buying a drink at a bar: around 15-20% is customary. Fortunately, credit cards are accepted almost everywhere in the cities, but do keep an eye on your expenditure as costs can accumulate quickly.
You may be tempted to get a local SIM card for your phone, but it's best to avoid this as Canadian mobile networks can be eye-wateringly expensive.
Planning your backpacking Canada itinerary
So how do you decide where to go in Canada? We had two months to backpack across Canada and we opted to start on the west coast and head east, as this was most convenient for us. We flew into Vancouver and our flight at the end of our trip departed from Montreal. When thinking about where to visit in Canada and in what order, it's good to take into account whether you want your longest flight to be at the beginning or end of your trip (I would say at the beginning is best, as your anticipation will make the time pass more quickly!).
How to travel Canada will depend on your personal preference. For our itinerary, Canada's big cities would be the main stops, while exploring the country's famous national parks along the way. This way, for our travel across Canada, we had a good mixture between the two different styles of backpacking in Canada. There are many fascinating places to travel in Canada so it can be hard to decide on your travel Canada itinerary. I will outline some recommended stops on our Canada backpacking tour, where we visited while travelling around Canada on a budget and what we enjoyed about them.
Vancouver, British Columbia
If you are backpacking Canada from west to east, like us, you will probably land in Vancouver. Vancouver is one of Canada's most expensive cities and with its outdoor lifestyle of skiing, beaches and hiking, it's easy to see why. We stayed with a friend in Kitsilano and also at a nearby Airbnb. This is one of the most desirable places to stay in the city, as it has its own beach, as well as a plethora of organic cafés, restaurants serving seasonal food and yoga-wear shops. You can take a day or two to explore the city. Granville Island has a bustling food market for cheap eats, there is a lively waterfront and many examples of the city's art scene. There are also many green spaceits offering stunning views over the bay. For more information and photos of how to visit Vancouver on a budget, read my blog post here.
Exploring further afield is recommended. Many people visiting Vancouver read about the Capilano Suspension Bridge, one of the most popular local tourist attractions, just north of the city. However, there is a great cheap alternative. Instead of spending CA$47 to enter Capilano, you can take public buses to visit Lynn Canyon Park, another North Vancouver park with a suspension bridge – but this one is free! As well as the bridge, Lynn Canyon Park has a number of hiking trails which are fun to explore. For more information and photos, read my review here.
To help us decide on the next destination of our Canada trip, we visited a British Columbia visitor centre near the waterfront and spoke with the helpful staff. They showed us a large British Columbia map and recommended that we go to Kelowna, which is at the heart of Canada's Okanagan Valley wine region. We like wine, so we agreed! While it didn't look very far away on the map, Kelowna is nearly 450 km (280 miles) from Vancouver, so we took an overnight Greyhound bus for the six hour journey, which cost just under CA$50 each.
Kelowna and the Okanagan Valley wine region, British Columbia
In keeping with our backpacking through Canada budget, we stayed at the Kelowna International Hostel but when we tried to explore everywhere on foot, all the shops and points of interest seemed to be far away! No wonder, Kelowna is British Columbia's largest inland city, with a population of almost 195,000 and comprising over 200 square km (80 square miles) in the central city area alone. Situated on the 135 km long Okanagan Lake, laid back Kelowna is a pleasure to explore, with its beaches, watersports, boat clubs, contemporary sculptures and upmarket lakeside houses.
Renting bikes from Kelowna Cycle, thankfully only a ten-minute walk from the hostel, we were lucky enough to meet a cheerful local expat who took us fishing at the picturesque Frazer Lake. On the half hour ride to the lake, heading south from the city centre, we cycled past local orchards bursting with sweet apples, apricots, cherries, peaches, pears and plums. Conveniently close to Frazer Lake is the Summerhill Pyramid Winery with its distinctive pyramid-shaped cellar and sweeping views over Okanagan Lake. The winery specialises in organic and bio-dynamic wines and we were surprised by the quality of the wines. The Okanagan Valley is one of Canada's primary wine regions, as it enjoys warm summers that help to nurture almost 10,000 acres of vineyards.
If wine's not your thing, you can visit Urban Distillery & Winery in the city's North End to taste its award-winning spirits, such as espresso-infused vodka, Okanagan lavender and apple gin, and peri peri chilli vodka.
For more information on why you need to go to Kelowna, read my dedicated post here.
Banff, Alberta
Our third stop was the famous resort town of Banff, perched around 1,500 m high in Alberta's Banff National Park in the Canadian Rockies. There are two daily Greyhound buses that run the eight-hour journey between Kelowna and Banff for around CA$80 per person. One of Canada's most popular tourist destinations, backpacking Banff can involve mountains, hot springs and outdoor sports, including hiking, biking and skiing.
Banff is a bustling resort town with high prices so it's worth researching beforehand to book one of the cheaper hotels in advance – start with this link for Booking.com. In Banff, you will mainly find lots of tourists, shops and restaurants, but we found it a nice place to rest for a few days after all our walking, cycling and long bus journeys. Downtown Banff is pretty, compact and easy to walk around.
One thing that's good to do, if you have a spare CA$58 and don't mind heights, is the Banff Gondola. The ride itself is fun, as you board a cabin and soar almost 700 metres high over the treetops to reach the summit of Sulphur Mountain. The views from the top are awe-inspiring, as you gaze over six local mountain ranges and along the Bow Valley. There is plenty to do at the summit building, which has restaurants, interactive exhibits and a 360-degree observation deck. We particularly enjoyed walking along the Sulphur Mountain Boardwalk and spotting cute ground squirrels with the brilliant name of spermophiles. At the end is Sanson's Peak where you can learn about Sulphur Mountain's historic Cosmic Ray Station, no less!
Jasper, Alberta
The highway between Banff and Jasper is the Icefields Parkway and it's known as one of the world's most scenic roads. We booked a journey with Sundog Tours, which meant we benefited from a driver who took us directly to all the picturesque viewpoints of lakes and waterfalls, and tell us all the stories about them. Definitely an advantage over renting a car and trying to figure it all out for ourselves! One of our stops was at the recently opened Glacier Skywalk, where we had a birds-eye view of the Rocky Mountains.
Read all about the epic 230 km (140 mile) Icefields Parkway journey here.
Jasper was by far one of our favourite stops in Canada. This quaint, quiet town in the Athabasca River valley part of the Canadian Rockies feels like a world away from Banff. Jasper National Park is simply beautiful and offers some of the best hikes in Canada. We spent almost a week here, soaking in the stunning natural scenery. In Jasper town, we stayed in a couple of Airbnb places and also found a useful noticeboard in the Jasper Park Information Centre where local homeowners post rooms to rent every day. One night, we pitched a tent in a campsite in Jasper National Park and it was wonderful to spend a night under the stars.
Hiking in Canada, particularly in Jasper National Park, feels like a breath of fresh air, almost as if your cells are being renewed. With nearly 1000 km of hiking trails, Canada's Jasper National Park is an ideal place to grab a map, strap on your boots and get out into the wild. Or rent a bike and do the same. You'll take in breathtaking mountain vistas, calming pine forests and serene lakes that reflect the sky like a mirror. Just sit for a while and enjoy the silence on your hiking trip. If you're lucky, you will see local animals, such as grazing wild elk, and there are specialist wildlife spotting tours available. If you arrive in the summer, why not saddle up on a horse at the Jasper Riding Stables and embark on a horseback adventure in the wilderness with an experienced guide. For a different perspective, take a trip on the Jasper SkyTram, which glides 2300 metres up Whistlers Mountain for elevated hikes and awe-inspiring views over the area. For all the information on these stunning Jasper attractions and all the things to do, check out my blog post here.
Calgary, Alberta
After catching the Brewster Express bus back to Banff, we took a Greyhound bus the 1 hour 40 minute journey to the neighbouring Alberta city of Calgary, known for its annual stampede rodeo. There are three buses a day which cost around CA$25 per person. With a population of over 1.2 million, Calgary is one of Canada's largest and wealthiest cities. We stayed in an Airbnb in a comfortable apartment close to the city centre, though when we arrived, Calgary was experiencing unseasonable snow. We explored its eclectic shops and public squares, many of which feature artwork. My favourite was the Wonderland Sculpture which stands in the plaza at the foot of The Bow skyscraper. The 12-metre tall, giant wire head, created by renowned Spanish sculptor Jaume Plensa, is so enormous that you can walk right inside it.
The most famous of Calgary's skyscrapers is Calgary Tower, which has become a symbol of the city. When it was constructed in 1968, at a cost of CA$3.5 million, Calgary Tower was 191 metres tall – twice the size of any other building in the city, but now it is dwarfed by two neighbouring skyscrapers, Brookfield Place and The Bow. But as a tourist attraction, Calgary Tower is surprisingly good. When you enter, you are given an audio guide with a full visual interactive touchscreen. When you are looking out at the city through the observation deck windows, simply press on the corresponding building in the handset's graphical 3D map and you'll hear all the stories of the city. For more on the Calgary Tower, read my review here.
Toronto and Niagara Falls, Ontario
The distance between Calgary and Toronto is over 3,400 km (2100 miles). We were short on time, so we opted to bypass this part of Canada and take a 3.5 hour direct flight instead. Fly with WestJet and this journey could cost around CA$450. If you have more time and you're able to hire a car, the trip will take you around 32 hours, not including stops. There are fantastic sounding places en route, such as Medicine Hat, Moose Jaw and Thunder Bay, which seem like they would definitely be worth a visit. Alternatively, there you can take a Greyhound bus directly from Calgary to Toronto, which takes around 2 days and 6 hours to get there and costs CA$290. In Toronto, we were staying with a friend, but to find affordable hotels or guest houses, see what Booking.com has available here.
Toronto, is Ontario's capital city and its 2.7 million residents make it Canada's largest city by population. It's a multicultural and cosmopolitan city, as well as a leading centre of business, finance, media and the arts. Eclectic areas of the city such as the lively Kensington Market are a joy to wander around. Attracting over 25 million tourists each year, Toronto is known for its skyscrapers, especially the tallest free-standing structure in the Western Hemisphere, the 553-metre high CN Tower. This structure can be seen from miles away across the Ontario metropolis and beyond. Its construction in 1975 cost CA$63 million – 18 times the price of the Calgary Tower. It remained for over three decades – until 2007 – the tallest tower in the world. For more on the CN Tower and what it's like at the top, read my review here.
One of the best day trips in Canada that you can take is from Toronto to the famous Niagara Falls. Known as the 'Honeymoon Capital of the World', these spectacular waterfalls host 50,000 honeymooning couples every year. Niagara Falls is a 90-minute drive from Toronto or you can take the Megabus, like we did, which takes two hours and costs around CA$18. The view of the falls is best from the Canadian side but bring your passport in case you want to explore them both. At Niagara Falls, there are boat trips, helicopter rides and much more. For all the most romantic things to do in Niagara Falls for backpackers, read my full blog post here.
Ottawa, Ontario
From Toronto to another Ontario city, Ottawa, we took a very comfortable Via Rail train, which takes 4.5 hours with prices starting at CA$48. As almost all the Ottawa hotels were fully booked, we stayed at an Airbnb just across the river in Gatineau, Quebec, around 20 minutes by bus from the city centre. This was our first experience staying in a French-speaking part of the country. Ottawa is Canada's capital city but as a tourist destination, Canada's capital city is sometimes overlooked in favour of larger cities such as Vancouver and Toronto but it is well worth a visit. Easy to walk around within a couple of hours, Ottawa's architecture makes it feel special, from its palatial Gothic and Neo-Gothic buildings to its creatively designed contemporary art galleries and museums. Not to mention the views over the river to Parliament Hill.
A great activity in Ottawa is to take a bike ride along the pathways next to the Rideau Canal to the Prince of Wales Falls in the ugly-sounding but actually beautiful Hog's Back Park. Stretching for 125 miles, the canal is a UNESCO World Heritage site. For all the photos and information on how to spend the perfect day in Ottawa, read my blog post here.
Montreal, Quebec
Montreal, in the French-speaking province of Quebec, is a 2.5 bus ride from Ottawa with Greyhound and the journey costs around CA$31. We stayed with friends who showed us around and also at a city centre Airbnb apartment. Montreal is a great foodie city – especially for brunch – so you will eat well. The local speciality dish is poutine, which is a glorious guilty pleasure.
For more local tips on the best attractions in and around Montreal, including where to find the best poutine, read my blog post here.
There's a beautiful Botanical Garden in Montreal, which offers an oasis from the city life, and a nearby Insectarium which is fascinating.
Montreal has a packed calendar of events, including the lively Tam-Tams, a weekly summer tribal drumming festival located by the George-Étienne Cartier Monument in Mount Royal Park. Sports are also big here and you can catch the local ice hockey team, the Montreal Canadiens, play at the city's Bell Centre stadium.
Read more about the best time to visit Montreal.
Quebec City, Quebec
A three-hour, CA$25 bus journey from Montreal with Orleans Express, Quebec City, the French-speaking capital of the Quebec province, has conveniently central Airbnb apartments. Dating back to 1608, Quebec City is one of North America's oldest European settlements. Today, this UNESCO World Heritage Site is one of the continent's only places where you can find fortified city walls that are still intact. This compact city is easy to walk around and you can admire the attractive old French architecture of buildings such as the Chateau Frontenac hotel. Read more about Quebec City's history and attractions here.
I would recommend taking a day trip from Quebec City to see the majestic Montmorency Falls, which at 83 metres are even higher than Niagara Falls. We caught a local bus to Brideau, a ten minute walk from the Parc de la Chute-Montmorency (Montmorency Falls Park). Located 12 km from the city, the journey takes just 45 minutes. You can appreciate the waterfalls on foot, by cable car and even up close thanks to a via ferrata zip-lining and assisted rock climbing experience. I was foolish enough to agree to do them all, despite my fear of heights! Find out the full story of what happened in my blog post on how to spend the best 2 days in Quebec City here.
Halifax, Nova Scotia
If you want to go coast-to-coast across Canada, a great final destination would be Halifax in Nova Scotia. Sadly, we didn't have enough time, as Halifax is 16.5 hours from Quebec City by bus (a one-way journey costs around CA$112). Instead, we had to return to Montreal to catch our flights out of Canada. With a largely anglophone population, Halifax is the capital of Nova Scotia and it's known for its maritime history and tasty seafood. The city is centred around Halifax Harbour, a large natural harbour with several small islands. From here you can hop on a cruise ship to destinations including New England and New York. For a range of affordable accommodation options in Halifax, check out Booking.com here. The area has many historic sites, gardens and parks, and picturesque harbours and bays to explore, as you relax and reflect on your epic Canadian expedition.
Final thoughts on creating your backpacking Canada trip
I hope this post has given you plenty of inspiration and information to embark on your Canada backpacking trip. We had a special and memorable time exploring the cities and national parks as we were backpacking across Canada, and we would return in a heartbeat. Clearly, there are many fantastic places in Canada that we weren't able to visit so this is just a taste. The key is to make your adventure your own. Bon voyage and have fun!
Next up, find out what to wear to Niagara Falls to stay dry and comfortable.