Everybody knows that bigger is better. Or is it what you do with it that counts? A visit to Calgary Tower is one of the best things to do in Calgary. But how does it compete with Toronto's CN Tower, one of the tallest buildings in Canada – and the world? Here is your essential guide to Calgary Tower vs CN Tower.
About Calgary
With direct flights to London, Paris and Dublin just launched, tourism in city of Calgary in Alberta, Canada is set to increase. As well as being famous for the annual Calgary stampede rodeo, the city's attractions include Calgary Zoo, the Glenbow Museum of arts and local history, the Heritage Park Historical Village and the Calgary Tower. Nearby are the stunning national parks of Banff and Jasper.
Check out my backpackers' guide to crossing Canada from west to east, with all my top tips, here.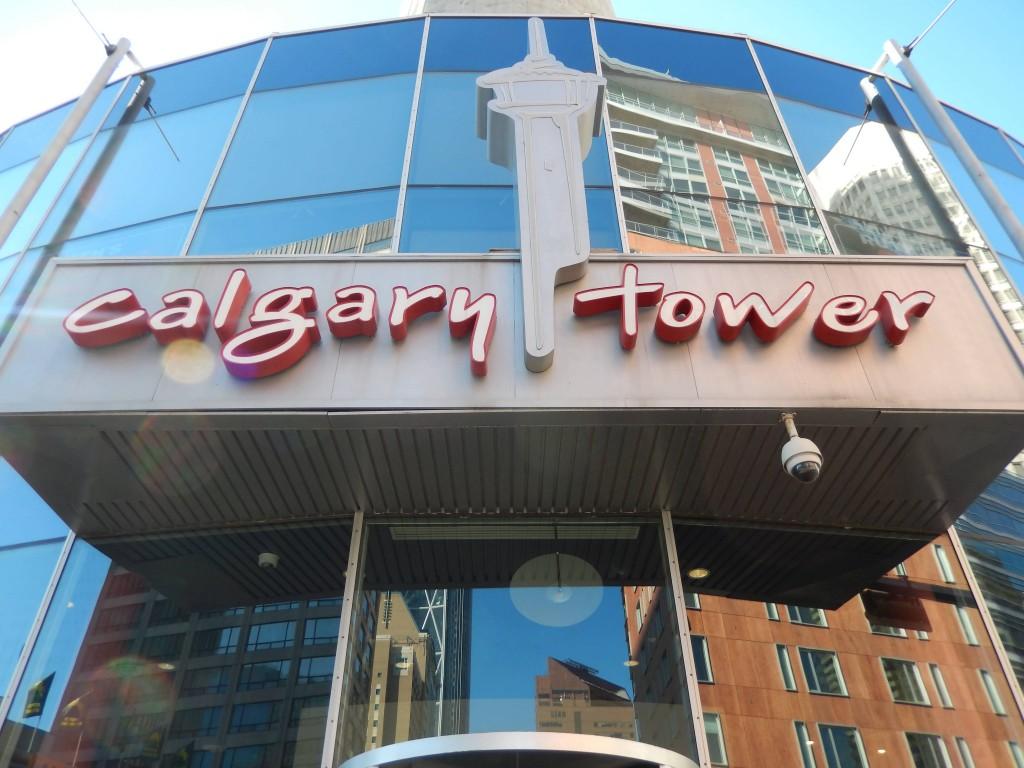 About the Calgary Tower
So how tall is the Calgary Tower? It stands at 191 metres, making it one of the most striking things to see in Calgary. Completed in 1968, at a cost of CA$3.5 million, the opening of the Calgary Tower was a proud moment for city officials. At the time, it was by far the tallest building in Calgary, as the tower's height was at least twice that of the other city buildings.
The tower's pioneering construction involved a continual pour of cement over 24 days. The column grew at an average rate of 7.6 metres a day. Finally, it was topped off with a revolving restaurant and a 360-degree observation deck.
Planning a trip to the Canadian Rockies? Find out the best itinerary for the stunningly scenic Banff and Jasper National Park, here.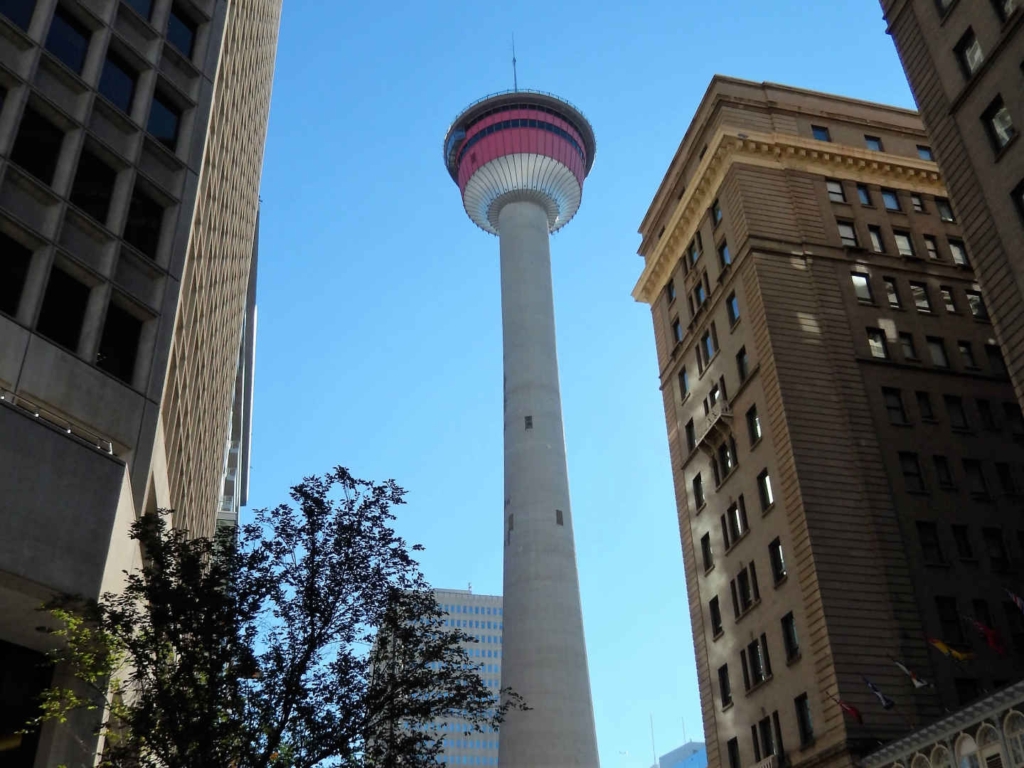 Over the years, high rise buildings have grown in popularity. Today, Calgary Tower has two neighbouring skyscrapers, Brookfield Place and The Bow Tower Calgary, which are both larger in stature. Talk about deflating. First in 2012, Calgary's The Bow took the city record with its 236-metre height, followed by Brookfield Place in 2017, which at 247 metres tall is now Calgary's tallest building.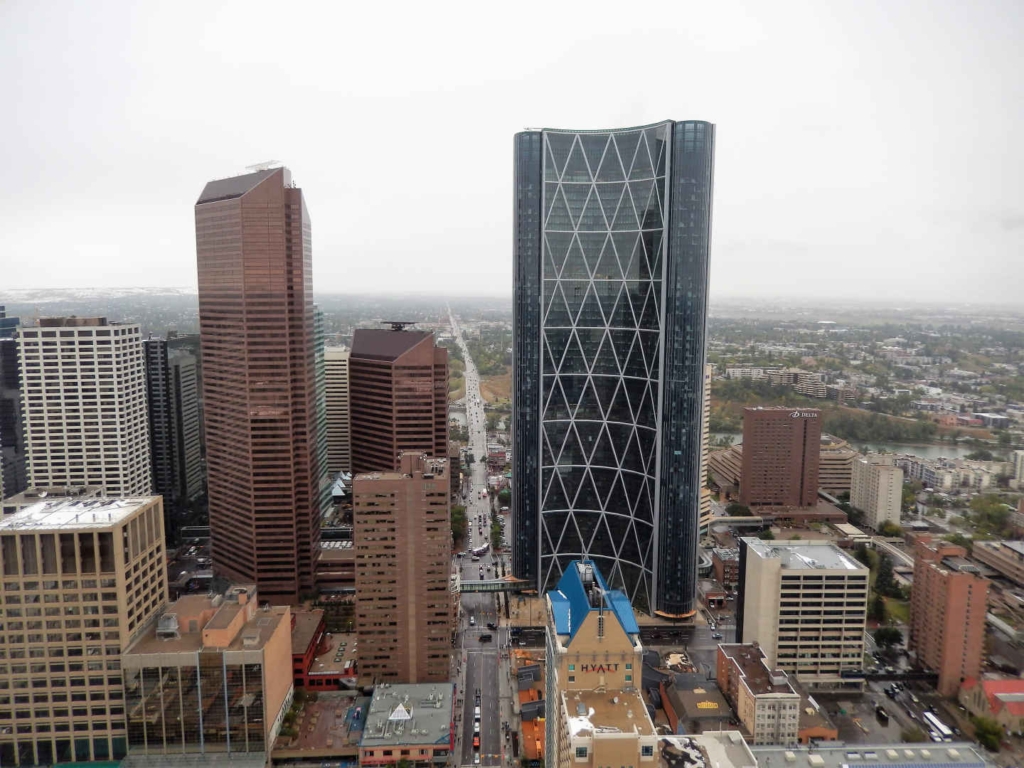 About Toronto's CN Tower
Meanwhile, 2000 miles away in Toronto, Ontario is the CN Tower, the third highest tower in the world. Standing at a dizzying 553 metres, the CN Tower can be seen from miles away across Canada's Ontario metropolis and beyond. It is surpassed only in height by China's 604-metre Canton Tower and the Skytree in Tokyo, the capital city of Japan, which at 634 metres is currently the world's tallest tower.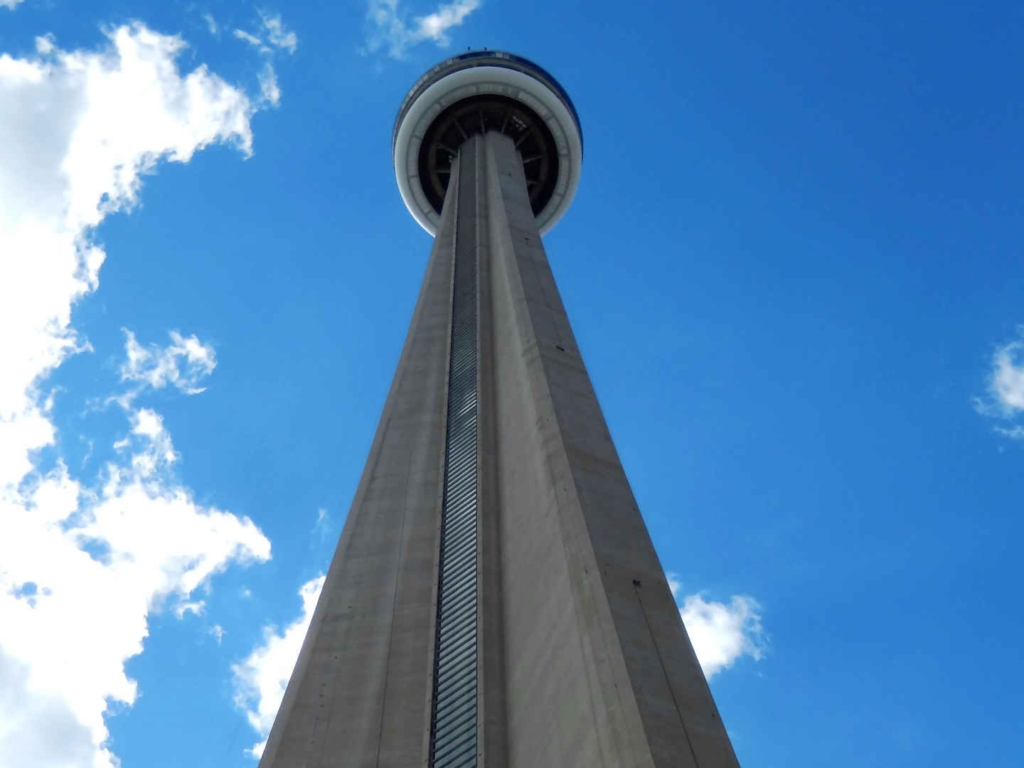 If we're talking Calgary Tower vs CN Tower, the CN Tower is younger, as it was completed eight years later in 1976. At CA$63 million, it cost 18 times the price of the Calgary Tower. It was so tall that it remained for over three decades – until 2007 – the tallest tower in the world. No mean feat.
CN Tower remains the tallest man-made structure in the Western hemisphere. One of Canada's most famous landmarks, the CN Tower attracts visitors from across the globe. With great size comes great expectations.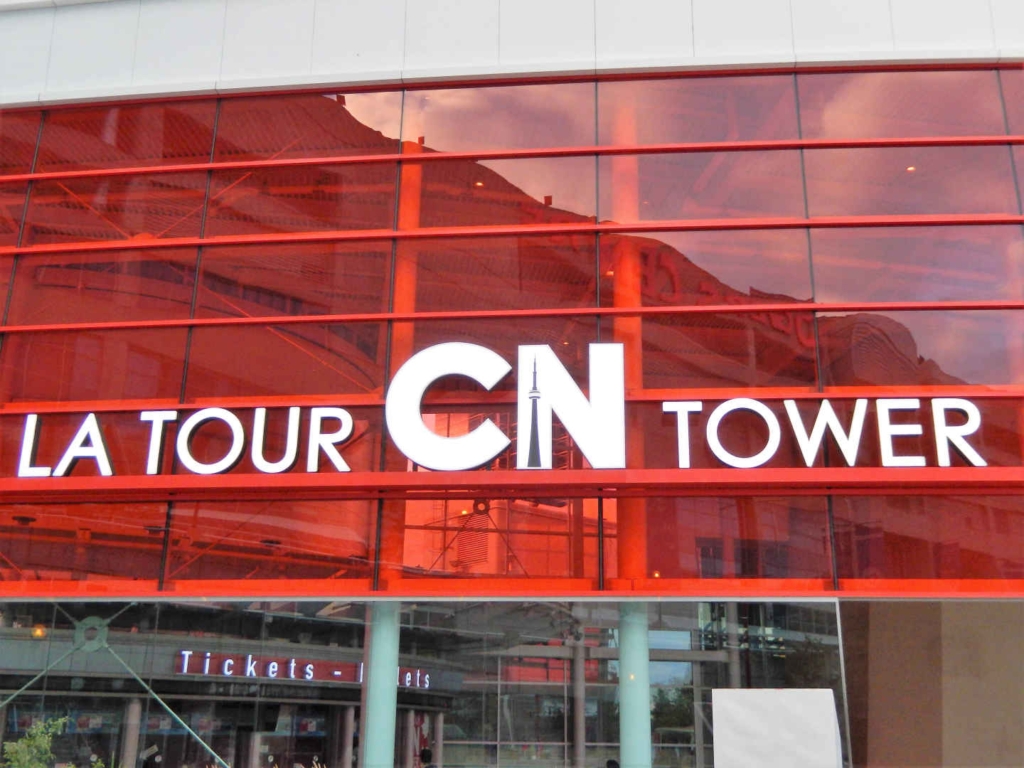 Visiting Calgary Tower
So how does the relatively short and stumpy Calgary Tower compare with the highs of the CN Tower? What it lacks in length, it makes up for with nifty gadgets.
On entering the Calgary Tower, you are handed an audio guide handset produced by Antenna, makers of the audio guides at world class attractions such as San Francisco's Alcatraz prison. Only this one is a cut above any I'd encountered before. As well as the usual buttons where you press numbers to hear the presenter and interviewees speaking, this one had a full visual interactive touchscreen to play with.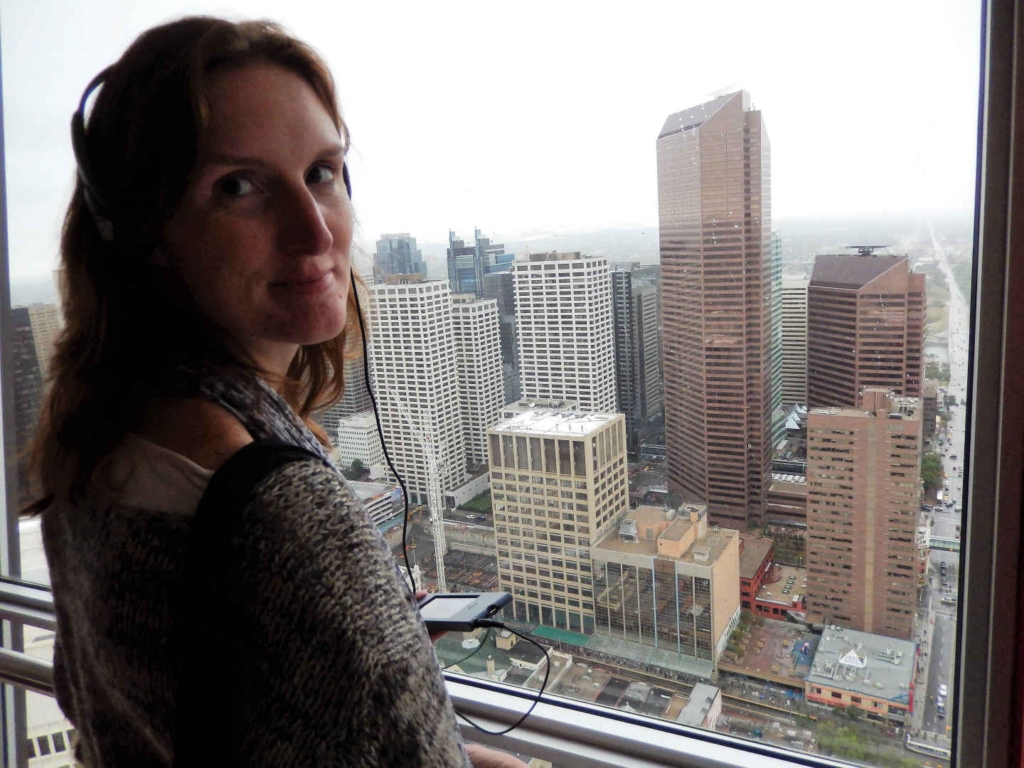 When you are looking through the windows out at the city, you can select your view from the handset's graphical 3D map and press on highlighted buildings and areas to hear their stories. Local points of interest include the saloon owned by the Sundance Kid before he famously joined forces with Butch Cassidy. There's a hotel whose owners were ostracised after surviving the sinking Titanic – the husband was accused of disguising himself as a woman in order to board a lifeboat.
In more recent events, the thousands of volunteers and the City Mayor are noted for their courage and inspiration during 2013's catastrophic Alberta floods. Not to mention the history of the world famous Calgary stampede and a flurry of fun facts about the tower.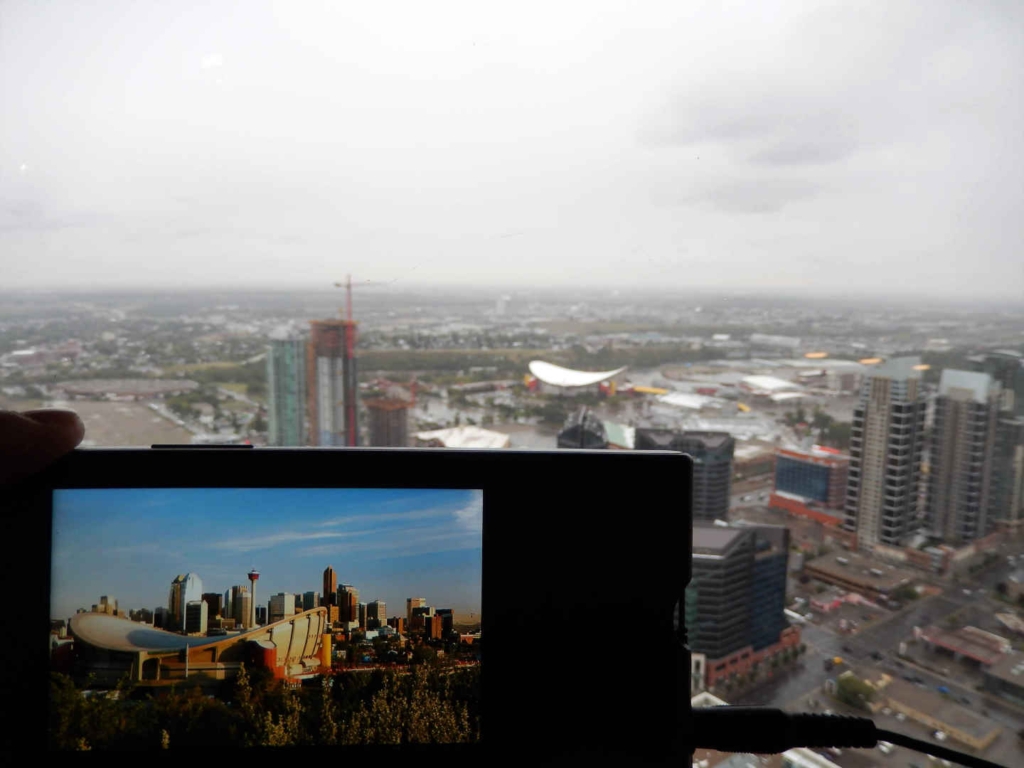 The Calgary Tower glass floor section is compact but offers a clear and impressive view of the streets below. Definitely a good place to pose.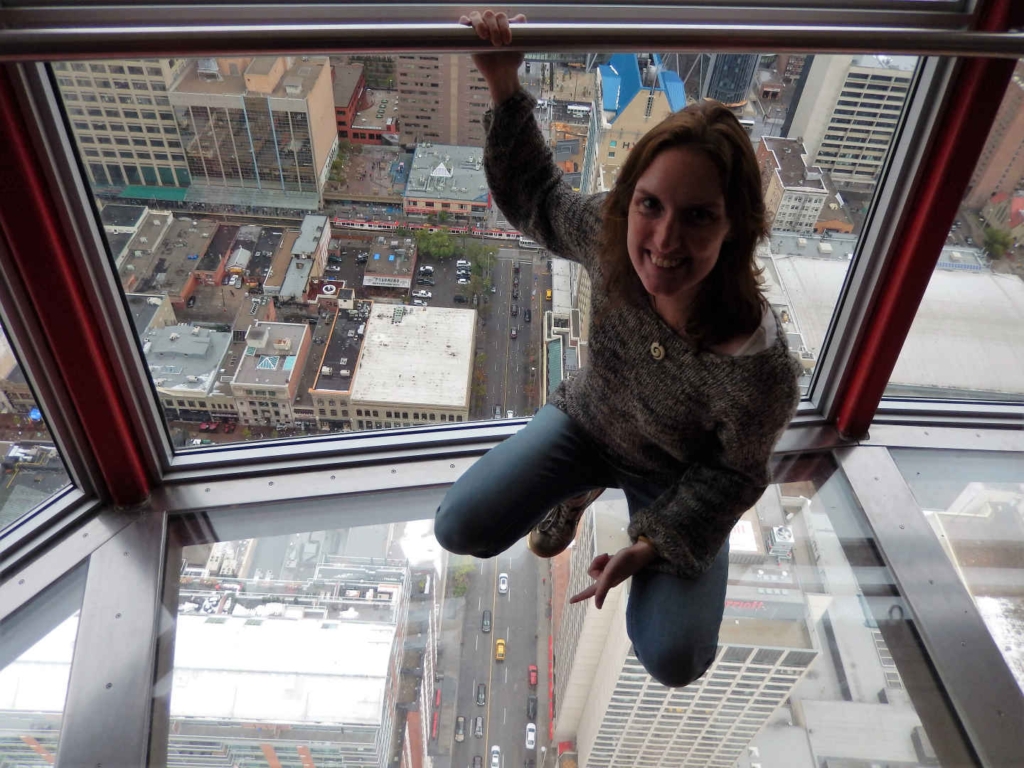 On this dull-weathered day, we might have otherwise just spent just a few minutes looking out of the windows of the Calgary Tower. But the audio guide's captivating stories and interactivity brought the city to life and left me wanting more. 
The Calgary Tower hours of opening are September to May from 9am to 9pm and in June to August from 9am until 10pm. Calgary Tower tickets can only be bought from the building's reception, unless you're planning to visit with a group of 15 or more. In this case, you can request and reserve tickets in advance at a discounted price via its website.
Visiting the CN Tower in Toronto
After passing through CN Tower's high tech security screening entrance in downtown Toronto, visitors enter an auditorium filled with information about its construction. Here, there's a scale model of the tower so you can hang off it and pretend to be King Kong (maybe that's just me) and a giant moose wearing a red Mounties uniform. For some reason.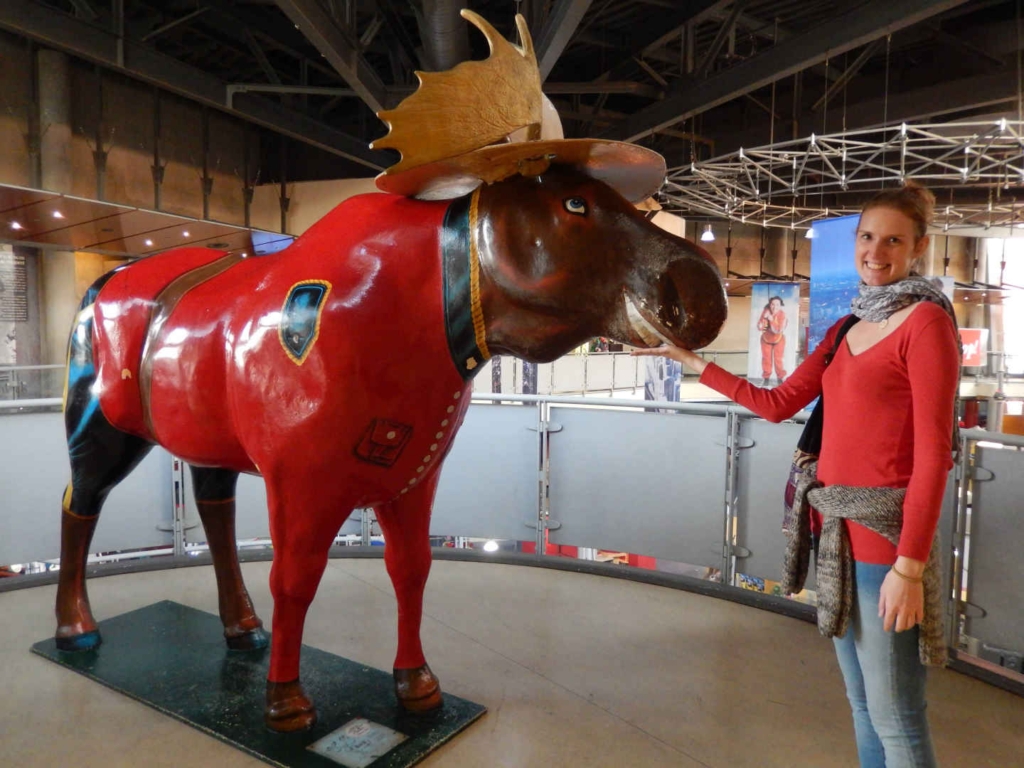 Then it's time to take a ride. The elevator has a glass-bottomed floor so you can see the ground disappearing away from you, as you speed up the shaft at around 15 miles an hour. Its destination, the LookOut Level, is an astonishing 346 metres above ground. The ticket salesperson had recommended that we visit the SkyPod level first, located an extra 101 metres up the building and accessed via its own private elevator. This level requires an extra ticket priced at CA$15 per person plus tax to visit.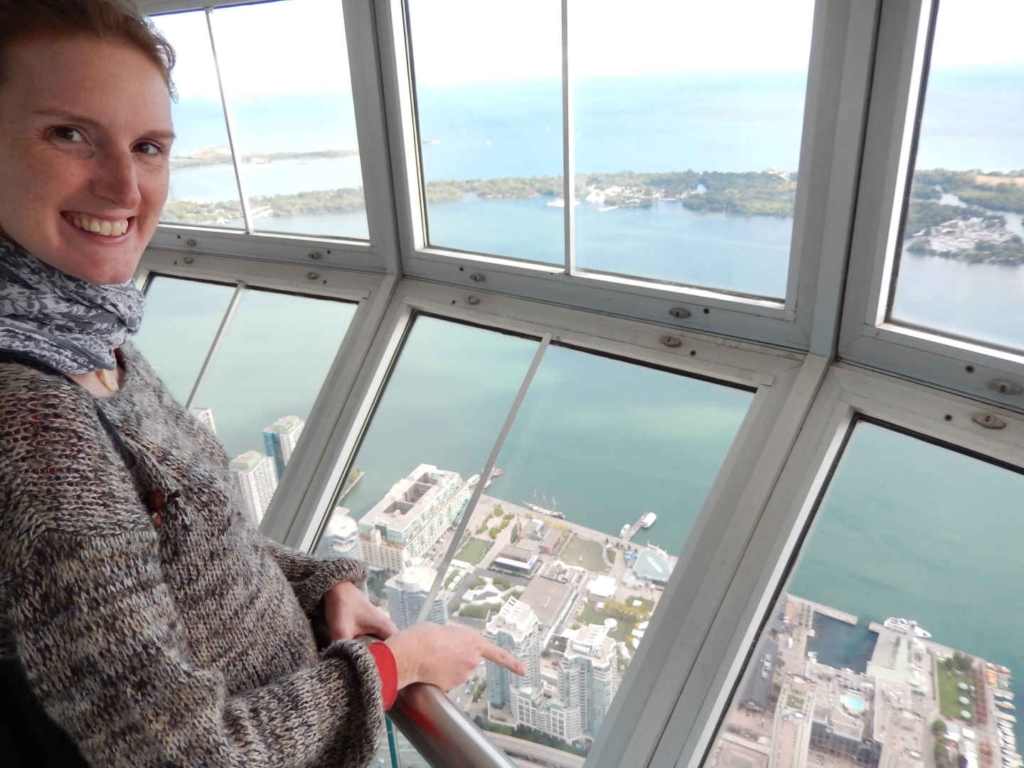 The view from here certainly did not disappoint. It is said that on a clear day you can see as far as Niagara Falls and New York State.
We already felt so high up in the clouds, we could see across the vast city and over Lake Ontario for miles around, and even – according to our photographs – the curvature of the earth. It was quite the experience, leaving us giddy with excitement and with a big smile of satisfaction.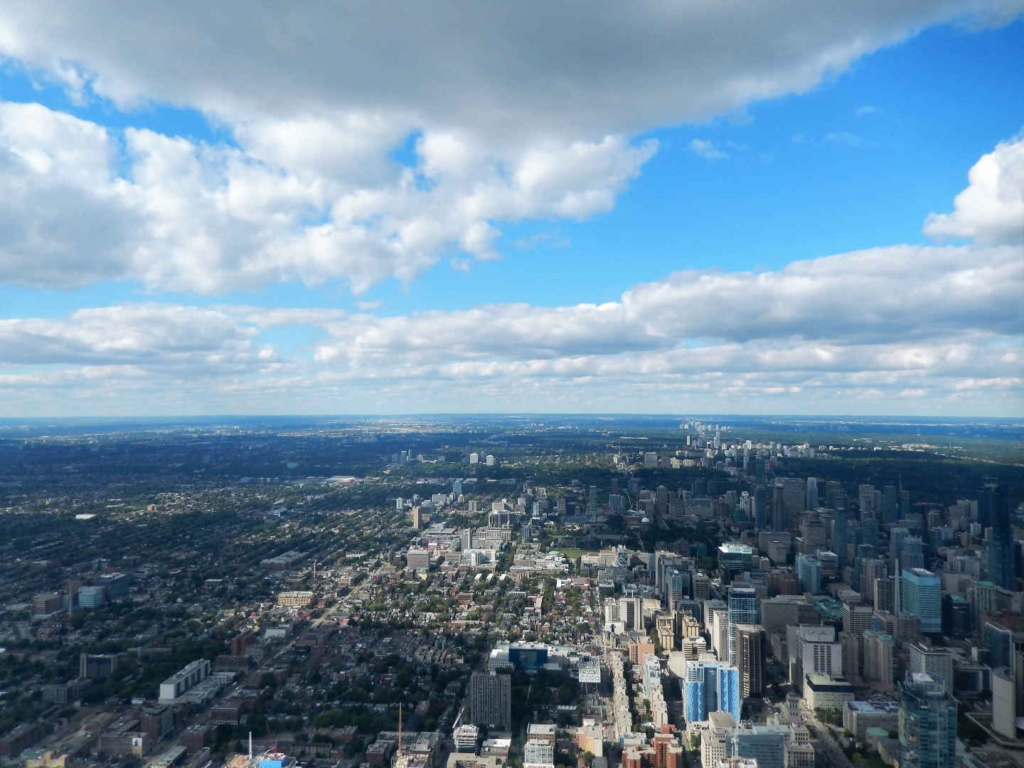 As we looked down we could see adventurous – or slightly insane – people hanging by a cable doing the tower's hands-free EdgeWalk around the rim of the LookOut Level below. Just a few minutes previously we'd had to squint our eyes to spot them as we peered up from the ground far below.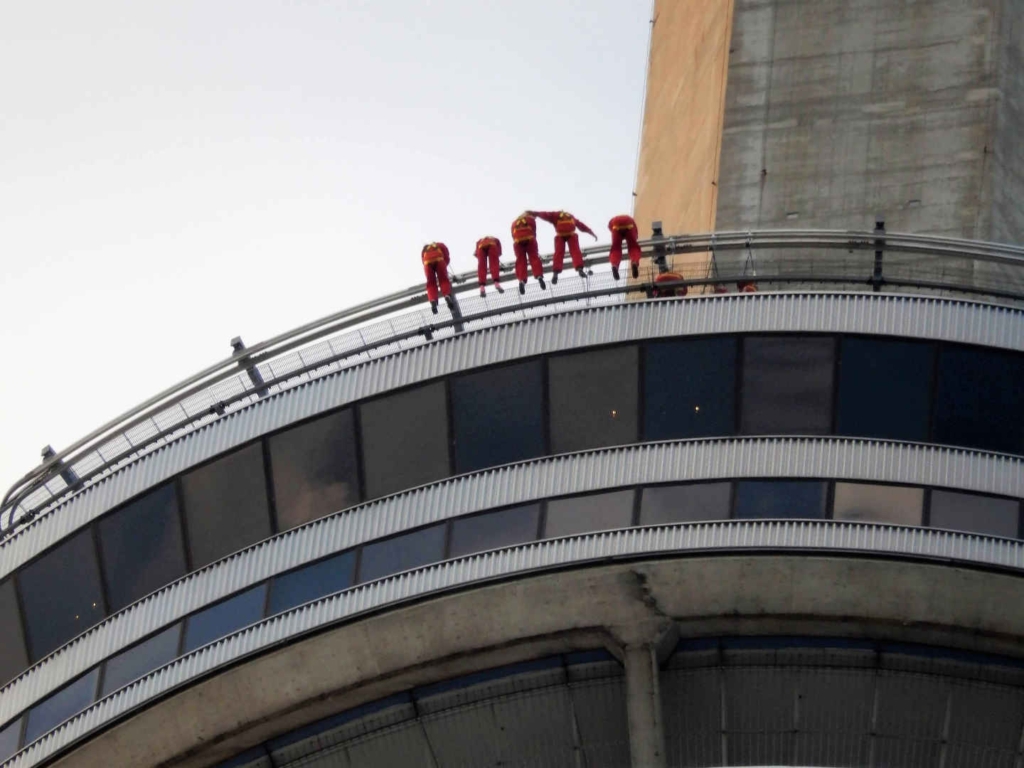 We returned to the LookOut level and headed down to the Outdoor SkyTerrace, located 342 metres above the earth. While it was great to be outside in the fresh air, rather than indoors behind glass, the view was obscured by a metal safety mesh which limited photo opportunities and it felt like a come-down after the highs of the SkyPod (even if that was actually lower down). However a nearby glass floor area is popular with the tower's many visitors, excited to face their vertigo and look down to the roofs of the buildings way below.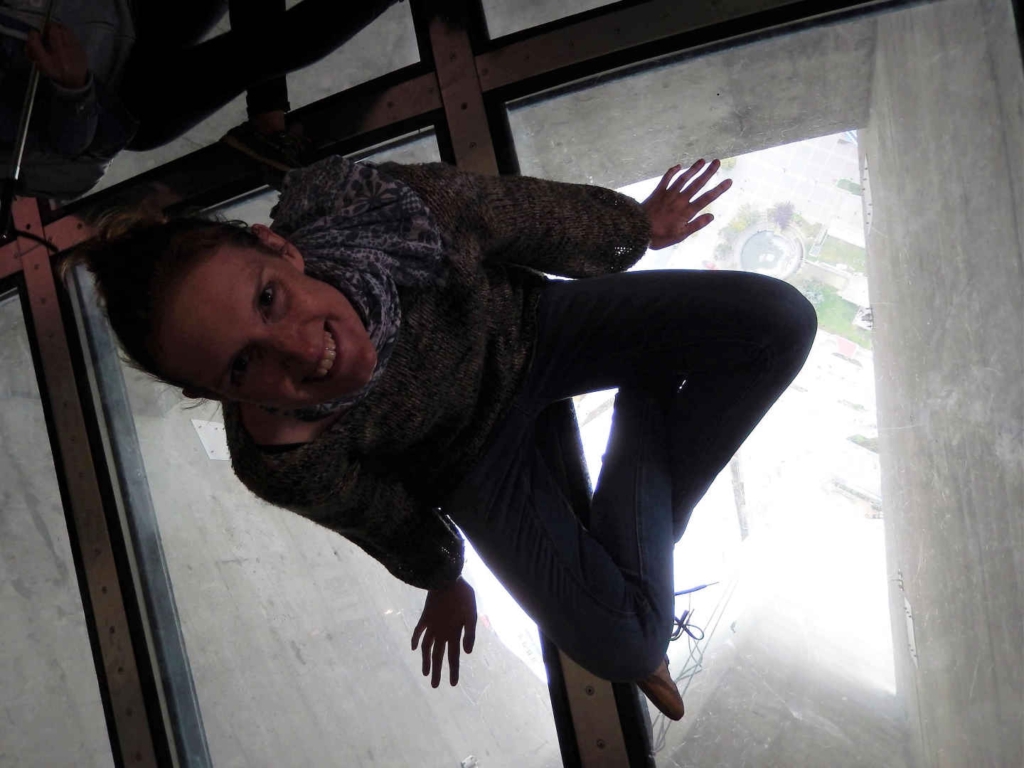 The reflection and light meant that it wasn't actually a great area for taking photos, despite the number of people snapping selfies. But never fear: back at the tower's base, you have the opportunity to purchase the branded superimposed photograph you'd posed for earlier in the auditorium, as a souvenir of your lofty experience.
Calgary Tower vs CN Tower: the conclusion
Despite the high-tech investment in Calgary Tower, at CA$18/adult and CA$9/child before tax, the Calgary Tower entrance fee is at least a third that of its more famous counterpart in Toronto. The CN Tower is priced at CA$53/adult and CA$43/child before tax to go all the way up to the SkyPod. If budget is your number one consideration, then Calgary Tower vs CN Tower is an easy decision.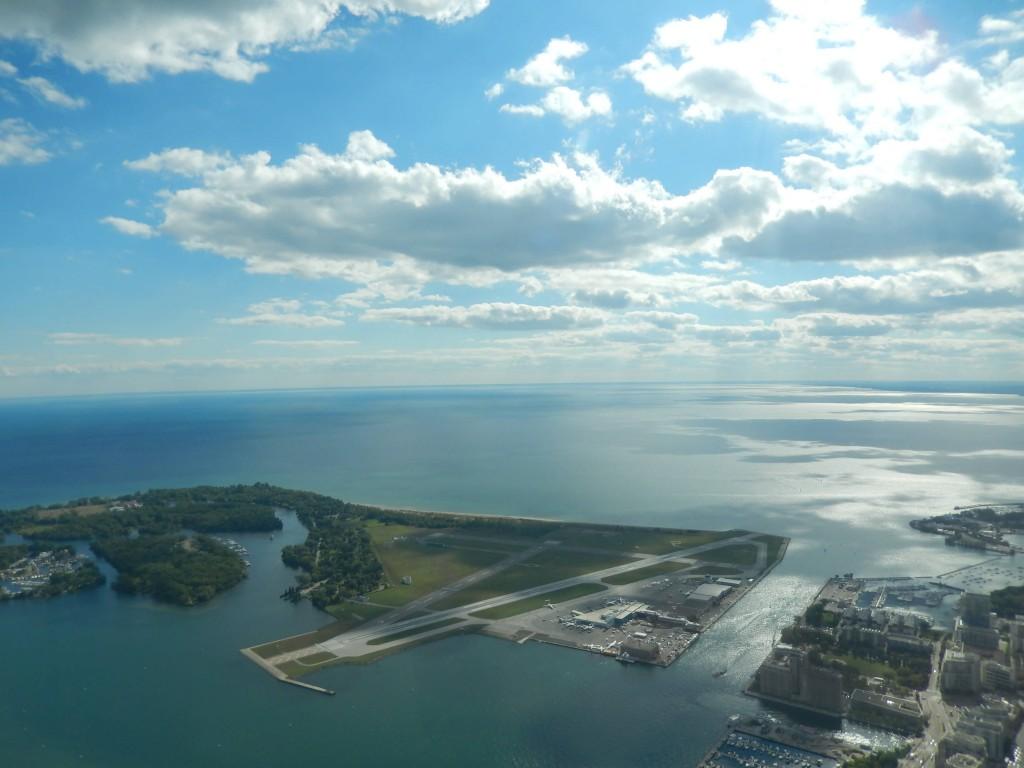 The soaring CN Tower made us feel on top of the world and it is hard to compete with its extraordinary stature. Meanwhile, the owners of the charming Calgary Tower add value to the experience, making sure visitors have a fantastic time with technology and insight highlighting the city's rich history.
Hotels near Calgary Tower
Hotels in Calgary, Alberta located near the tower include the 5-star Hotel Le Germain Calgary. This boutique hotel has a 24-hour fitness centre, an on-site restaurant and even offers massages in your room after a long day of sightseeing. It is conveniently situated just across the street from Calgary Tower. Another top hotel just 100 metres from the tower is the luxurious Fairmont Palliser Hotel Calgary, which is noted for its large indoor pool, fitness centre with steam room and an upscale spa and health club.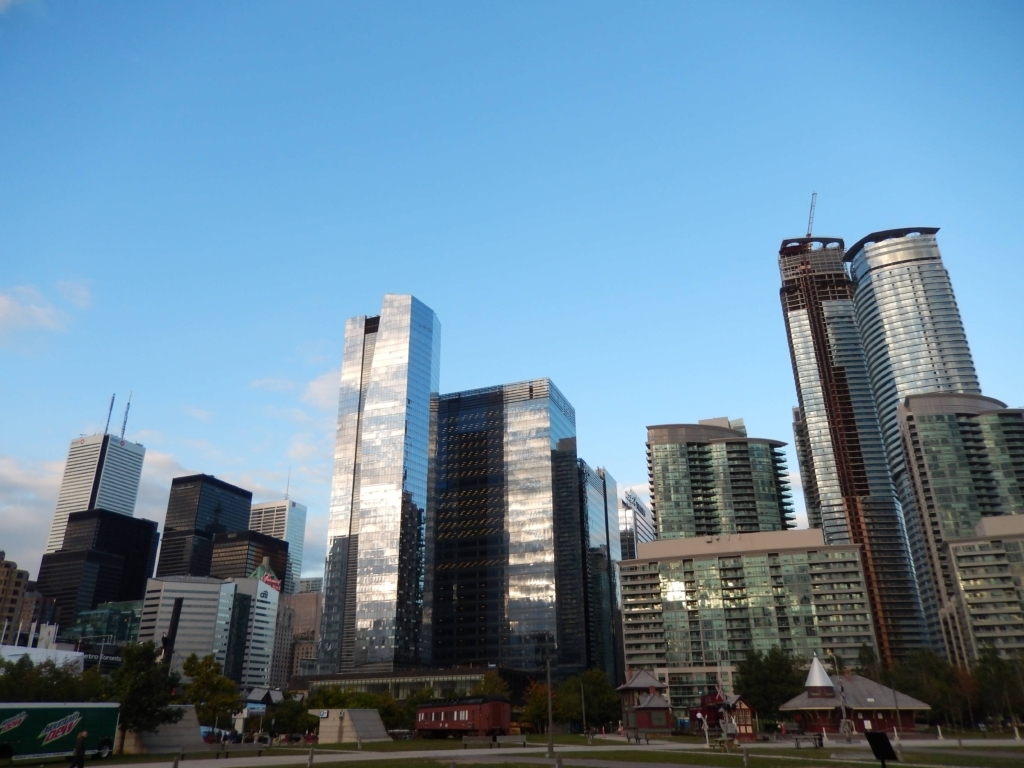 Alternatively, if you're looking for cheap hotels in Calgary, the friendly Alt Hotel Calgary East Village is just a 15 minute walk to the tower. An excellent hostel option is the top-rated Wicked Hostels – Calgary, half a mile from Calgary Tower, which provides a plentiful free breakfast every morning to satisfy even the largest appetites.
More Calgary hotel deals near the Calgary Tower can be browsed and booked here.
Restaurants near Calgary Tower
Restaurants near Calgary Tower include Charcut, a hip and lively steakhouse, and ONE18 EMPIRE, a chic restaurant which serves contemporary twists on well-loved American dishes and fabulous cocktails. Ten minutes' drive from the tower is the Calgary's Stage West Restaurant Theatre, where you can enjoy a top quality musical or theatre production while you dine.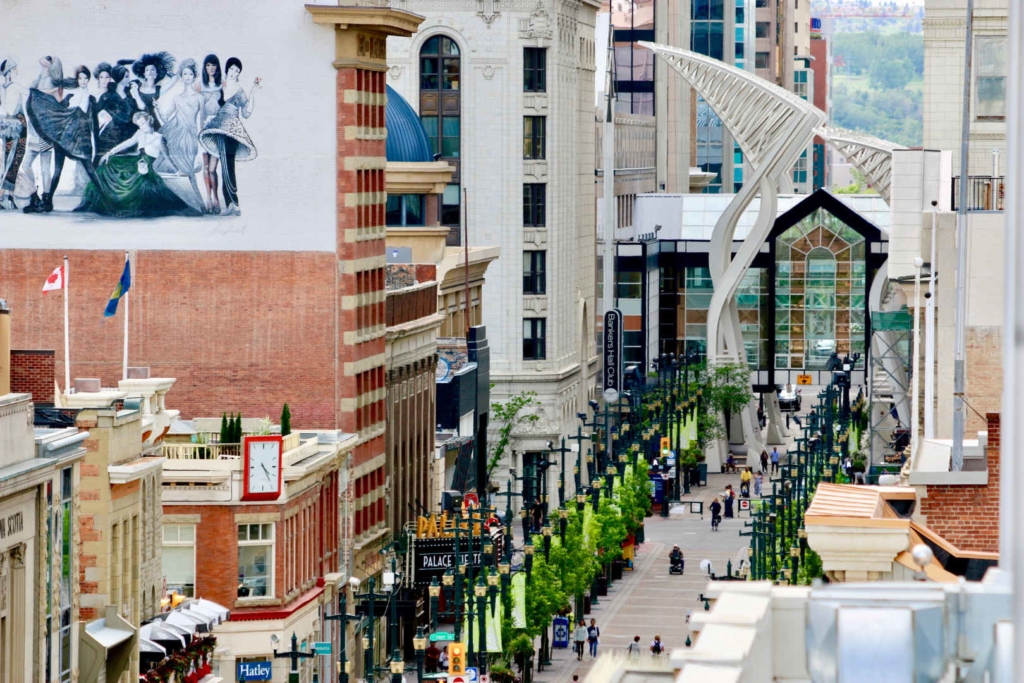 Or why not experience a Calgary Tower dinner with a view in the tower's revolving Sky 360 restaurant. Indulge in sophisticated modern Canadian fare in this 200-seat venue as you enjoy the incredible city views. Prices for dinner at the Calgary Tower includes access to the tower's observation deck. The Calgary Tower restaurant menu includes innovative and tasty dishes for brunch, lunch or dinner, so you can enjoy the 360 degree views from this unique revolving restaurant in Calgary any time of day. 
More Calgary tourist attractions
After you've visited the tower, there are plenty more things to do in Calgary, Alberta. One of the main Calgary downtown attractions are the contemporary sculptures dotted around the city.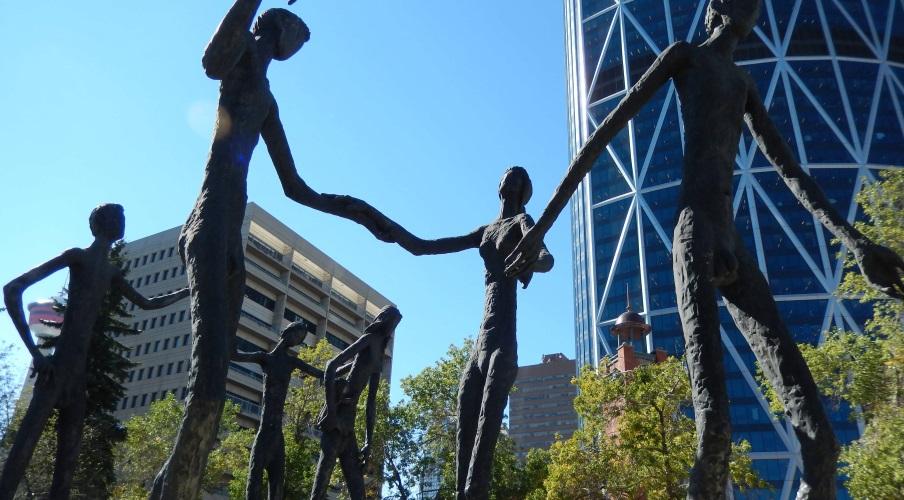 In terms of what to see in Calgary, I especially liked the Wonderland Sculpture outside the Bow Tower. This 12-metre tall model of a girl's head is made from bent wire and you can walk right inside it, making it one of the most fun places in Calgary's downtown area for photos.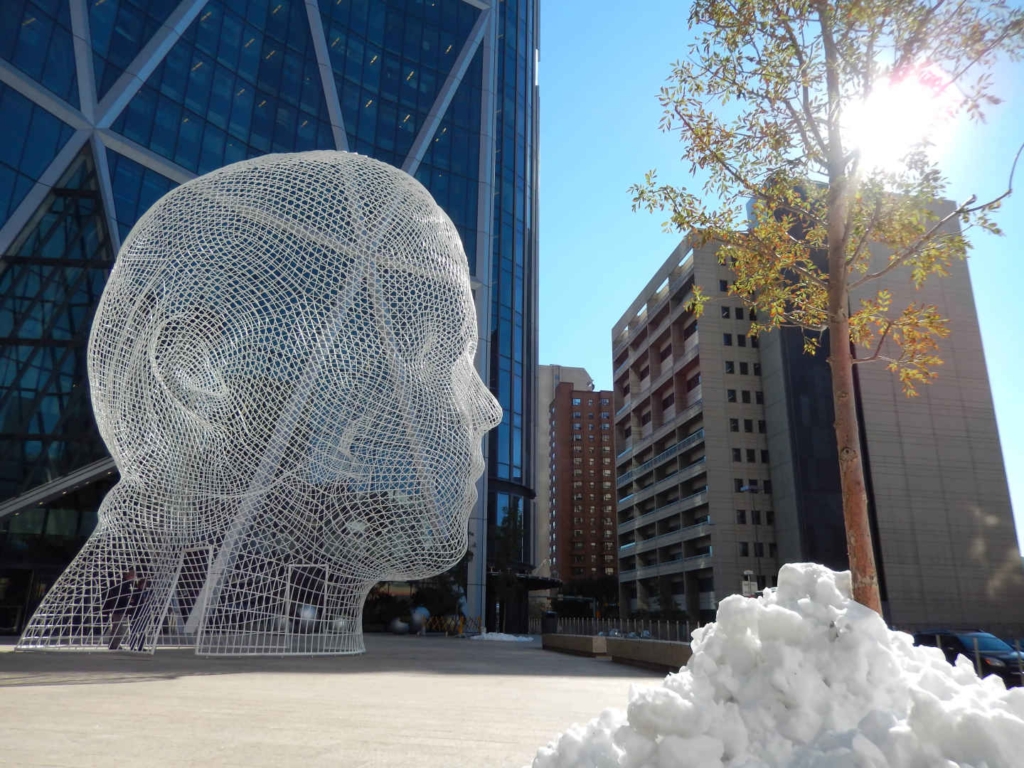 The best known of the places to go in Calgary is the Calgary Stampede grounds, famous for its annual rodeo, which dates back to 1886. Every July, it hosts a 10-day festival touted as 'the greatest outdoor show on earth', which attracts over a million people from around the world. As well as being one of Canada's largest music festivals, it features classic Western rodeo events including bull-riding, bucking broncos and barrel-racing. Every evening, there's the GMC Rangeland Derby, where 36 thundering teams of horses and drivers race to the finish line before a glittering fireworks display finale. General Calgary Stampede admission for over 13s and adults costs CA$18. Calgary stampede tickets for the rodeo are priced from CA$39 and evening show tickets are from CA$49. The are other events held at the Calgary Stampede park throughout the year, so it's worth checking their website.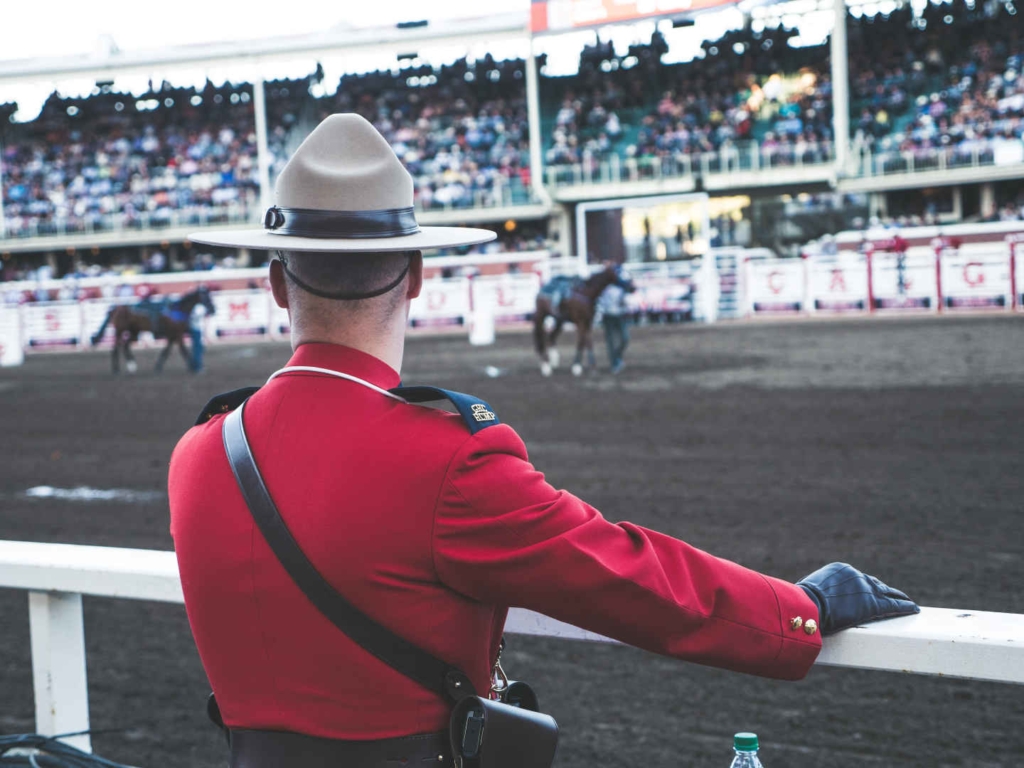 Other stuff to do in Calgary includes Telus Spark, Calgary's science centre. This venue is a world of science with a host of interactive and multimedia exhibitions. The city also has an aerospace museum called the Hangar Flight Museum, where you can see 24 aircraft on display and learn about Canada's space program. If you are looking for fun activities in Calgary, the best places to visit include the Calgary Corn Maze & Fun Farm, which is great for kids, as well as the Calaway Park, Calgary's top amusement park. 
Thank you to the CN Tower and Calgary Tower who hosted my trips.
Next up, discover the ultimate backpackers' guide to crossing Canada on a budget here.