Visit the Canadian Rockies, spanning Canada's British Columbia and Alberta provinces, and you'll be surrounded by spectacular views of snowy mountain peaks, rivers, vivid blue lakes, pine forests, laid-back alpine towns, vast icefields and abundant wildlife. It is home to world famous national parks, including Banff and Jasper, which are a UNESCO World Heritage Site. Here is the best Canadian Rockies itinerary for 7 unforgettable days backpacking in Jasper and Banff.
Days 1-2: Chill out in Banff, Alberta
Banff is a popular resort town located 1,500 metres high in Alberta's Banff National Park in the Canadian Rockies. One of Canada's best-loved tourist destinations, it is famous for its hot springs and cool mountain sports, including hiking, biking and skiing. If you're not feeling active, it's a pleasant place to relax and browse the area's many shops and restaurants.
Planning a backpacking trip across Canada? Check out my ultimate guide here.
Fly high on the Banff Gondola
One of the best things to do in Banff is the Banff Gondola, which carries you 700 metres to the top of Sulphur Mountain. From the summit you can see outstanding views along the Bow Valley and across six mountain ranges.
There are plenty of fun activities at the top, including interactive exhibits, a 360-degree observation deck and the historic Cosmic Ray Station. Stroll along the Sulphur Mountain Boardwalk and you can spot the cute creatures who live up here.
Avoid high Banff hotel prices by browsing and booking budget accommodation in advance here.
Day 3: Travel along the stunning Icefield Parkway
When travelling between Banff and Jasper, you will most likely travel along the Icefields Parkway, an epic road that stretches the 140 miles (230 km) between these national parks. There are many beautiful stops along the way that you shouldn't miss.
If you don't have a car or camper van, tour operators such as Sun Dog Tours can transport you between the national parks. You will benefit from a friendly driver to give you local insight when you stop at all the picturesque Icefields Parkway attractions on the way.
Planning a trip to the nearby city of Calgary, Alberta? Discover its tower and other attractions here.
At 8.30am our tour guide Kevin arrived with the bus to pick us up from our hotel in downtown Banff. The Sun Dog bus holds around 20 people, but we were lucky enough to have it to ourselves for this journey. Kevin has been a tour guide in this area for almost 30 years and his enthusiasm for the place shone through as he told us how the Banff townsfolk have created special bridges so the wildlife can safely pass over the roads.
Lake Louise
The first stop is the famous Lake Louise, a 40 minute drive north west of Banff town. At 9am, crowds of tourists were already there, admiring and photographing the view. It was cloudy when we arrived, but on a sunny day the bright blue hue of the lake must be even more breathtaking. The nearby hotel lodges have a Swiss Alpine feel about them, inspired by the first European explorers to settle here in the Rocky Mountains.
Bow Lake
The next stop on Continuing our Icefields Parkway tour is Bow Lake, 30 minutes north of Lake Louise. It is also bright blue, as it's fed by the nearby Bow Glacier. As the glacier moves, it grinds the rocks beneath into silt. As the silt sits suspended in the lake's water, the sunlight reflects the particles as a spectacular turquoise colour. To add to the lake's beauty, we even saw a rainbow arching across the mountainside into the water.
Peyto Lake
Just four minutes' drive away is Peyto Lake, just to the west of the Icefields Parkway. Viewed from high up on the Bow Summit, it's another stunning sight.
Waterfowl Lakes
Another 12 minutes north along the highway takes you to the Waterfowl Lakes, offering an eerily beautiful view across the mist-shrouded mountains.
Lunch at Columbia Icefield Glacier Discovery Centre
Settle in for an hour's journey, as the next stop along the Icefields Parkway will be for lunch. The Columbia Icefield Glacier Discovery Centre overlooks the Athabasca Glacier, part of the vast Columbia Icefield. There are special bus tours available here so you can walk across the ancient moving ice. Covering six square kilometres, it is up to 300 metres thick – almost as thick as the Eiffel Tower is tall. The centre itself has a comfortable canteen offering tasty and affordable hot and cold food.
Venture onto the Glacier Skywalk
Our adventure for the day was the Glacier Skywalk, six minutes north of our lunch stop. It opened in 2014, receiving international media coverage. A cliff-edge walkway leads to a semi-circular glass-floored platform, jutting out over a 280 metre drop to the rocks below. If you suffer from vertigo you might be nervous, but it actually feels very safe on the platform. It provides astounding views of the Rocky Mountains. You almost feel that you can reach out and touch the scenery. A narrative audio guide details the natural features of the area, the local wildlife and how the Skywalk project was designed to respect the environment. It was awe-inspiring being out on the ledge and feeling so close to these famous mountains.
Tangle Falls
The afternoon leg of the Icefield Parkway drive is all about waterfalls. Just a minute away from the Glacier Skywalk are the beautiful Tangle Falls. You can walk up the rocks to look out from its various stages, as the water splashes by past the pine trees.
Sunwapta Falls
Just over half an hour north are the Sunwapta Falls. Here, fallen logs cross the crevice as the water cascades beneath.
Athabasca Falls
Finally, the most powerful waterfalls are the Athabasca Falls. Fed by the huge Athabasca glacier, they lie 20 minutes north west on your Icefields Parkway trip from Banff to Jasper national park. At these falls, you can clearly see how the intense force of the water has shaped the rocks, wearing them away over the years. The final destination, just 25 minutes' drive away is the town of Jasper.
Days 4-7: Backpacking in Jasper National Park
In 2014, the Visitor Information Centre in Jasper, Alberta celebrated its 100th anniversary. This landmark rustic building sits in the heart of this laid-back alpine town and is your first stop for advice on the best trails for getting around Jasper National Park.
Grab a map and take a hike
Pick up a map and you will notice Jasper is aptly shaped like the letter 'J'. Once you strap on your hiking boots and make your way into the wilderness, within minutes you will be surrounded by spectacular scenery and feeling a million miles away from hectic urban life.
We chose the Mina Loop Trail, which was recommended to us as a relatively short and unchallenging route for backpacking in Jasper National Park, just to the north of the village, past breathtaking mountain vistas and serene lakes.
Our first stop was Cabin Lake, which reflected the clouds in the sky like a perfect mirror.
The Upper and Lower Mina Lakes were perfectly peaceful and enveloped by total, blissful silence – which is so hard to find these days, it felt completely fresh. Hardly a soul was around, except for the occasional couple cycling past on their bikes.
Get on your bike
Cycling is an ideal way for getting around Jasper without a car, so it was an easy decision to hire bikes. The park's trails vary from pristine roads to forest tracks criss-crossed with tree roots. We headed for the Red Squirrel Run Trail and Athabasca River Loop to the south of the village. Once we'd crossed the Canadian National Railway line – no easy feat when you have freight trains passing that are literally a mile long – we rode by Mildred Lake, the Trefoil Lakes and Annette Lake, enjoying the late afternoon sunshine.
We were over the moon to see a group of wild elk grazing near a horse riding centre, headed up by this impressively antlered male.
The following day we were keen to get out on the bikes again, so we headed up north to Pyramid Lake. This calm oasis lays next to the Pyramid Mountain, so named because of its triangular peak.
Saddle up on a horse
Don your cowboy hat and boots for a true western experience, as Jasper Riding Stables takes you for an adventure on horseback – a wonderful way to explore Jasper National Park.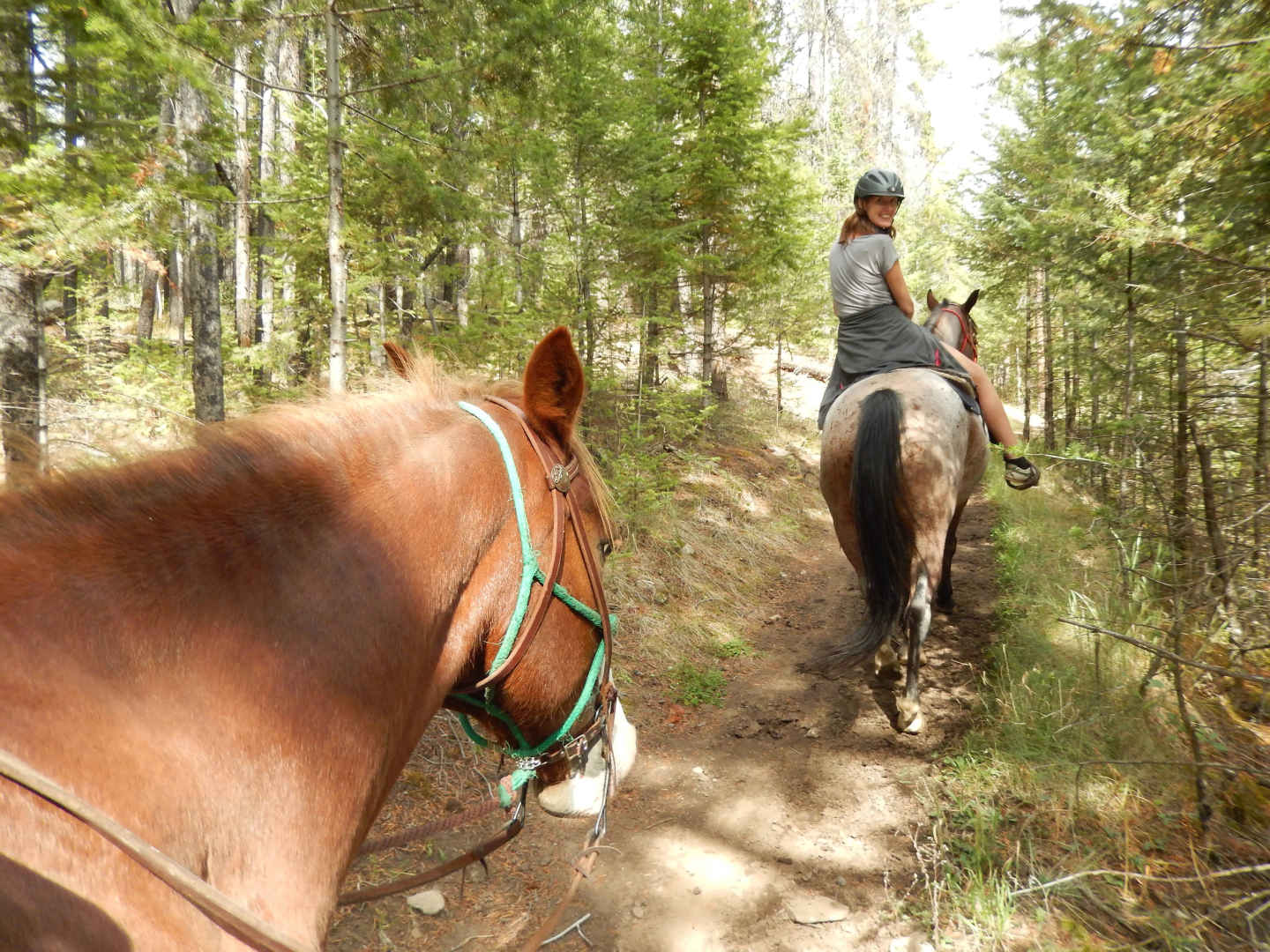 Our horseriding tour guide was supposed to have retired a few years ago, but loves the horses and the park so much that he continues to lead tours. Informative and engaging from the start, he told us all about the park's flora and fauna, and how they are being affected on a ground level by changes to global conditions. He gave us insight into the local culture and even tips for travelling in Mexico and Hawaii – two of my dream travel destinations.
The scenery was really something to behold. Silver birch trees lined our forest route, birds of prey circled overhead and, from high up here near the Pyramid Lake, we could see for miles across the pine trees, rivers and lakes to the mountains looming on the other side.
This was one of my favourite experiences in Jasper – it was so calming to ride on horseback through such a beautiful natural setting and I felt very connected with the surroundings. Even though I have little experience of riding, my horse was well-behaved, only stopping occasionally to try and nibble at some of the foliage. This is a highly recommended experience in Jasper.
Take an organised tour
If you are in Jasper without a car and you're keen to see bears and other creatures roaming in the wild, you may want to sign up for an organised tour. We chose SunDog's Discover Jasper and its Wildlife Tour. Leaving every afternoon, a minibus will drive you around to explore Jasper National Park and see which animals are out wandering as the sun sets.
It was our driver's first time leading this tour and unfortunately for him, despite driving around a number of roads where creatures are sometimes spotted, we didn't see anything for around an hour and a half, except for one small female elk. We were assured that this is unusual. So we sat back and enjoyed the scenery and the driver's commentary. Eventually, on one of the side roads we encountered a large male elk making his way through the forest.
Then the driver produced this heavy antler to pose with. How an elk can carry two of these around on its head all day, I don't know.
Later on in the trip we saw Bambi-like deer bobbing nervously through the woods and some more female elk grazing by the side of the highway heading back into Jasper village.
There are many lovely homestays in Jasper village, as the residents open up their spare rooms to visitors for a fee. On this evening, we were staying in a stylish, airy and modern house built by Aldo, a friendly retired Italian man, and his Canadian artist wife Shirley. When they're not welcoming guests, indulging in their hobbies and enjoying the Rocky mountains, the couple spend several months a year in California's desert resort of Palm Springs and travelling around the world visiting family. Their next trip will be a cruise around Norway. It seemed to us like they have the perfect retired travelling lifestyle.
Pitch a tent and go camping
Judging by the traffic coming in and out of Jasper's Whistlers campground, many people travel around Canada in a huge RV, or recreational vehicle. Some of these vehicles are enormous, like full mobile homes. Alternatively you could bring your own tent and camping equipment. We hired ours from Bactrax Banff Camping Rentals. Here you can choose from a backpacking or car camping package or do as we did and hire the individual items you need.
For us, it was a three-person tent (so we could fit in our large backpacks as well as ourselves), two inflatable therma pads to sleep on, a camping stove with gas, and a plastic plates and crockery set.
The tent, while not one of those pop-up tents (which we couldn't find in Canada, despite it being an outdoorsy nation), was easy to assemble and had just the right amount of space for us and our bags. We were also impressed with the compact camping stove which was super powerful, cooking our supper in just a few minutes.
It was a lovely, warm and sunny day as we pitched the tent in our walk-in spot in the campground, a short walk from the food lockers (to protect your fare from hungry bears) and a well-maintained toilet block. There were birds chirping in the trees and squirrels passing by, hopeful for some morsels of bread. After dinner on the first night, we hung up our hammocks – souvenirs from Malaysia – between the trees and chatted until the sun went down, enjoying the peaceful, natural environment and the comforting aroma of the pine trees.
One thing to be aware of, however, is no matter how warm the day, it can get very cold indeed during the night – near freezing – so make sure you have a warm sleeping bag and layers of clothing to wear.
Head into the clouds on the Jasper SkyTram
On our first day, when we were walking through Jasper village, we spotted something sticking up, high on the mountaintop, and wondered whether it was a cluster of tall trees or a hermit's castle (yes, our imaginations were on overdrive that day). As it turned out, it was the Upper Station of the Jasper SkyTram, which celebrated its 50th anniversary in 2014.
This was our last day to explore Jasper National Park, and a scorcher of a day, so we checked it out, taking the seven minute 'flight' 2300 metres up Whistlers Mountain, as the attendant gave us a commentary of what we were seeing.
At the top, we took the boardwalks and hiking trails up a further 200 metres to the summit, enjoying spectacular 360 degree views over Jasper National Park.
Signs revealed that this rugged mountaintop landscape makes up around 40% of the park. Not much can live up here, so it was a privilege to experience this area from a bird's eye view.
I couldn't help but feel philosophical up here, feeling at once like a small speck in the world and elevated – physically and emotionally – among these majestic, calm mountains.
From high up here we could see for ourselves Jasper village way below with its distinctive 'J' shape. An exhilarating way to conclude our stay in this naturally, soulfully picturesque part of the world.
An incredible Canadian Rockies itinerary: 7 days in Banff and Jasper
In just seven days, this Canadian Rockies itinerary taking in Banff, Jasper and everything in between is sure to leave you with a sense of wonder about the world. It really is the most incredible way to spend a week and discover the natural beauty of Canada.
This post was brought to you with thanks to Jasper Riding Stables, BacTrax Camping Rentals and Jasper SkyTram.
Next up, discover the ultimate guide to planning a Canada backpacking trip across the country.