Straddling the border of the United States and Canada is Niagara Falls. Known as the 'Honeymoon Capital of the World', these famous waterfalls host 50,000 honeymooners every year. Read on for the most romantic things to do in Niagara Falls for couples, including the lowdown on what to wear to Niagara Falls.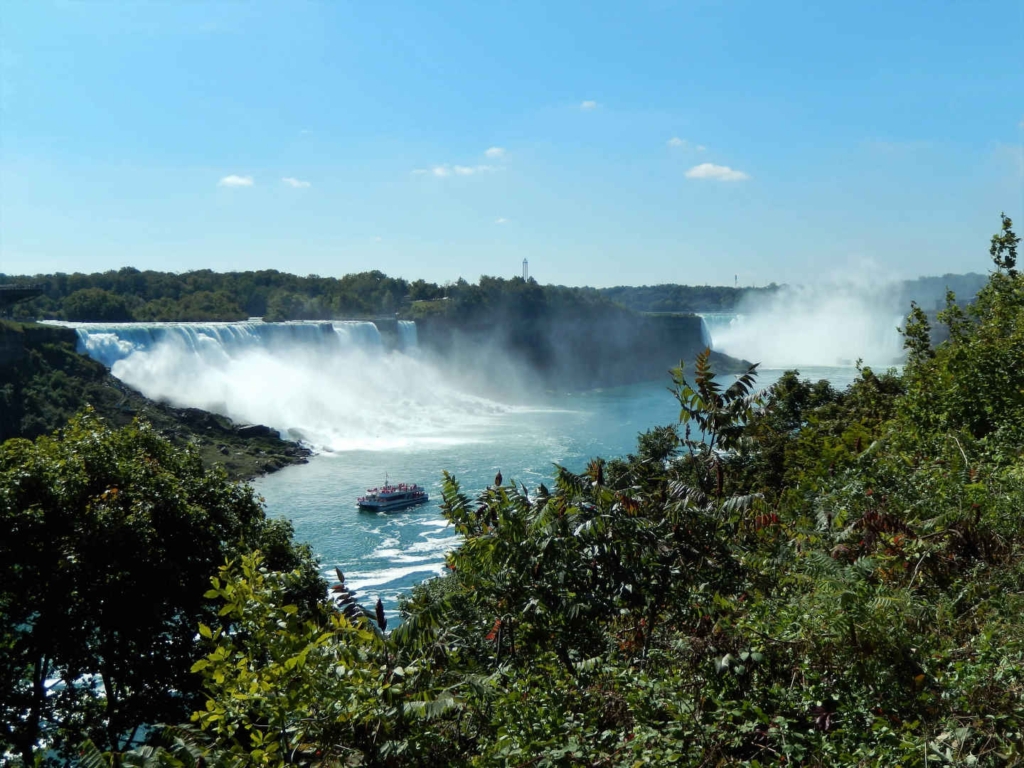 Why is Niagara Falls known as the Honeymoon Capital of the World?
At the turn of the 19th century, the wealthy and elite started a trend of taking a romantic holiday after their wedding. In 1801, the US Vice President Aaron Burr's daughter spent her honeymoon in Niagara Falls. Three years later, the brother of Napoleon Bonaparte, Emperor of the French, also chose to honeymoon here with his American bride, Elizabeth Patterson. They raved so much about their trips that it became the go-to destination for affluent honeymooners.
Check out my ultimate guide to backpacking across Canada on a budget, here.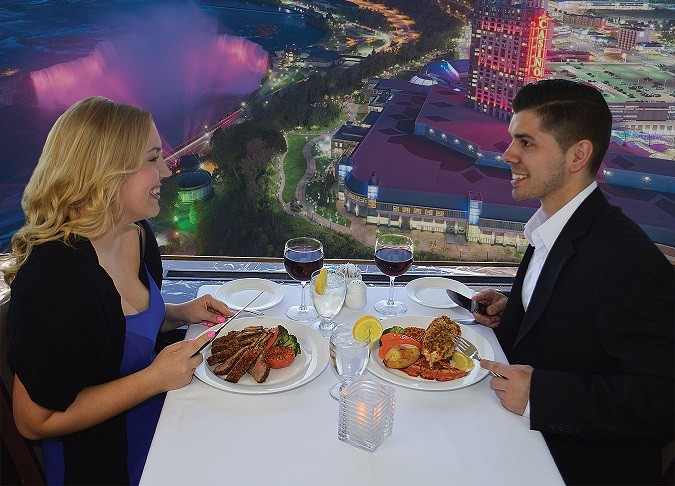 As the general public adopted the honeymoon concept, the Falls' romantic appeal has endured. As well as the incredible waterfalls, there are other attractions that make sure Niagara Falls remains one of the most loved-up places on earth.
How to get to Niagara Falls from Toronto
Niagara Falls is a 90-minute drive from Toronto. The scenic Niagara Parkway route stretches for 56 km (35 miles) to just outside the town of Niagara-on-the-Lake. Sir Winston Churchill called it 'the prettiest Sunday afternoon drive in the world.' Alternatively, you can take the train or the bus, like we did. The view of the Falls is best from the Canadian side but bring your passport in case you want to explore them both.
From the Niagara Falls Ontario train and bus station you can take a romantic 30-minute stroll or drive south by the riverbank along the Niagara Parkway to reach the Falls. It helps to build the anticipation as you get closer to this natural wonder. 
Travelling via Toronto? Find out more about the CN Tower – the world's third tallest tower – here.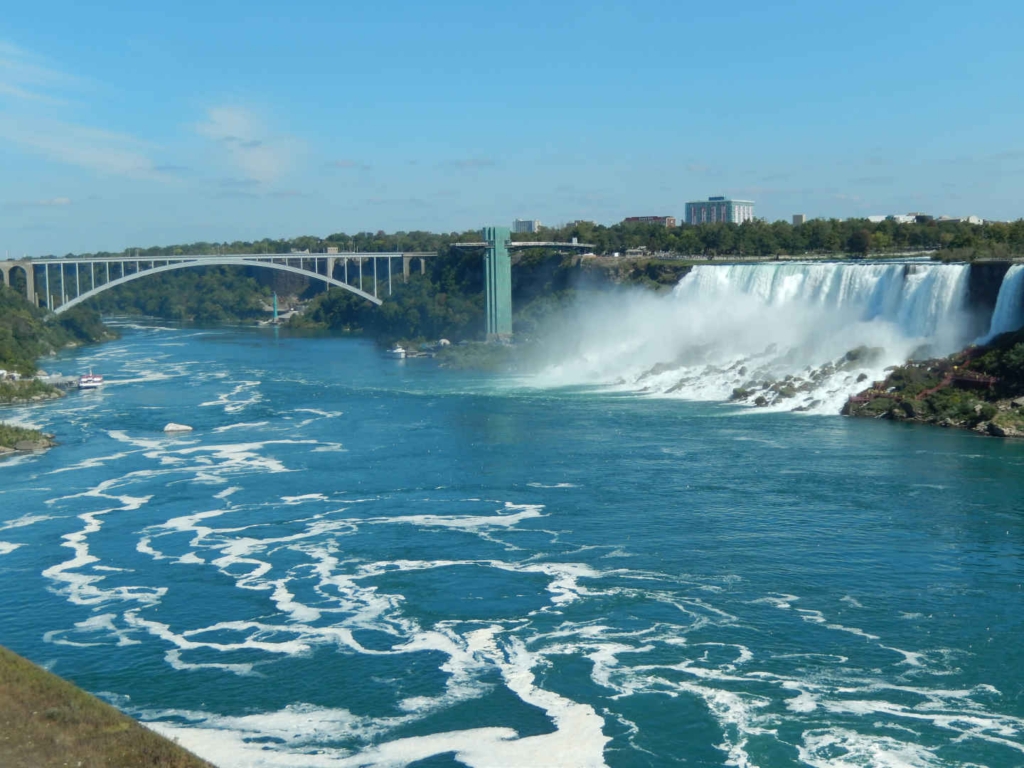 Kiss under the mist
On your arrival at Niagara Falls, there are a few cafes and bars, so why not enjoy a glass of wine or beer with your loved one while you admire the spectacular sights and plan your itinerary? Afterwards, if you walk along the pathway, you will get a great panoramic view and can watch the boats circling beneath.
If you love waterfalls, don't miss Quebec City's Montmorency Falls which are higher than Niagara.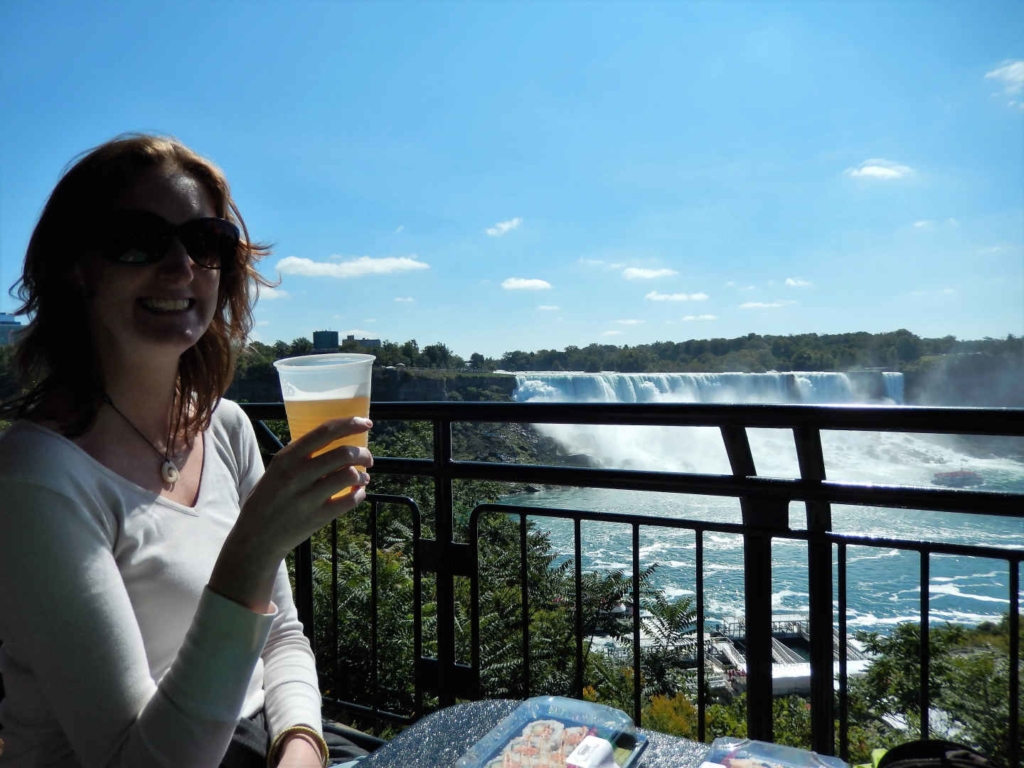 How wet do you get at Niagara Falls?
Perhaps you're wondering, how wet do you get at Niagara Falls? Well, this is where it starts. Stroll up towards the Horseshoe Falls and you will begin to feel the tiny water droplets in the air and see a white cloud rising mysteriously to the sky above the waterfall. Get even closer and you can kiss under the mist of this majestic natural phenomenon.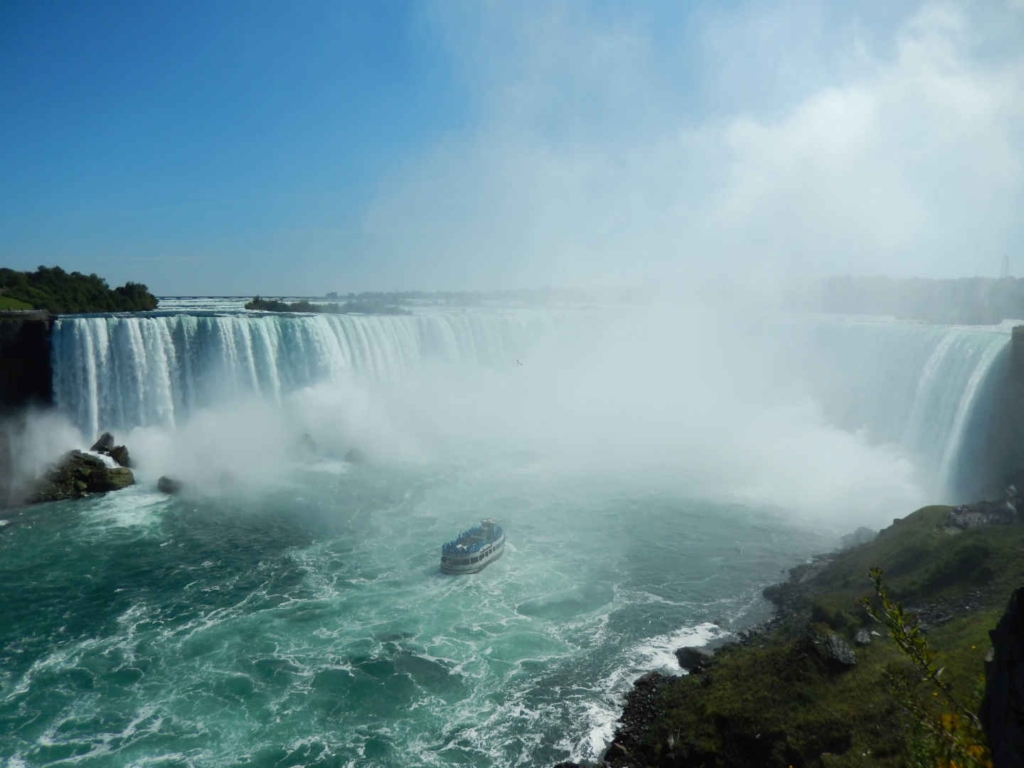 Take a cruise close to the Falls
Hornblower Niagara Cruises runs a boat ride that takes you near to the three waterfall areas, so close you can touch them. This can be an exhilarating and romantic experience, as you squeeze each other's hands while you approach the powerful falls.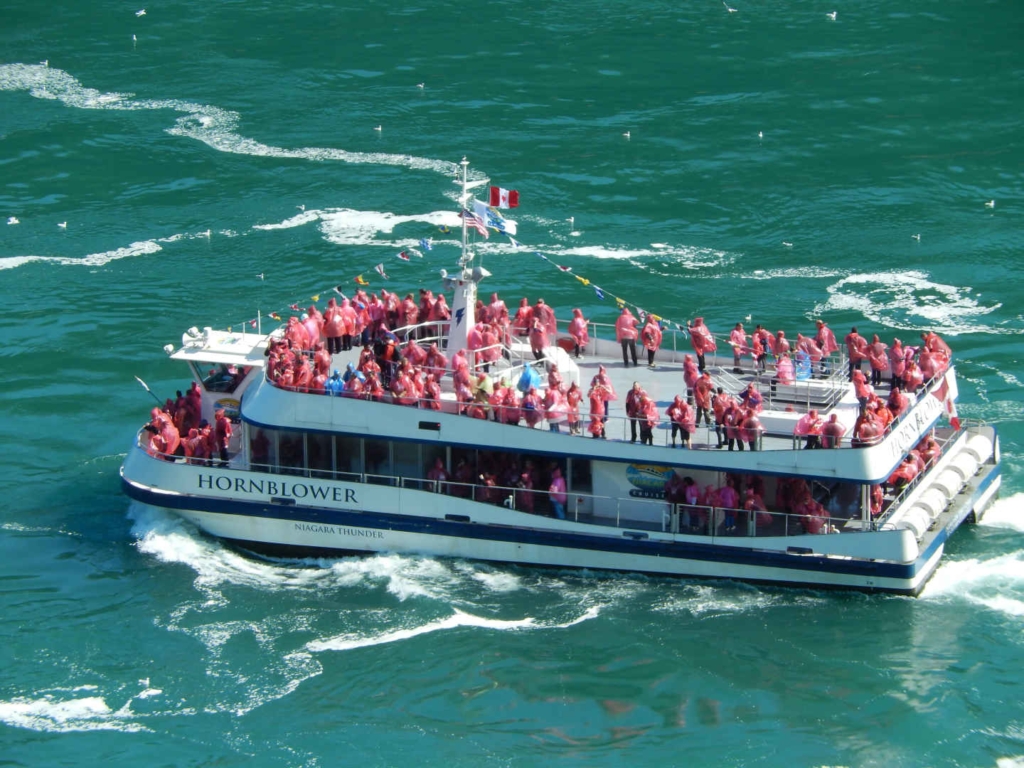 How wet do you get on Hornblower? Quite a lot. While the boat operators give you a waterproof Niagara Falls poncho to protect you and keep you mostly dry, be warned you will still get wet. The water spray gets into your hair and slides down the outside of the poncho, onto the bottom of your legs and into your shoes.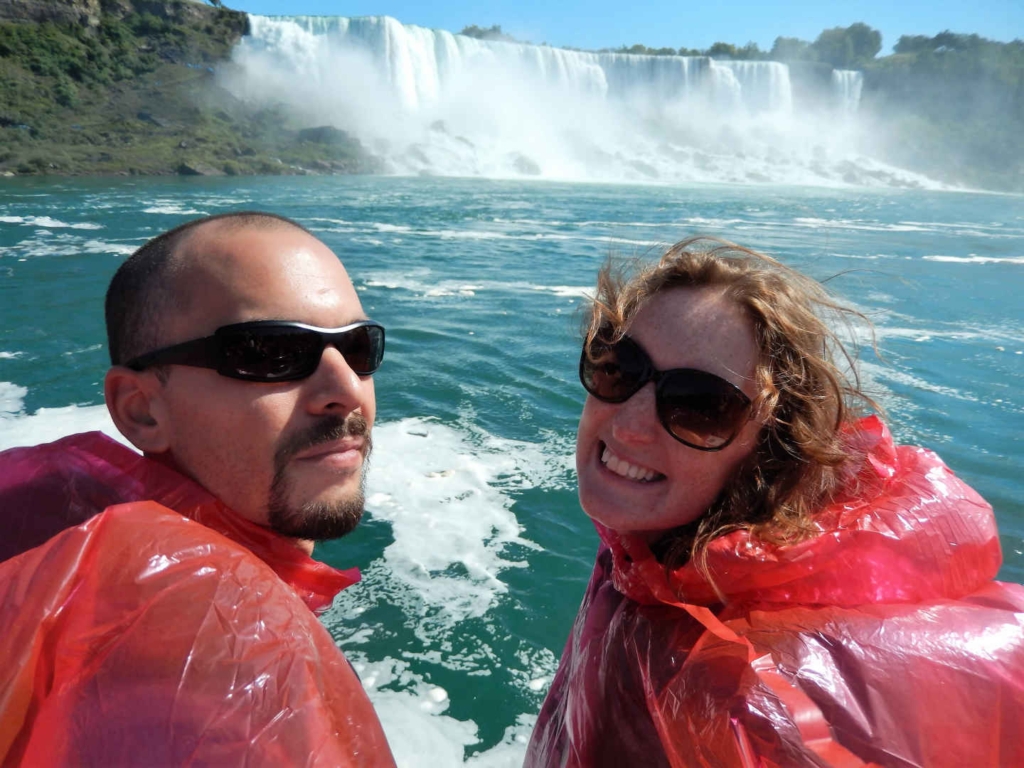 What to wear to Niagara Falls
You are probably wondering what to wear on the Niagara Falls boat tour. I went in August during summer and wore a long sleeved t-shirt, a hoodie and jeans.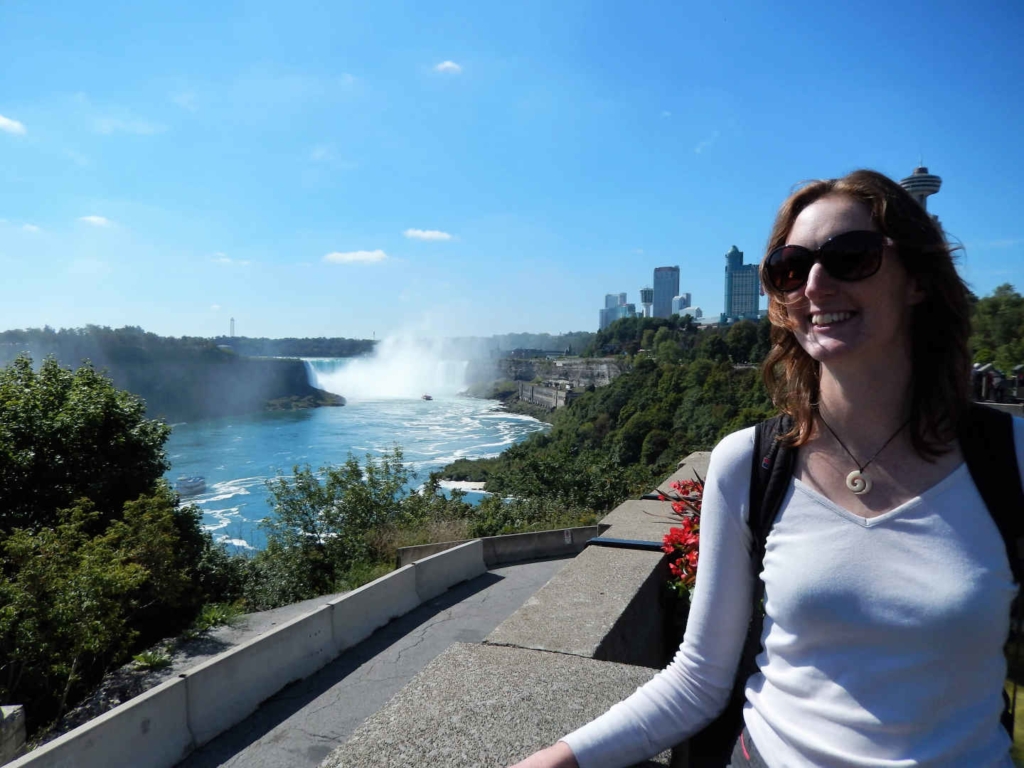 I would advise you avoid wearing jeans. I learned from experience that they are heavy when wet and won't be comfortable to continue sightseeing in. Wear light clothes if possible, bring a change of clothes and carry a bag to keep your damp belongings in.
In terms of what footwear to wear to Niagara Falls, the best option is lightweight water shoes, like these. Then it doesn't matter how drenched you get. But do go on the boat ride, it's worth it.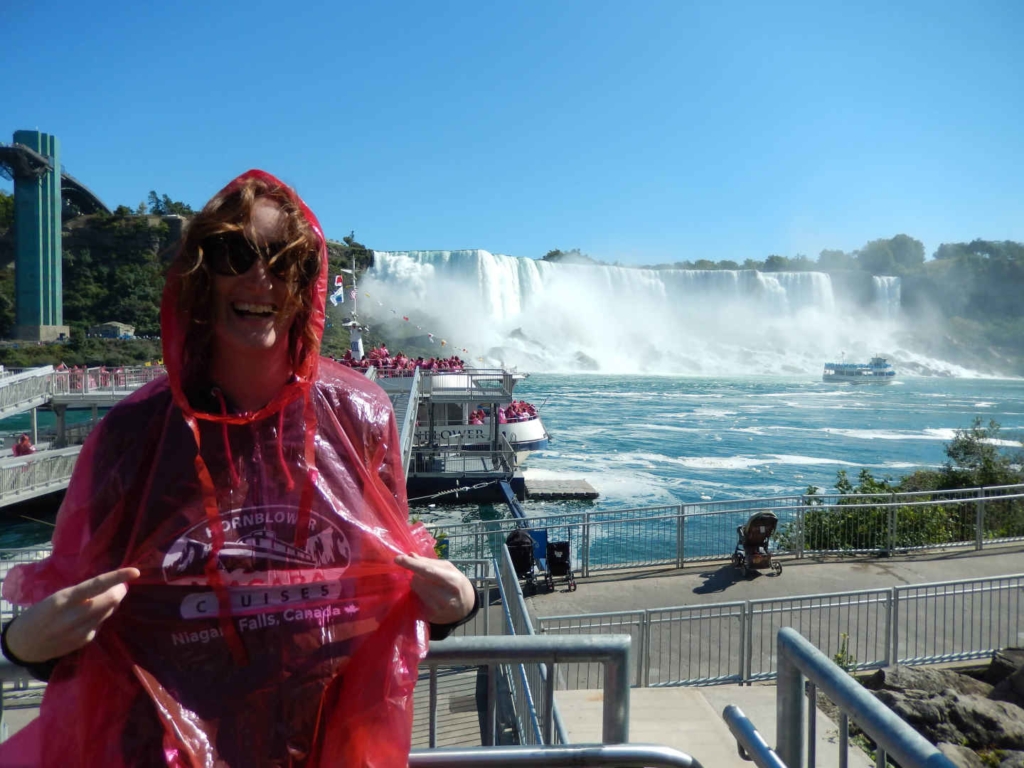 Fly high in a helicopter
A helicopter ride is one of the best things to do in Niagara Falls for couples. Plus, you won't get wet. Snuggle up with your loved one as you experience the awe-inspiring aerial view of the Falls. While you only get 10 minutes in the air, it's a once-in-a-lifetime experience.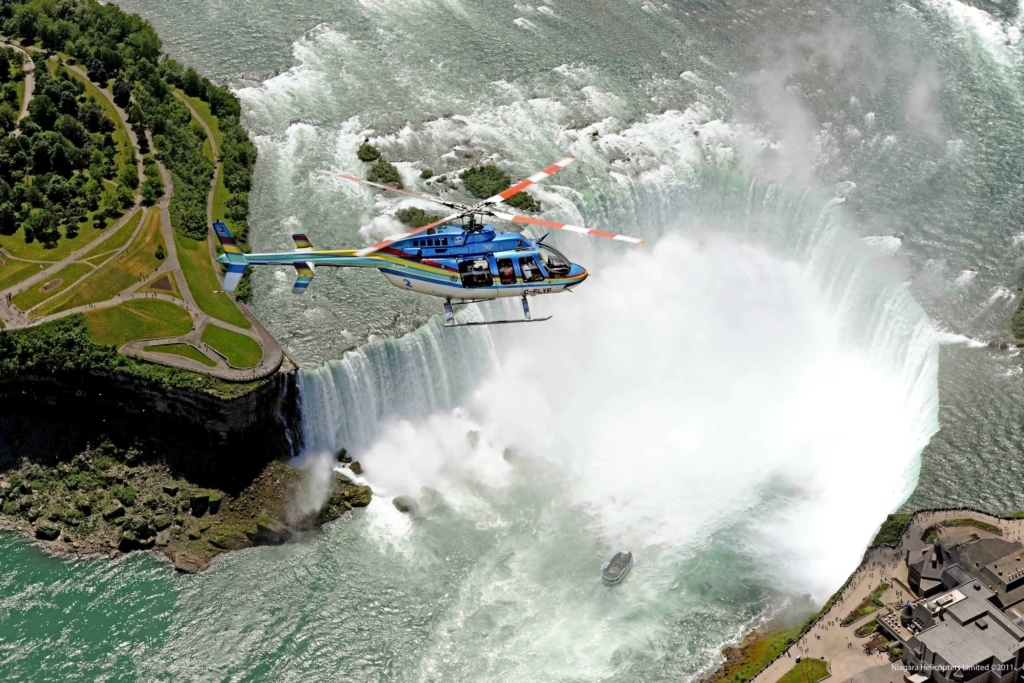 An audio guide explains the history and geography of the area, building up the anticipation until the moment you see the Falls from the air. This was definitely a highlight of our trip and at the end, you can purchase a photographic memento of you both to treasure forever.
Smooch at the top of the SkyWheel
The Niagara SkyWheel opened in 2006 as Canada's largest observation wheel. At over 53 metres tall, it's a romantic and relaxing way to see a Falls from up high. It features fully-enclosed gondolas, each holding up to eight passengers, with specially designed floor-to-ceiling glass windows that allows you to take photos without reflective glare.

From the top, you and your romantic partner can take in in breathtaking views of Niagara's Horseshoe and American Falls, spanning for miles in every direction. The ride lasts for around 15 minutes and as it's open every day, year round, from 9am to 1am, you can choose whether you prefer a daytime or nighttime experience. The gondolas are temperature controlled to ensure your comfort. The Niagara SkyWheel is just one of the attractions here: you can buy your Clifton Hill Niagara Falls tickets here.
Stay in a romantic hotel
If you're going to stay in the Honeymoon Capital of the World, why not splash out on a special hotel with stunning views to make your trip extra romantic?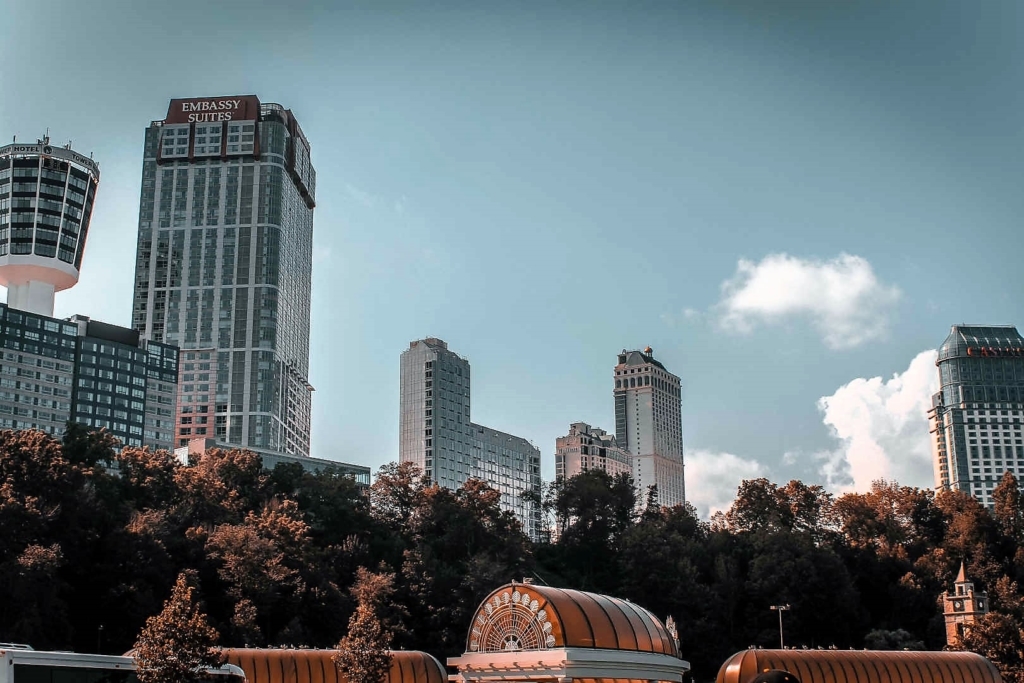 There are an abundance of luxurious options from well-known upmarket brands offering romance and honeymoon packages to cater to your every desire.
To browse and book a selection of the most romantic hotels in Niagara Falls, click here.
Book dinner with a view at Skylon
Take your dinner plans to new heights by booking a table with a legendary view. Dominating the skyline, the revolving restaurant at the Skylon Tower offers award-winning fine dining at a vertiginous 236 metres above the Falls.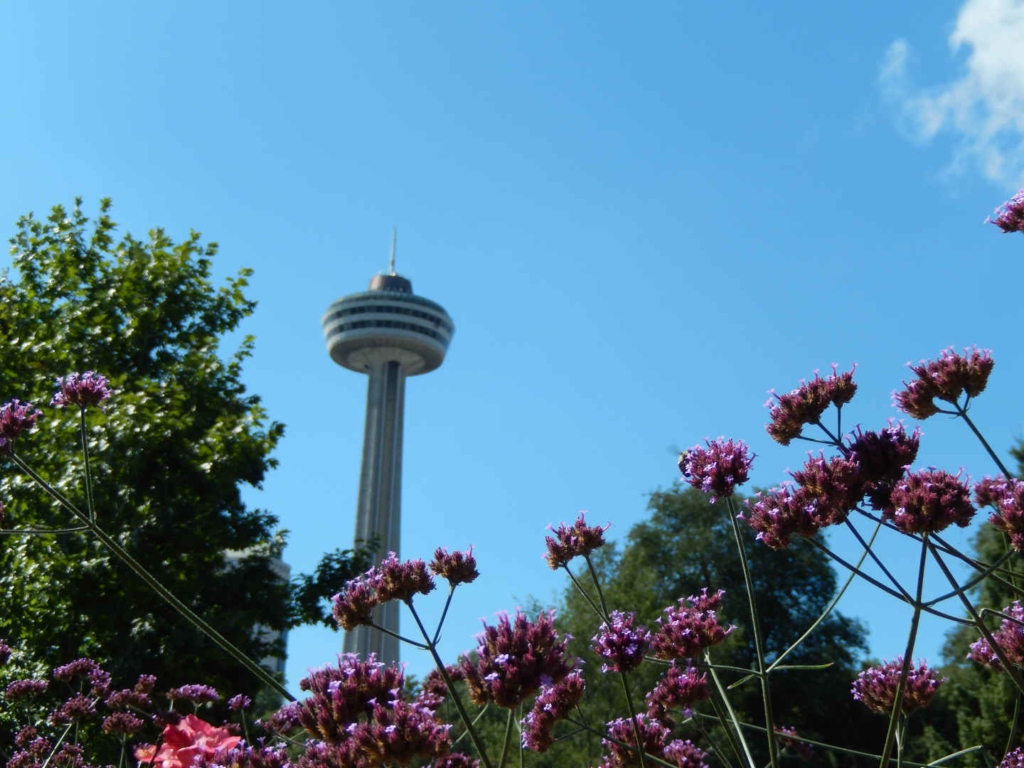 This famous restaurant has rotated every hour for the last 50 years, giving diners a 360 degree view around Niagara Falls and beyond. On a clear day, you can see for up to 80 miles (129 kms). Included in the price of your meal is the chance to experience the ride-to-the-top elevators and observation decks.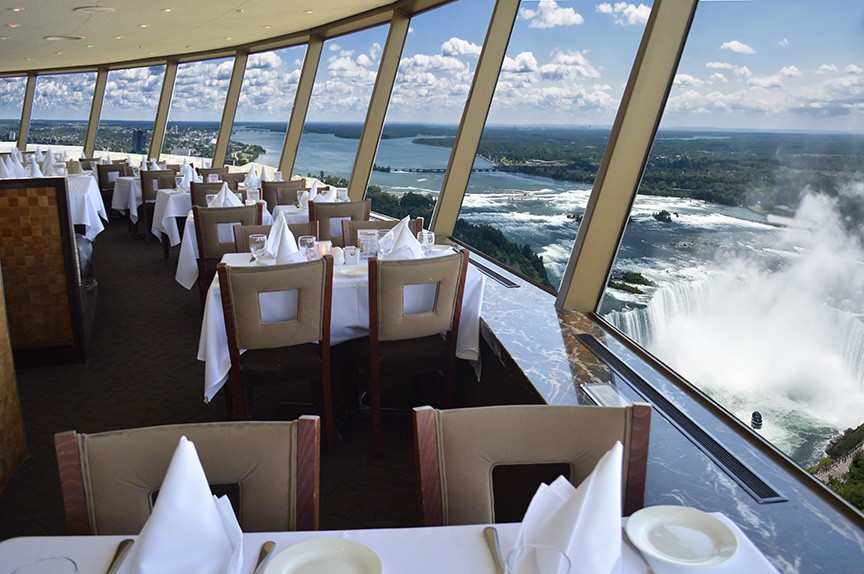 Make a toast on a Niagara wine tour
Canada is not known for its wine but its vineyards produce some tasty examples. Niagara is one of the country's wine regions and there are plenty of tours available to visit its award-winning wineries for tastings and to discover the wine-making process. Dozens of wineries are located within a 20-minute drive of the Falls, many with onsite restaurants where you can enjoy a romantic dinner. The region's best-known estates include Inniskillin, Jackson Triggs and Peller Estates.
Read about Kelowna, British Columbia, where you can taste delicious local wine and spirits, here.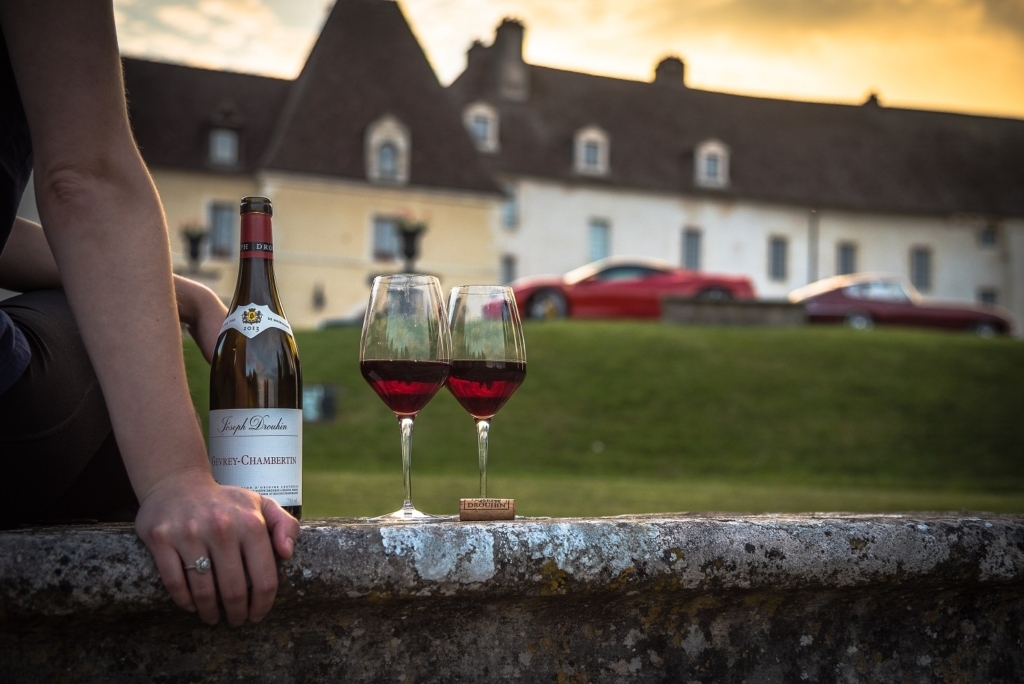 Discover more romantic things to do in Niagara Falls for couples
There are plenty of reasons to visit the romantic Niagara Falls and experience this natural wonder together – or even get married there with a spectacular wedding ceremony!
Thanks to Hornblower Niagara Cruises and Niagara Helicopters, who hosted our trip.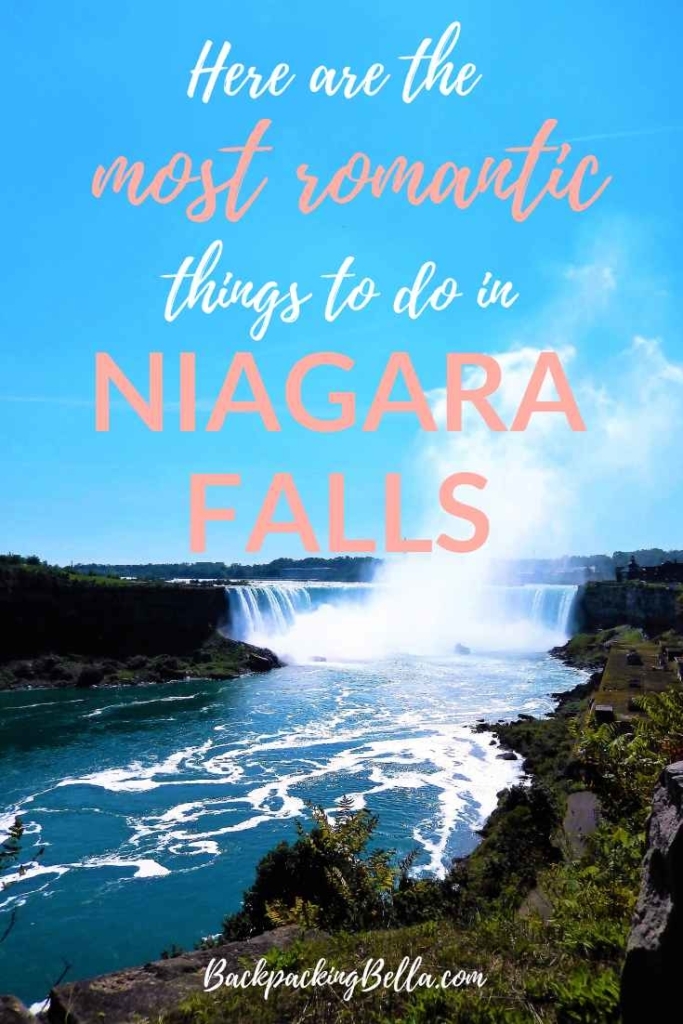 Next up, find out how to plan a trip across Canada and the most affordable ways to travel the country, here.