Straddling the border of the United States and Canada is Niagara Falls. Known as the Honeymoon Capital, these famous waterfalls host 14 million visitors every year. I spent two months travelling through Canada and spent a full day seeing these incredible falls from different angles. Read on for the lowdown on what to wear to Niagara Falls, and discover the most romantic and exhilarating things to do there.
This post may contain affiliate links. If you make a purchase, I receive a commission at no extra cost to you. As an Amazon Associate I earn from qualifying purchases. For more information, read my disclaimer.
Do you get wet at Niagara Falls?
Perhaps you're wondering, how wet do you get at Niagara Falls? Start walking towards the Horseshoe Falls and even from some distance away you will begin to feel tiny water droplets in the air and see a white cloud rising mysteriously to the sky above the waterfall. Get even closer and you can envelop yourself in the cool mist of this majestic natural phenomenon. This is a good time to dig out and wear your waterproof jacket.
Discover the American side of Niagara Falls in this incredible half day tour.
How to prepare for the boat trip close to the Falls
You can book a Niagara Falls boat tour that takes you near to the three waterfall areas, so close you can touch them. This is an exhilarating experience, as you approach the powerful falls.
How wet do you get on Hornblower? Quite a lot, so be prepared. The boat operators give you a waterproof Niagara Falls poncho to protect you and keep you mostly covered. However, you will still get wet. The water spray gets into your hair and slides down the outside of the poncho, onto the bottom of your legs and into your shoes.
Read on to discover the best outfits and shoes to wear to stay comfortable during and after the boat trip.
What to wear to Niagara Falls
You are probably wondering what to wear on the Niagara Falls boat tour. I went in August during summer and wore a long sleeved t-shirt, a hoodie and jeans.
I would advise you avoid wearing jeans. I learned from experience that they are heavy when wet and won't be comfortable to continue sightseeing in. Wear lightweight trousers if possible that will dry quickly.
Taking a change of clothes is a good idea – I had a t-shirt dress with me that I could easily stash in my bag – as well as a packable rain jacket with a hood. You may also want to bring spare underwear and socks. Also, take a couple of plastic bags, to protect your electronics and to store any damp belongings if you do get wet.
What shoes should I wear to Niagara Falls?
A common question is about what shoes to wear at Niagara Falls. It's important to note that if you go on the boat ride, your shoes will probably get wet. For this reason, the best option is to wear lightweight water shoes with no socks, so your feet dry quickly afterwards and you won't ruin your favourite shoes. My recommendation is affordable water shoes like these. Then it doesn't matter how drenched you get. But do go on the boat ride, it's worth it.
The best way to fly high over Niagara Falls
As well as being an awe-inspiring way to see Niagara Falls from above, the great thing about a taking a helicopter ride is you won't get wet.
An audio guide explains the fascinating history and geography of the area, building up the anticipation until the moment you see the Falls. While you only get 10 minutes in the air, it's a once-in-a-lifetime experience to have an aerial view of the Falls.
This was definitely a highlight of our trip and at the end, you can purchase personal souvenir photos of your trip.
Soar to the top of the SkyWheel
The Niagara SkyWheel opened in 2006 as Canada's largest observation wheel. At over 53 metres tall, it's a romantic and relaxing way to see a Falls from up high. It features fully-enclosed gondolas, each holding up to eight passengers, with specially designed floor-to-ceiling glass windows that allow you to take photos without reflective glare. From the top, you can take in breathtaking views of Niagara's Horseshoe and American Falls, spanning for miles in every direction.
The ride lasts for around 15 minutes and as it's open every day, year round, from 9am to 1am, you can choose whether you prefer a daytime or nighttime experience. The gondolas are temperature controlled so you are sure to stay comfortable whatever the weather.
You can buy your Niagara SkyWheel tickets here.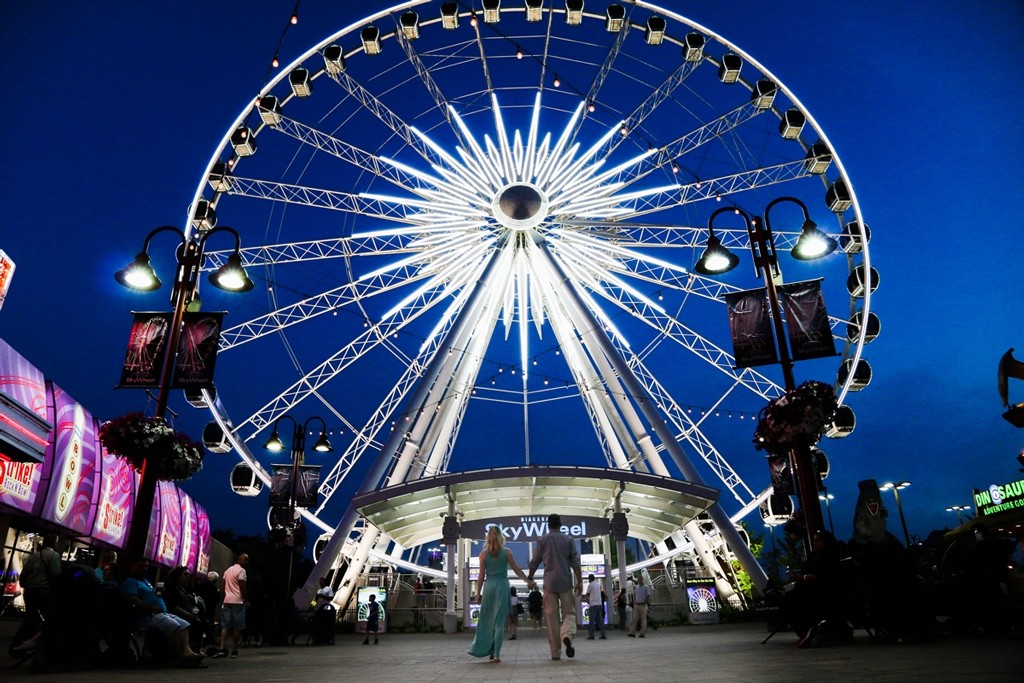 Spend the night in a special hotel
If you're going to stay in the Honeymoon Capital of the World, why not splash out on a special hotel to make your trip extra romantic? There are an abundance of luxurious and affordable options, some offering spa and honeymoon packages to cater to your every desire.
Check out the boutique-style Sterling Inn & Spa which has an on-site spa and restaurant and is perfect for couples. Some of its wonderfully spacious rooms have their own jacuzzi hot tub and you can order breakfast by room service for an indulgent treat in the morning.
To browse and book a selection of the best hotels in Niagara Falls, click here.
If you're on a budget, try the homely Butterfly Manor or the stylish Blue Gables Bed and Breakfast. These top-rated guesthouses are just a 20 minute walk from the falls and include comfy beds and a generous breakfast.
For something a bit different, don't miss the vintage vibes of the Cadillac Motel Niagara which is centrally located, with cool themed rooms and excellent hosts.
Enjoy a meal with the best view of Niagara Falls
Take your dinner plans to new heights by booking a table with a legendary view. Dominating the skyline, the the Skylon Tower's revolving restaurant offers award-winning fine dining at an incredible 236 metres above the Falls.
Go all in and book a helicopter ride, boat ride and lunch at Skylon Tower here.
This famous restaurant has rotated every hour for the last 50 years, giving diners a 360-degree view around Niagara Falls and beyond. On a clear day, you can see for up to 80 miles (129 kms).
Included in the price of your meal is the chance to experience the ride-to-the-top elevators and observation decks.
If you just want to visit the Skylon Tower observation deck, you can book your ticket here.
Make a toast on a Niagara wine tour
Canada is not known for its wine but its vineyards produce some tasty examples. Niagara is one of the country's wine regions and there are plenty of tours available to visit its award-winning wineries for tastings and to discover the wine-making process.
Dozens of wineries are located within a 20-minute drive of the Falls, many with restaurants where you can enjoy a romantic meal with your wine. The region's best-known estates include Inniskillin, Jackson Triggs and Peller Estates.
Book a half-day Niagara winery tour that picks you up by bus from your hotel, here.
How to get to Niagara Falls from Toronto
Niagara Falls is a 90-minute drive from Toronto. If you don't have a car, you can book a day trip or take the train or the bus, like we did.
The scenic Niagara Parkway route stretches for 56 km (35 miles) to just outside the town of Niagara-on-the-Lake. Sir Winston Churchill called it 'the prettiest Sunday afternoon drive in the world.'
From the Niagara Falls Ontario train and bus station you can take a romantic 30-minute stroll or drive south by the riverbank along the Niagara Parkway to reach the Falls. It helps to build the anticipation as you get closer to this natural wonder.
The view of the Falls is arguably best from the Canadian side but bring your passport in case you want to explore them both.
Thanks to Hornblower Niagara Cruises and Niagara Helicopters, who hosted our activities here.
Next up, read the ultimate guide to planning a backpacking trip across Canada, here.