Montmorency Falls is the second most visited tourist site in Canada's Quebec City region, after the historic Old Quebec neighbourhood. Around 970,000 visitors a year come to this waterfall, which is 30 metres higher than Niagara Falls and is getting a $33-million makeover. Here's how to get to Montmorency Falls from Quebec City, the best places to stay and discover everything there is to do at this natural wonder.
This post may contain affiliate links. That means, if you make a purchase, I may receive a small commission. As an Amazon Associate I earn from qualifying purchases. For more information, read my disclaimer.
How to get to Montmorency Falls from Quebec City
The easiest way to get to Montmorency Falls from Quebec City, if you don't have a car, is by bus.
You can take the local 800 bus from Gare-Palais/2562 towards Beauport (Est). The stop you need for Montmorency Falls is Brideau, a ten minute walk from the Parc de la Chute-Montmorency (Montmorency Falls Park). Located 12km from the city, the journey takes around 45 minutes.
Alternatively, if you're feeling active, you can saddle up and join an organised bike tour from Quebec City to Montmorency Falls, which takes around four hours.
Read on to find out all the incredible experiences you can have here, as you view these impressive falls from totally different angles.
Enjoy the scenery on the bike tour from Quebec City to Montmorency Falls
Here is how to marvel at the falls from different viewpoints
It was early October when we visited Montmorency Falls, the time of year when the falls are at their fullest. The waters cascaded powerfully as the Montmorency River dropped sharply over the cliffs into the St Lawrence River that we had seen from the Governor's Promenade.
We made our way down the steep steps to the viewing platforms. From the bottom we could feel the spray and the force of the falls as the droplets refracted the light into mini rainbows. We could only just spot the tiny people walking across the suspended bridge stretching across the top of this Quebec City waterfall.
See the falls from the sky on a 15, 30 or 45 minute helicopter tour.
We strolled along to the cable car station and took a cable car ride to the top, enjoying the views to the top of the falls.
There, just behind the falls, we found the Montmorency Manor, which is an excellent place to indulge in some of Quebec's notable food and drink.
Alternatively, you can indulge in a unique outdoor dining experience at Montmorency Falls, with wonderful across the area.
Book your tickets to Montmorency Falls, including the cable car ride.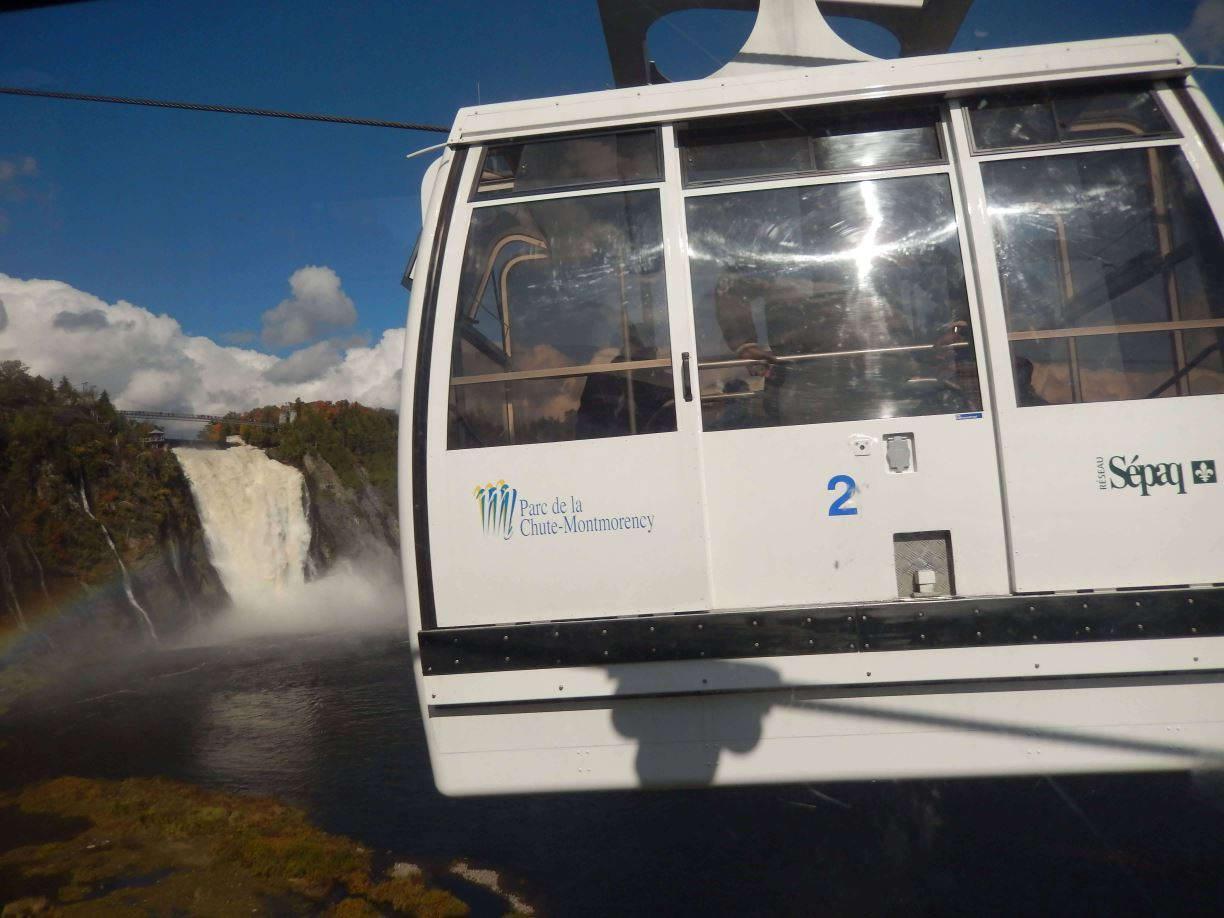 This is the most exciting way to experience the falls
A member of staff at the Montmorency Manor told us about something called via ferrata. All I could gather was it was something to do with zip-lining over the river. I'm afraid of heights – more specifically of falling – but for some reason I was feeling adventurous. "Count me in," I said, immediately wondering if I'd regret my decision.
We crossed the suspension bridge that spans the tops of the falls and I looked down at the water crashing down onto the rocks below. By this point, I could feel the nerves jangling uneasily in my stomach. I seriously questioned why I'd signed up to this.
Book your place on an exhilarating zip-lining experience over Montmorency Falls.
Gulp. It was now time for our via ferrata briefing. Meaning 'iron road' in Italian, it is essentially a protected climbing route using a steel cable fixed to the rock, which you secure yourself to with carabiners and harnesses. Theoretically you cannot fall more than a metre or so. There are also iron rungs, pegs, carved steps and ladders to help even novices like me scale an otherwise dangerous route. Like the sheer rock-face next to a torrential 83-metre high waterfall that's taller than Niagara. Why was I doing this again?
We had our briefing and donned our harnesses and helmets, then returned to the top of the viewing stairs we had originally descended. This time, we turned towards the waterfalls and were faced with our first challenge: a 300-metre zipline across a deep crevice.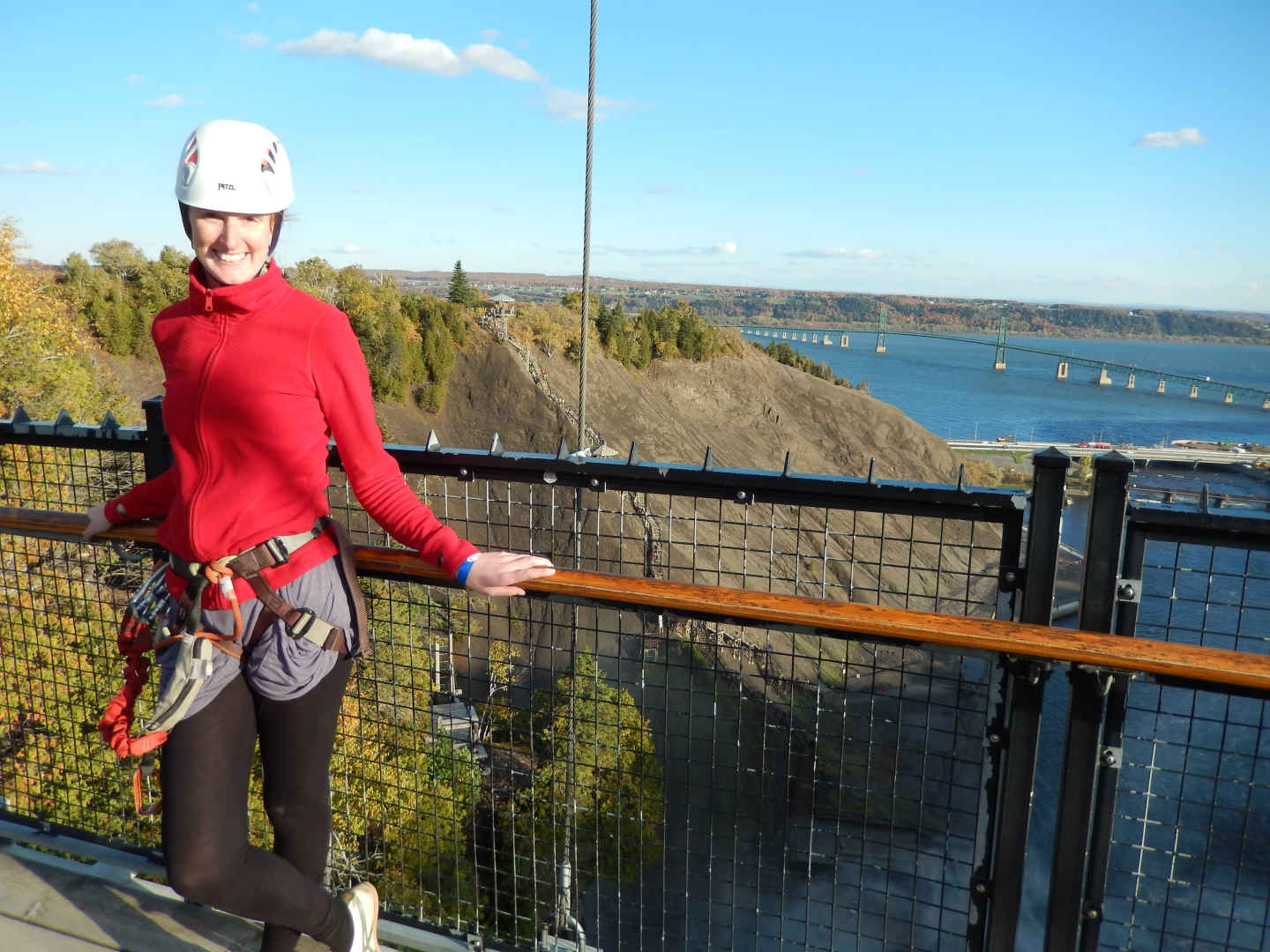 Way down at the bottom the river crashed against the rocks. Even from up here, the falls' powerful, cold spray whipped into our faces and bodies. One by one, we attached the two big carabiners attached to our harness to the zipline carriage and propelled ourselves across the valley.
My heart was thumping and I screamed the whole way. But the challenge wasn't over yet. We had to climb up the rock-face now. There was no turning back.
Clinging to the rocks and the cable, my arms and legs were shaking. A lot of the time I was hesitating about how to move. Each time we had to unhook and hook our carabiner to the steel cable or rungs, before figuring out how best to take the next step while still holding on. Thankfully the girl after me had done this before so she helped coach me through it.
The teacher could see how nervous I was – the terror written across my face and my trembling limbs – as I inched up the rock-face embarrassingly slowly. We were going further up, and towards the thundering waterfall. So it was increasingly scary. But they could also see my focus. It takes a lot of courage, he said afterwards, to do something like this when you are so afraid. I didn't feel particularly courageous at this point – I just knew going back wasn't a possibility. The only way was forward and up, even if it was at a snail's pace.
At one point we stopped at a ledge for a brief respite and to admire the view as we edged closer to the falls.
Then we scaled a ladder next to the falls, where you feel simultaneously protected by the wooden and metal structure, while conscious that there's just this ladder between you and the void, so high up from the rocks and crashing waters 80 metres below.
We did it! We got to the top and walked back onto the suspension bridge to see again where we had just climbed up. The adrenaline was still pumping and I was glad it was over. But, wow, what an experience.
As the sun set on our day in the beautiful Parc de la Chute-Montmorency, I walked with my back straighter, my head held high and a big smile on my face, as we headed to the bus stop to travel back to Quebec City.
Here is where to stay in Montmorency Falls
If you are considering staying overnight close to Montmorency Falls, a top-rated choice for travellers is the Au Gîte de la Chute B&B. Just five minutes' walk from Montmorency Falls in the town of Boischatel, you will be welcomed warmly by the hosts, who served a delicious breakfast with freshly made bread.
Some of the rooms have view over the river or the property's garden and you can choose either a private or shared bathroom. There's also a shared lounge and a library where you can relax.
Browse and book the available accommodation near Montmorency Falls here.
These are all the cool things to do in Quebec City
Dating back to 1608, the old French architecture of Quebec City is so attractive, it's worth simply taking a stroll around and taking it all in. You can pick up a map and get guidance from the helpful staff at the Quebec City tourist office.
Join a two-hour walking tour of Quebec City and see its most fascinating attractions.
The first place we aimed for was Governor's Promenade, an expansive, elevated boardwalk with spectacular views along the St. Lawrence River and the city's defensive wall on the other side. It leads to the famous Chateau Frontenac hotel.
Built at the end of the 19th century, the Chateau Frontenac was built by Canada's railway companies and is evocative of the chateaux in 14th and 15th century Loire Valley in France. It is a landmark of Quebec City.
Reserve your place on a guided tour of Chateau Frotenac in Quebec City.
Don't forget to check out the famous city walls. Quebec City is one of only two cities in North America that has fortified city walls that are still intact and in great condition.
Here are the best affordable places to stay in Quebec City
If you are looking for a budget hotel in the heart of Old Quebec, try the art deco Hotel Manoir D'Auteuil, which is full of character. This top-rated hotel is known for its friendly staff, tasty breakfast and convenient location for city sightseeing.
Alternatively, try one of Quebec City's cute B&Bs. They include Le 253, where the welcoming hosts serve a full English or vegetarian cooked breakfast every morning, and the boutique-style L'Arvidienne Couette et Café which features traditional rooms with styling inspired by impressionist artists, as well asan on-site library.
Next up, check out my ultimate guide to planning a backpacking trip across Canada, here.