If you are planning a trip to Japan to see the famous cherry blossoms in bloom, you may be wondering what to wear in Japan in spring that will keep you comfortable and stylish. What is the weather like at this time of year in different parts of the country and what do women wear in Japan? I spent three weeks exploring Japan last year — visiting everything from beaches to cities and mountains — and used my travelling and fashion studies experience to put together a capsule wardrobe for the entire trip. Here's everything you need to know about what to wear in Japan in April, so you can create the perfect Japan packing list.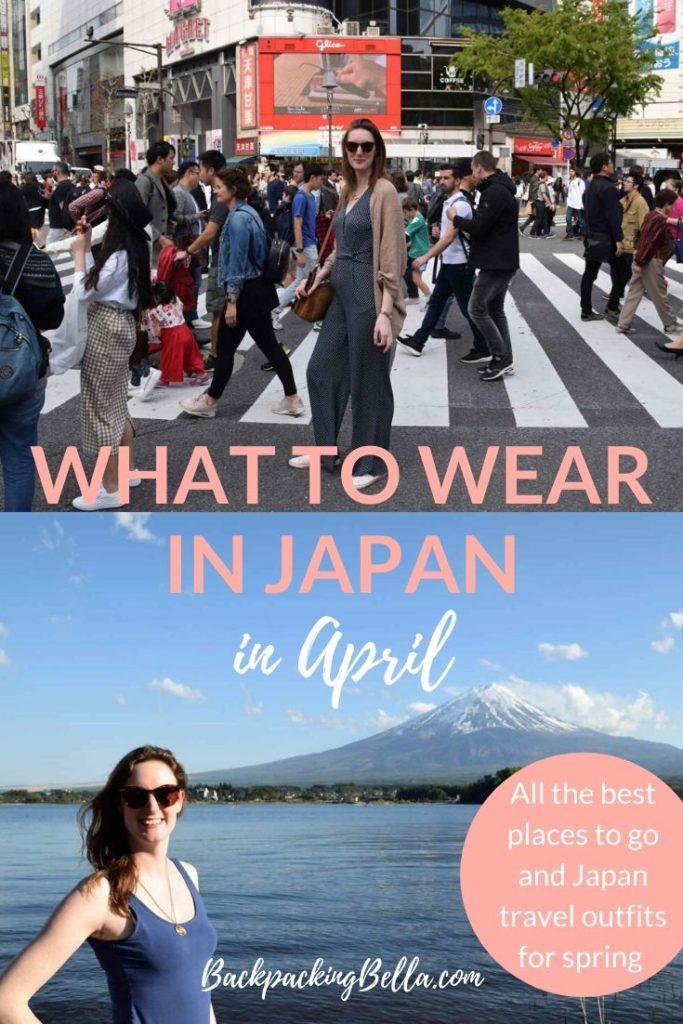 This post may contain affiliate links. That means, if you make a purchase, I may receive a small commission. As an Amazon Associate I earn from qualifying purchases. For more information, read my disclaimer.
What is the weather in Japan in April?
April is one of the best months to visit Japan, especially for the first couple of weeks. At this time of year, you can usually see still sakura cherry blossom flowers in bloom in cities like Tokyo and Kyoto, and in the north of the country. The last week of April usually coincides with the annual Golden Week holidays in Japan, when public transport and hotels can be busier.
When deciding what to pack for Japan in April, bear in mind that the weather in Japan in April can be changeable and not always that warm. Afternoon temperatures can reach an average high of 19°C in most parts of the country, dipping to lows of 10.5°C in the morning and overnight. This means that wearing layers of clothing is key. For example, you can take a jacket or jumper to wear in the morning and put it around your waist as it gets warmer during the day. Then in the evenings, you will need to put on something warmer again. There could be sun, cloud or rain at this time of year, so you will need to be prepared.
If you are heading to Japan's mountainous northern island of Hokkaido, you can expect colder temperatures in April, with a maximum of around 10°C during the day and close to freezing at night. If you are travelling south in April to Japan's tropical Okinawa islands, you will have missed their cherry blossom season which is at the start of the year, but you can benefit from the warm ocean currents and daytime temperatures hitting the low to mid 20s. However, there may also be a little rain and wind, so it's often jeans and t-shirt weather.
Where to go in Japan in April
If you are planning where to visit in Japan in April, you will be spoiled for choice. We spent three weeks in Japan and we still didn't find it was enough time to see all the places we wanted to go to.
Some of the best places to visit in Japan in April include Tokyo for its temples, towers and lively neighbourhoods, as well as a trip to the magical Mount Fuji.
Go to Kyoto for its cool streets and tranquil gardens, and Osaka for its tasty food and the colourful lights and neon signs of its Dotonbori district.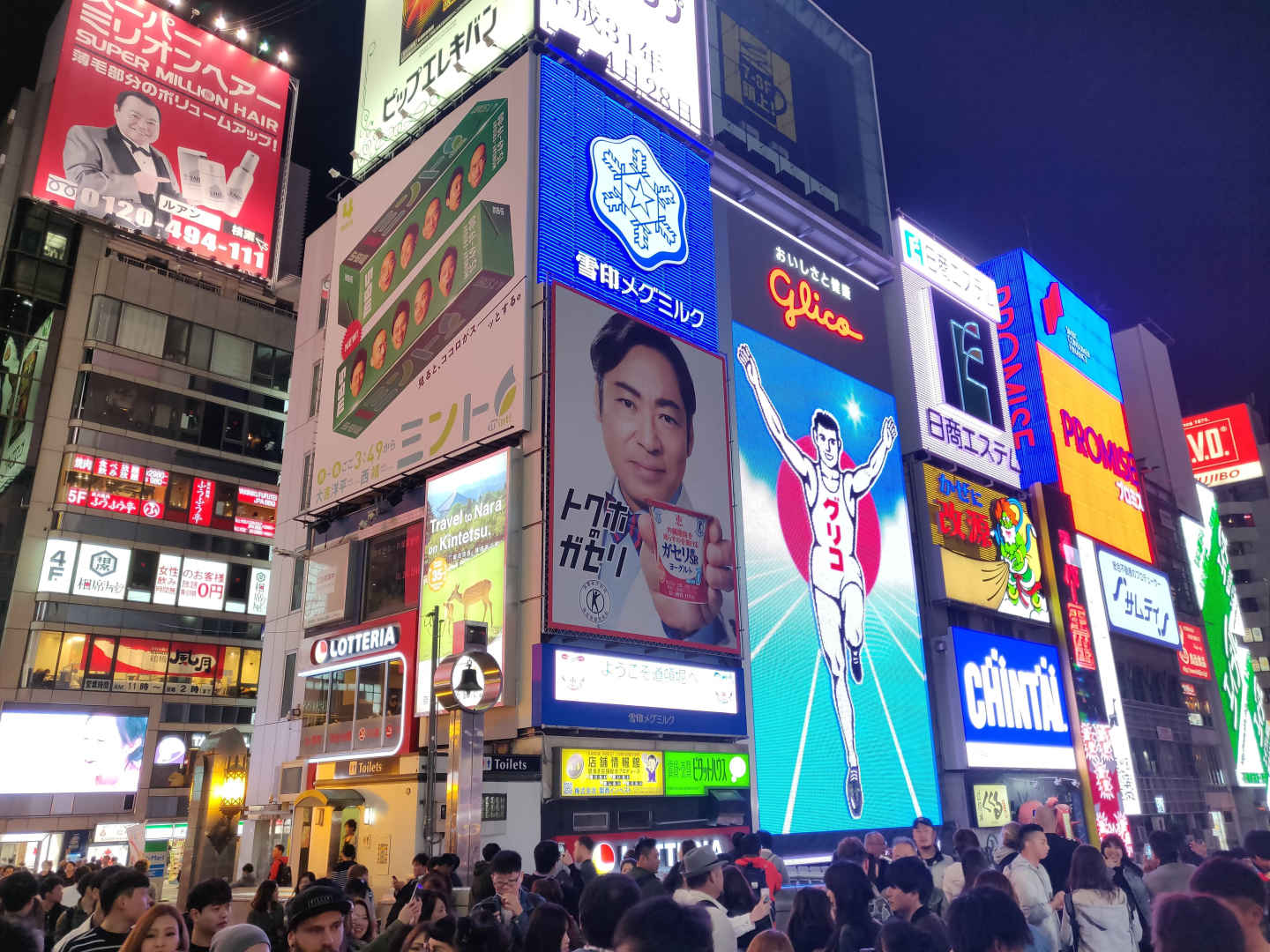 Okinawa is one of the top places to go in Japan in April for beaches, food, sacred sites and to learn more about what happened in Japan during World War II. Similarly, a visit to Nagasaki's Peace Park is very moving, while Hiroshima and Miyajima island are thought-provoking and fascinating places to see.
One of the best things to do in Japan in April is to visit one of its flower festivals. If you go to northern Japan at this time of year, the weather is cooler, but you are more likely to see beautiful cherry blossom displays, as they bloom in Hokkaido until May.
How to create the perfect Japan packing list
When deciding what to pack for a trip to Japan, I recommend creating a versatile capsule wardrobe with key garments you can mix and match together. This will make layering a cinch as you navigate Japan's changeable spring weather.
Start by selecting clothes in a handful of thematic colours that compliment each other. If you need inspiration, you can do what I did and use the Pantone colour palette of the year to spark ideas of things to pack for Japan. Here is the colour palette I used: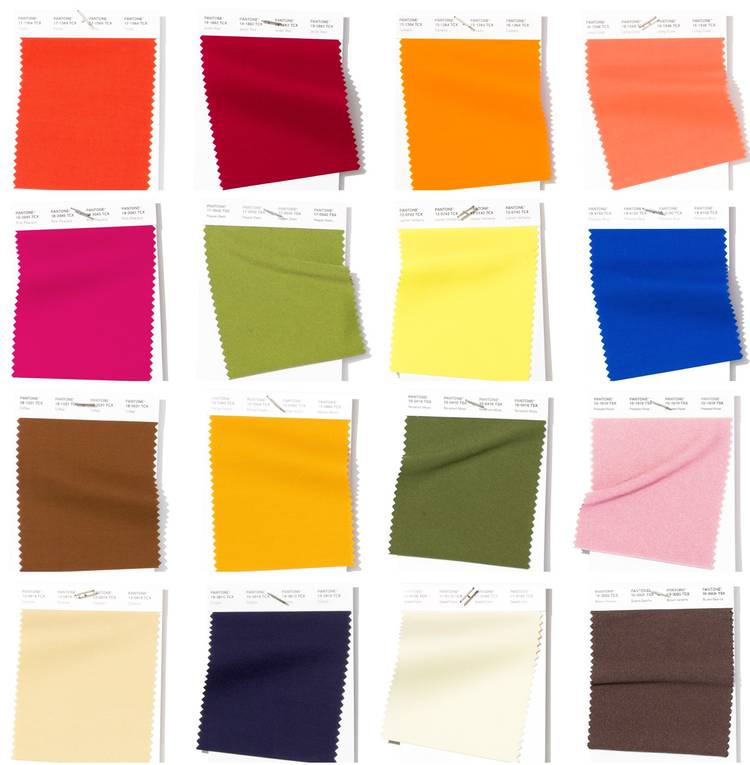 As you can see, I had a sunny palette of corals, pinks, khaki, blues, yellows and browns to choose from, along with neutral cream tones. That meant no black, which was a challenge. To be honest, I quite enjoyed having this limited colour palette to work with, as it meant I picked out clothes that I might not have considered otherwise. Also, I knew I was in good hands with the Pantone colour experts, so the hues would all blend beautifully together in my mix-and-match Japan capsule wardrobe.
My other top tip for your Japan trip is packing cubes. Seriously, these things changed my packing game. Japan is a country with so many incredible things to see, you will undoubtedly be moving from place to place often, packing and unpacking again. With the help of packing cubes, you can neatly organise your clothes and belongings, and easily find what you need. It certainly helped me get out of the door more quickly when it was time to check out and travel to the next destination.
Inspired by the springtime cherry blossoms and Japan's historic silk industry, I included floral patterns and drapey, satin fabrics in my spring capsule wardrobe for Japan.
What to wear in Japan in April
When choosing what to wear in spring in Japan, as well as the weather forecast for April, I was concerned about wearing appropriate clothing in Japan, as well as the current street clothing styles in Japan. I wanted to understand how to dress in Japan in April, so I was comfortable on the long days of sightseeing and hopefully not too conspicuous as a tourist. As well as browsing ideas of spring wear in Japan, this involves an awareness of what not to wear in Japan.
If you are wondering what to wear in April in Japan, or any time of year, one of the main things to note is that Japan style dress is fairly modest. This means mid-length skirts rather than minis and easing off on displaying the decolletage, even when going out in the evening. That's not to say that women in Japan never wear short outfits, but as a general rule, you may want to cover up a bit more than you are used to, otherwise you may get some stares. I packed casual and formal trousers, jumpsuits and maxi dresses, so I could easily find a suitably stylish spring outfit in Japan. Crucially, when choosing clothes to wear in Japan in April and what shoes to wear in Japan, they need to be comfortable enough to walk around in all day. Your outfits will need to survive non-stop sightseeing around the cities, including side-trips to visit the colourful temples you'll spot along the way.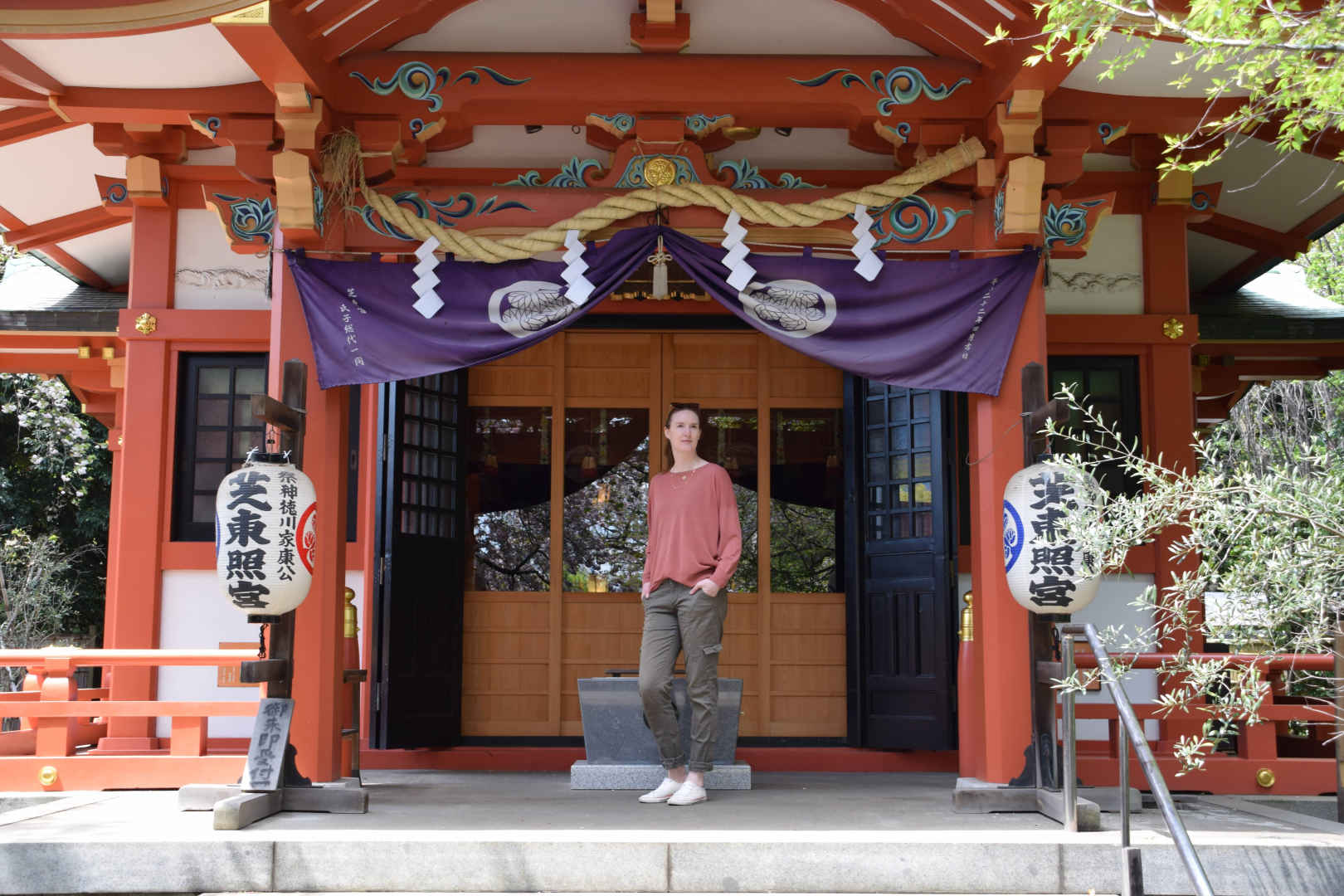 What to wear in Tokyo
Like many people visiting Japan from abroad, our international flight landed in Tokyo. The weather in Tokyo in April is quite pleasant and mild, but when you step out of your hotel in the morning, it's not always clear whether it will be the warmer or cooler side of mild.
In Tokyo, I found myself wearing simple layered outfits, such as this navy polka dot jumpsuit and relaxed cardigan I wore as we walked on Tokyo's famously busy Shibuya Crossing.
Here in the Odaiba area of Tokyo, exploring this high-tech entertainment hub on Tokyo Bay's artificial island, I wore a toffee-coloured, spotted slip dress with sneakers (because the 90s fashion trends are back) and a dark brown leather jacket to fend off the harbour breezes.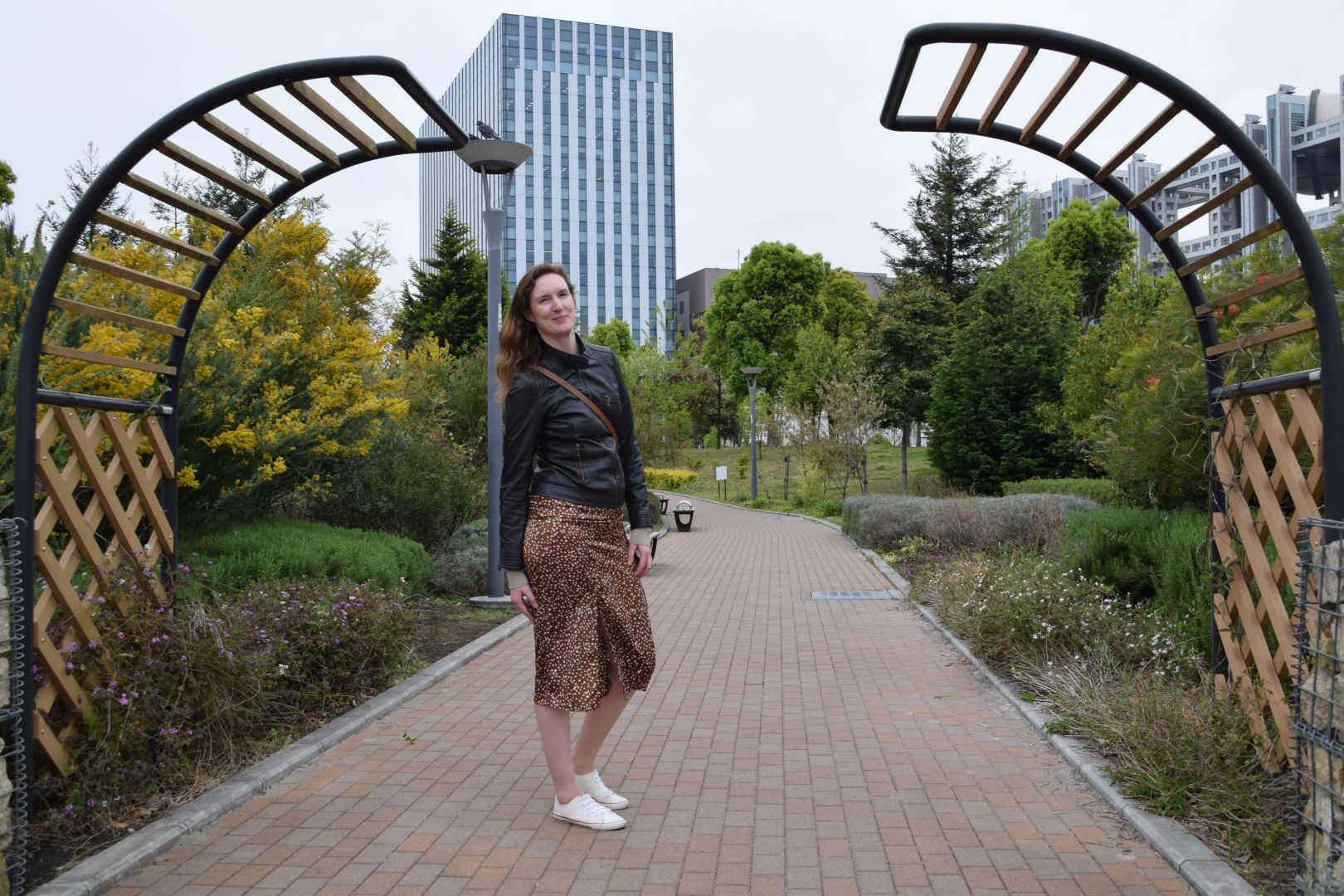 Visiting this cool cat cafe in Akihabara, I wore a lightweight, crepey long-sleeved top I found in Zara, in Pantone's colour of the year no less, called 'living coral'. As Miranda Priestly assets in The Devil Wears Prada movie, the colours of our clothes really are chosen for us, long before we pick them off the racks.
What to wear to Mount Fuji
When deciding what to wear during spring in Japan, you will need to consider all the trips you are likely to do. I would highly recommend a day trip from Tokyo to Mount Fuji, to see this magical, iconic mountain.
The journey there takes about 2.5 hours by train or bus, then you can choose to walk, cycle or catch the bus to the best viewing spots. This day was quite warm and sunny, so I spent most of it just in a simple blue vest top and khaki combat trousers.
One thing I noticed about Japan was how much fuller my hair was there. It must have been something about the water, but my hair was much thicker and more lustrous than it normally is back home in Europe.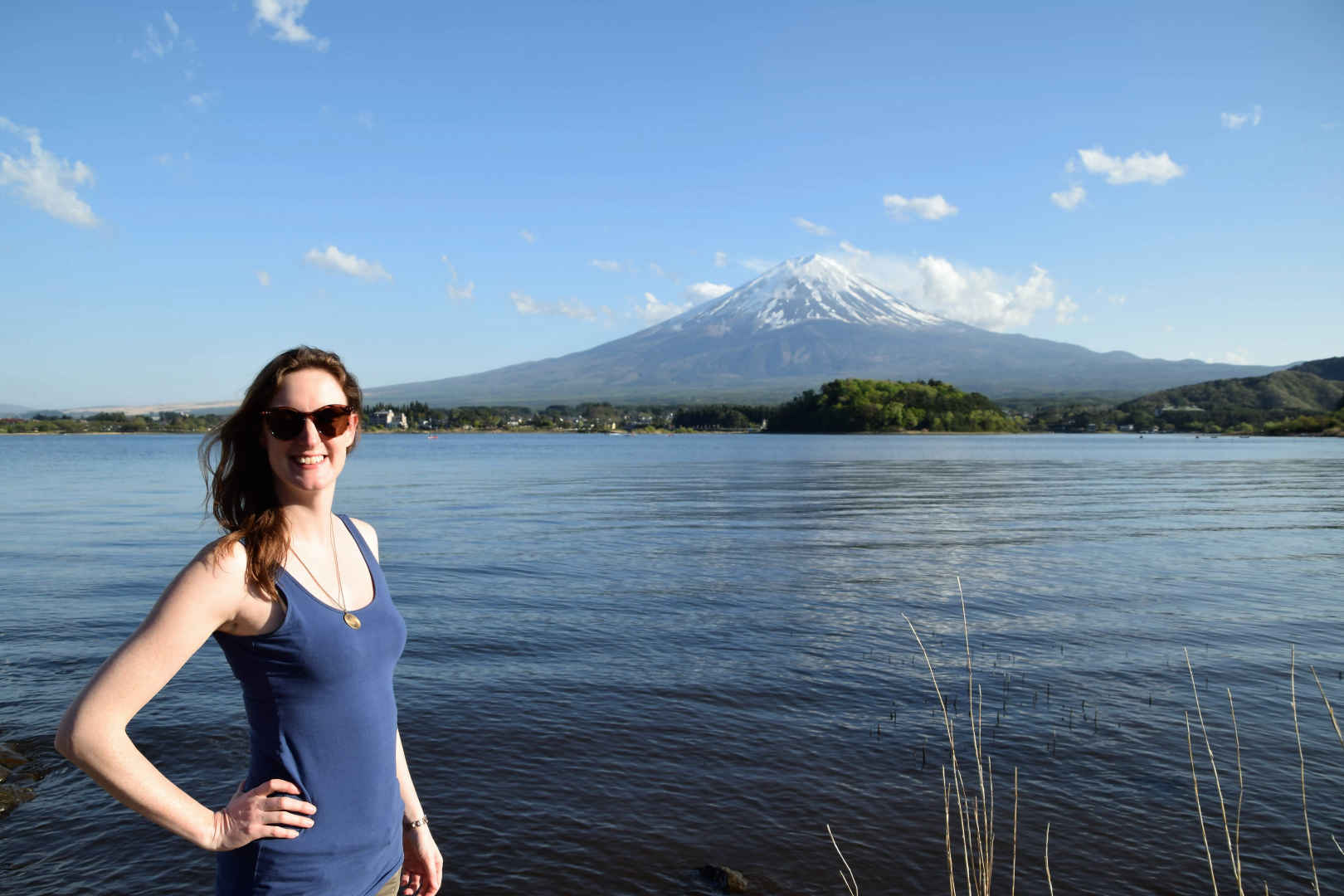 What to wear in Kyoto
Kyoto is 450 km southwest of Tokyo and takes 3.5 hours on the bullet train. This ancient city is a great place to go clothes shopping, as it has many stylish street fashion stores. Its history as a centre of Japan's weaving industry means it has a proud tradition of producing kimonos. If you are interested to try one on, Kyoto is the place to go, as there are many kimono rental shops here and you will see locals and tourists alike wearing them.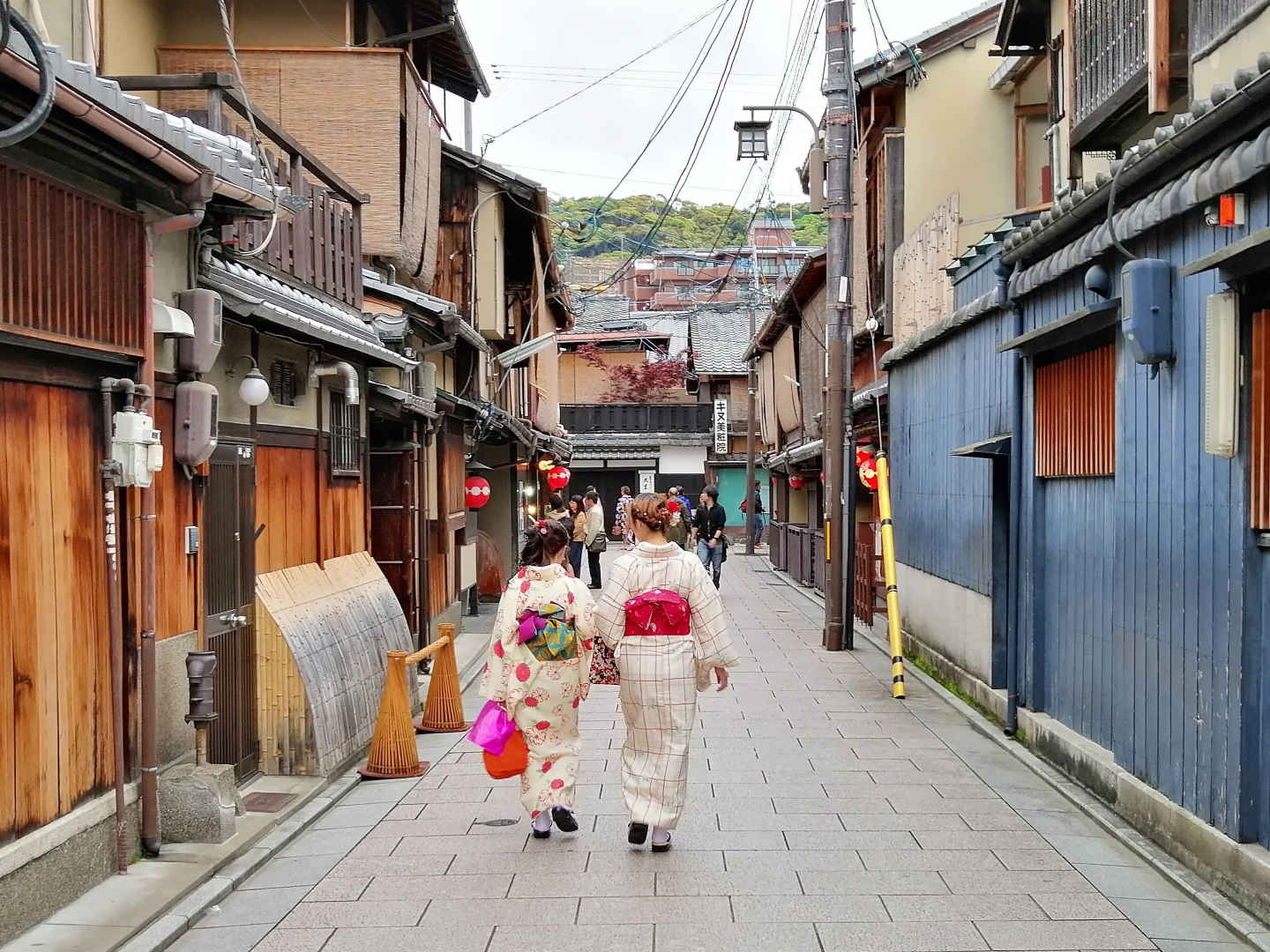 The weather when we visited Kyoto in April was quite cool, as we walked around the famous gardens and bamboo forest in the city's Arashiyama district. Here, I wore a knitted jumper, combat trousers, boots and a light scarf.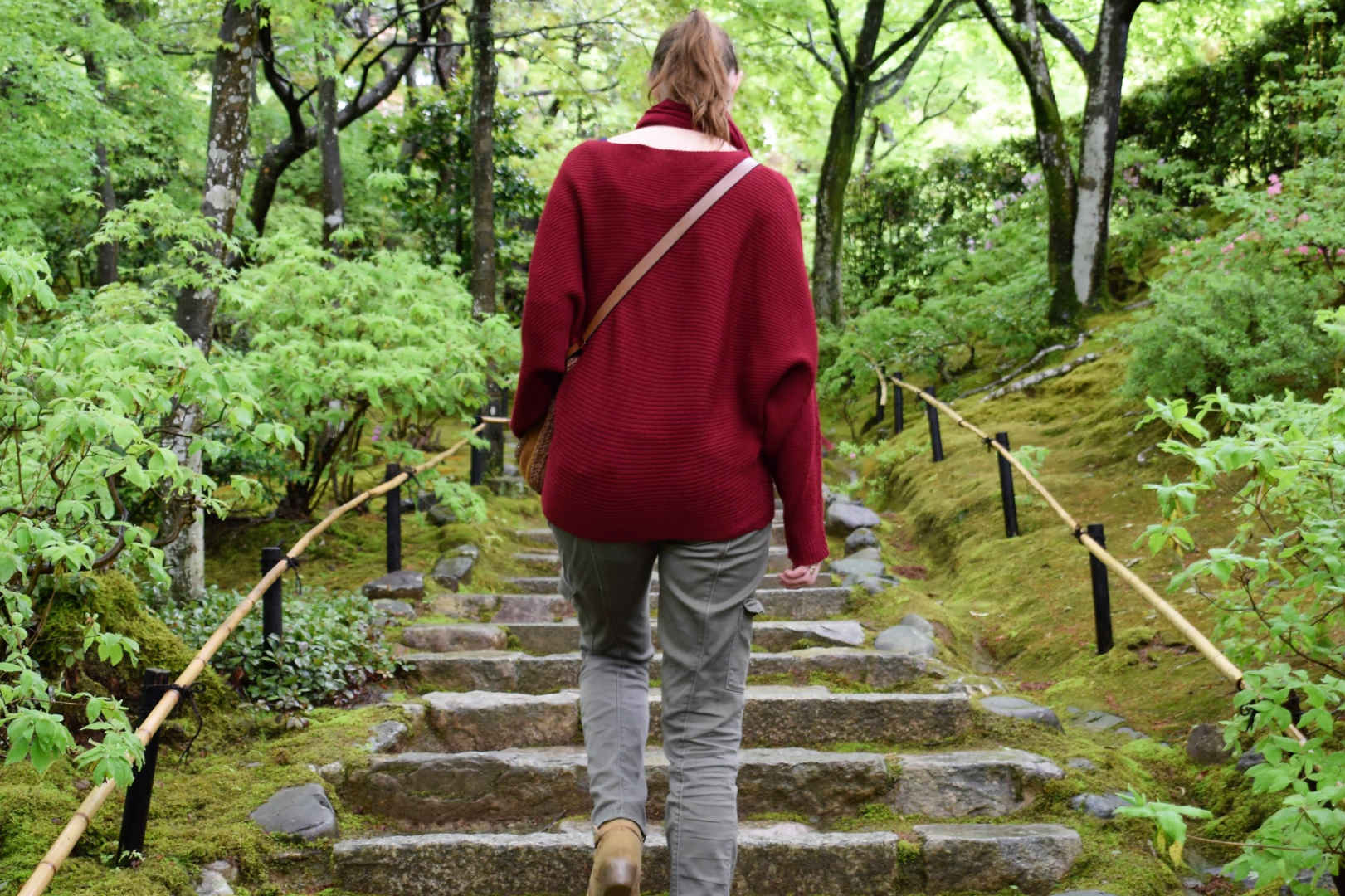 What to wear in Osaka
One hour south of Kyoto is Osaka. Here you will find streets lit up at night by enormous, colourful neon signs, as well as tasty street food and the 16th century Osaka castle.
Here, I wore a floral satin maxi dress that I had dug out from the back of my wardrobe, which I layered up with a sweater and scarf. When I was asking myself what should I wear in Japan, I felt inspired to pack this dress, but I wasn't sure if it looked too much like an homage to the kimono.
I wore opaque tights underneath, as I was also self-conscious about the split of this wrap dress at times, but otherwise it was suitably modest in length and comfortable to walk around in. Either way, when a Japanese passerby came up to me to say how much they liked my outfit, it made me feel more confident wearing it.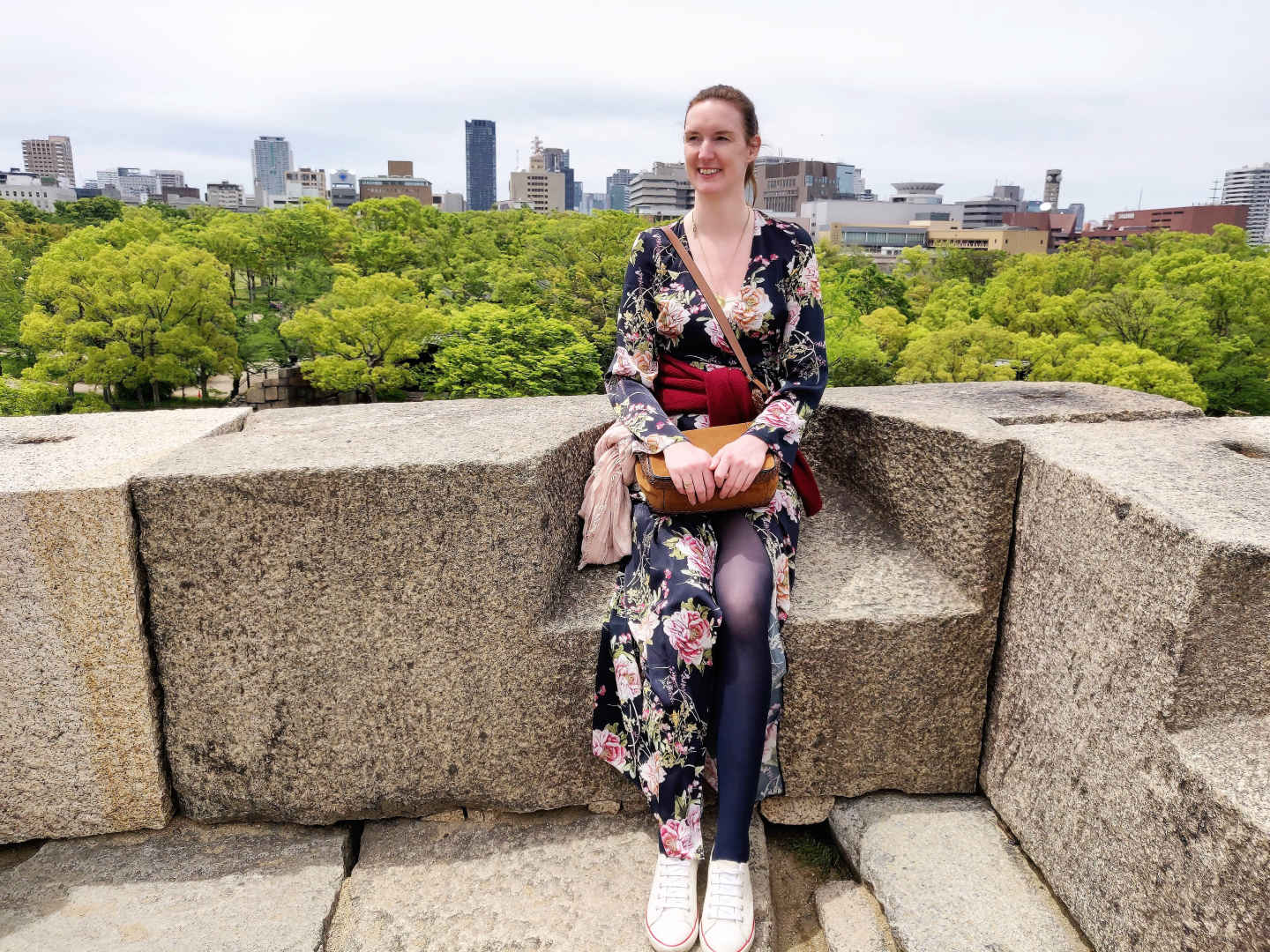 What to wear in Hiroshima
Four hours west of Osaka, Hiroshima is well worth visiting. It has a tragic history after being obliterated by the United States in an atomic bombing during the Second World War, which instantly killed 80,000 of its citizens. Since then, Hiroshima has been rebuilt into a lovely city that is a pleasure to wander around, with modern urban buildings and tourist attractions like the reconstructed Hiroshima Castle. Surrounded by leafy trees and moats, this is now a museum of Hiroshima's pre-World War II history. The weather was mild and cloudy in Hiroshima in April, so I wore a vest top and combat trousers with a cardigan.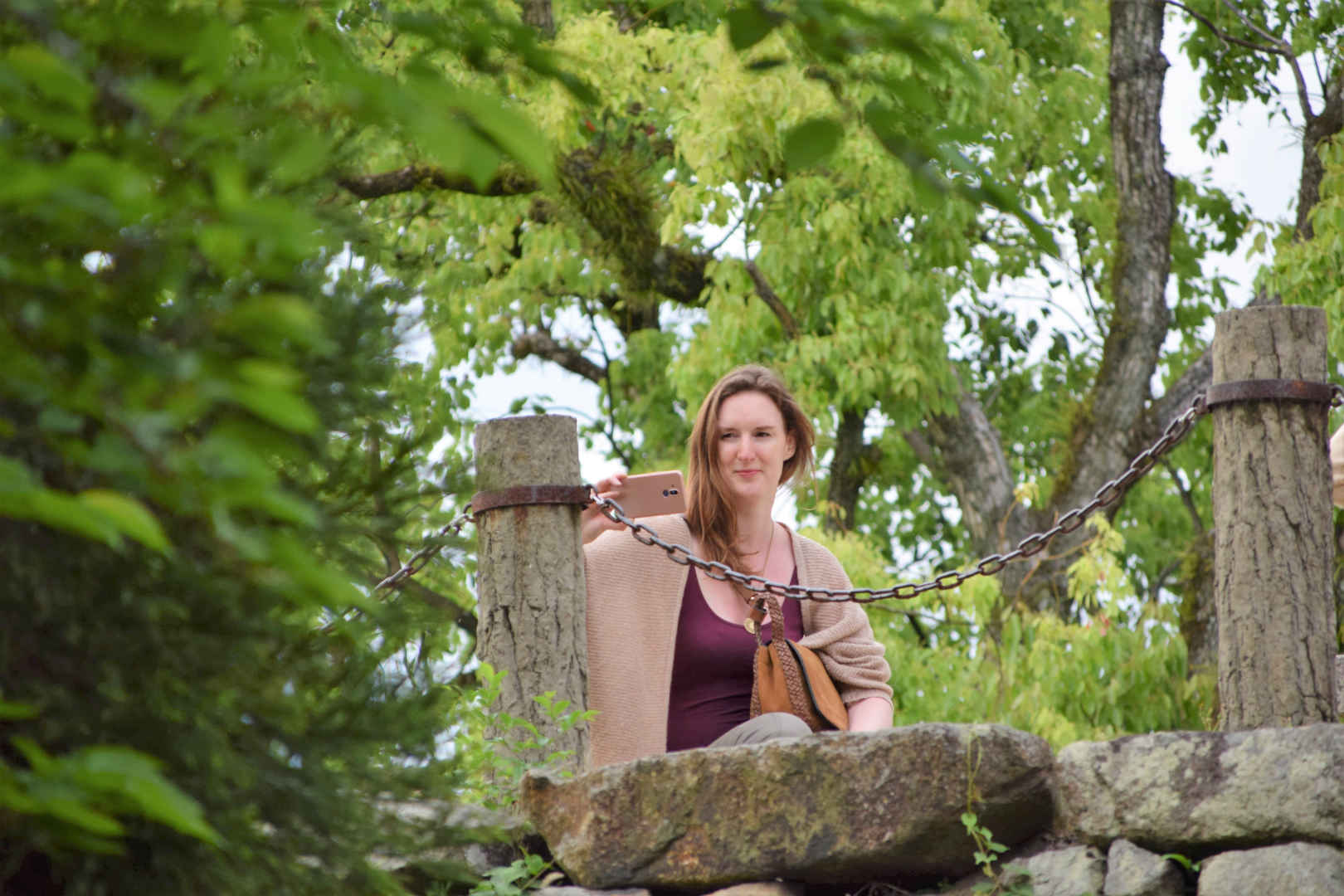 Close to Hiroshima is the island of Miyajima, famous for its giant 'floating' torii gate. Here in April, we had warm sunshine but the sea breezes made it feel cooler at times.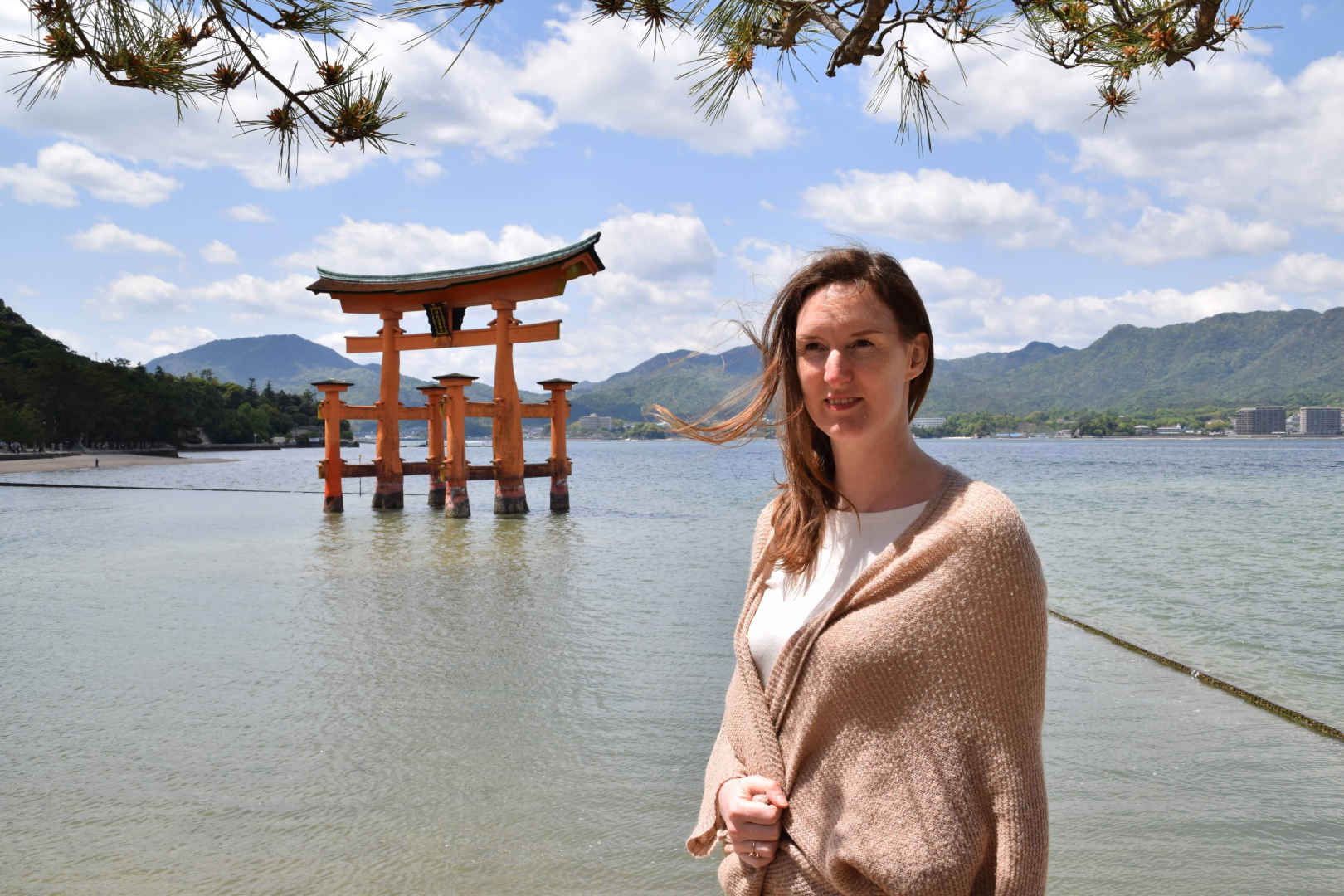 What to wear in Okinawa
When considering what to wear in Japan during spring, you definitely need to consider where in Japan you are going. On our trip, we spent a few days on the Okinawa islands, which are about 400 miles (640 km) south of mainland Japan and have a humid subtropical climate.
April is one of the best times of year to visit Okinawa as it's not yet rainy season and there's a low chance of typhoons. The beaches are open but it's not hot and humid, with maximum temperatures in the low to mid 20s.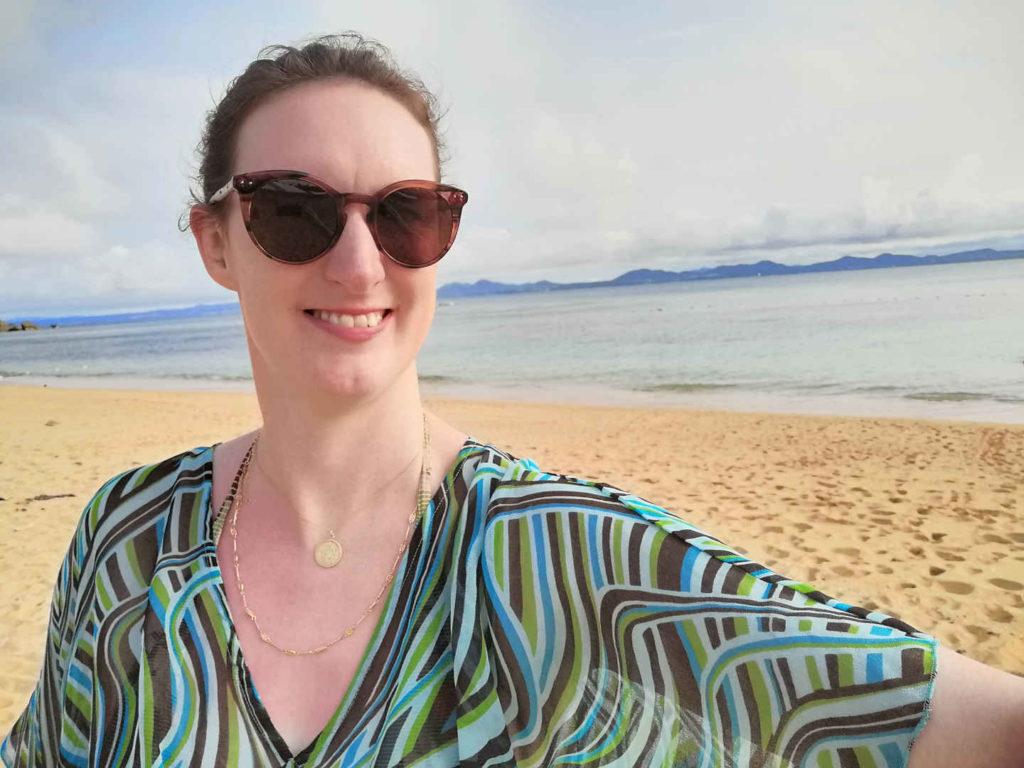 What to wear in traditional Japanese accommodation
When we visited the city of Nagasaki, we stayed in a ryokan, a type of traditional Japanese accommodation with basic decor, tatami mats on the floor and a folded up futon to sleep on. Here, you are provided with a yukata to wear. Literally translating as 'bathing clothes', the yukata is a lighter and more casual cotton kimono-style robe. Intended as both as a bathrobe and as loungewear, it can be worn at all times during your stay, even to bed.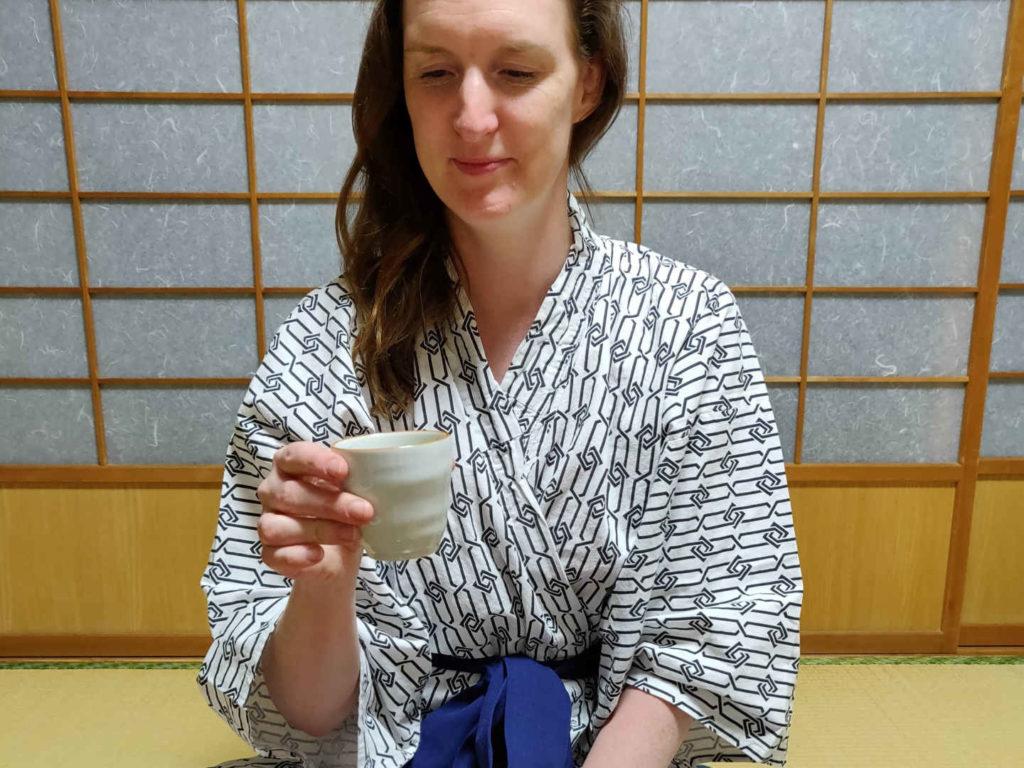 Even when you are not staying in a ryokan, one thing you don't need to bring to Japan is nightwear. Many hotels provide cotton pyjamas or nightrobes, so you can sleep and relax in comfort.
If your accommodation has a public Japanese bath, called an onsen, they will often also provide guests with a yukata and slippers for you to wear as you go from your room to the onsen.
Final thoughts on April in Japan and what to wear
The spring is a great time to visit Japan, thanks to its flower festivals, cherry blossoms and temperate weather. The main thing to remember about what to wear in Japan in April is to bring layers and wear comfortable shoes.
This will mean you can walk around all day, seeing all of the incredible places to go. You can easily end up covering miles on foot, even when taking advantage of the great public transport system. In any case, you don't want to spend too much time underground and miss stumbling across the beautiful shinto temples. Wearing layers, such as a light jacket or cardigan, means you will be fine in the changeable spring weather.
Finally, don't miss the opportunity to wear some of Japan's traditional clothing such as the kimono or yukata, even if it is simply in the comfort of your room.
Next up, read my recommended itinerary for an incredible 3 weeks in Japan.