On a Kenya backpacking trip, your safari dreams can come true.
You can spot the 'big five' game animals in the famous Maasai Mara national reserve and appreciate once-in-a-lifetime moments, such as watching a lion pride in the wild at breakfast-time. You can meet the Maasai people in their village and learn about their customs and lifestyle. And if you're really lucky, you can even witness hundreds of animals on their Great Migration.
In this dedicated Kenya travel blog post, I will share what you can experience here. Read on to find out all about backpacking Kenya.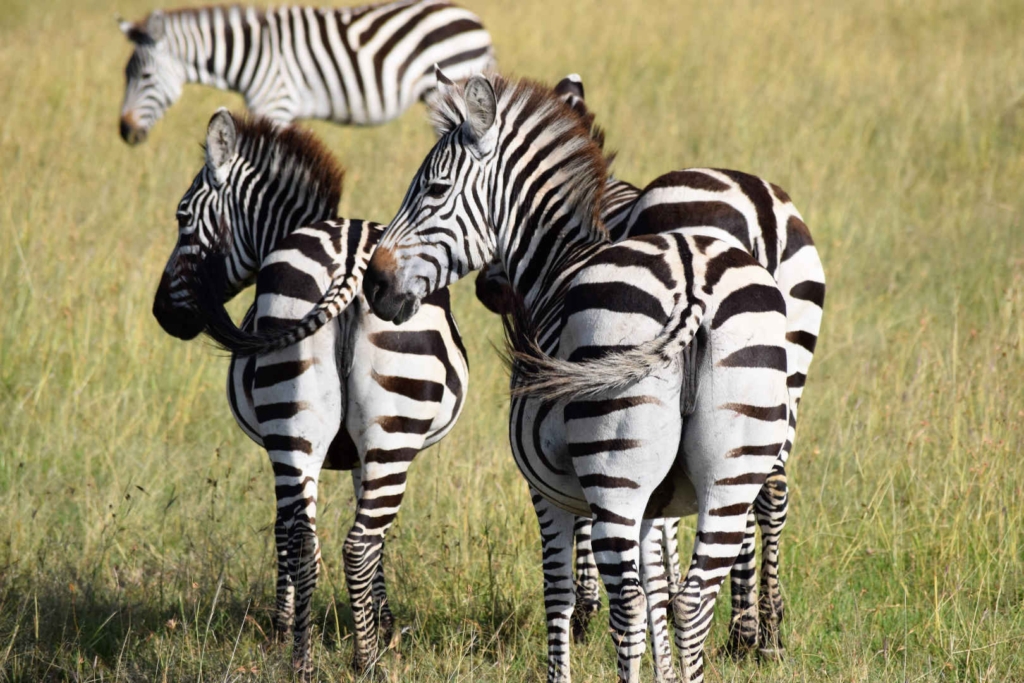 This post may contain affiliate links. That means, if you make a purchase, I may receive a small commission. As an Amazon Associate I earn from qualifying purchases. For more information, read my disclaimer.
Planning your Kenya backpacking itinerary
My trip backpacking Kenya and Tanzania started off in Kenya's capital city of Nairobi, where my international flight landed. This is where your Kenya itinerary is likely to begin.
If you are looking for an affordable Nairobi hotel with loads of character, check out the awesome Acacia Tree Lodge.
From Nairobi, you can take several action-packed day trips to keep you entertained. These include the Giraffe Center with its Instagram-famous Giraffe Manor, where you can feed these long-legged lovelies, and the Karen Blixen Museum, where you can discover her life story that inspired a multiple Oscar-winning movie, Out of Africa.
Read all about the best day trips from Nairobi.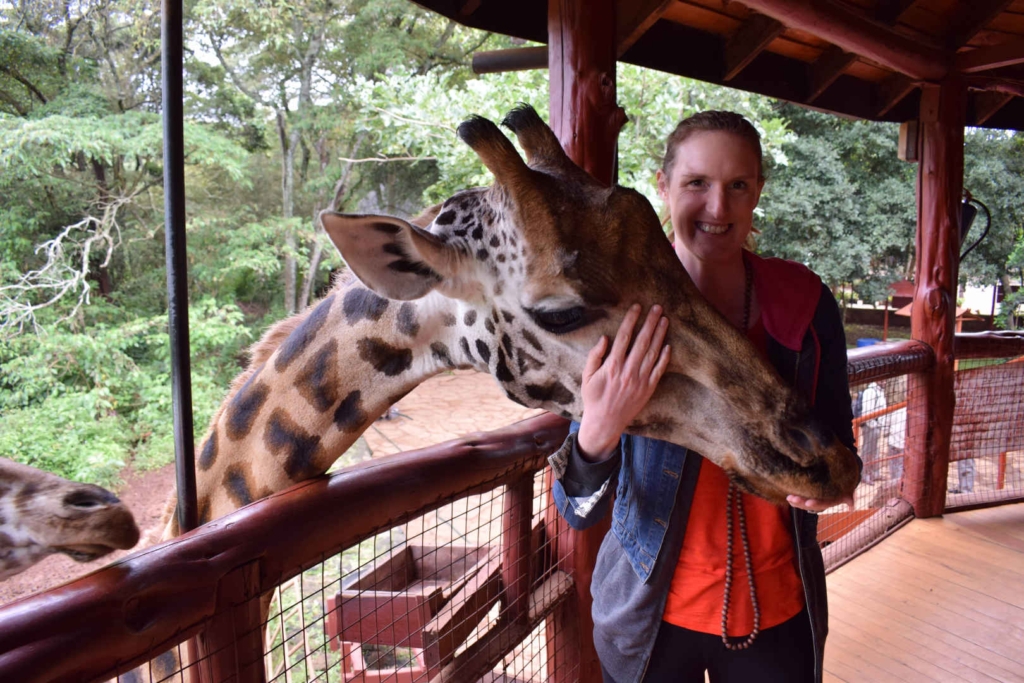 Safari tour
You may be wondering, is Kenya cheap for a safari trip? The answer, unfortunately, is no. If you're backpacking in Kenya on a budget, it's best to book a group tour, because otherwise the high fees to enter the national game reserves, plus the drives to see the animals, as well as the expensive food and accommodation in the parks will soon mount up.
From Nairobi, I joined a Dragoman overland tour for the Kenya safari itinerary itself. On this tour, costs were kept down as we mostly stayed in tents and prepared packed lunches to eat every day. The tour guides navigated the Kenya backpacking route, leaving you to relax and enjoy the savannah views.
Coincidentally, the first creatures I saw in the wild were giraffes. The first thing that surprised me is that you can see these beautiful tall animals sauntering around not far from the road, even before you've entered the Maasai Mara National Reserve.
Unlike being in a zoo, this is the animals' land and we were just visiting. There are no fences or barriers. Sometimes the giraffes would just walk around on the road, seemingly undisturbed by the presence of the vehicles.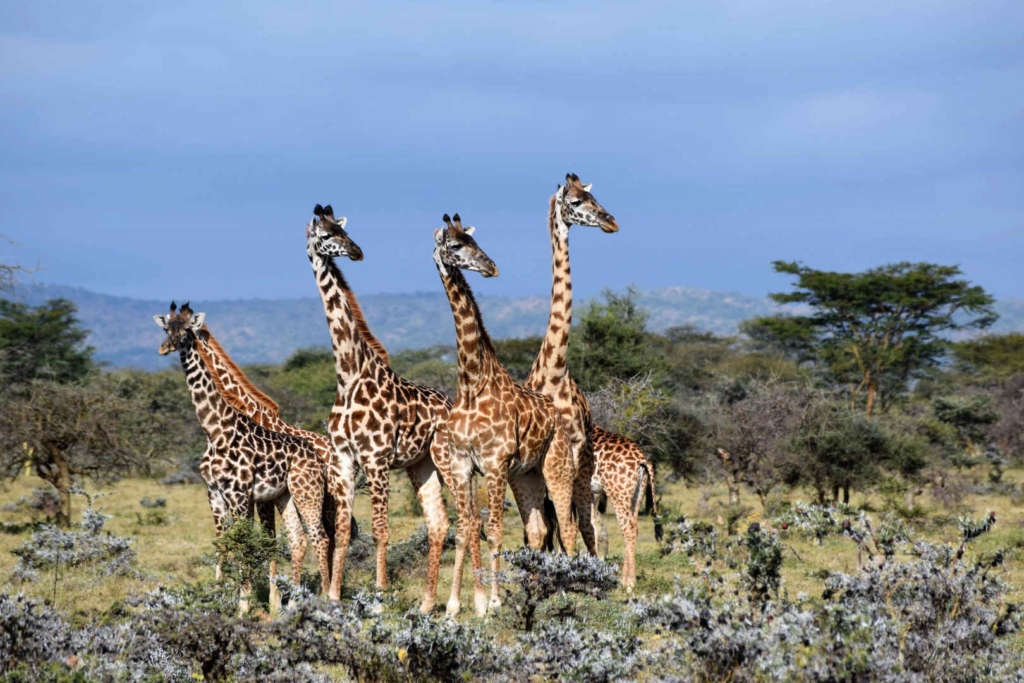 The Big Five – and many more
While the aim is to see the 'Big Five' – referring to the African game animals said to be most difficult to hunt – we saw so many more creatures than I was expecting.
The five named are the African lion, African elephant, Cape buffalo, African leopard and rhinoceros.
We were lucky enough to see all of these on our trip.
We also saw birds of prey, colourful lizards, monkeys, pink flamingos, crocodiles, African buffalo, enormous hippos and leggy ostriches.
Lions' breakfast time
One morning on our tour required a particularly early start, in order to see the animals feeding as the sun rose.
Some lionesses had just killed a wildebeest, so as the male lion tucked into the feast, the females gathered the lion cubs and the rest of the pride to tuck into their share of the kill.
It was a one of the most memorable parts of my Kenya backpacking trip.
The Great Migration
We were extremely lucky to see the Great Migration. Every year, hoards of zebra, Thomson's gazelle and wildebeest walk the 500 treacherous miles (800 km) from Tanzania to Kenya to find comfortable places to graze during the dry season.
After calving in Tanzania during the spring, around 1.7 million wildebeest move northwest, arriving in Kenya in July or August. They are joined by a quarter of a million zebra and just under half a million gazelles.
Once the rains begin in November, the migration starts moving south again.
It was incredible to see this natural phenomenon for ourselves and at one point we were surrounded on all sides by these magnificent journeying creatures.
Maasai Mara village
One the final day of our Maasai Mara tour, we visited a local Maasai village, which was a real privilege. The men of the village performed a captivating and rhythmic welcome dance and song for us, before inviting two of the men from our group to join them.
Dressing them up in the traditional blankets, with headgear and a stick, the Maasai asked the men to jump. Leaping high is seen as a sign of prowess and could help you win the heart of a Maasai woman – along with a few cows as payment for her family.
I wondered if the men would be too hot in the red Maasai blankets they had wrapped around them. But I bought my own and soon realised how useful they are. In the heat of the day, these blankets protect your skin from the sun, wind and dust, while during the cool nights they keep you warm. We ended up using ours every day of our trip from then on!
The Maasai villagers explained to us their lifestyle, including how every nine years they need to relocate their village because termites attack their mud homes. There are around 840,000 Maasai people in Kenya and another 800,000 in Tanzania.
While the men of the village are usually warriors or farmers, the women raise the children, cook, milk the cows and construct the mud houses, which bake hard in the sun. We were invited into one family's home, which was pitch black, without any natural or artificial light. We had to wait a while until our eyes adjusted to the darkness. The home consisted of a room for the parents, one room for all the kids and another for their cow to stay in at night-time, otherwise it could get attacked by one of the Maasai Mara National Reserve's many predatory animals.
Reflections on a Kenya backpacking trip
My Kenya backpacking trip and the Maasai Mara safari was a fantastic experience and I'm grateful to our tour guide and group of adventurers, who made it an unforgettable few days. It was well worth joining a tour group and I made new friends from around the world, as we shared this trip of a lifetime in Kenya.
Next up, discover more safari adventures in my post about backpacking Tanzania.