From eye-popping architecture to world-famous Surrealist art, Brussels has more to offer than the beer, chocolate, waffles and moules-frites it is best known for. Scratch the skin of Belgium's capital city and beyond the political workings of its European Union institutions, you'll find a place that doesn't always take itself so seriously. According to Vogue magazine, it is 'the charming, quirky capital you need to visit now', so here is a round up of the most unusual things to do in Brussels.
Travel inside a giant metallic atom
Brussels is home to one of the world's craziest pieces of architecture, The Atomium. It is designed to look like nine iron atoms in a unit cell magnified 165 billion times. In 2013, CNN quite rightly named it Europe's most bizarre building.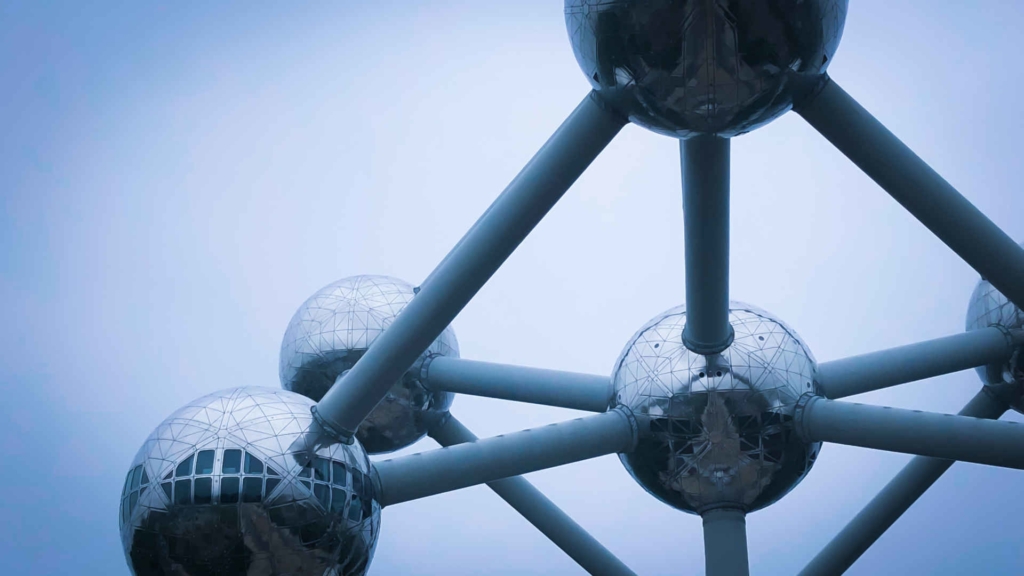 Built in 1958 for that year's science-themed World's Fair, this striking 102-metre tall construction is a Brussels icon. It is comprised of nine 18-metre diameter stainless steel spheres, connected by interlocking tubes. Each giant silver ball hosts an exhibition while the top ball contains a restaurant with 360 degree panoramic views over Brussels.
In the evenings, the whole building lights up beautifully and it occasionally hosts large dance parties and firework displays. This unique piece of architecture is one of Brussels' most popular attractions.
Avoid the queues by booking your admission ticket to The Atomium in advance.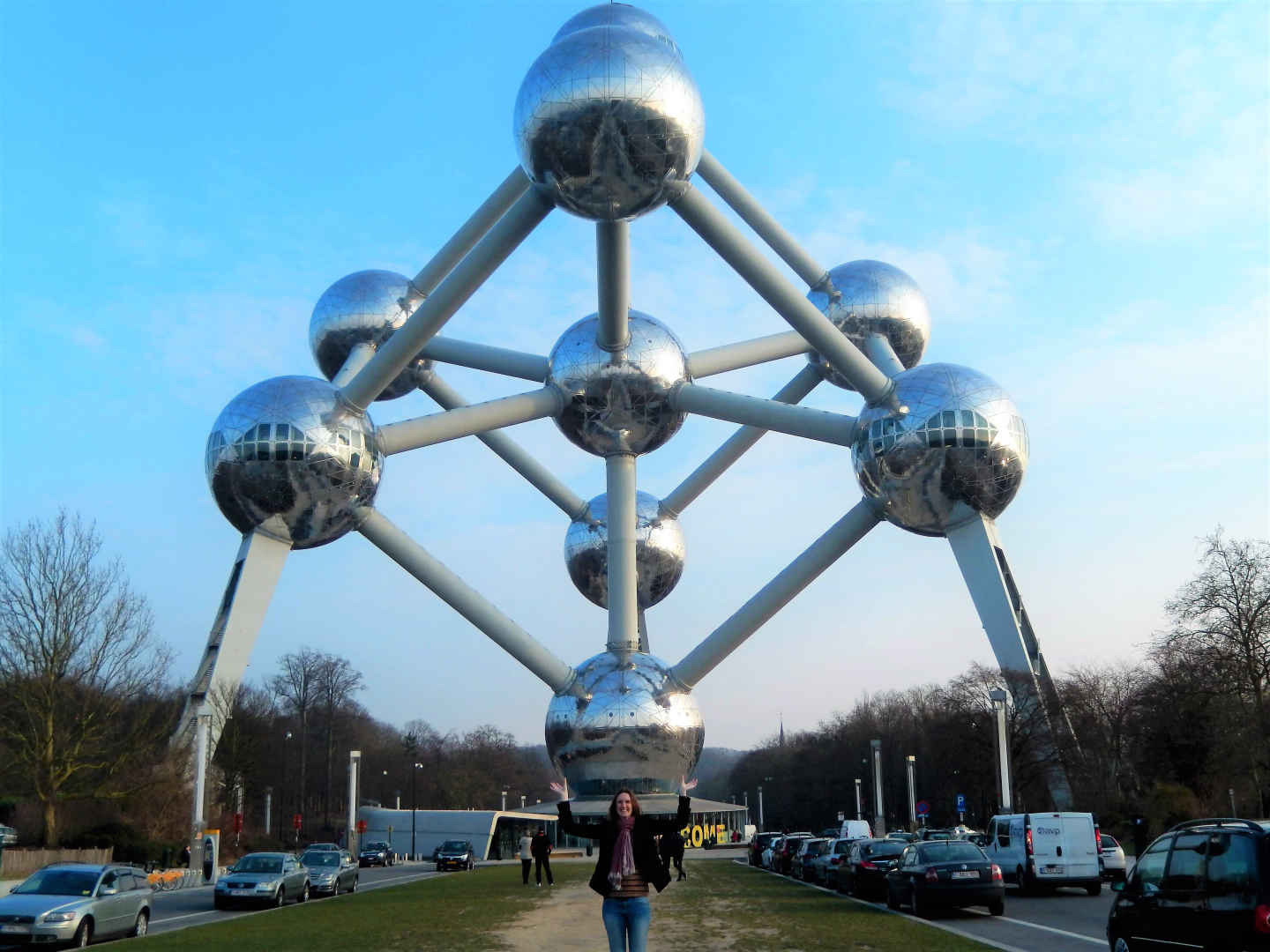 Feel like a giant walking around tiny versions of European cities
Home to the European Union's decision-making institutions, Brussels is considered the capital of Europe. So where better to have a theme park where you can walk around tiny replicas of all the European countries?
At Mini Europe you can find many of the continent's most famous landmarks in miniature, reduced to a 25th of their real-world size. Of course, being Brussels, this attraction is located right next to the The Atomium's massively oversized atom: evidence of surreal city planning at its finest.
Skip the queues at Mini Europe: buy your ticket in advance.
Explore Mini Europe and you will discover reproductions of around 80 cities and 350 buildings, including France's Eiffel Tower, Germany's Berlin Wall, Rome's Acropolis and the UK's Houses of Parliament, complete with tiny anti-Brexit protestors waving placards outside.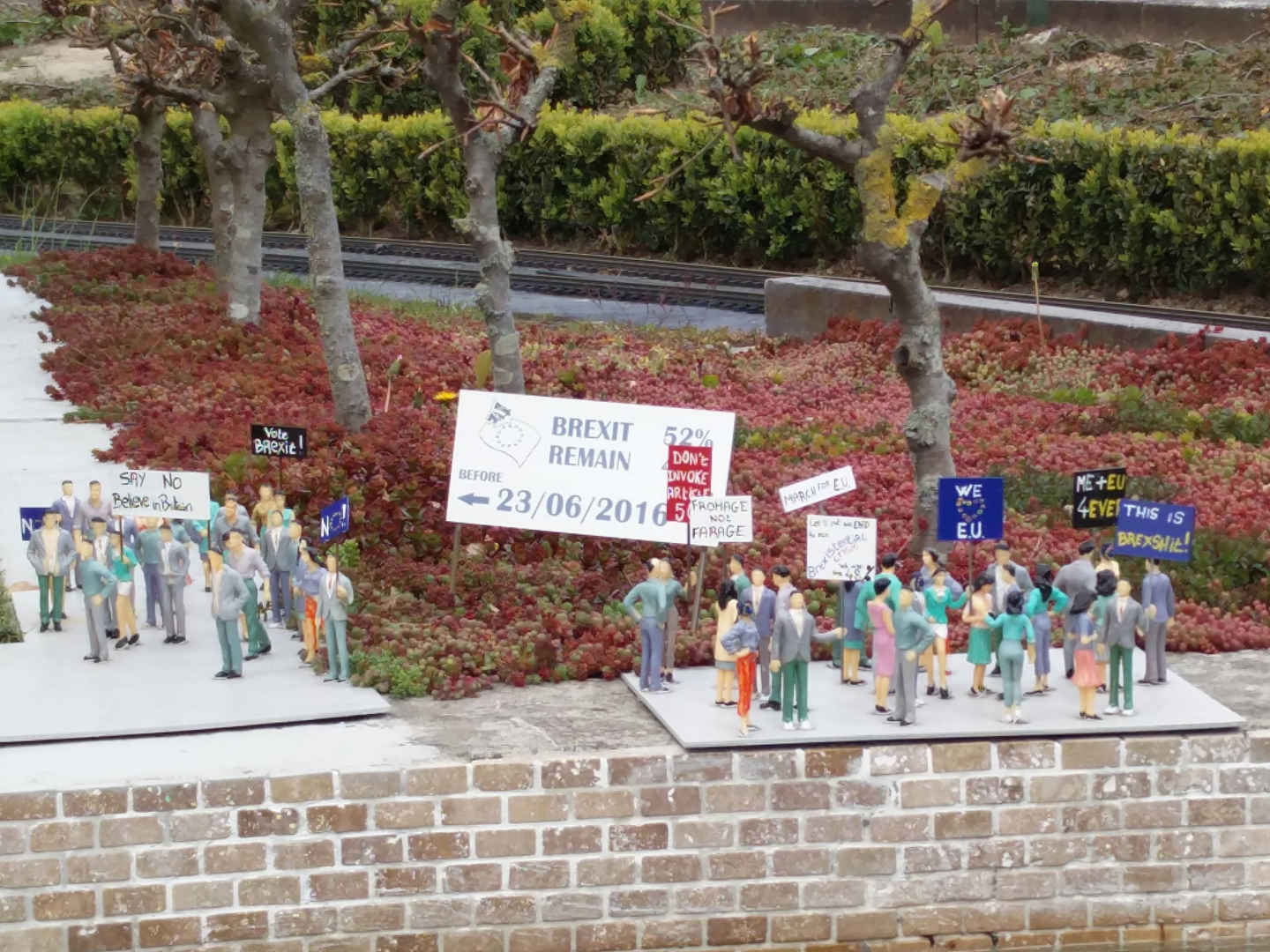 There is plenty here to catch your eye, from tiny trains speeding past, to spinning windmills, an erupting Mount Vesuvius and flying cable cars. You could spend hours here, spotting all the quirky and cool details of each country that the creators have included.
Discover Belgium's most famous surreal artist
Born in 1898, René Magritte was a world famous Belgian Surrealist artist, known for his paintings depicting everyday people and objects in a surprising and thought-provoking way.
Magritte's pioneering work preceded pop art, minimalist and conceptual art and it is still displayed in major galleries and museums around the world today. The Magritte Museum in Brussels is dedicated to the life and works of this quirky artist.
He painted one of his most famous works, The Treachery of Images, in 1929 when he was 30. Underneath this simple painting of a tobacco pipe are the words Ceci n'est pas une pipe, meaning 'This is not a pipe'.
Magritte's aim was to create poetry through art. He is highlighting to the viewer that what he painted isn't a pipe. It's merely a visual representation of a pipe. We shouldn't always take what we see literally and assume it's the truth: an important concept in today's post-truth world of fake news.
Buy the Brussels Card for all-in-one admission to the Magritte Museum and 40 more Brussels museums, including all public transport around the city.
Another one of Magritte's famous masterpieces is The Son of Man. Painted in 1964, it depicts a man in an overcoat and a bowler hat (actually a self-portrait), facing the viewer. The man's face is almost entirely obscured by a floating green apple. Magritte said about his intriguing painting: "Everything we see hides another thing: we always want to see what is hidden by what we see."
In fact, green apples are a common motif in Magritte's work. In the 1960s, Sir Paul McCartney was inspired by Magritte's paintings when he named The Beatles' record company Apple Corps. This in turn prompted Steve Jobs to name his fledgling business the Apple Computer Company.
Explore huge cartoon walls around the city
Belgium is the birthplace of world-renowned cartoons including The Smurfs and The Adventures of Tintin. The Adventures of Tintin author Hergé (the pen name of Brussels cartoonist Georges Prosper Remi) died over 30 years ago, but his comic books still sell a million copies a year and they are published in 77 languages.
In 1991, the Brussels local authorities joined forces with the Belgian Comic Strip Center to create a project to cement Brussels' position as the comic strip capital of the world.
The result is Brussels' comic strip walk. Throughout the city, there are over 50 large comic strip murals on building walls featuring characters from some of the best-loved Belgian comics, from Tintin to Lucky Luke. Following the comic book trail is a good way to discover Brussels. A map is available for around €1 from the visit.brussels tourist information centres.
Belgium celebrated the 90th anniversary of Tintin in 2019 and you can find his mural on Rue de l'Etuve, close to the city's famous Manneken Pis statue -read more about this below.
For access to 41 museums including the Belgian Comic Book Center, check out the Brussels Card.
Discover the city's 'peeing' statues
Brussels's most famous statue is the Mannekin Pis, which in Dutch means 'Little Pisser'. As the name suggests, this bronze sculpture depicts a small naked boy urinating into a water fountain. For such an iconic statue, it is smaller than you might expect, standing at just 61 centimetres tall.
This celebrated statue in the heart of Brussels is on the corner of Rue du Chêne and Rue de l'Étuve. It dates back to the 17th century, but the version seen here today by tourists is actually a copy. The original is kept in the Brussels City Museum in the nearby Grand Place to avoid theft.
There are several stories behind this strange statue. One of the more plausible explanations is that during the Middle Ages there were many leather workshops in this part of Brussels. The workers would encourage local children to urinate on the leather, as the ammonia contained in urine made the leather more supple and helped with the tanning process.
Discover the Mannekin Pis and more top Brussels tourist attractions on this popular guided bus tour.
The Manneken Pis is regularly dressed in different outfits for special days, to represent national costumes or to celebrate local events. A schedule of his costume changes is posted on the fountain's railings. If you're intrigued to see his collection of mini outfits, you can view around a thousand of them in his very own walk-in-wardrobe, the Garderobe MannekenPis museum, which recently opened on the nearby Rue du Chêne.
If a statue of a boy peeing isn't unusual enough, there are more statues of characters relieving themselves in the centre of Brussels, but they are less likely to be surrounded by tourists.
The Jeanneke Pis, located on Impasse de la Fidélité, close to the famous Delirium bar, is a small statue of a little girl squatting to pee. Meanwhile, Zinneke Pis a bronze model of a dog lifting its leg to urinate on a bollard on the corner of Rue Saint-Christophe and Rue des Chartreux.
Sleep in a real train carriage on top of a building
If you like accommodation with a difference, book a night at the Train Hostel in Brussels, where you can sleep inside real train carriages. One of them is even perched right on the rooftop.
Located next to the Train World museum in Brussels, around 15 minutes by public transport from Brussels city centre, this hostel is a haven for train lovers and people who enjoy staying somewhere out of the ordinary.
Check the latest prices and availability for the Train Hostel here.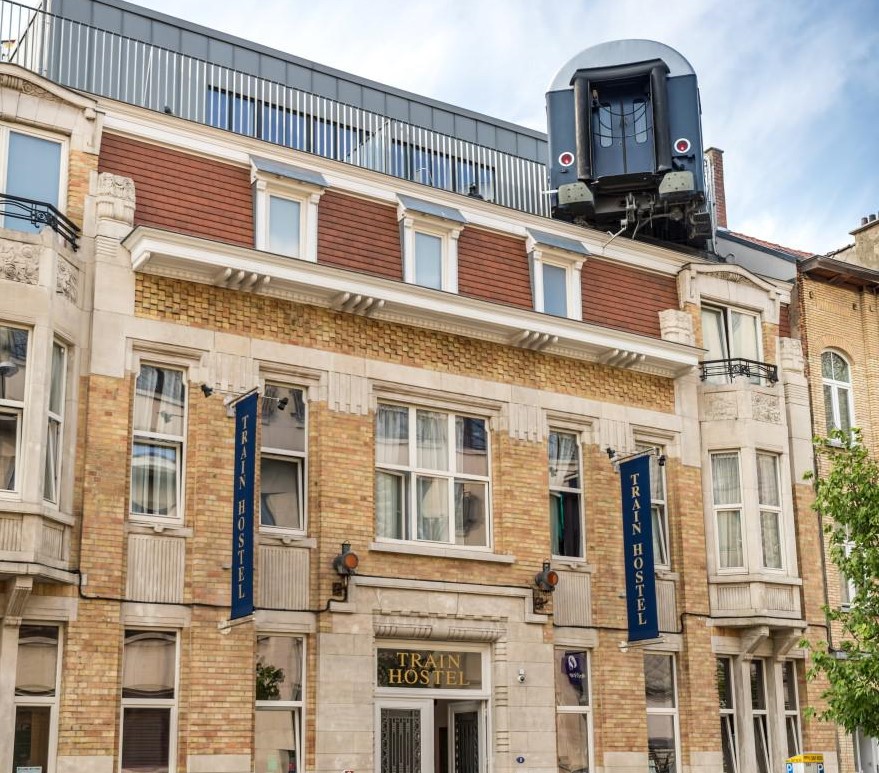 This boutique 200-bed hostel, which opened in September 2015, has two genuine historic railway carriages, stylishly renovated with authentic artifacts. The 100-year-old building contains train-themed dorm rooms, private rooms and apartments, as well as a converted sleeper train cabin, which has bunk beds for six people. For something extra special, one or two people can have a luxury retro carriage to themselves.
Book a night at the Train Hostel by clicking here.
Why are there so many unusual things to do in Brussels?
Dating back to 1925, the Surrealist cultural revolutionary scene in Belgium was second only to the French movement. Surrealism remains a proud part of the Belgian national identity, so it's no surprise that there are so many quirky and unusual things to do in Brussels.
Born from disillusion following the horrors of the First World War and inspired by Freud's newly published studies into free association and dream analysis, Surrealism juxtaposed realism with illogical, unconscious imagery to disrupt conventional thinking, liberate the imagination and create a 'super-reality' or 'surreality'.
Take a trip to Brussels, known as the capital of Europe, and you will discover the Belgians' famously surreal sense of humour through its quirky architecture, museums, accommodation and tourist attractions.
Visit Brussels on a fabulous 15-day group tour of Europe from Barcelona to Berlin.
The best ways to get to Brussels
Brussels has an international airport with many airlines operating affordable flights to the city.
If you are travelling from within Europe you can reach Brussels by train on the comfortable and fast Eurostar and Thalys rail networks. If budget is your priority, cheap long-distance buses to Brussels are operated by Eurolines and FlixBus.
Next, read more about the cheapest way to travel from London to Brussels.