Wondering what to do in Bruges if you only have a day? I live in Belgium and Bruges is one of my favourite places to go for a day trip, as it is easy to explore and never loses its charm. Here is the most beautiful one day in Bruges itinerary.
How to plan your one day in Bruges itinerary
The historic centre of Bruges is only around 1.5 miles (2.5 km) in diameter and only takes around 45 minutes to explore on foot. This means you can take your time on your one day in Bruges itinerary. That said, it is worth researching in advance to check if there are any attractions you'd particularly like to see. This Bruges travel blog post will give you an overview of some of the best.
If you would like help finding your bearings in the city, why not book a guided rickshaw tour of Bruges, which is a pleasant way to take in all the sights.
Otherwise, you can walk straight to the main tourist centre, Grote Markt. From here you can easily reach all the best places to visit in Bruges. Read on to find out more.
Discover all the attractions of Bruges on this top-rated one-day guided tour including transfers from Brussels.
Get your bearings in Grote Markt
The first thing most visitors head for when they arrive in historic Bruges is its large central square, or Grote Markt in Flemish. As you approach the square, the first thing you will notice is the 83-metre tall Belfry of Bruges.
Entering the square, you'll take in the grand neo-Gothic Provincial Palace and the region's distinctive crow-stepped gable buildings. This UNESCO World Heritage Site is completely free of traffic except for the horses and carriages which clop around the cobblestones, taking tourists for a ride (priced at around €50 for 30 minutes).
Check the latest prices and availability of guided rickshaw tours of Bruges.
Climb Bruges's famous Belfry Tower
Built in 1240, the Belfry of Bruges is the medieval tower that dominates the Grote Markt. Previously the city's observation deck and treasury, the belfry still serves as a clock tower, complete with 47 bells. It was featured heavily in the popular 2008 movie In Bruges.
You can climb the 366 steps to the tower's summit and take in the panoramic views across the city. However, the queue of tourists is usually long with a half-hour wait before you've even got inside, so you'll need to decide if you have time to include this in your Bruges day trip. Open year round, seven days a week, except for major holidays, tickets to the belfry cost €12 for adults.
Immerse yourself in the magical Historium Bruges
One of Bruges' newest tourist attractions is also one of its best, for visitors of all ages. Historium Bruges opened in the Grote Markt in 2012 and is now one of the city's most popular places to go. This attraction uses the latest immersive and virtual reality technology to transport you to the time of city's Golden Age.
It invites you to follow the story of Jacob, a fictional pupil of the Northern Renaissance painter Jan van Eyck, at their workshop in 15th century Bruges. An audio guide sweeps you along a romantic story based on Van Eyck's masterpiece Virgin and Child with Canon van der Paele.
As you walk through the multimedia rooms, digital film, animatronics, props and even aromas bring to life the dramatic story, van Eyck's art and medieval Bruges, for a truly multi-sensory experience. I thoroughly enjoyed this creative and ambitious exhibition and it's clear they have invested millions and taken several years to perfect it.
Avoid the queues and book your ticket to Historium Bruges in advance.
After the audio-visual experience, you can walk through more traditional exhibitions to read about the history of Bruges and get to know Jan van Eyck's works and inspiration. For beer lovers, there's a Duvelorium bar serving Belgium's famous Duvel beer and a first floor balcony where you can admire the beautiful square.
Enjoy a drink in the bar and admission to the Historium with this skip-the-line ticket.
Back on the ground floor near the entrance, is the Historium Virtual Reality centre. It's not well-signposted but well worth locating. Sit in the booth, put on the VR headset and you will be taken back to 1435 on a virtual voyage around Bruges canals during its trading days and the enormous Water Hall storage depot that for five centuries stood at this spot in the Grote Markt.
The Historium Bruges is open daily from 10am to 6pm. Allow around two and a half hours for your visit. 
Combine the Historium and the incredible Bruges VR experience by booking in advance here.
Explore the canals by boat
The canal network and bridges that run through Bruges are particularly pretty.  From March to mid-November, depending on the weather, there are Bruges canal boat trips available for tourists.
Running daily from 10am to 6pm, the boats regularly depart from five locations around the city and the trips last half an hour. As I experienced on my trip to Ghent, these guided boat tours are informative, fun and give you a unique perspective on the city and its impressive history. Tickets are €10.
As night falls, Bruges lights up, casting a magical warm glow across the medieval houses and canals. It's so romantic and well worth staying until the evening to experience.
Stay for dinner and enjoy a special themed medieval banquet and show in Bruges.
Tuck into tasty Belgian snacks
When in Belgium, do as the Belgians do. It would be rude not to sample some of the country's legendary delicacies. As you wander around the city, you will see plenty of shops selling chocolate, waffles and fries. There's even a Choco-Story museum that explains the history of Belgian chocolate, with samples to taste, of course.
Check out this awesome 1.5 hour waffle-making workshop in Bruges.
There's also a museum about Belgian fries. The Frietmuseum outlines the snack's history, from potato to plate. Around the city, you will find stalls selling fries, which are carefully prepared to be both fluffy and crispy. They are usually eaten from a paper cone with a dollop of sauce. Naturally, Belgium also specialises in an impressive range of sauces that you won't find elsewhere. You can learn about these condiments too at the museum.
If you're looking for something to wash down your snacks with, it has to be a world famous Belgian beer. During Bruges' Golden Age, the city had 54 breweries. These days it's down to three working breweries. One of them, De Halve Maan, has been brewing beer since 1856 and offers tours and tastings. There are a number of beerhouses in the city, including the lively 't Brugs Beertje, which serves an astonishing 300 different Belgian beers.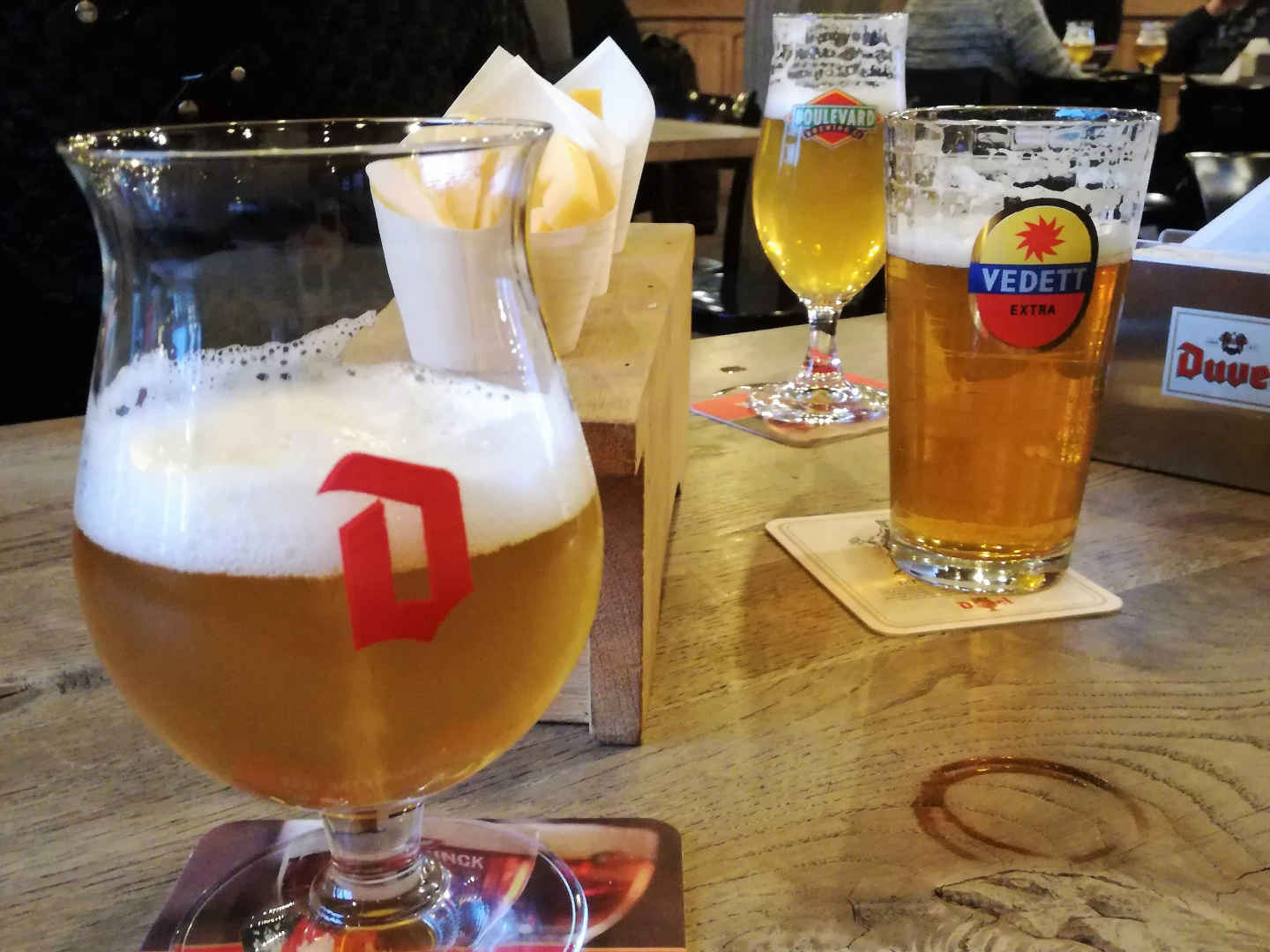 Restaurants in Bruges
As with most cities, try to avoid dining in the restaurants in the heart of the tourist areas. Bruges has many restaurants dotted along its small alleyways and quieter squares, where you can usually enjoy a better quality and value meal.
The best option for a mid-priced lunch is De Vlaamsche Pot, a rustic, slow-cooking restaurant. Here you can find all the traditional Belgian dishes, along with a good range of Belgian beers and friendly service.
For something a bit different, try the Belgian Pigeon House. As the name suggests, their speciality is roast pigeon, as apparently Belgium is also renowned for its racing pigeons. The restaurant's coal-fired oven means that whichever meat you choose, it will be tender and falling off the bone, as you dine in the venue's charming medieval cellar.
Where to stay in Bruges
If you decide that one day isn't enough – and who could blame you – why not splash out on a hotel in Bruges. The Hotel de Orangerie is a boutique venue set in a renovated 15th-century convent on a canal.
An interesting mid-price option is the Hotel De Barge, a hotel that used to be one of the barges that sailed the city's canals. It continues the boat theme with nautical-style rooms and it also has a restaurant.
A good cheap and cheerful hotel is the Ibis Budget Brugge Centrum Station, conveniently located next to Bruges train station. Backpackers may want to check out the Snuffel Hostel, which has modern dorms and private rooms with free breakfast.
Find out latest availability and prices of accommodation in Bruges here.
How to travel to Bruges
Bruges is around 1.5 hours by car from Brussels or you can take the train which takes about an hour and a quarter. A single ticket costs from €15 and there are special weekend deals which make the trip even more affordable. You can buy the ticket at the station or book your Brussels to Bruges train tickets in advance online.
From Bruges station, it's around a 15 minute walk into the city centre. The equally lovely Belgian city of Ghent is only 25-40 minutes away by train, while Antwerp is 1.5 hours away. From Brussels or Antwerp you can easily connect to many European cities, including Paris, Amsterdam and London, making Bruges an ideal place for a day trip or short break.
Check available dates and prices for a full day guided tour of Bruges from Brussels.
The golden history of Bruges
Once a thriving port city, the Golden Age of Bruges was from the 12th to the 15th century. During this time, international merchants would arrive by canal to trade everything from spices to wool.
In the Victorian era, Bruges became one of the world's first tourist destinations, attracting wealthy visitors from the UK and France to explore its grand medieval architecture, imposing towers and cute cobblestone lanes.
Thankfully, the city suffered almost no damage during the following century's two World Wars, so everything you see on your one day in Bruges itinerary is authentic.
Today, Bruges welcomes eight million tourists a year to its small and beautifully preserved historic city centre, which is now a UNESCO World Heritage Site. 
Thanks to Historium Bruges, who hosted my visit to their attraction. As always, my opinions are my own.
Now, read about how to enjoy a gorgeous day trip in Ghent here.