According to Vogue magazine, the historic city of Ghent in Belgium is one of Europe's best-kept secrets. There are plenty of things to see and do here, even if you only have one day in Ghent. I have lived in Belgium for the last five years and Ghent is still one of my favourite places to go. Here are my top tips for your Ghent itinerary, so you have a gorgeous day trip to remember.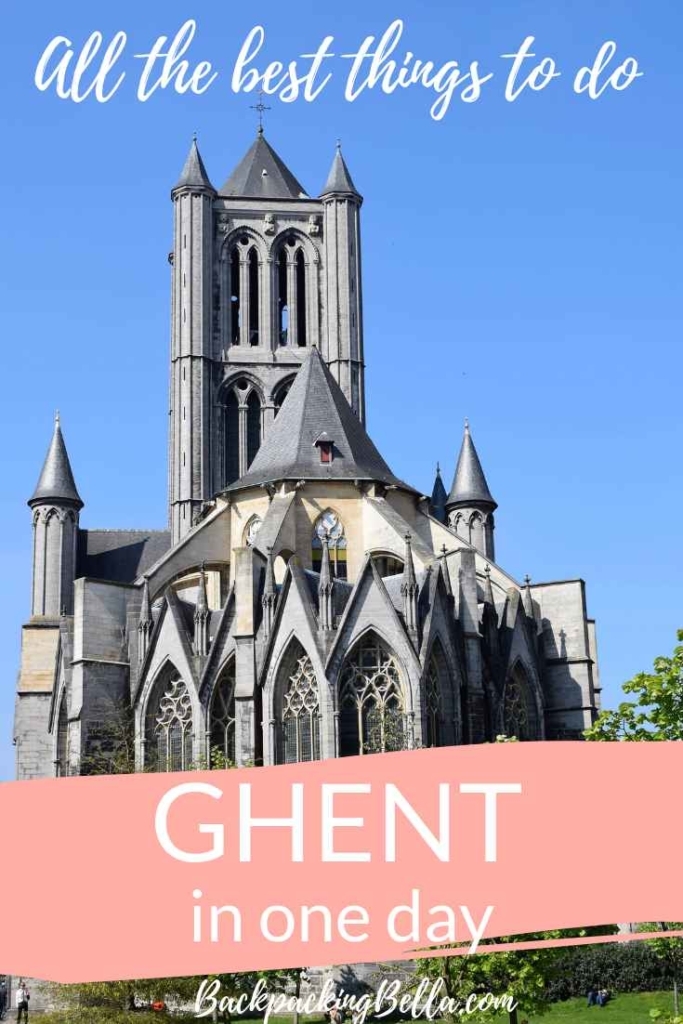 This post may contain affiliate links. That means, if you make a purchase, I may receive a small commission. As an Amazon Associate I earn from qualifying purchases. For more information, read my disclaimer.
Why you need to make Ghent's castle your first stop
Ghent's fortified Gravensteen castle, known as the Castle of the Counts, is one of the best places to visit in Ghent and an ideal first stop on your Ghent day trip. Here, you can get to know Ghent's history and see impressive views over the city.
This medieval castle was built in 1180 by Philip of Alsace, the Count of Flanders. With its turrets and surrounding moat, fed with water from the Lys river, it housed the powerful Counts of Flanders for almost two centuries.
Book a customised walking tour of Ghent with a local guide who will show you the city's best kept secrets.
Inside the castle, you will find exhibitions showcasing historic suits of armour, weapons and even gory medieval torture devices.
Crucially, today it is located right next to the city's tourist information office, where you can find maps and advice to help you plan your day ahead (see below).
From April to October, the castle is open every day from 10am to 6pm, while from November to March, it's 9am to 5pm, except for Christmas and New Year.
Tickets are available until 45 minutes before closing time. They are priced at €10 for adults, €6 for under 25s and free if you're under 19.
Buy Lonely Planet's latest Belgium guide book and plan your trip.
A Ghent boat tour gives a unique perspective on the city
One of the best things to do in Ghent in one day is to hop on a boat and take a guided tour of the city's canals. Several companies offer historic Ghent canal boat tours for a unique perspective on the city and its stories.
Five minutes' walk from Gravensteen castle is Graslei quay on the river Lys, where the boat tours depart.
The tour guide will take you on a 40-minute round trip, showing you parts of the city you can't see from the streets and revealing its fascinating history on your Ghent one day itinerary.
Save time: book your Ghent boat tour in advance here and receive instant confirmation.
The thrilling story of Ghent's most famous artwork
Six minutes walk from where the boat drops you off is Sint-Baafsplein square and Saint Bavo's Cathedral, your second stop. Undoubtedly one of the most important places to visit in Ghent in one day, this Gothic cathedral dominates the skyline as it stands at 89 metres tall. Dating back to 942, it is named after Bavo, the patron saint of Ghent.
The cathedral is home to the Ghent Altarpiece, a large religious artwork known as the Adoration of the Mystic Lamb.
This multi-panelled altarpiece was painted in the 15th century by Jan van Eyck, an influential Early Flemish and Early Northern Renaissance artist from the nearby city of Bruges, along with his brother Hubert. It was commissioned by the Mayor of Ghent specifically for Saint Bavo's Cathedral.
Its 18 panels include portraits of Jesus, Mary, John the Baptist, and Adam and Eve. There are also scenes depicting a crowd of saints, sinners, clergy and soldiers gathering to worship the Lamb of God, overseen by the dove of the Holy Spirit.
One of the most important artworks in European history, it is revered for its detailed naturalism and realism, which was revolutionary for its time.
Every day from midday to 1pm, the altarpiece's side panels are closed, so you can see the paintings on the other side of them.
The Adoration of the Mystic Lamb has a thrilling story. Once exhibited at the prestigious Louvre art gallery in Paris, this famous artwork was returned to Ghent following France's defeat in 1815 at the Battle of Waterloo.
After its panels and wings were separated and sold to art collectors across Europe, collectors in Germany were ordered to return their sections to Ghent after their country's defeat in World War I.
During World War II, Adolf Hitler organised for the painting to be brought to Germany, where it was hidden in a salt mine. After the war, the altarpiece was recovered and returned to Belgium in a high profile royal ceremony. However, French officials were banned from attending because their government had helped the Germans to seize the painting.
The opening times for Saint Bavo's Cathedral are 8.30am to 6pm, except for Sundays when it opens at at 10am. From November until March, the cathedral closes at 5pm. The last entry to see the Adoration of the Mystic Lamb is 15 minutes before closing. Entry to the cathedral is free. Tickets to see the altarpiece cost €4 per person, including an audio guide.
Go to the top of the Ghent Belfry tower for outstanding views
If you have time in your Ghent in a day itinerary, a climb to the top of the Ghent Belfry tower is one of the most rewarding things to do in the city.
This 91-metre, UNESCO-listed building in the heart of Ghent old town is Belgium's tallest belfry tower and the views from the top are impressive.
Built in 1313, over the centuries it served as both a bell tower and a fortified watchtower, as well as housing local government legal documents. Perched on top of the spire is a large gilded copper dragon, a fierce mascot of Ghent who stands guard.
The Belfry of Ghent is open every day from 10am to 6pm, except for major public holidays. Entry is €8.
Top tip: grab yourself a City Card
This is my top tip for if you only have one day in Ghent. When you first arrive, go to the city's tourist information office. It is located next to the castle in the corner of Sint-Veerleplein square. There you can speak to the friendly advisers about what to see in the city and buy a CityCard Gent.
This little gem gives you a handy Ghent tourist map, as well as a travel guide on what to do in Ghent in one day and fantastic discounts. Priced from €30, it allows you to travel for free on the trams, buses and water tram in Ghent city centre. You can also have free bicycle rental for one day and one guided tour by boat. Along with free access to all the tourist attractions, monuments and museums, it's a convenient all-in deal for your day trip to Ghent.
Where to find Ghent's great places to eat and drink
After all that sightseeing, you're bound to work up an appetite. Luckily, Ghent has fantastic local cuisine and beers. A tasty Ghent dish to try is waterzooi. This is a traditional Flemish stew made with fish or chicken and vegetables in a cream and herb sauce.
Mosquito Coast is one of the best restaurants in Ghent for travel lovers. This quirky cafe is full of global travel souvenirs and photos to inspire you while you're dining.
If you are vegetarian or vegan, you're in the right place, because Ghent is known as the vegetarian capital of Europe. Since 2007, the city has officially had a 'Thursday Veggieday', on which citizens are encouraged to go meat free for one day a week.
For vegetarian-friendly restaurants in Ghent, try the all-you-can-eat vegan buffet Komkommertidj (Cucumber Time) or Le Botaniste, a plant-based organic food and wine bar.
Being in Belgium, you have to try the world-famous locally brewed beer. One of the best bars in Ghent is Dulle Griet, where you can peruse their menu of over 500 different beers and choose the best beer in Ghent.
If it's sunny, why not do as the students do and grab a drink from a bar or shop and sit by the canal. It's such a relaxed atmosphere and great for people watching.
Go on a Ghent Beer and Sightseeing Adventure tour and taste 6 local beers and delicacies.
The surprising thing about spending one day in Ghent
There are so many things to see in Ghent in one day, you are sure to be charmed and maybe even surprised by this city.
Ghent's majestic and intricate medieval towers stand alongside sleek modern architecture, such as the City Pavilion, creating a striking juxtaposition.
Ghent's lively student scene means it is surprisingly edgy for such a historical city. You may spot examples of street art in Ghent, such as the famous Graffiti Street.
Book a place on the Ghent Urban Mountain Bike Tour to see the city's eccentric mix of street art and nature.
Here are the most perfect places to stay in Ghent
Spending a day in Ghent is easy as it's compact and walkable. If you are staying overnight, try and stay in the historic centre for maximum convenience.
One of Ghent's best-loved hotels by travellers is the Ganda Rooms & Suites. This 18th century style townhouse on a quiet street in the city centre has elegant decor and a terrace bar with views of St Bavo's Cathedral.
Right in the heart of all the top places to see in Ghent is the recently renovated Hostel Uppelink, located in one of the city's oldest buildings but full of all the modern fixtures and fittings you could need.
For all the best places to stay in Ghent, check out the great selection here.
The lowdown: is Ghent worth visiting?
Ghent may not be as famous as its neighbouring cities of Bruges or Brussels, but it is well worth visiting. This quirky medieval city has a fairytale castle, picturesque waterways and a vibrant student community. I have lived in Belgium for several years and Ghent is still one of my favourite places to go.
So, where is Ghent? It's located in the north west of Belgium, making it easily accessible from the Netherlands, France and the United Kingdom. Ghent is the capital of East Flanders, one of the country's Flemish regions. That means Dutch is the local language, but French and English are also widely spoken here.
How to get around Ghent in a day
You may be wondering, is Ghent walkable? Fortunately, Ghent city centre is small and very easy to get around on foot. Its historical attractions are all around five minutes' walk from each other, so it's absolutely possible to see Ghent in one day.
The river Lys flows through the heart of the city and St Michael's Bridge, built in 1910, is a lovely spot to stand and gaze at Ghent's pretty architecture.
As you stroll around the city, you will notice a number of striking medieval towers, such as Saint Nicholas Church. This 13th century late Gothic church is one of the must-see places to visit in Ghent.
One of the great things about Ghent is that if you climb one of its historic towers, you can enjoy panoramic views across the city. From this angle you can spot beautiful details that aren't apparent when looking at the impressive architecture from street level.
Can you do Ghent and Bruges in one day?
The historic city of Bruges is only a 50 minute drive from Ghent, so it's definitely possible to see Bruges and Ghent in one day. If you are travelling by train from Ghent to Bruges. it only takes half an hour.
From Brussels, there are top-rated organised tours hosted by informative local guides, so you can enjoy a fascinating Ghent and Bruges day trip.
Read more about the best way to spend one day in the beautiful city of Bruges.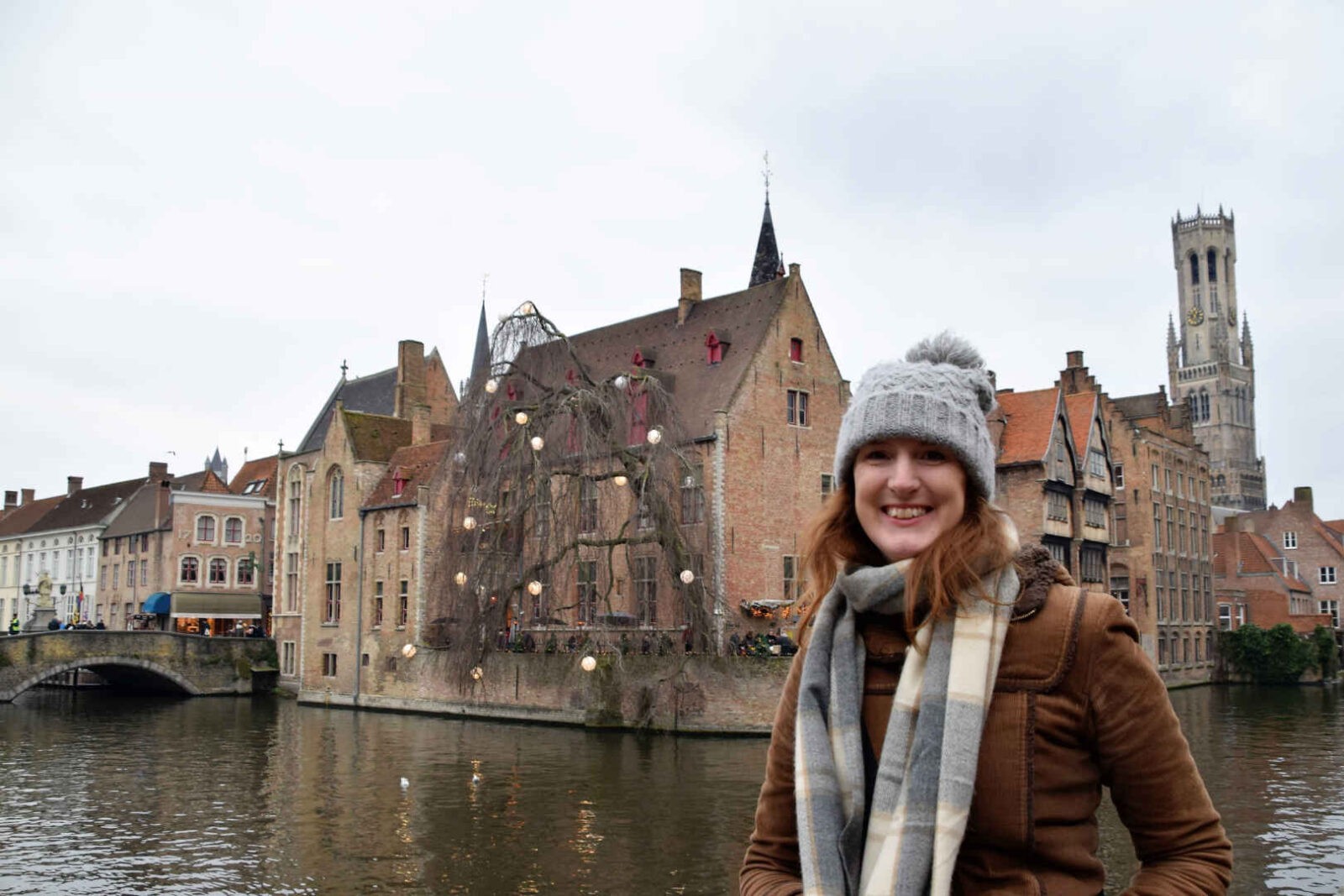 How to get to Ghent in Belgium
The nearest airport to the town of Ghent is Brussels Airport (BRU) in Zavantem, north east Brussels. Many international airlines operate affordable flights to Brussels. Otherwise, many people arrive in Belgium's capital city by train via Eurostar and Thalys. From Brussels to Ghent you can catch one of the frequent trains, which is a direct 40 minute trip.
Regular buses operated by FlixBus and Eurolines run routes from many neighbouring cities and countries to Ghent. This is a good option if you are on a budget.
Visiting Ghent by car is easy, as Brussels to Ghent is just a 50 minute drive. If you're driving to Ghent, be aware that the signs may show different spellings: in Flemish it's Gent, while in French it's Gand.
Check out this one-day tour from Brussels to Ghent, including discounts on museums, restaurants and chocolate shops.
These are liveliest times of year to go to Ghent
Ghent is usually a laid-back city but if you like a special occasion there are times of year with plenty going on. Every July, there's a ten-day Ghent Festival, which takes over the city, as over a million people enjoy music and street theatre performances all day and all night.
Ghent is also lovely in the winter, as the city is adorned with twinkly lights, pop-up ice skating rinks and a wonderful winter market where you can buy hot spiced wine and souvenirs.
Make some memories on your gorgeous Ghent day trip and you may well find yourself planning your next visit here.
Many thanks to Visit Gent, who helped to sponsor our trip.
Now, discover all the best things to do in the nearby city of Bruges in a day.