If you're travelling in Malaysia and want to visit idyllic beaches, then the Perhentian Islands could be a good stop for you. Here is a backpackers guide to the paradise location of Coral Bay, Perhentian Islands, including how to get there, the best accommodation and about the incredible scuba diving in the area.
This post may contain affiliate links. That means, if you make a purchase, I may receive a small commission. As an Amazon Associate I earn from qualifying purchases. For more information, read my disclaimer.
Introduction to the Perhentian Islands, Malaysia
Pulau Perhentian Kecil, meaning Small Perhentian island, sits next to her big sister Pulau Perhentian Besar in the South China Sea, off Malaysia's North-Eastern coast. 'Perhentian' means 'stopping point' in Malay, referring to the islands' historically useful positioning for traders operating between Thailand and Malaysia.
The islands have received glowing reviews from Lonely Planet. While the Perhentian Islands are on the backpacker trail, they are still charmingly undeveloped. The best time to visit the Perhentian Islands is from March to October.
How to get to the Perhentian Islands
If you are arriving from Kuala Lumpur like me, the cheapest and most convenient way to get to the Perhentian Islands is to catch an overnight bus.
Perdana Express and Mahligai Express operate daily buses on this route, which costs only $12 and takes 7-8 hours. It's best to buy a ticket in advance.
The bus departs from Terminal Bersepadu Selatan in KL and arrives at the Kuala Besut bus terminal. The staff will then guide you the short walk to Kuala Besut jetty to board a boat to the islands.
Arriving on Pulau Perhentian Kecil, the boat will dock at the small jetty on the beautiful Coral Bay.
Reserve your bus ticket from Kuala Lumpur to the Kuala Besut jetty for the Perhentian Islands here.
This is the most perfect Perhentian Islands accommodation
If you're looking for where to stay on the Perhentian Islands, here on Perhentian Kecil you can find accommodation close to where you arrive on Coral Bay. Alternatively, you can walk 5-10 minutes across the easy jungle path to the other side of the island, where you will find the busier Long Beach.
If you are on a backpackers' budget like I was and looking for affordable Perhentian Islands accommodation, try the Quiver Dive Team Perhentian Dorm on Coral Bay, which has single pod-style beds and friendly staff who are happy to arrange local activities.
For people who prefer a private room, good options on Coral Bay include the Ombak Resort Perhentian Island, which is attached to a scuba diving centre (more on this later). Its restaurant offers sunset views, entertainment and movie nights, plus room service is also available. Another good option on Coral Bay is the Senja Bay Resort, which has wonderful views across the sea from the rooms' balconies. It also has a great, laid-back restaurant which I spent hours in during my stay on Coral Bay.
Long Beach is only a short walk away and has some fabulous resorts. The highly rated BuBu Villa has spacious and stylish villas, as well as the World Cafe, an outdoor restaurant serving delicious food and cocktails. At the other end of Long Beach, a popular choice is the Bubu Resort, which has welcoming staff and overlooks stunning scenery. The nearby Mimpi Perhentian resort has contemporary rooms and a divine outdoor swimming pool.
Browse and book Perhentian Islands accommodation options on Booking.com at this link.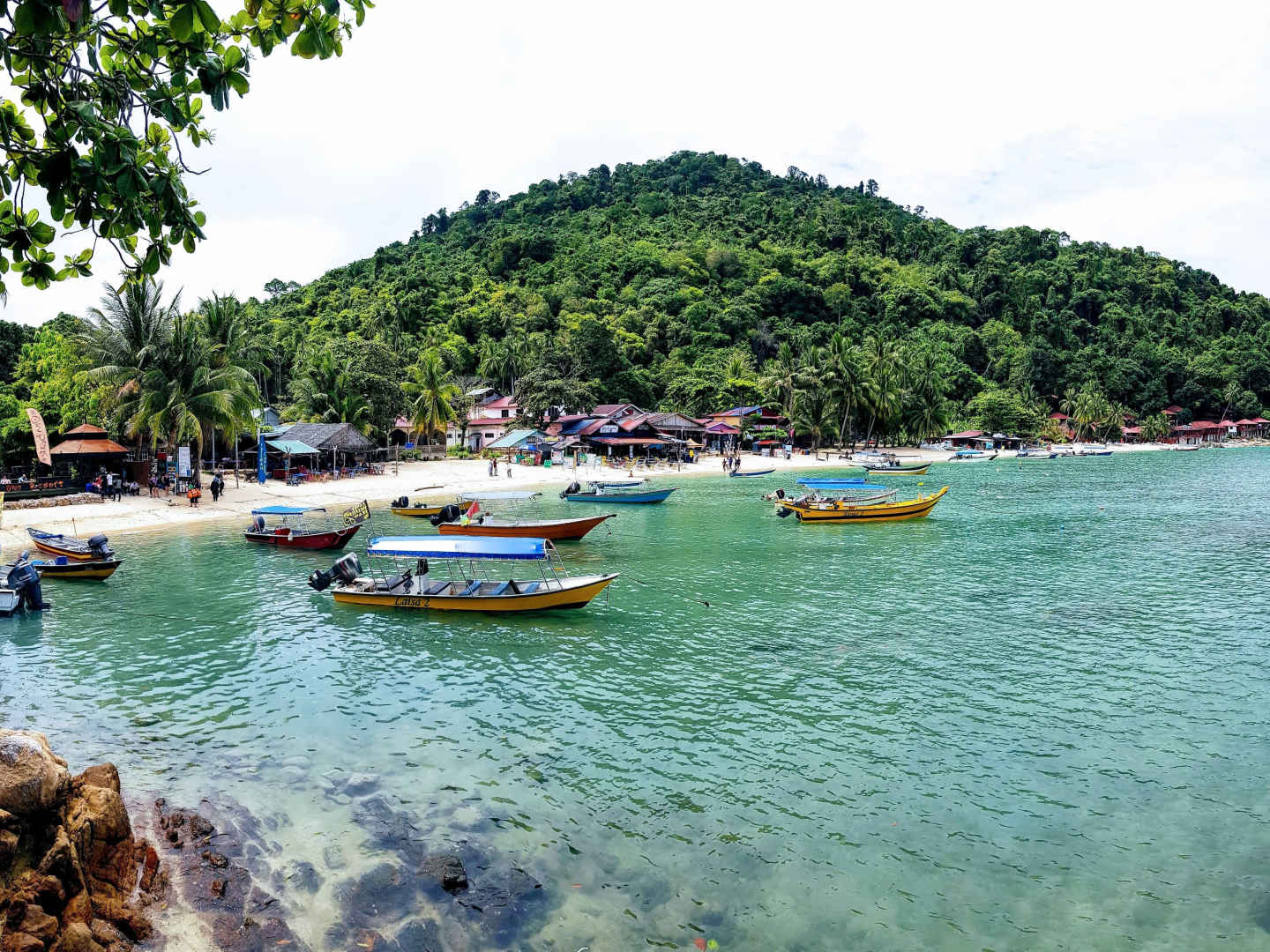 Activities on Pulau Perhentian Kecil
This island is beautiful when the sun shines and it's a delight to walk around. The fine white sand beams and the jungle interior and coconut palm trees become an even more gorgeous shade of green.
Coral Bay is dotted with small shacks offering freshly barbecued fish and seafood. My favourite place to eat and hang out was the relaxed sea-view restaurant at Senja Bay Resort. Try their iced Milo drink: if you're a chocolate lover, it will blow your mind!
In the evenings, Long Beach is worth a visit as it's larger and busier, with lively beach bars where you can dance into the early hours with the locals.
The vivid blue sea is so clean and clear on here that you can see the rocks through it, so snorkelling around the Perhentian islands is a rewarding activity. A simple adventure into the shallow waters reveals an abundance of coral, fish and other creatures underneath the waves.
Perhentian Islands diving
It was at Ombak Dive Resort that I learned to scuba dive, and what an awe-inspiring experience that was. Again, I scouted all the dive centres on Coral Bay and spoke with the staff to get a sense of their prices and their teaching style. At Ombak they are friendly and professional.
I was nervous, but it was such a privilege to explore the ocean and share it with hawksbill turtles, green turtles, clown fish playing in anemones, huge schools of tiny fish, colourful coral reefs and much more. We were even lucky enough to see a black tip shark swim by at close range – though I think it was more scared than we were!
Word is spreading about these islands. Certainly among Malaysia's most attractive beaches, the Perhentian Islands accommodation and diving is affordable and it's known as one of the region's best dive spots. I can well see why.
Next up, find out all about backpacking Malaysia, Borneo and Singapore.