If you want to find the 'I Love KL' sign in Kuala Lumpur and other romantic places in Malaysia that are great for photo opportunities, read this special round up.
It's funny how comparisons can influence your view of a place. My first arrival in Kuala Lumpur, Malaysia was after spending a month in Goa, so in comparison with India I appreciated the city's relative calm, modernity and cleanliness. It was already feeling the KL love.
How to find the 'I Love KL' sign
When I first visited Kuala Lumpur by myself, I stayed at the Back Home hostel. With its stylish decor, luxurious rain showers, complimentary breakfast and enclosed bed 'pods' complete with personal power plus, it felt like a dream after some of the shabby guest houses I'd visited in India. Centrally located in the city, it is a convenient base to travel between Thailand, Bali, Borneo and the rest of Malaysia, so I came 'Back Home' to this comfortable and contemporary hostel again and again. To check it out, click here.
On an evening walk with friends from my hostel, we discovered the 'I Love KL' sign outside the Kuala Lumpur City Gallery on Merdeka Square (exact map pinpoint of the 'I Love KL' sign location here). It's a great place for a photo as you pose on the famous 'I Love KL' statue.  The gallery itself is free to enter and you will benefit from the refreshing air-conditioning. A highlight of the gallery is a miniature model of Kuala Lumpur city. Just a few metres away from the gallery is Malaysia's tallest flagpole, as well as a fantastic view of the city skyline, including the KL Tower and the Petronas Twin Towers (more on these below).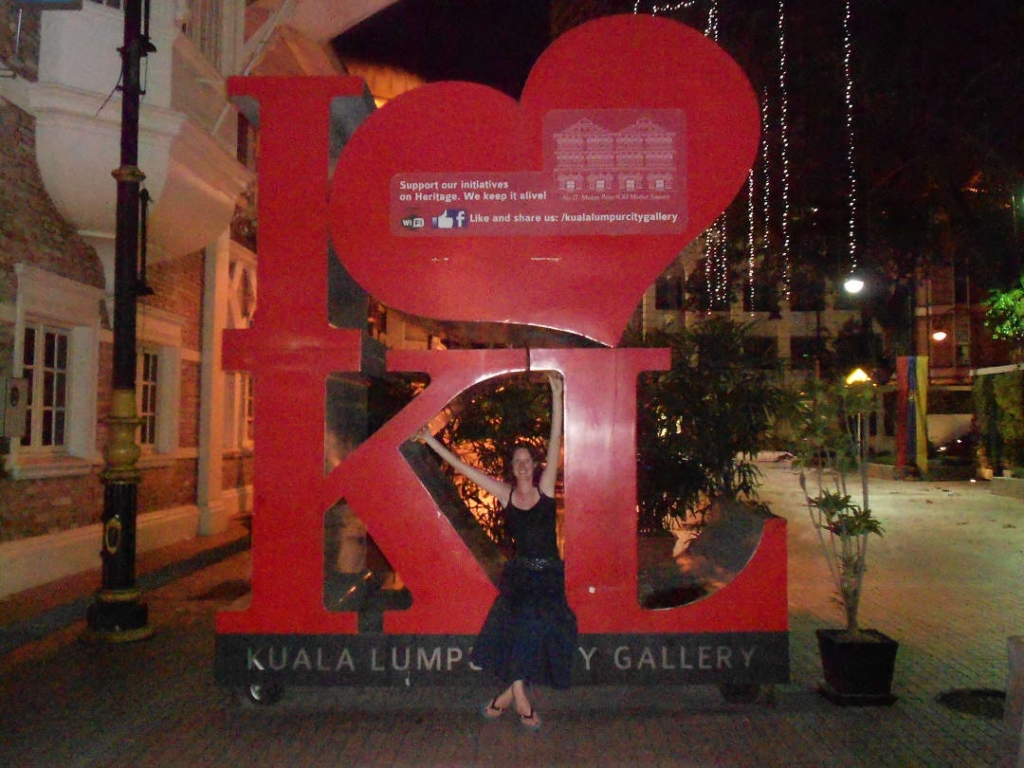 I Love KL's shopping malls
Returning to Kuala Lumpur with my boyfriend, on day one we hit the shops. At 203 m (666 ft) tall, the 48-storey Berjaya Times Square is the city's largest shopping mall, described as a 'paradise for shoppers'. It also contains a hotel, apartments and even an indoor amusement park. To celebrate the mall's 10th anniversary, in July 2013 its owners installed the world's largest capsule vending machine – another good photo opportunity.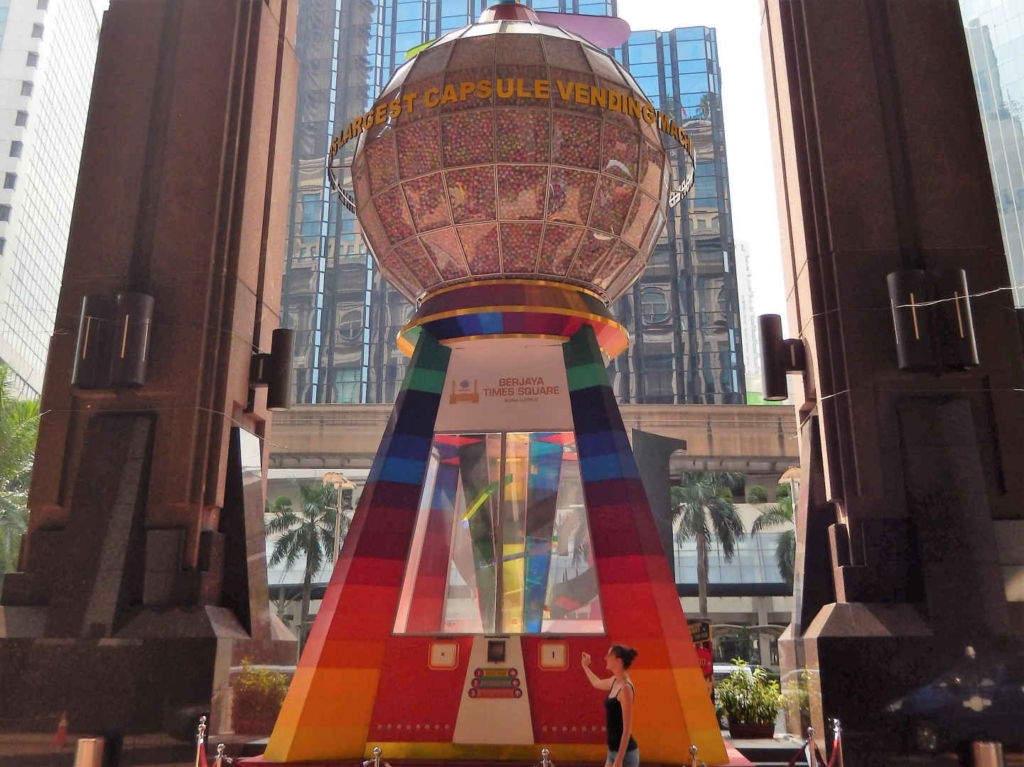 I Love KL's towers
You won't be able to miss the lofty Menara Kuala Lumpur. At over 420 metres, it is the world's 6th tallest telecommunications tower and one of the city's best-known landmarks.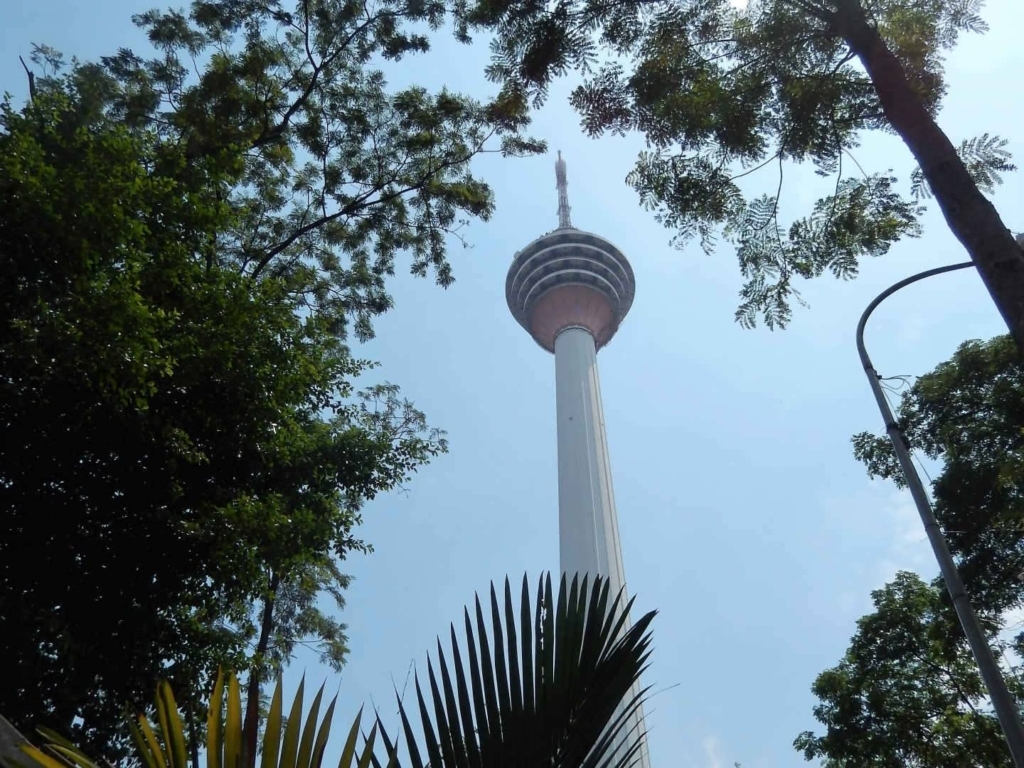 A ride to the top of this tower gives you a panoramic view over your urban surroundings. From high up here it makes most of the other skyscrapers look small.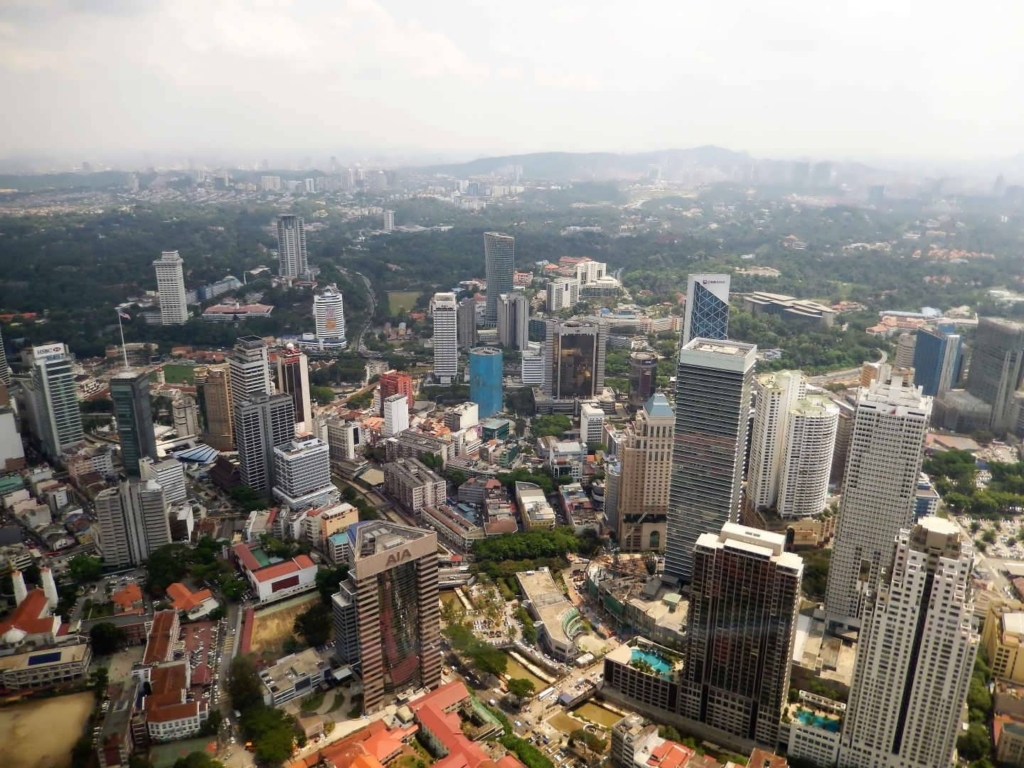 My highlight of the city was seeing the Petronas Towers. These are the architectural gems of Kuala Lumpur.  They were the tallest buildings in the world for almost a decade after their construction, and their 452-metre height keeps them in the top 10. Guided tours are held on their adjoining bridge. Impressive during the day, at night is where these towers come into their own. The statuesque twins light up and sparkle like two dazzling giant diamond earrings. No trip here is complete with a visit to have your photo taken in front of this pair of show-offs. I love Kuala Lumpur especially for these towers.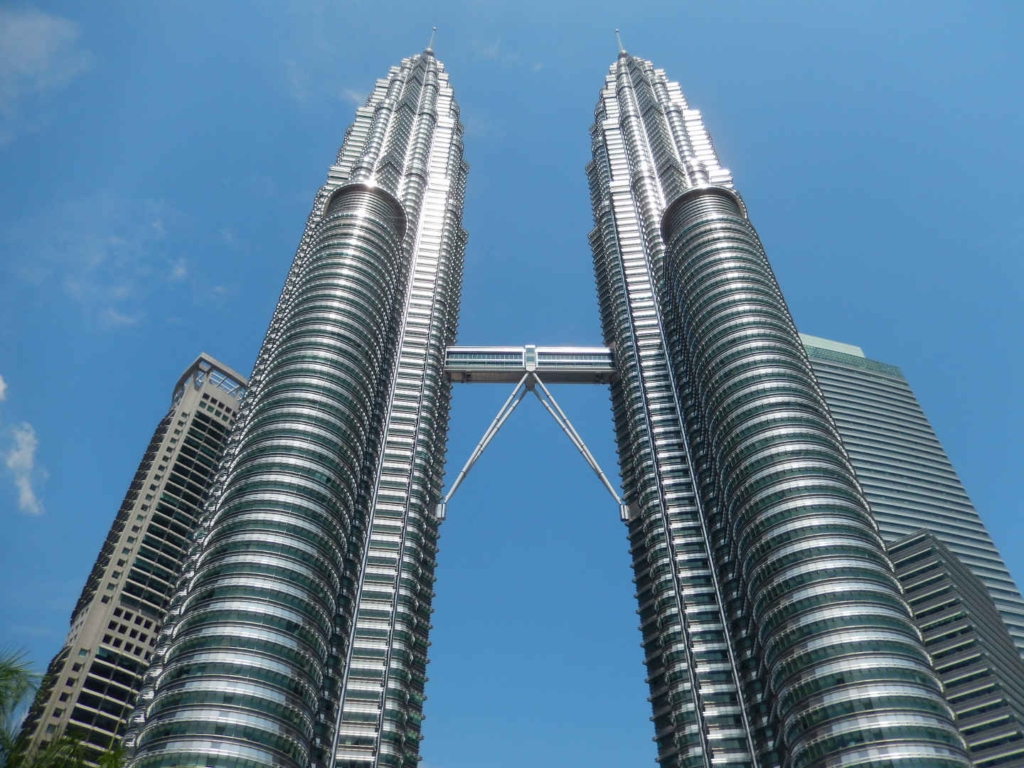 Exploring the impressive Batu Caves
The Batu Caves are a short train ride to the northern outskirts of the city. During my first trip to KL a fellow traveller had described this 100-metre hill containing elaborately decorated Hindu cave temples as 'all right', so I wasn't expecting much. (Perhaps that is the key to successful travel: low expectations).
I enjoyed visiting this ancient limestone hill with its craggy, tree-covered cliffs and monkeys hopping about. The fresh air here was a relief after the enclosed, smoggy spaces of the city. It's always a pleasure to experience nature after spending time in an urban environment.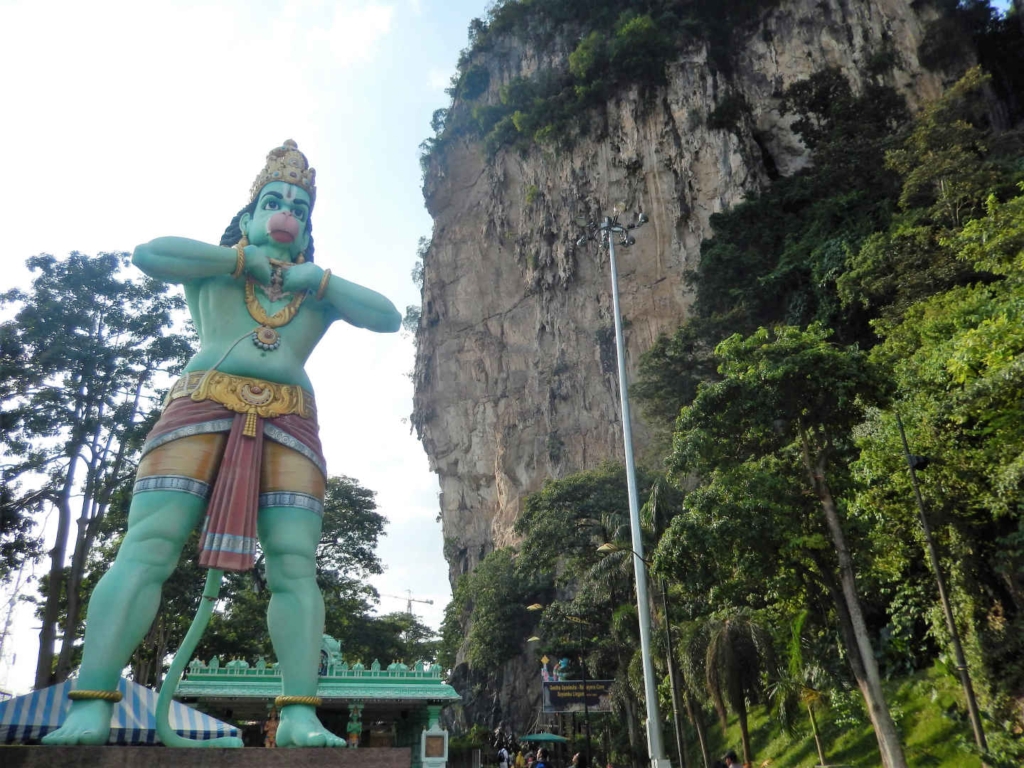 A 15-metre tall statue of a blue-skinned monkey god Hanuman welcomed us inside the Ramayana Cave, which tells the story of the Hindu epic, often conveyed in Balinese dance, through quirky statue displays. The combination of the colourful, cartoon-like exhibits and the dripping limestone walls was a feast for the eyes – certainly not something you see every day. An audio guide or written signs explaining what you're looking at would have improved the experience, but it was still fascinating.
Then, walking along the front of the hillside containing the caves, we came upon an enormous statue of Lord Murugan, the Hindu god of war. Standing at over 42 metres, it is the tallest Lord Murugan statue in the world.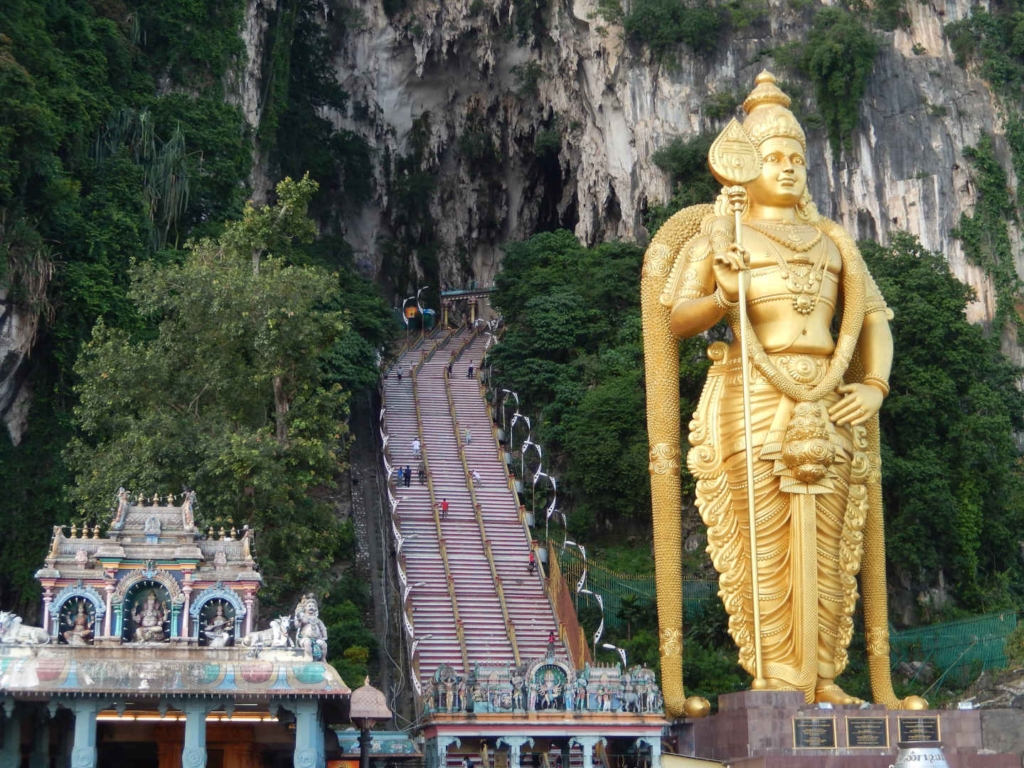 At the end of the 19th century, the Batu Caves' creator was inspired by the spear-shaped entrance to the largest cave, known as Cathedral Cave or Temple Cave. He built what is now one of the most popular Hindu shrines outside of India. Climbing the 272 steps to reach its entrance, signs implore visitors not to smoke or 'exercise'. Meaning, I assume, that some nutcases have chosen to run up and down these steep steps. Walking up them was quite enough for me! Inside the cave, the high ceilings and holy shrines are reminiscent of being in a cathedral, hence the name. It all seemed a little half-finished to me, though we did arrive right at the end of the day so perhaps some elements had shut down. So much could be done with this space. You could hold a really special event here. Nearby is the entrance to the ominous sounding Dark Caves, which sadly we did not have time to explore. Nevertheless there are many great photo opportunities here, so well worth a trip.
Beyond KL: Penang and George Town
George Town, the capital of Penang state, is located on Penang Island. It is connected to the north-west coast of mainland Malaysia by a 8.4 mile long bridge and a second, recently opened bridge which at 15 miles is the longest in Southeast Asia.
Named after Britain's King George III, George Town is Malaysia's second largest metropolitan area after KL. However, the inner city of this urban sprawl is a UNESCO World Heritage Site, thanks to its colonial architecture and distinct culture. Like Kuala Lumpur it can be swelteringly hot to walk around, but there is so much more to look at. Also there is an abundance of great street food, both Eastern and Western. I enjoyed one of the best burgers I have ever eaten from a market stall here.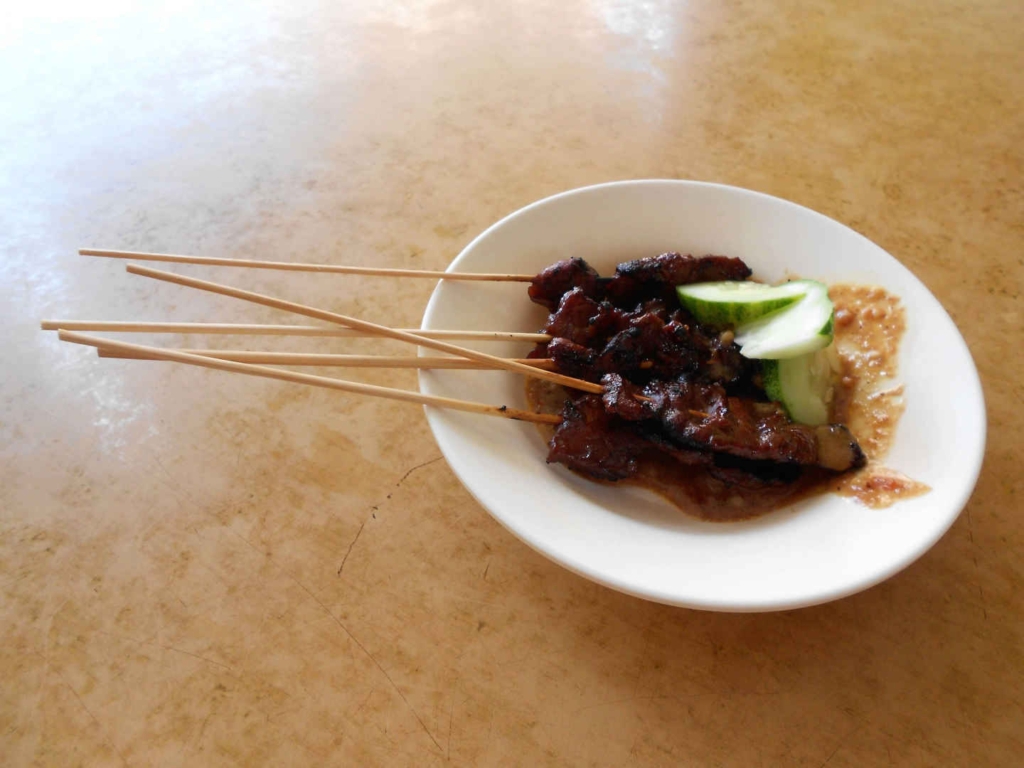 Life and Art in Love Lane
For both of my visits to George Town, I stayed in the appealingly named Love Lane. According to one of George Town's historical signs, it is so-called because visiting Chinese businessmen would keep their mistresses in houses here. So not quite as romantic as it sounds, but the name still puts a smile on my face. The area's highlights include an array of colourful street art and quirky displays explaining the city's history.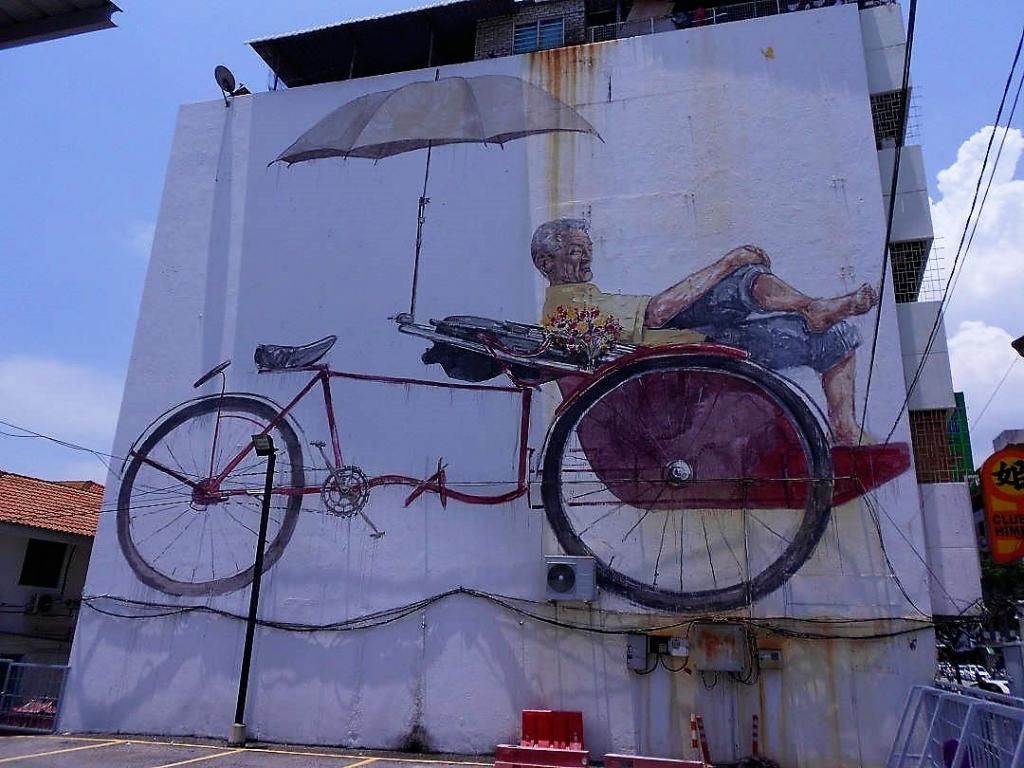 Climbing Penang Hill
When we'd arrived in George Town in the dead of night by taxi, after disembarking the bus from KL, the driver asked me where I'd been on my previous visit here. He commented that if I hadn't made it to Penang Hill then I really hadn't seen the city. Apparently I had missed out.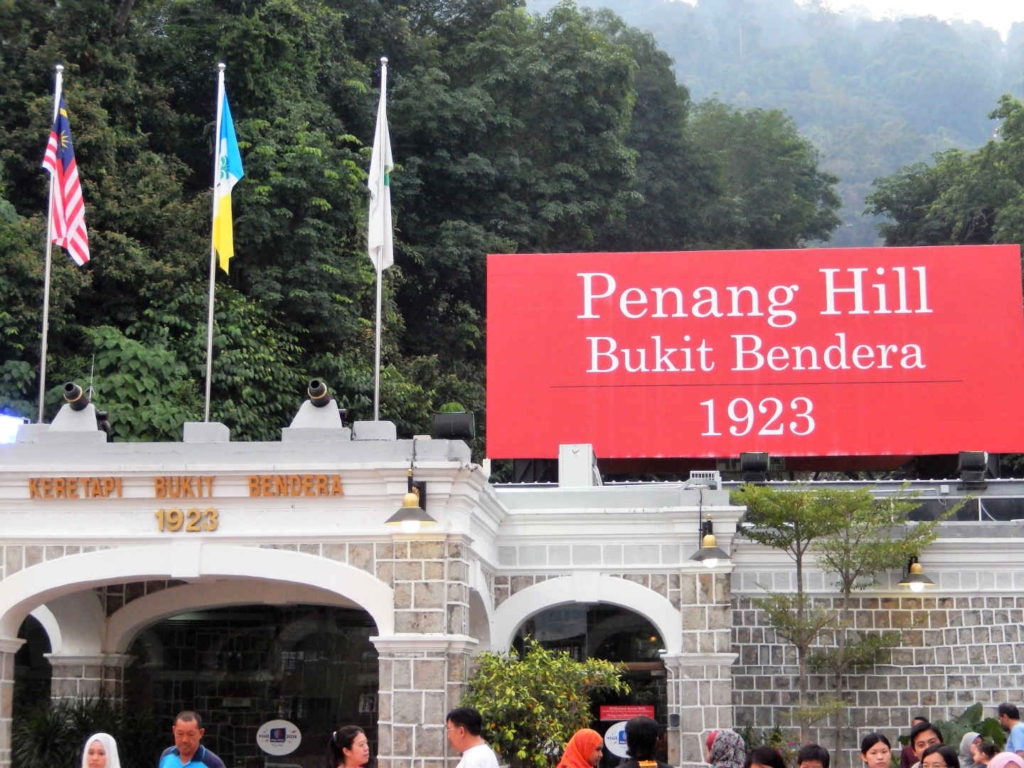 So we duly made the bus journey 6km out of the city centre and boarded the funicular to carry us up to the hill resort that lies 833 metres above sea level. Here we found hotels, restaurants, museums, gardens, temples and a mosque. A detailed audio guide gave us insights into the area's history and natural features, though sadly the cloudy weather covered our views across the city.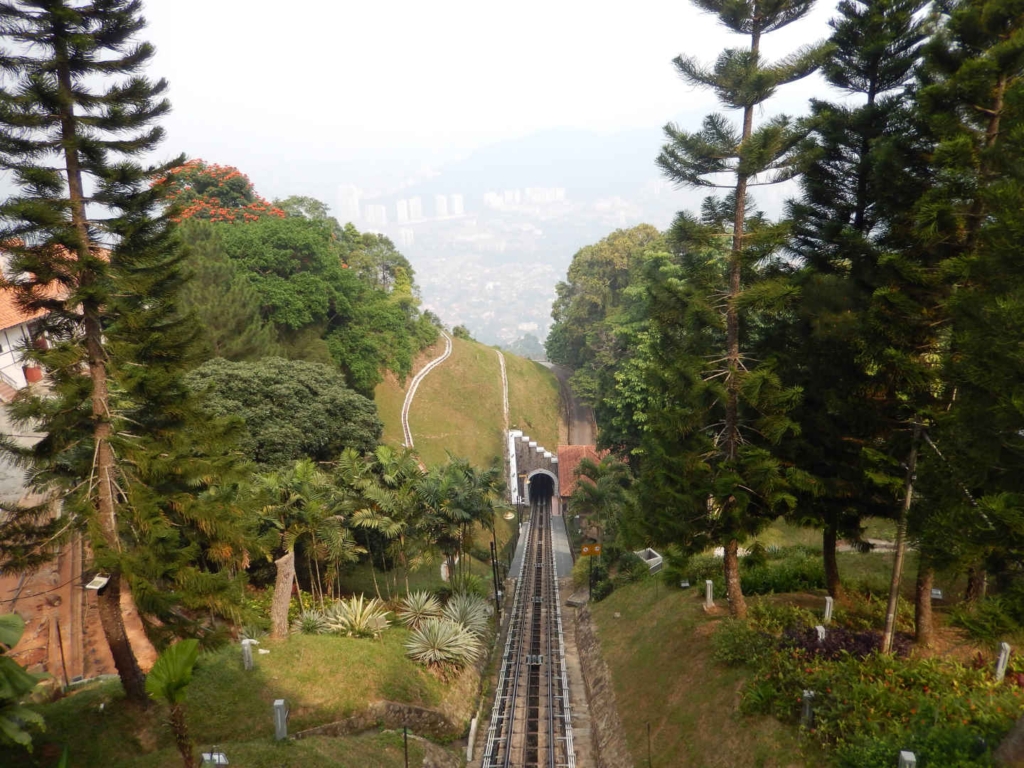 One of George Town's most popular tourist destinations, Penang Hill has a viewing deck and a canopy walk through the hill's tropical forest. But one feature that is already here took me by surprise: the love locks.
Locking in Your Love
Around the world, such as in New York and Rome, there are bridges where hundreds of people hang decorated padlocks to declare their love for each other. This is the Penang Hill love lock adaptation, located on an observation deck that on a clear day would have a scenic view across the city. A long fence of these permanent romantic gestures leads up to a huge, plant-covered display reading LOVE. Here, visitors can purchase padlocks of various sizes, decorate it with coloured permanent ink pens and seal their love locks wherever they choose along the fence.
It is wonderfully heart-warming to browse these love locks and see the personal, hand-made statements of romance and dedication. You can even spot keys down beyond the fence where couples have sealed their padlock and thrown away the key.
I adore that Penang has made a dedicated space for love and romance as an antidote to the urban hustle and bustle of this part of Malaysia. Perfect for photo opps with your loved one or just by yourself!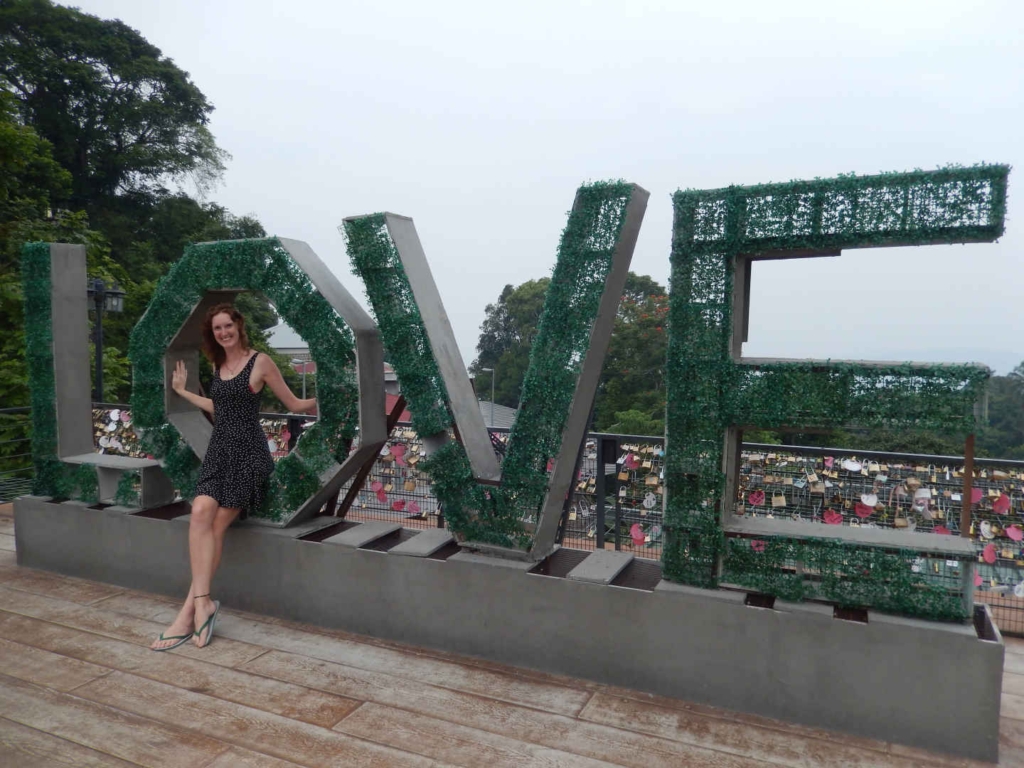 Now check out my essential guide to backpacking in Malaysia, with five of my best tips.