'This is the finest place I have known in all of Africa', said the Scottish explorer Dr David Livingstone, who was 'mesmerised' when he visited the island of Zanzibar. Hoping to be equally impressed, we visited Zanzibar to chill out for a few days after an action-packed safari trip in Kenya and Tanzania. If you're backpacking Zanzibar on a budget, here is a complete Zanzibar travel guide including all the best places to visit in Zanzibar.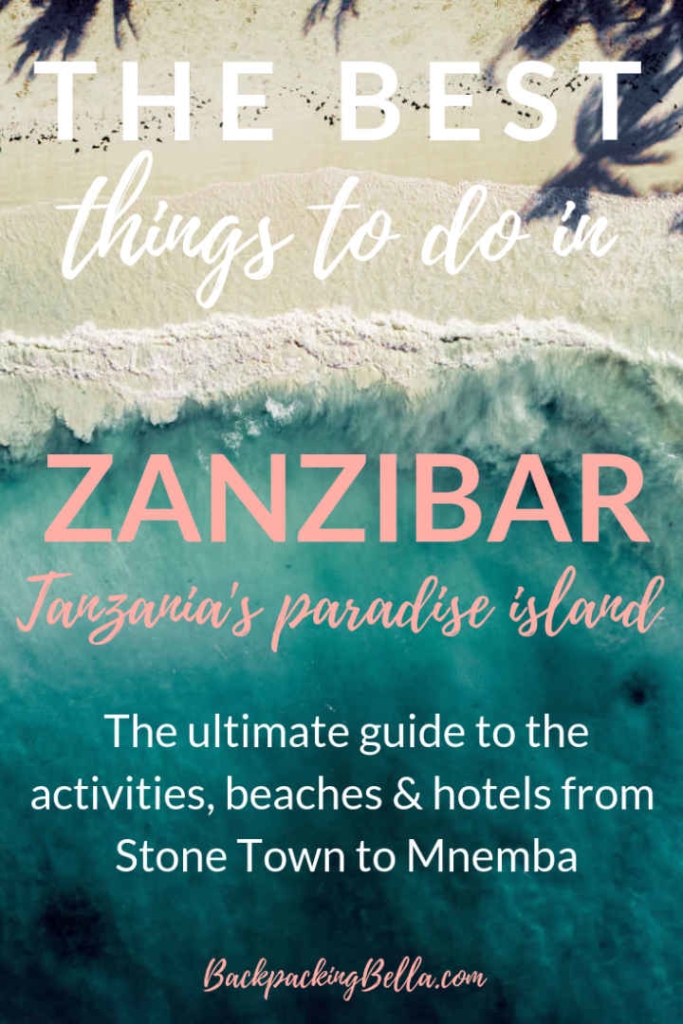 Where is Zanzibar island and other facts about Zanzibar
So where is Zanzibar located? The group of islands known as the archipelago of Zanzibar sits in the Indian Ocean, just off the coast of mainland Tanzania in eastern Africa. While Zanzibar governs itself and has been an independent country since 1963, Tanzania and Zanzibar still have a close relationship as the United Republic of Tanzania.
The island known as Zanzibar and the main tourist destination is one of the archipelago's two largest islands and its official name is Unguja. The neighbouring Pemba Island is also worth visiting. There are no cities in Zanzibar, only the capital city of Zanzibar City and some smaller towns. Along with tourism, the area's main sources of income are its native spices.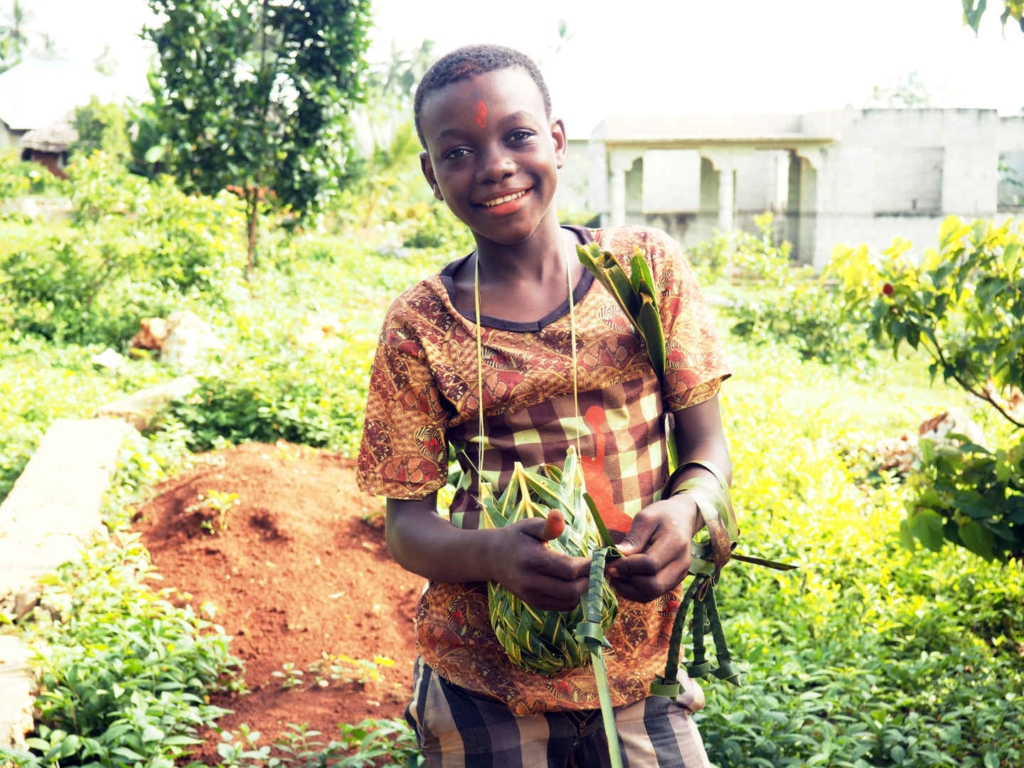 You may be wondering, is Zanzibar safe? For the most part, yes it is, as tourism is such an important industry for the country. We didn't encounter any issues during our stay there. However, like anywhere it's worth checking the official Zanzibar travel advice before you go and keeping your belongings safe while you're there. 
The currency in Zanzibar is the Tanzanian shilling, though some accommodation in Zanzibar will charge in US dollars. The cost of living in Zanzibar generally isn't high, for example, a meal for two at a restaurant could cost between $5 – $25. However, getting around Zanzibar can be expensive. The main island is around 53 miles (85 km) long and 24 miles (39 km) wide, so taking a taxi from one beach to another could cost around $25 – $40.
Getting to Zanzibar
The main airport in Zanzibar is the Abeid Amani Karume International Airport close to Zanzibar City. You may be able to find cheap flights to Zanzibar via airlines such as Emirates, Turkish Airlines or Kenya Airways (e.g. from Cape Town to Zanzibar). If you're taking a trip to Zanzibar from Europe, you may well have a connecting flight in Dubai or Doha like we did on our return trip.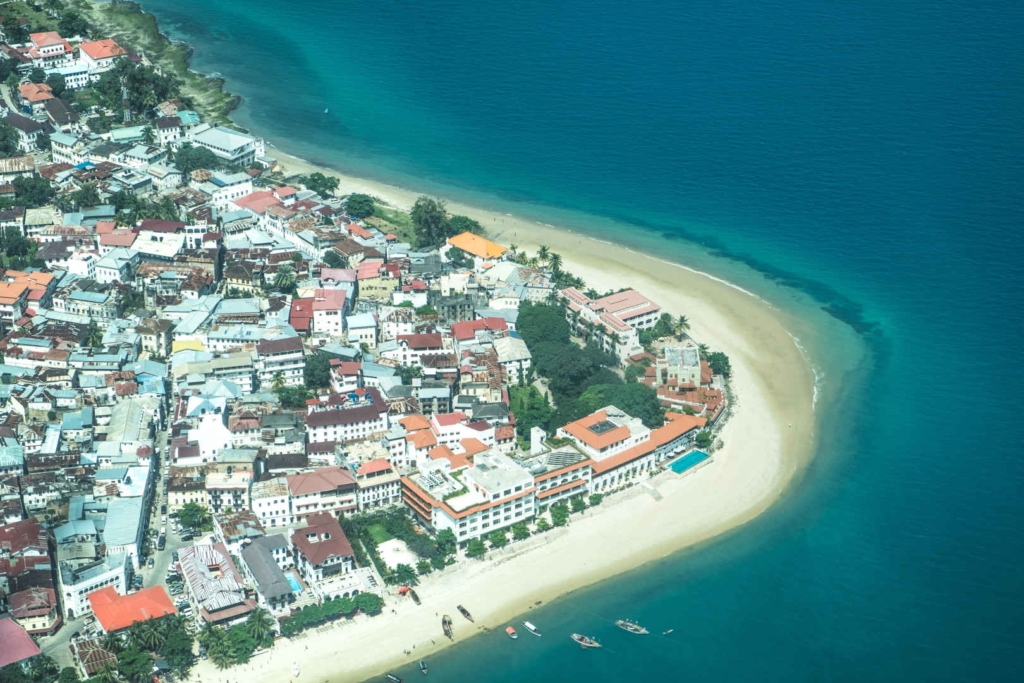 On the way there, we travelled from mainland Tanzania by ferry from Dar es Salaam to Zanzibar. Don't be surprised if the boat to Zanzibar is packed full of people, standing as well as sitting, as it's a busy route. The funny thing about arriving on the island is you still need to go through customs and show your passport, even though Zanzibar is included under the Tanzania visa. 
The best time to visit Zanzibar
If you're wondering when to go to Zanzibar, the best time to visit Zanzibar is between June and October, when it's generally cooler and drier. We were there in July and the weather was warm but not too hot. Otherwise, if the heat doesn't bother you, you may find the best time to go to Zanzibar is from December to February. For holidays in Zanzibar, it's best to avoid the island's two wet seasons, with higher chance of rains between March and May, as well as in November.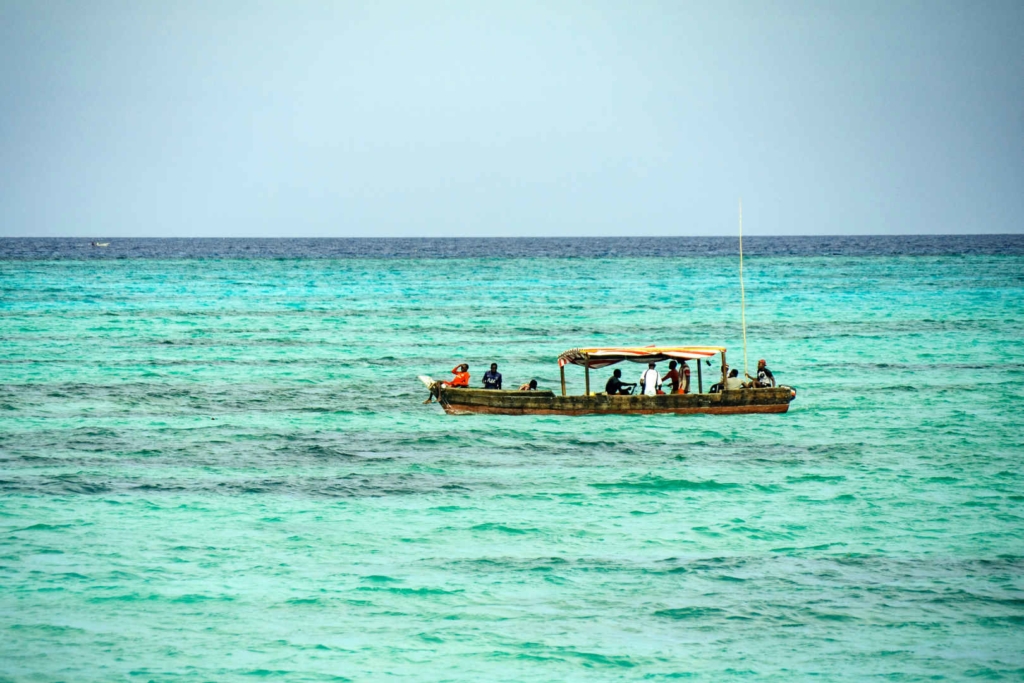 Where to go in Zanzibar
Whether you arrive by plane or boat, your first stop is likely to be the capital of Zanzibar. This is probably the best place to stay in Zanzibar on your first night or two. Fortunately, Zanzibar City is one of the best places to visit in Zanzibar thanks to its fascinating history and culture. Read below for all the top things to do in its historic centre and UNESCO World Heritage Site, Stone Town. But let's face it, if you come to the island, top on your list of places to visit will likely be the famously laid-back beaches of Zanzibar.
If you're craving beach action close to the capital, check out Fumba Beach Lodge, one of the top beach resorts in Zanzibar, just 30 minutes drive from Zanzibar City on a tranquil beach peninsula.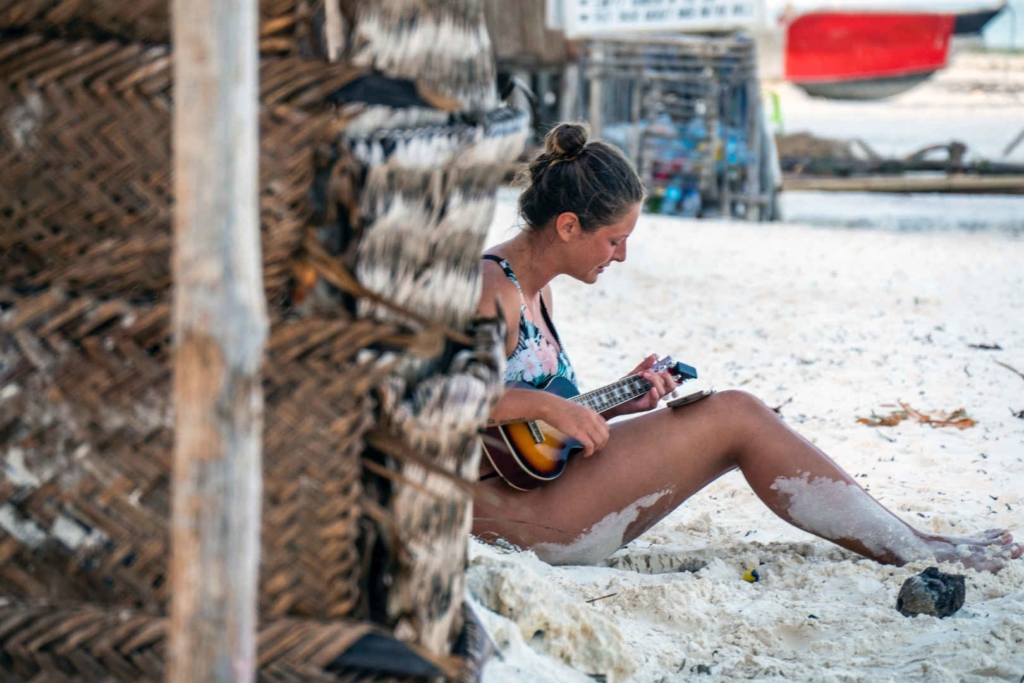 Where to stay in Zanzibar depends on your personal taste, as there are quiet beaches, sporty beaches and party beaches. At all of them you can expect Instagram-friendly white sand, palm trees and vivid blue sea.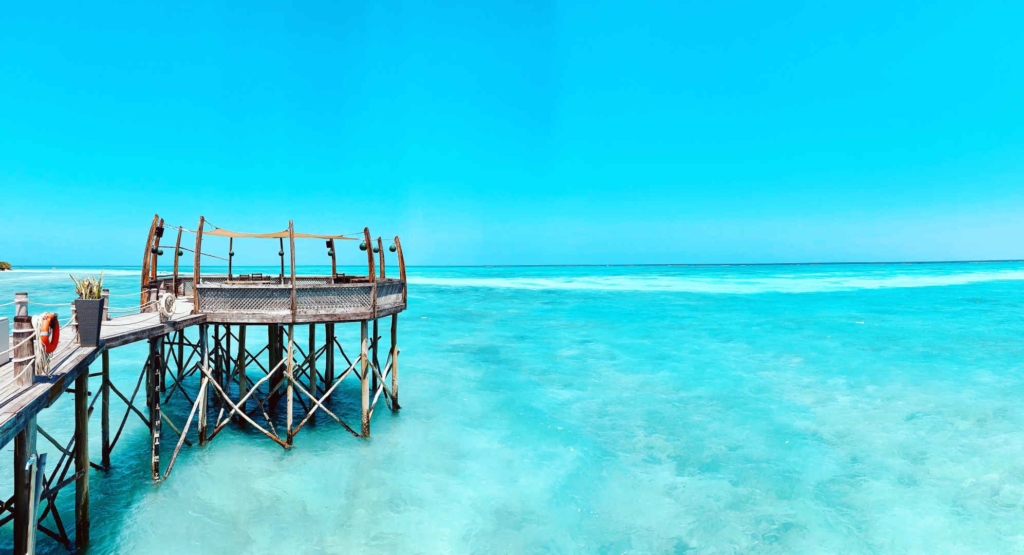 The best beaches in Zanzibar include Nungwi beach in the north and Paje beach and the neighbouring Bwejuu beach in the east of Zanzibar. For scuba diving, one of the best places to stay in Zanzibar is arguably Nungwi, while Paje is one of the best beaches on Zanzibar for kite-surfing and parties. More on this later.
The best things to do in Zanzibar
If you're looking for what to do in Zanzibar for a week or a if you have a few days here, the answer is you can do as much or as little as you like. The pace of life here is slow and relaxed, so you can simply wander around the towns, browse the markets and laze on the beaches.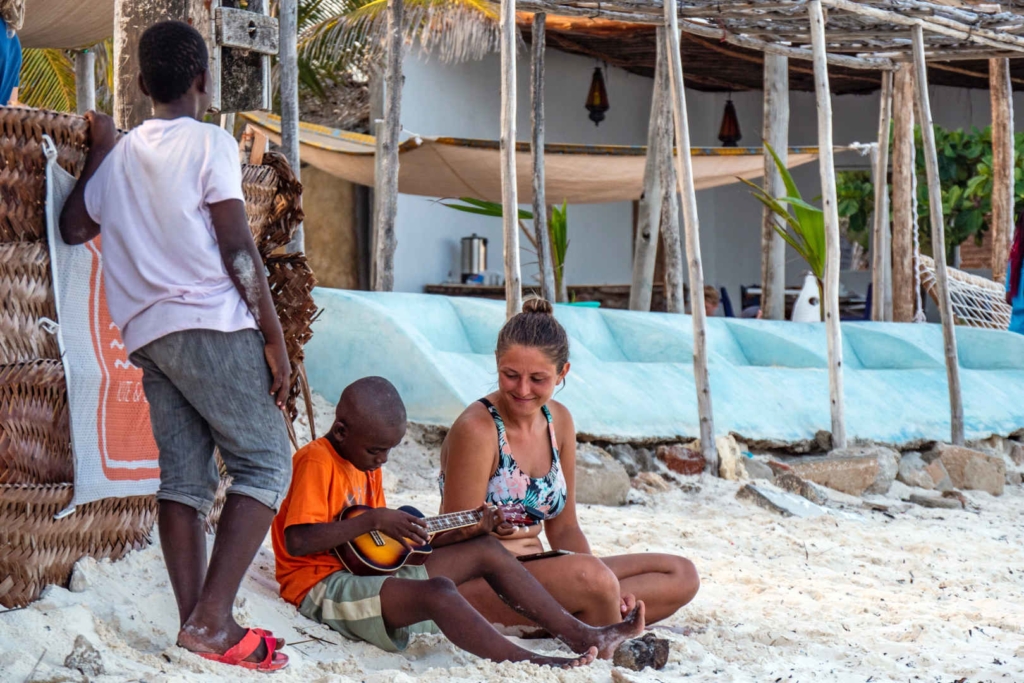 However, if you want something more exciting, there are plenty of high-octane water-sports and tours, such as Zanzibar's highly-rated Safari Blue sea adventure. Read on for my recommendations of the must-sees and the best activities in Zanzibar.
Stone Town: a UNESCO World Heritage Site
Stroll around Stone Town
Zanzibar City's historic centre, Stone Town, was named a UNESCO World Heritage Site in 2000 and it is one of the top Zanzibar tourist attractions. If you're wondering what to do in Zanzibar, simply walking around Stone Town is the perfect way to start your backpacking in Zanzibar trip.
Its architecture is a fascinating visual reminder of the island's diverse background, from its native Swahili culture to Arab, Persian, Indian, Portuguese, German and British influences.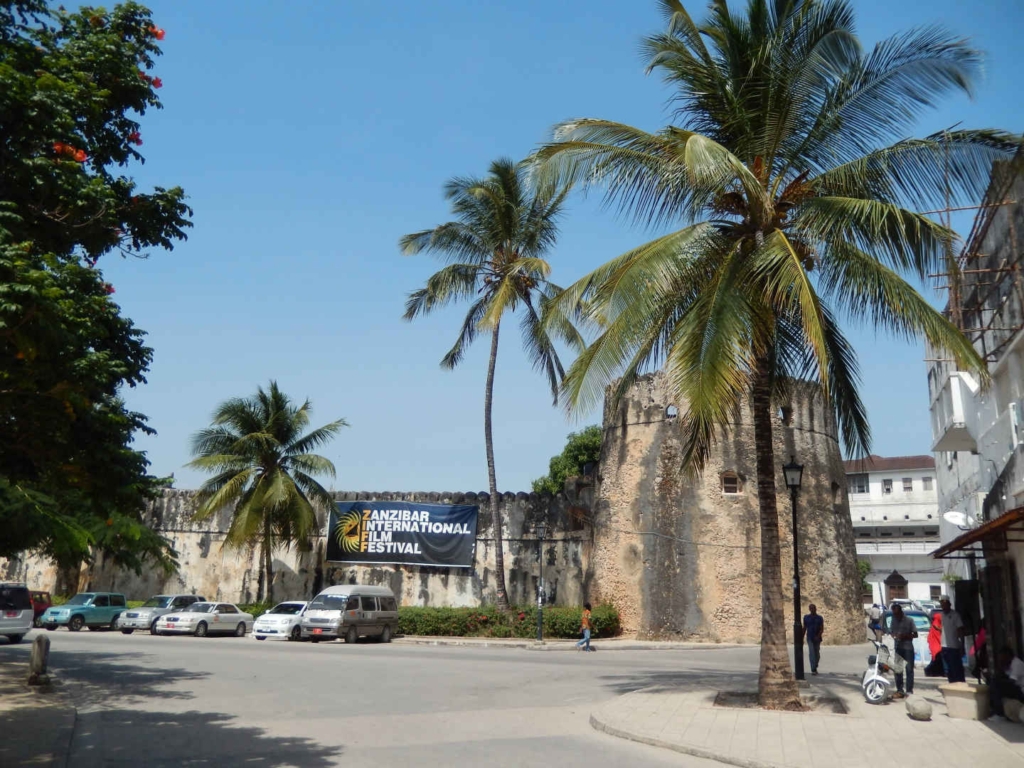 Zanzibar's Old Fort was built in late 17th century by the ruling Sultanate of Oman to defend the island from the Portuguese. Today it hosts the Zanzibar International Film Festival as well as concerts in the evenings.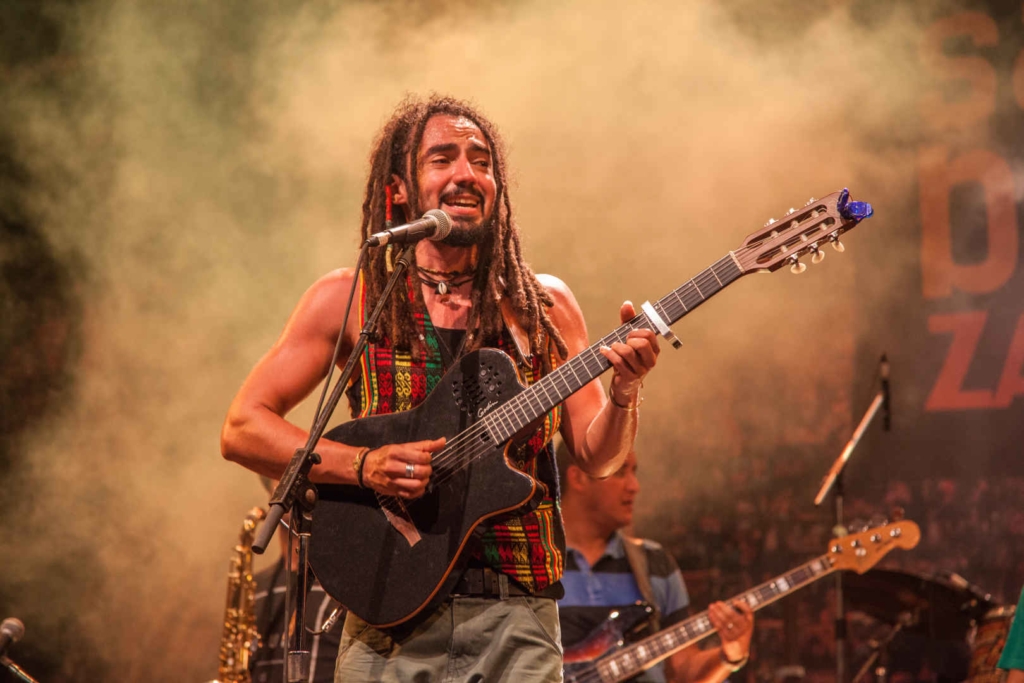 Find Freddie Mercury's House in Zanzibar
One of my favourite facts about Zanzibar is that the late, great Queen front-man Freddie Mercury was born here in Stone Town, on 5 September 1946.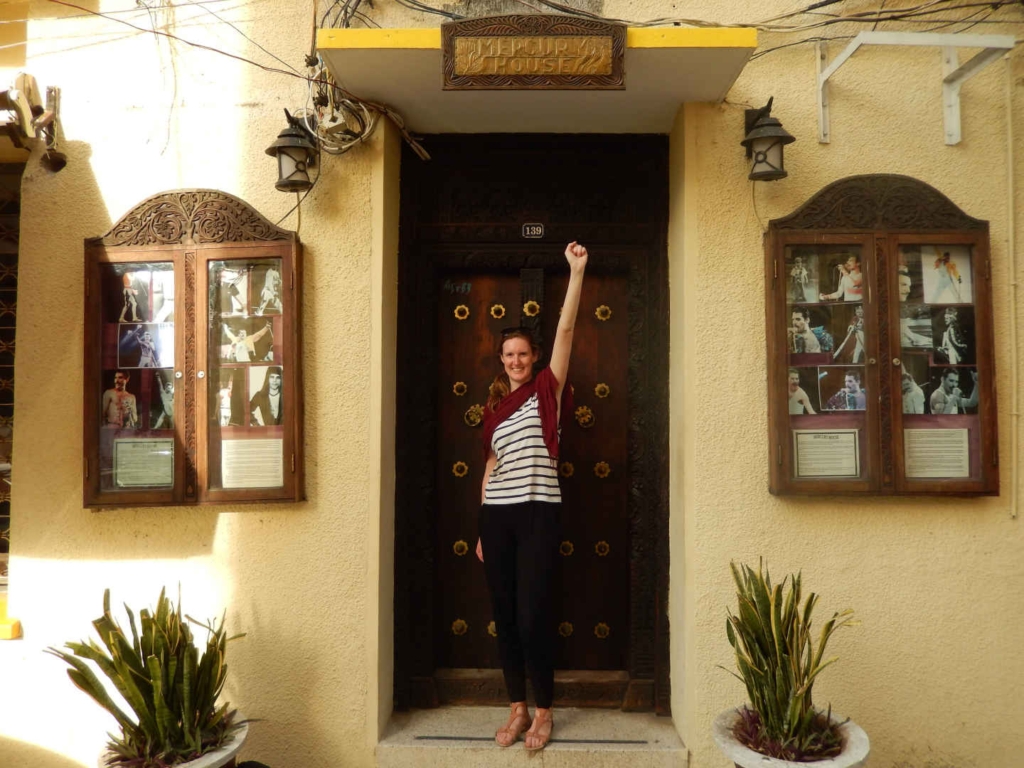 Freddie Mercury's House in Zanzibar, the legendary rock-star's birthplace is called Mercury House. It is in the heart of Stone Town's tourist centre on Kenyatta Road. I was surprised that there wasn't any kind of museum inside for Freddie, just a regular Zanzibar tourist gift shop.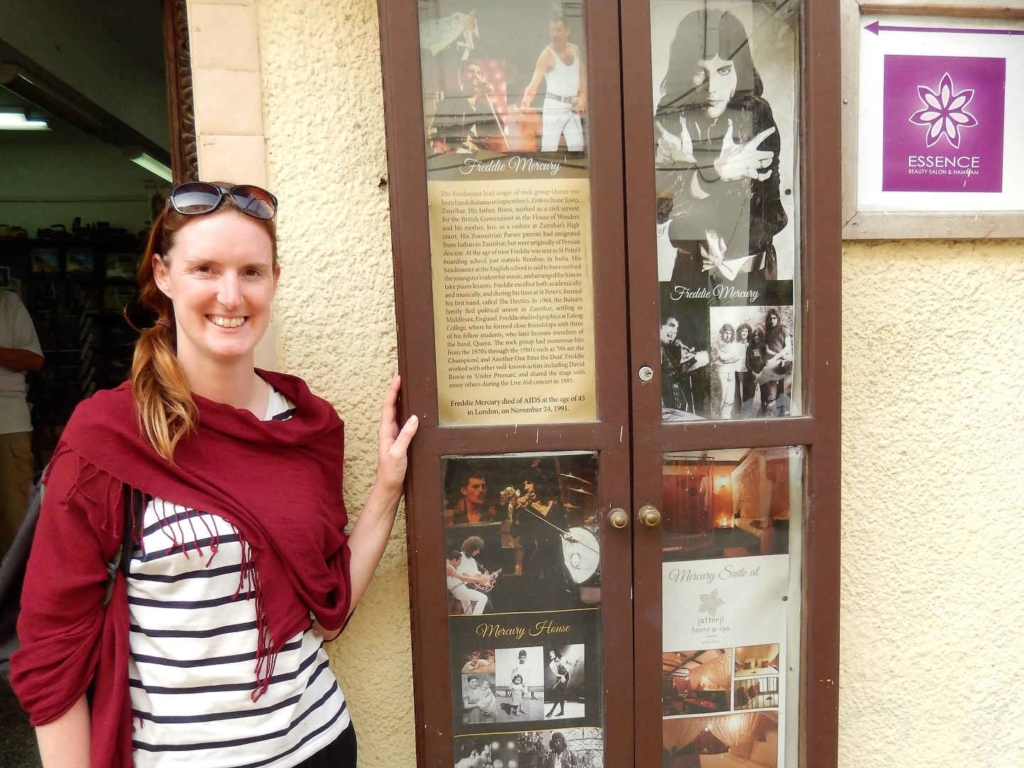 Freddie Mercury's parents moved to the island for his father's work, as a cashier at the British Colonial Office, while the island was still a British protectorate.
If you are a big Queen fan, book your accommodation at the Tembo House Hotel and request one of their 'Freddie Mercury apartments', which are located directly opposite Mercury House.
Enjoy sunset cocktails in Stone Town
After a hot day exploring Stone Town, every Zanzibar backpacker needs rest and refreshment. Where better than at one of the coolest bars in Zanzibar where you can watch a stunning sunset?
One of the best things to do in Stone Town, Zanzibar, is to sip a cocktail or two at the Africa House Hotel's Sunset Bar. The bar lives up to its name, offering beautiful views as the sun goes down. Alternatively, head for the Beach House Zanzibar which also has incredible sunset views.
To browse and book more of the best Stone Town Zanzibar hotels, click here.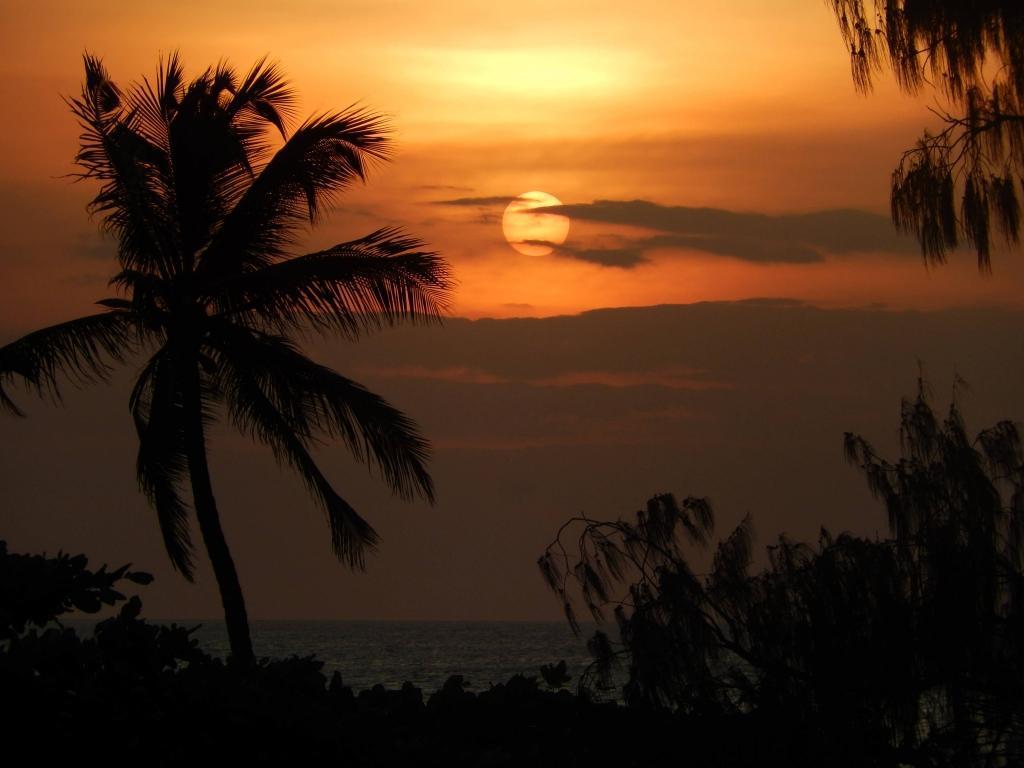 If you're feeling hungry after your cocktails, you can pick up a freshly cooked local snack at the lively night market at Forodhani Gardens, a short walk away.
Discover the Anglican cathedral and slave chambers
One of Stone Town's most notable historic sites is the 19th century Anglican cathedral of Christ Church, located on Mkunazini Road. Built in the 1870s, it stands as an example of early Christian architecture in this part of Africa. It is located on the former site of the island's biggest slave market, as a monument to mark the end of slavery.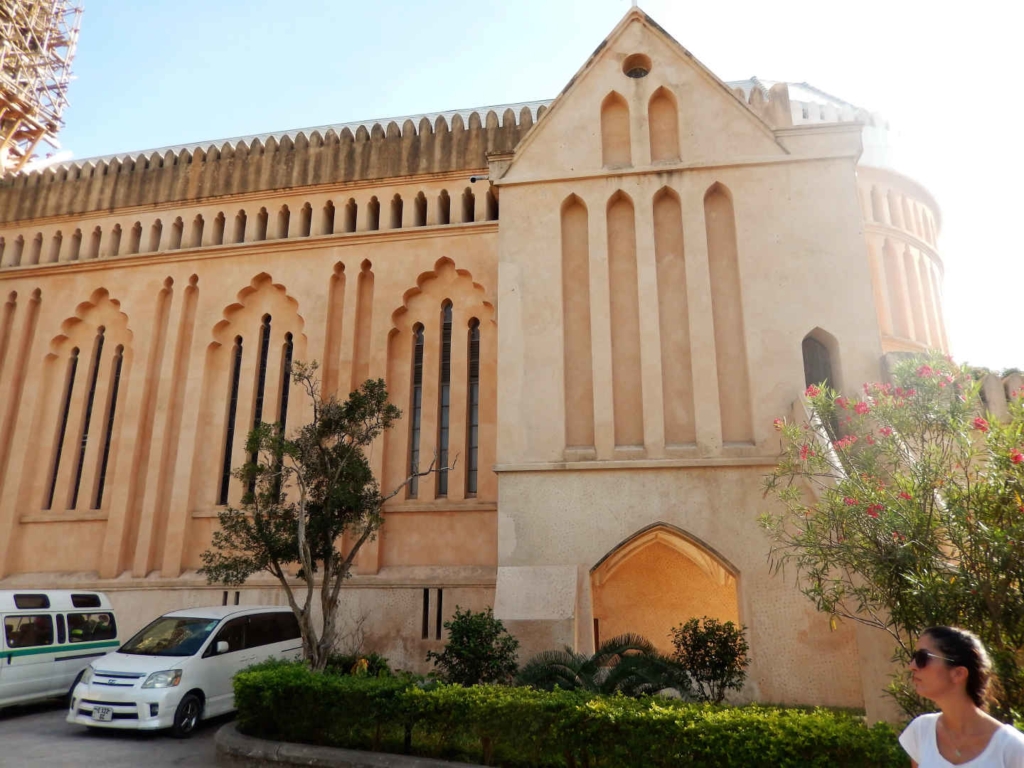 Here there is a museum, revealing the cramped rooms with low ceilings where dozens of people were kept chained in horrifying conditions, as well as a memorial to the slaves outside. Of all the island's things to do, discovering Zanzibar's history of slavery is certainly the most disturbing but perhaps the most important.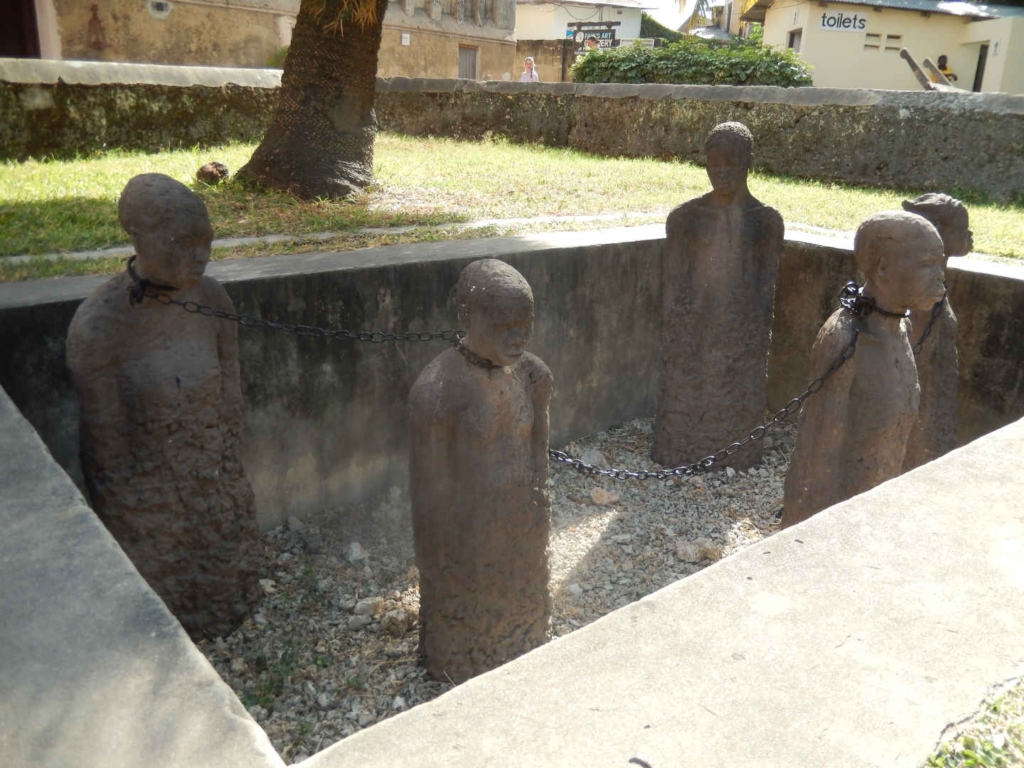 Shop at a bustling food market
For the intrepid backpacker, Zanzibar must-dos include browsing the island's markets. The Darajani Market on Darajani Road, not far from the Anglican cathedral, is a bustling indoor and outdoor market that is great fun to explore.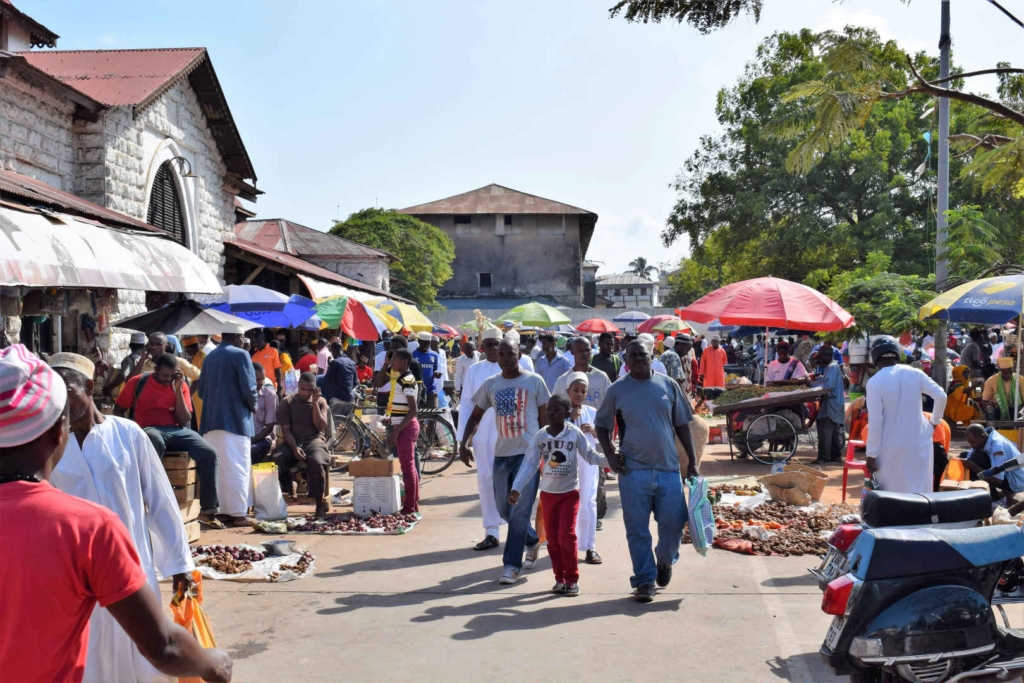 In sections of the indoor market, sellers display their enormous fish, slippery seafood and raw meats in the open air, as flies dance across the carcasses.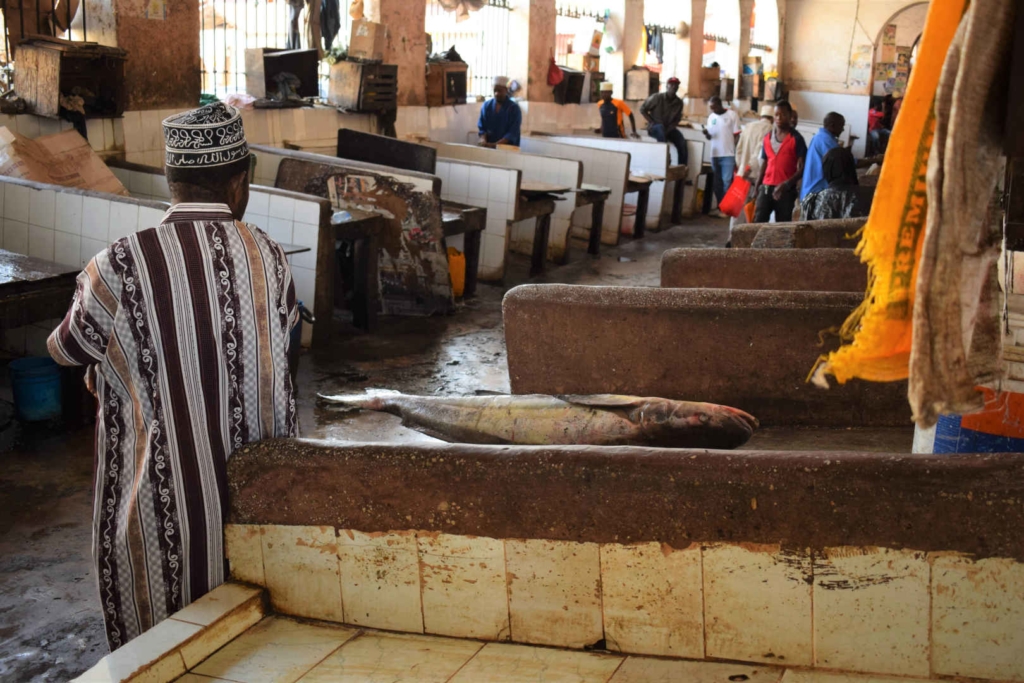 You can also find vendors selling all manner of shiny vegetables, nuts and Zanzibar's famous spices. It's worth picking up some of the island's famous saffron.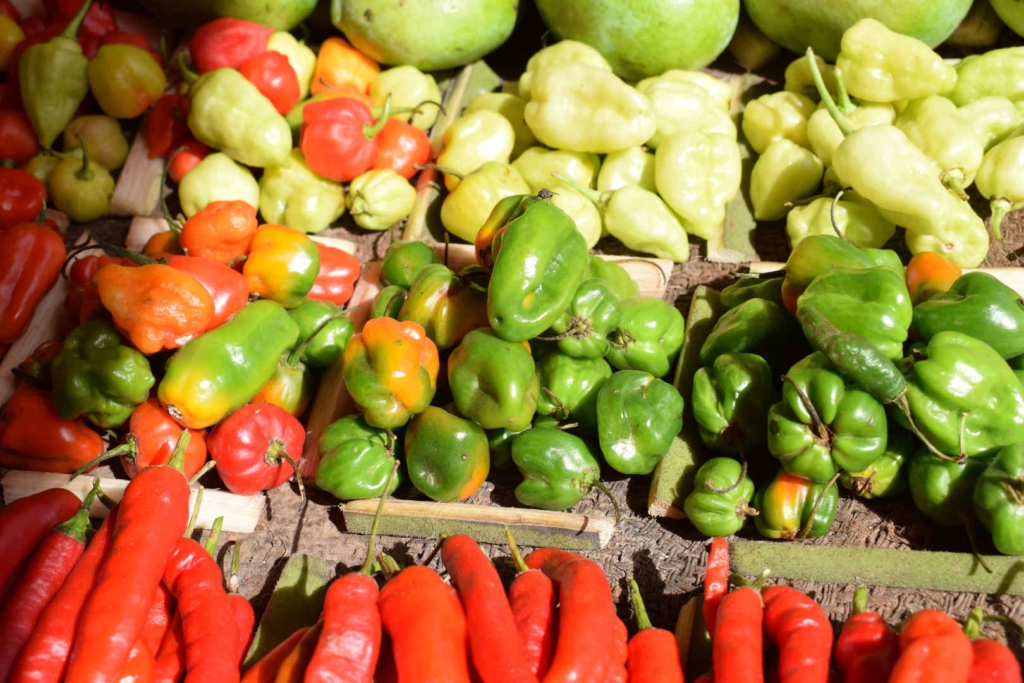 Taste the island's spices at Tangawizi Spice Farm
A 30-minute drive north of Zanzibar City is the Tangawizi Spice Farm, one of the most popular attractions in Zanzibar. Here, local guides show you how the island's fruit, vegetables and spices are grown and harvested. It's a fun, interactive tour where you can smell, taste and buy the produce, as well as getting an insight into one of Zanzibar's most important industries.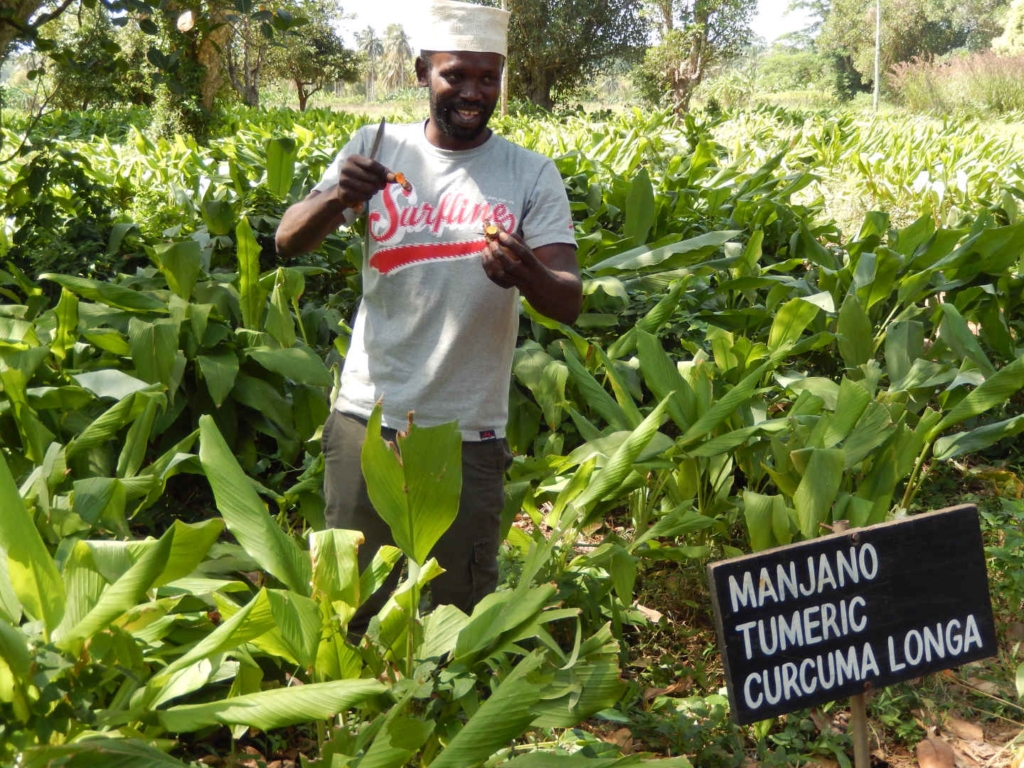 Go scuba diving off the coast of Nungwi
On the north coast of Zanzibar is the picturesque coastal village of Nungwi, which CNN ranks as one of the 100 best beaches around the world. Around 1.5 hours from Zanzibar City by taxi or car rental, the area can be reached by public bus and the dala dala shared minibus taxis, which depart every half hour from the capital. In Nungwi, you will find palm trees, laid-back beach life, traditional dhow boats and great opportunities for Zanzibar scuba diving.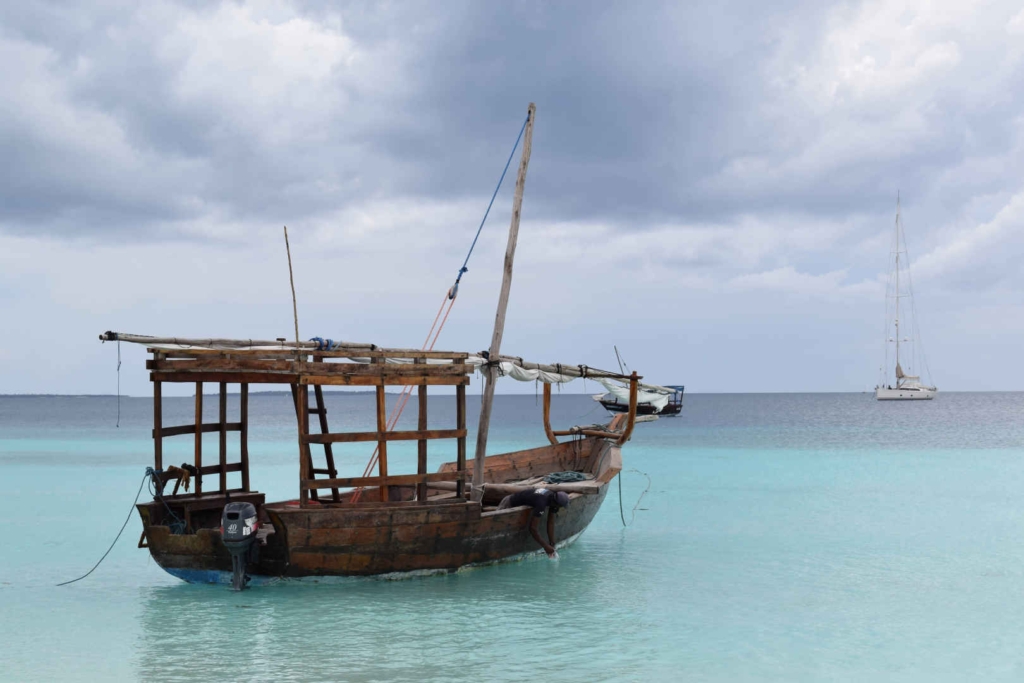 I chose the 5-star PADI Nungwi diving resort, Spanish Dancer Divers, to try scuba diving in Zanzibar. It had been a couple of years since I'd last been scuba diving, in Amed, Bali, so I was a little nervous. However, our Zanzibar diving group was a motley crew, ranging from a 19-year-old first-timer to a remarkable 78-year-old lady, who joked that her dive card was so ancient that no-one would recognise it.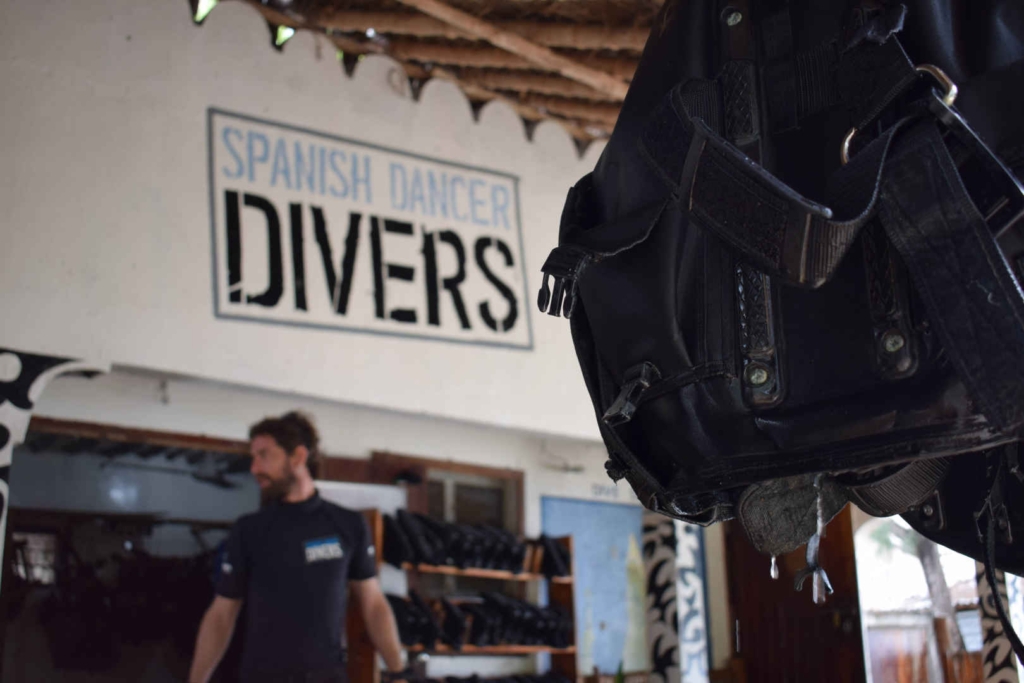 Nungwi's Spanish Dancer diving crew organised an introduction to scuba diving for the young lad and refresher sessions for the rest of us, making sure the older lady was comfortable and ready to go. Our friendly dive instructor kitted us up with our wet suit, scuba gear and even an on-board breakfast. We headed to the Mnemba Atoll marine conservation area. This site is known for offering some of the best diving and snorkelling in Zanzibar, as it is a large reef with good visibility.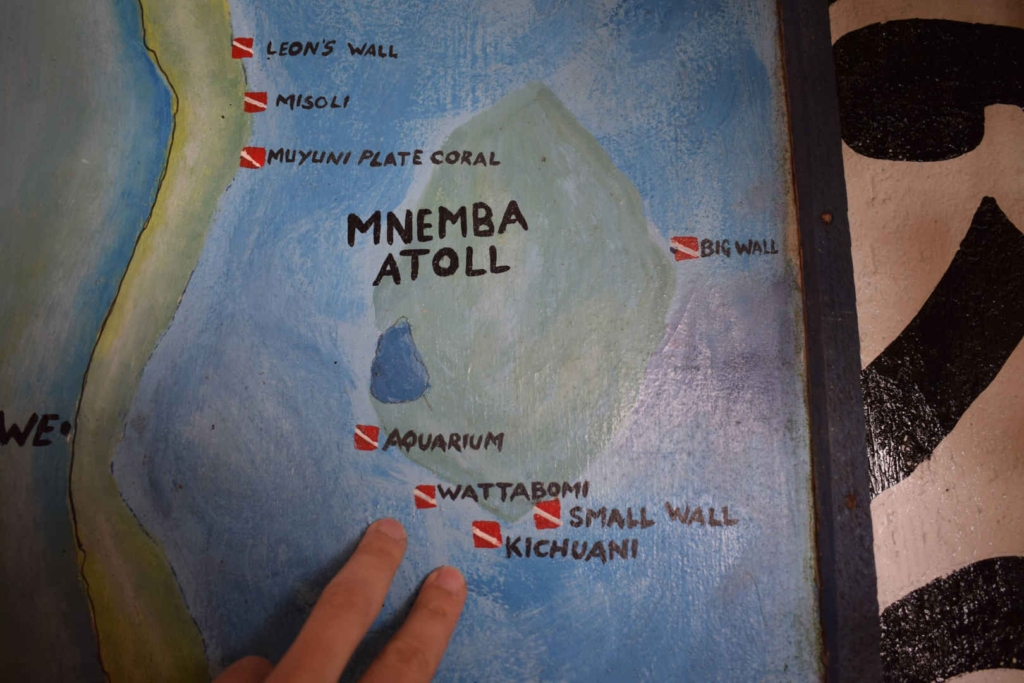 During our scuba diving adventure we saw fluttering shoals of bright fish, stripy cousins of 'Nemo' lingering among the anemone and big spiky fish showing off. An awesome Zanzibar diving experience.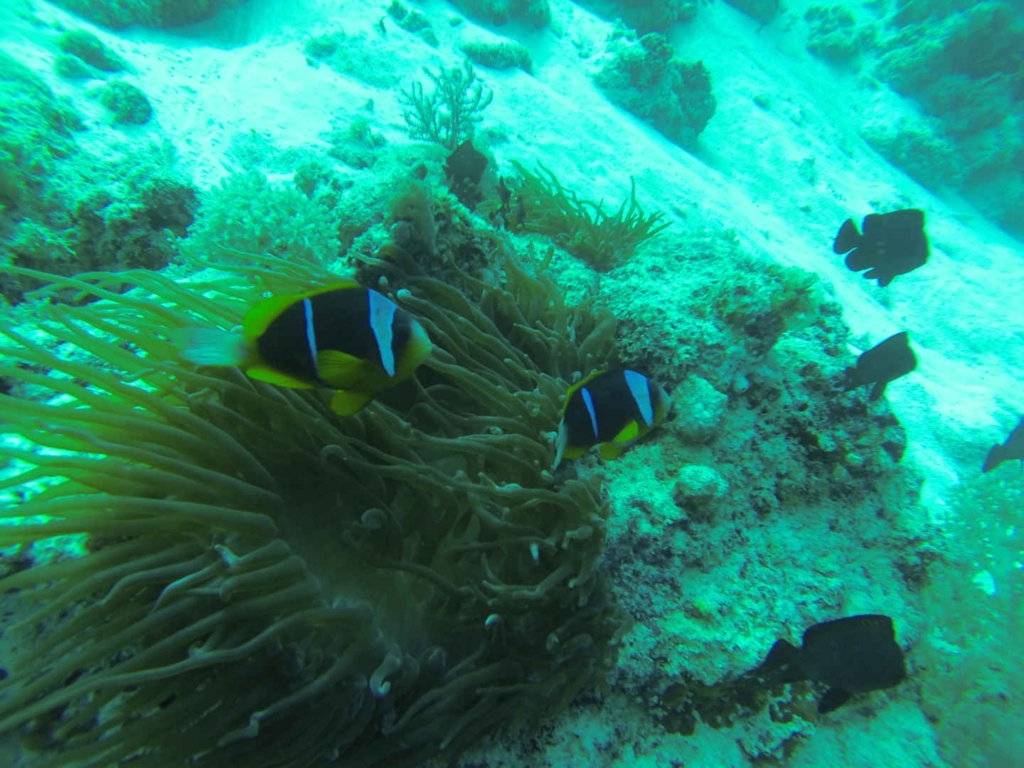 During my stay in Nungwi, we were at the Nungwi Inn Hotel, which is located in gardens right on the beach and has cute four poster beds. If I was returning to Nungwi, I would probably head for the popular GOasis Nungwi Zanzibar, a well-priced resort where you can enjoy hammocks, a relaxed bar and an outdoor pool, or the Langi Langi beach bungalows in Zanzibar, which have sensational sea views.
To browse and book all the accommodation in Nungwi, Zanzibar click here.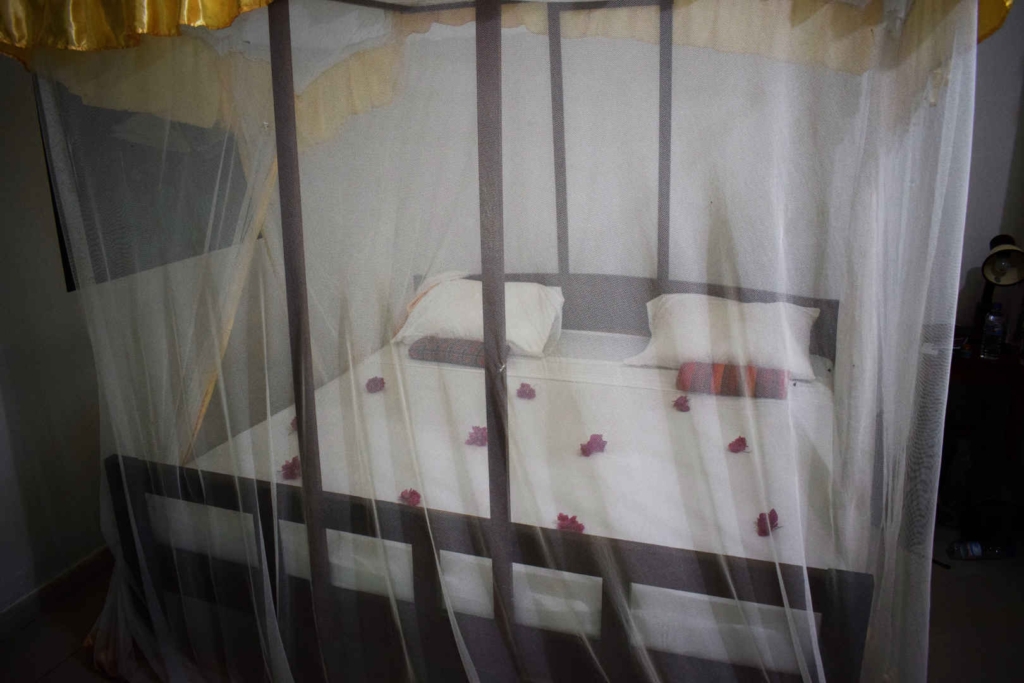 A fun day trip from here is the village of Kendwa, just 15 minutes' drive south of Nungwi, which has one of the island's top beaches and some of the best snorkelling Zanzibar has to offer. Beach accommodation in this part of Zanzibar includes the Kendwa Rocks Hotel, a favourite with backpackers in Zanzibar and famous for its Full Moon Parties. Nearby is the more upmarket Gold Beach Zanzibar beach house and spa resort, one of the top Zanzibar beach hotels.
Enjoy kite-surfing, blissful beaches and parties at Paje
Paje is a beach village on Zanzibar's southeast coast, around an hour from Zanzibar City. It is home to wide, white and windy sandy beaches. Kite-surfers from around the world come here to take advantage of Paje's ideal kite-surfing conditions and there are plenty of schools if you want to learn.
If you're looking for an overnight stop between Nungwi and Paje, try the Bluebay Beach Zanzibar resort and spa in Kiwenga and dine at the nearby Gabo Beach restaurant.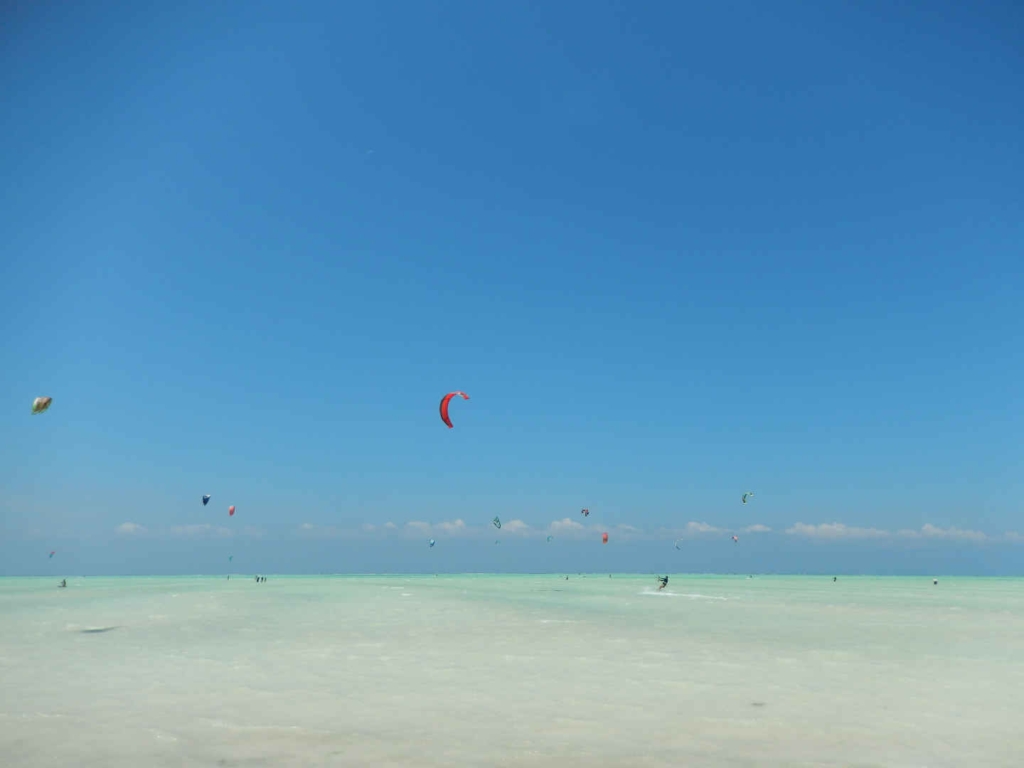 Despite the many kitesurfers here, you only need to take a short walk to uncover beautiful beaches with hardly a soul on them. During the day, you can also wander around the villages behind the tourist resorts to find local shops where you can negotiate for handmade souvenirs. For lunch or dinner, there are plenty of charming beachfront restaurants and cafes.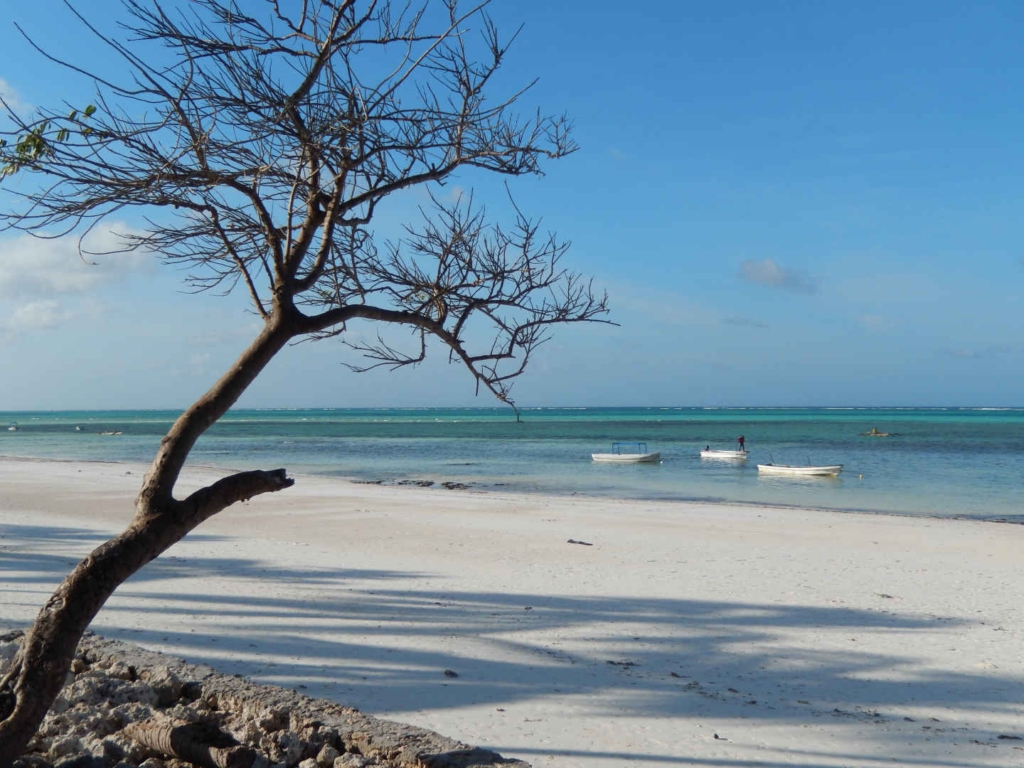 Paje is also best area to stay in Zanzibar for people looking for things to do in Zanzibar at night, as it is known for its all-night parties. We went to one at Jambo Bar and danced until the early hours. Don't be surprised to see men wearing Maasai warrior robes dancing alongside you, as these parties are enjoyed by tourists and locals alike.
My home in Paje was the wonderful New Teddy's Place, just a few steps from the beach. It is known as one of the best hostels in Tanzania, so it's the perfect cheap accommodation in Zanzibar for backpackers. With rustic cabins, hammocks to lounge in, friendly staff, a tasty daily menu and a chilled vibe, it's just divine.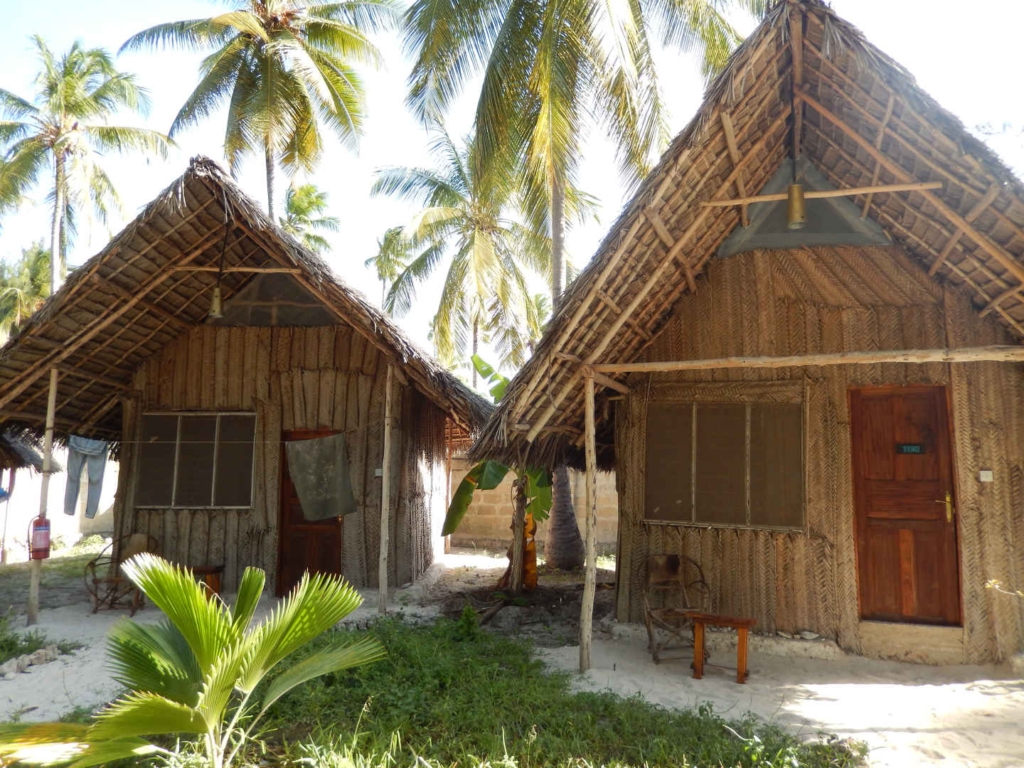 If you're looking for more upmarket Paje Zanzibar hotels, try the Dhow Inn, which has a pool, restaurant and private beach area, while the Arabian Nights hotel offers lots of activities as it has a kite and dive centre next door. If you're searching for beach villas in Zanzibar, try Paje's Arabian Night Villa. 
In the neighbouring Jambiani beach to the south is the newly opened, even bigger and better New Teddy's on the Beach, which has a blissful outdoor pool. Other Jambiani Zanzibar hotels include the Coral Rock beach resort and Coco Beach Hotel which are great value beach hotels in Zanzibar.
Dine in a unique restaurant perched on a rock in the sea
From Paje, it's a 15 minute taxi ride to Pingwe beach. The reason for our trip was to visit one of the best restaurants in Zanzibar. The Rock is a restaurant perched on a rock in the middle of the sea. At dusk it was high tide so we had to catch a small fishing boat to access this unique restaurant. This is a cool experience for Zanzibar backpackers wanting a dinner experience with a difference.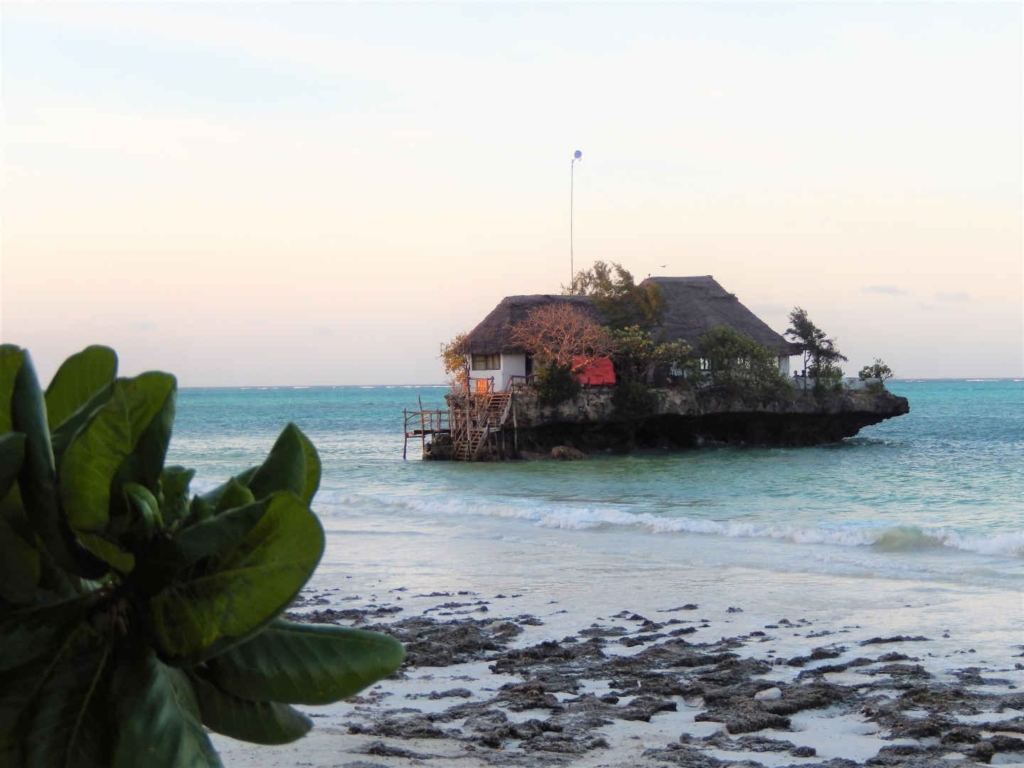 Inside it was romantic with candlelit tables and we feasted on lobster and pasta. The Rock Zanzibar prices are not too high considering how special it is and it offers some of the finest food in Zanzibar. At one point we ventured onto the restaurant's sea-facing deck for a drink or two, to toast our backpacking Zanzibar trip.
If you are looking for somewhere totally serene to stay in Pingwe, check out the decadent Upendo Zanzibar beach resort and pool. Upendo means 'love' in Swahili and we certainly had a crush on this place.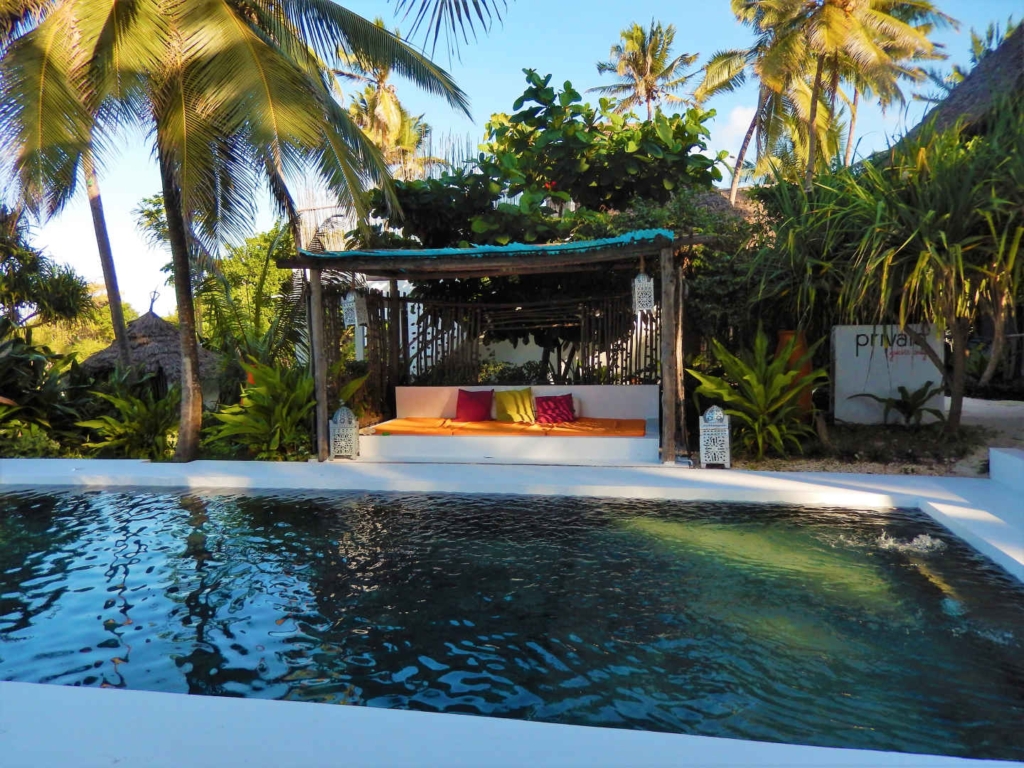 More of the best things to do in Zanzibar
If you are keen to learn more about the animals in Zanzibar, pay a visit to the Cheetah's Rock wildlife rescue service in Selem, a half-hour drive north of Zanzibar City. Here you can meet the animals and hear from staff who care for them about the centre's conservation efforts.
If you're intrigued to take a trip to the nearby Pemba Island in the Zanzibar archipelago and you want a unique experience, check out the award-winning Manta Resort floating hotel. If you splash out on one of their luxurious underwater rooms, you will come face-to-face with our fishy friends and see the light shift through the water from the comfort of your bed. 
Next up, head back to mainland Tanzania and read about the sensational sunrise balloon trip over the Serengeti plains.