During my road trip around Bali, I discovered a quiet, relaxed and naturally beautiful beach on Bali's unspoilt and uncrowded west coast. It quickly became one of my favourite beaches in Bali. Here is my guide to the best things to do in Balian Beach, Bali.
What you need to know about Balian Beach, Bali
Balian Beach is in the village of Lalanglinggah in the district of West Selemadeg, which has 19,000 inhabitants and runs from the coast inland to the famous Jatiluwih Rice Terrace. It is located in the Tabanan Regency of central and southwest Bali and is named after the large Balian river which runs into the Indian Ocean here. It is 1.5 hours west of Ubud, 1.5 hours north of Canggu and two hours from Bali's Ngurah Rai international airport by car.
Its off-the-beaten-track location means you won't see many tourists here. When you arrive, you'll find a quaint coastal village lined with surf shops and relaxed restaurants, known in Bali as warungs. Unlike much of the rest of Bali, there is hardly a soul around except for the locals.
Balian Beach is a beautiful, wild and totally peaceful place to be. The area's fine, volcanic black sand and pebble beaches are surrounded by palm trees, cliffs and large craggy rocks which you can take your time to explore. There are many scenic walks to be enjoyed around here.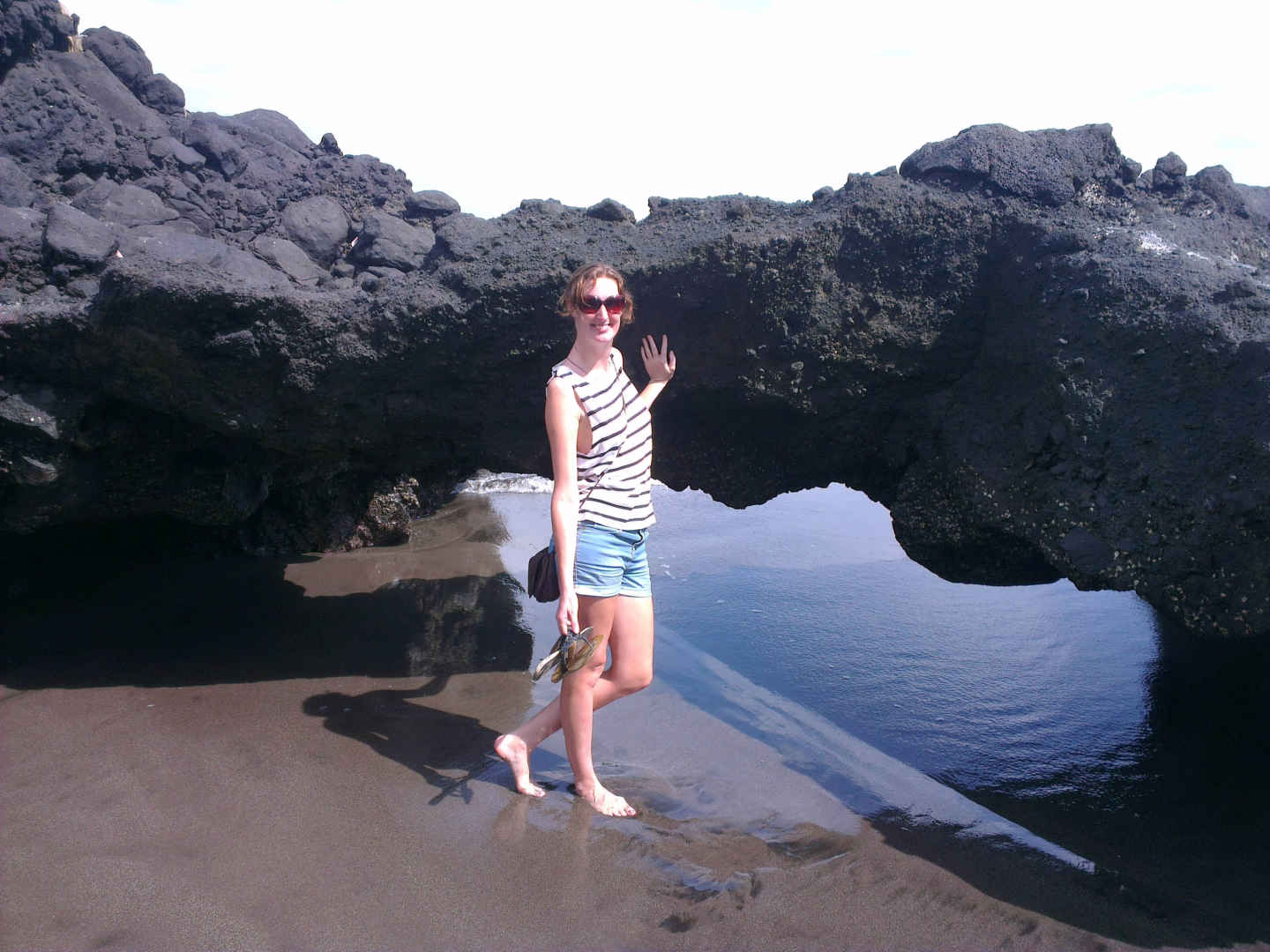 On Balian beach, you won't need to look far to find an incredible selection of beautiful seashells.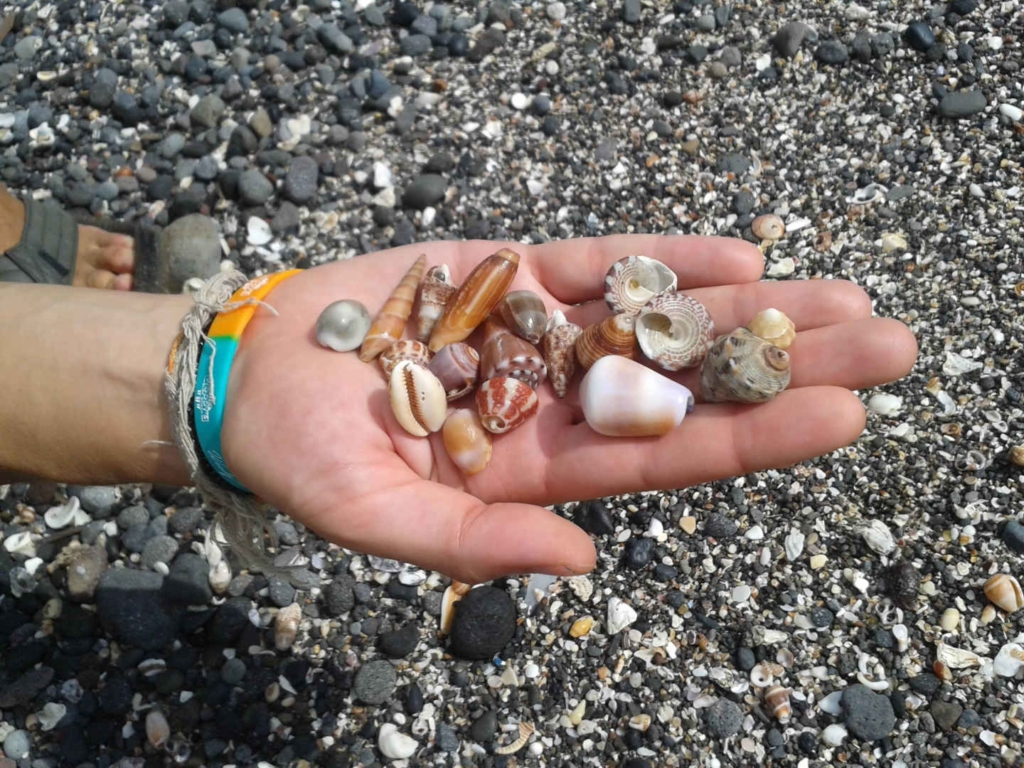 In the evenings, you will see serene and colourful sunsets, as Balian Beach sits on the west coast of Bali. These spectacular displays range from vibrant oranges and reds to calming purples.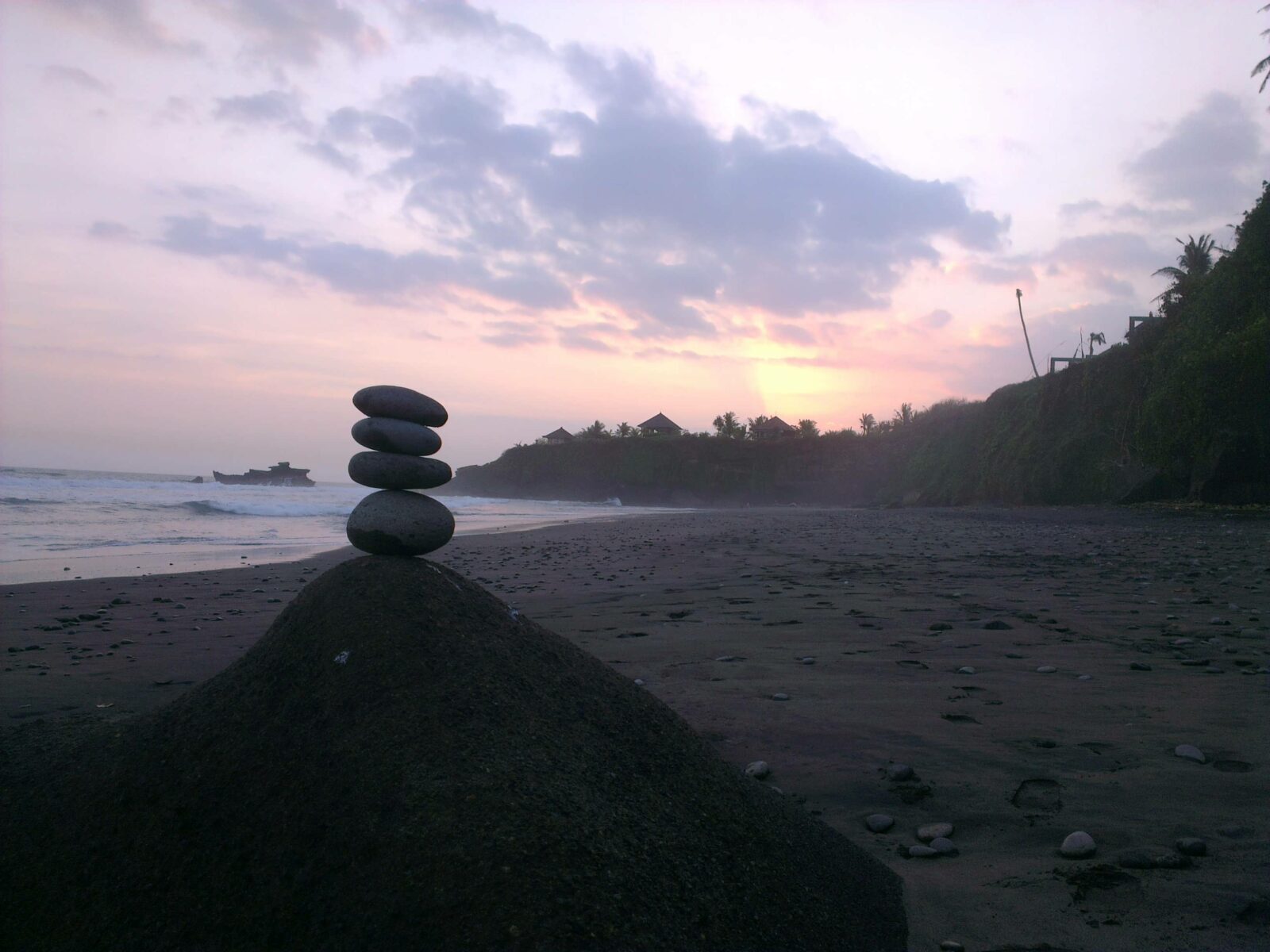 These are the best places to stay on Balian Beach
Being a quiet and secluded Bali beach, there is only a small selection of hotels, villas and guest houses on Balian beach, but they are highly rated.
One of the most popular places to stay in Balian if you are on a budget are the Gubug Balian Beach Bungalows. Located 20 metres from Balian Beach, it has friendly staff and an outdoor swimming pool. Each of its modern, peaceful and air-conditioned rooms are en-suite and have a flat-screen TV. It benefits from fast and reliable WiFi, which isn't always easy to come by in Bali.
Through your room's French windows, you can enjoy delightful views across the resort's tropical gardens or over the sea. A complimentary breakfast is served every day on your room's private terrace or balcony.
Check the latest availability and prices of Gubug Balian Beach Bungalows here.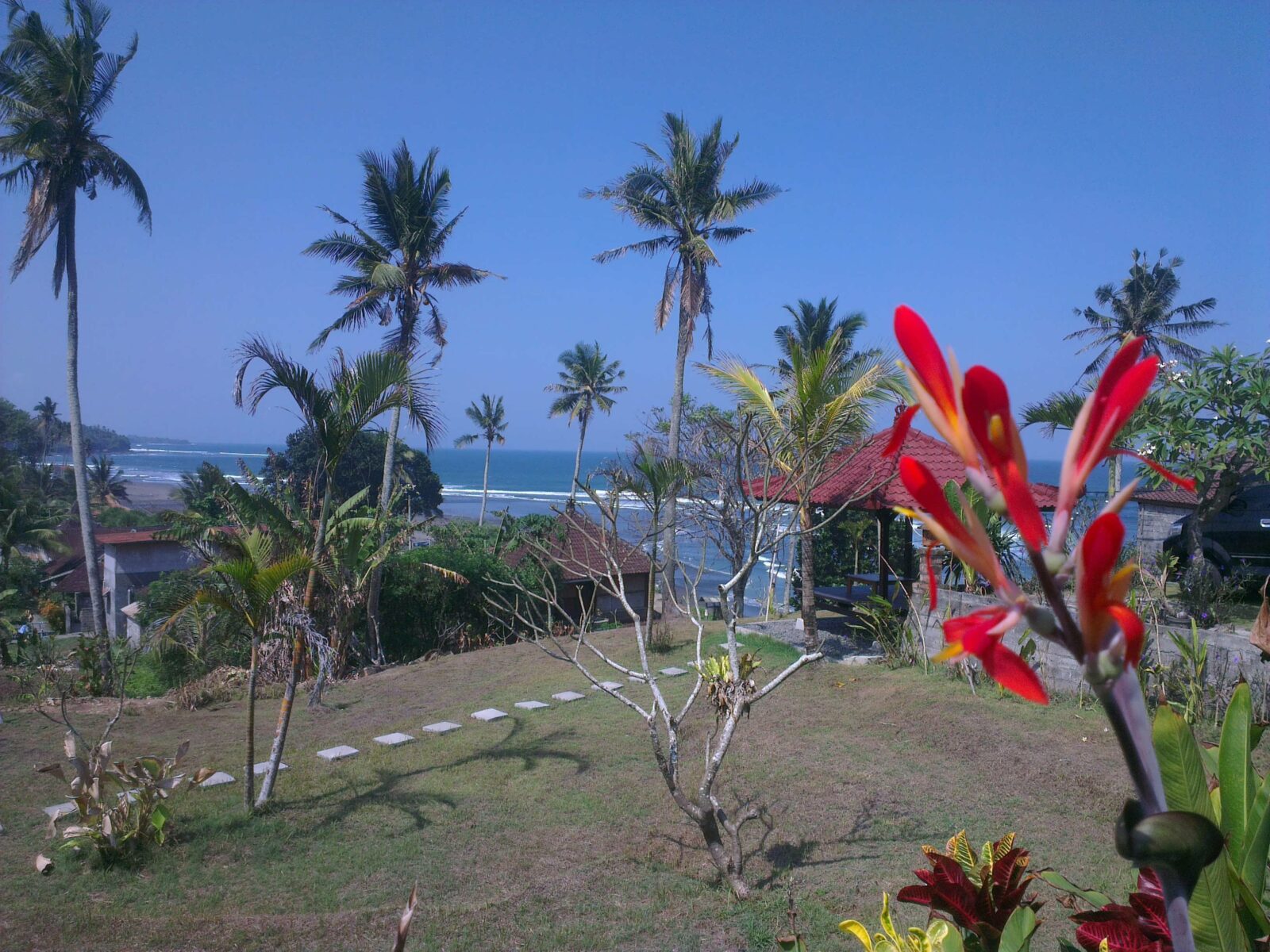 A superb alternative is Istana Balian, which has an outdoor pool, stunning views and free high-speed WiFi. Guests love the great food served in its on-site restaurant. All of its air conditioned, en-suite rooms come with a private terrace, comfortable beds, a flat-screen cable TV, DVD player, a minibar and coffee and tea-making facilities.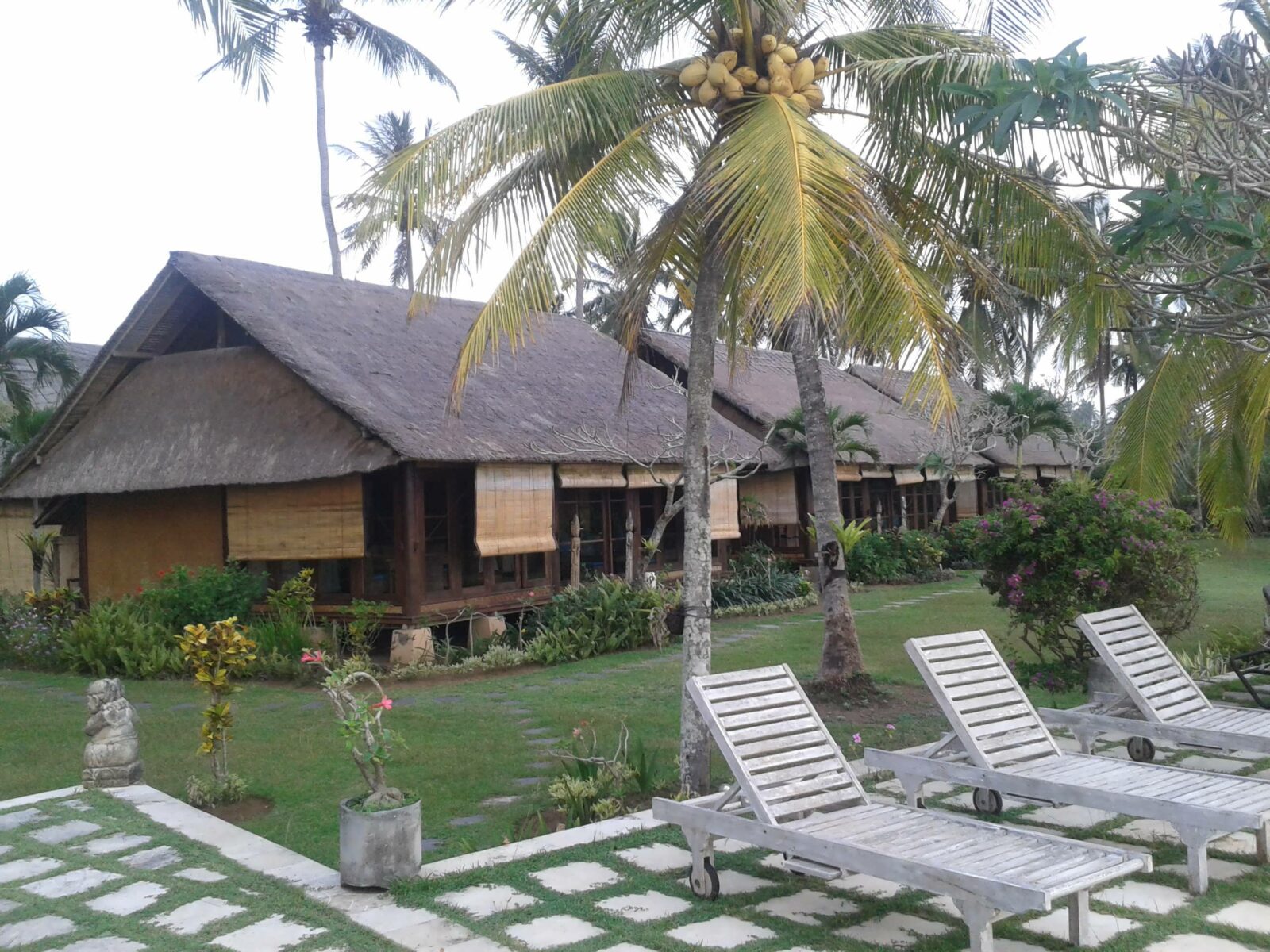 Meanwhile, the Gajah Mina Beach Resort is set in gorgeous gardens and has a private beach, as well as a yoga room and spa where you can indulge in a Balinese massage. Its traditional-style villas and suites have a minibar, safe and kettle, as well as a balcony with garden or sea views. The resort's Naga Restaurant serves French, Indonesian and Thai cuisine.
Another popular beachfront accommodation option in Balian is the Pondok Pitaya Balian Hotel. It has an open air pool and an on-site restaurant. The fan-cooled rooms are stylishly designed with rattan and bamboo interiors and each has a private terrace and seating area overlooking the gardens.
If you prefer more modern rooms, try the Balian Surf Villas. Here, you can choose from apartments, rooms and studios. The ground floor apartments share a swimming pool where you can enjoy a barbecue.
This is where you can discover the local wildlife
Some of the caves around Balian Beach are home to bats and monitor lizards. You can also find wildlife at the mouth of the River Balian and its smaller stream inlets which run across the beach.
One day, by one of these inlets, I saw something glistening on the ground. Looking closer, I could see that it was actually hundreds of thousands of tiny baby crabs wriggling across the sand. There were so many of them, it was hard to comprehend.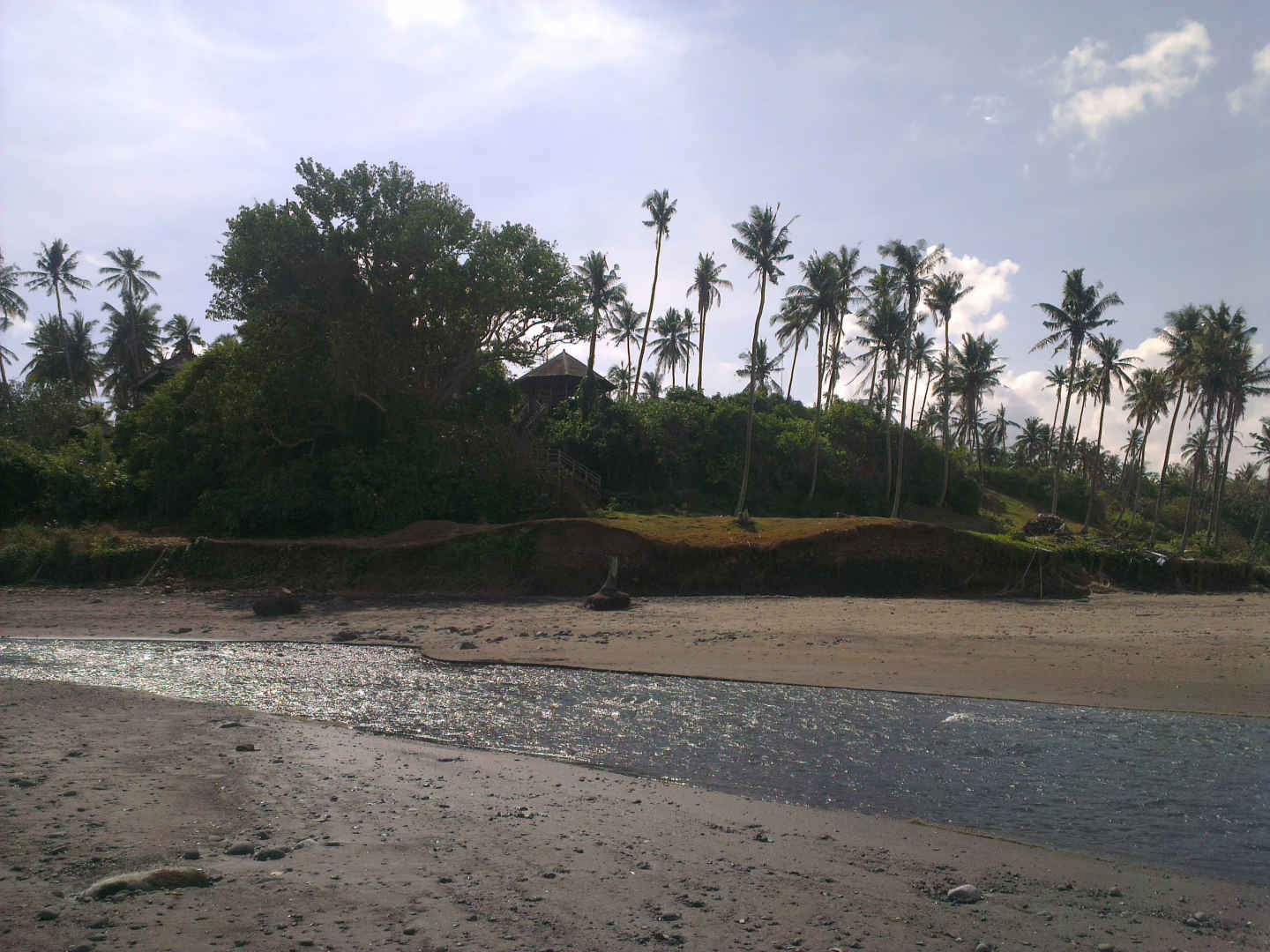 These embryonic crabs weren't harmful in the slightest, so you could scoop them up with your hands and they would gently crawl out to continue their journey. It was really something special to experience.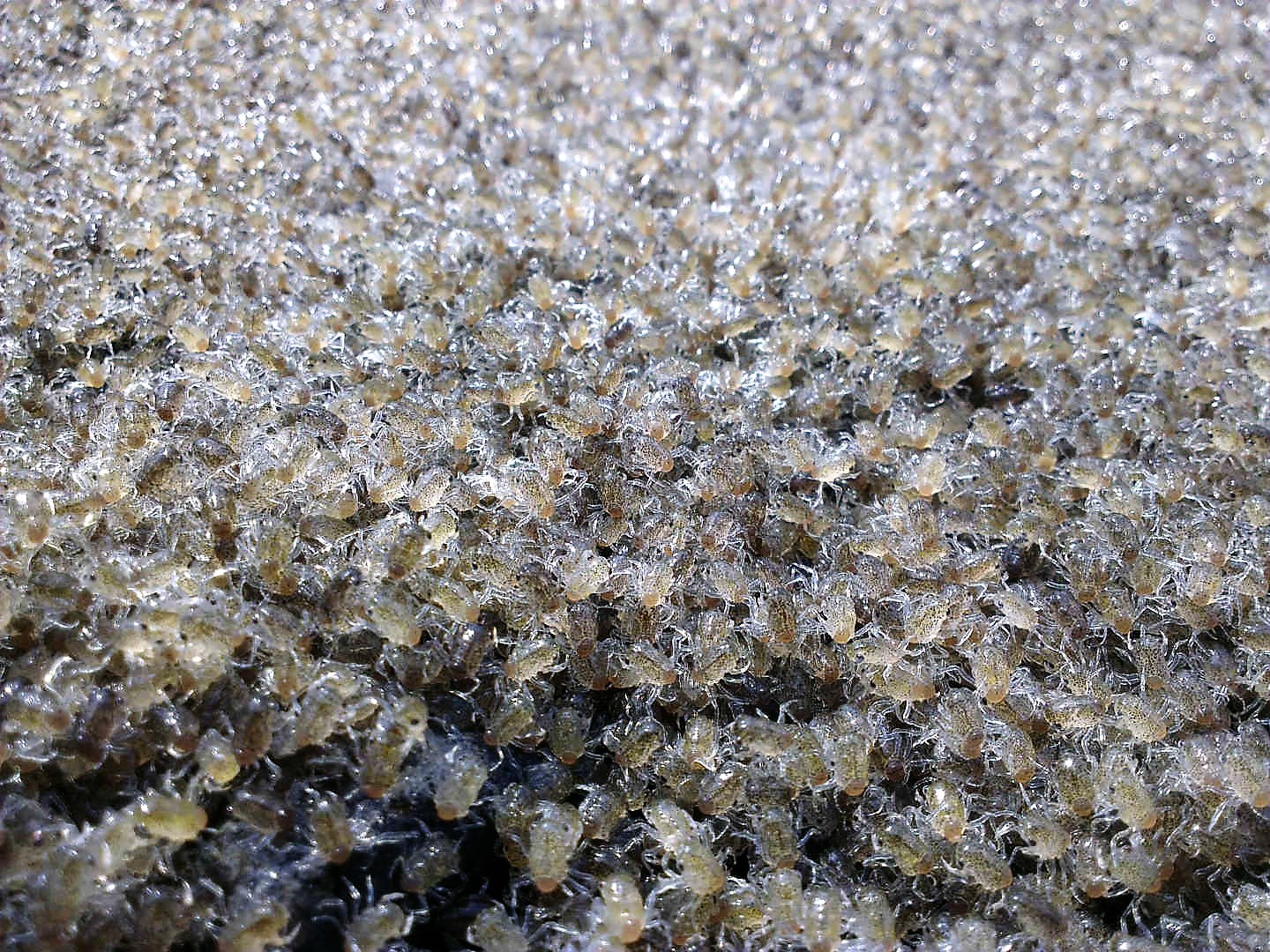 If you are a nature lover, you can also take a day trip to the Bali Butterfly Park, just an hour's drive east from Balian Beach. This park is dedicated to the research, breeding and preservation of butterflies. Here you can see rare species of butterflies including the birdwing butterfly, the swallowtail and the great Mormon.
A short drive from the Bali Butterfly Park is Alas Kedaton, a small forest, temple and animal sanctuary, where you can find many free-roaming monkeys.
Meet the friendly locals in Balian
One thing you will notice about Balian Beach is how warm and welcoming the local people are. Tourists are not as common here and the villagers will often greet you with a smile and a wave. There is little crime here so you will feel safe.
While searching for somewhere to stay for the night, I was lucky enough to meet Nyoman, the lively and helpful Village Chief, and his lovely wife. Nyoman took it upon himself to ask around at the beachfront resorts to find us a well-priced room at Gubug Balian Beach Bungalows. He even transported me there on his motorbike so I didn't have to carry my heavy bags.
He described the perks and challenges of his six-year role, which involves dealing with the demands and issues of the villagers and the government. He confided that he was originally planning to retire, but his contemporaries felt he would be the perfect man for the job so they voted him in. Nyoman is so friendly, kind and knowledgeable, I could totally understand why.
This is the best place to eat and drink in Balian Beach
Opposite the Gubug Balian Beach Bungalows is Deki's Warung, a hidden gem in this part of Bali. This modest satay restaurant overlooking the sea quickly became my favourite haunt.
Here you can sip your drink while watching surfers and kite surfers tackle the waves. In the evening there is live music from local guitar bands, which is a lot of fun.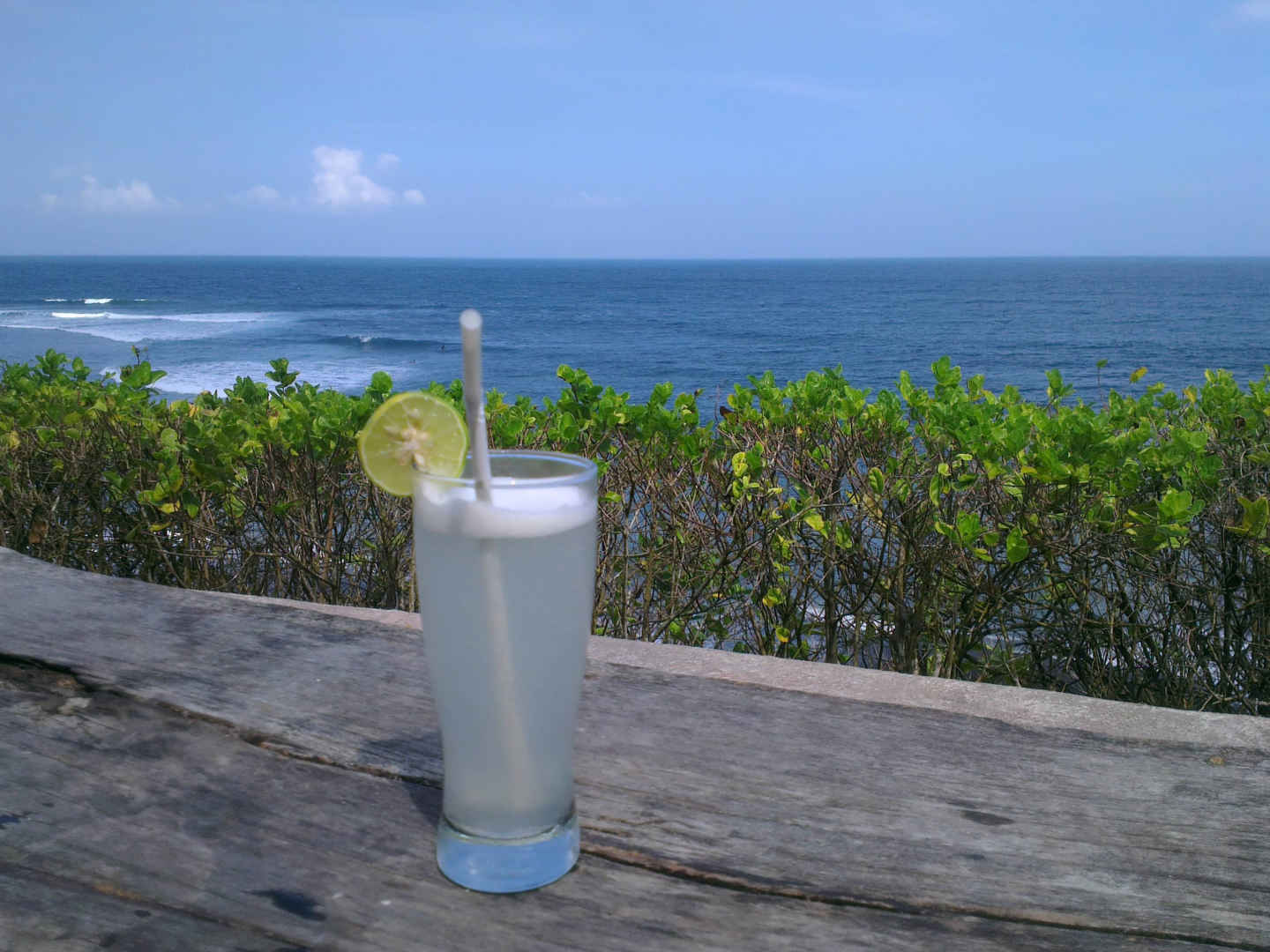 Another good place to meet the villagers is at the area's small street market, where you can buy cheap meals and play board games in the evenings.
More things to do in Balian Beach, Bali
Balian is known as a destination for surfing, kite-surfing and yoga. It is the perfect place, thanks to its super-chilled ambiance.
The waves and tides at Balian Beach are strong, so be careful if you are planning to go swimming in the sea.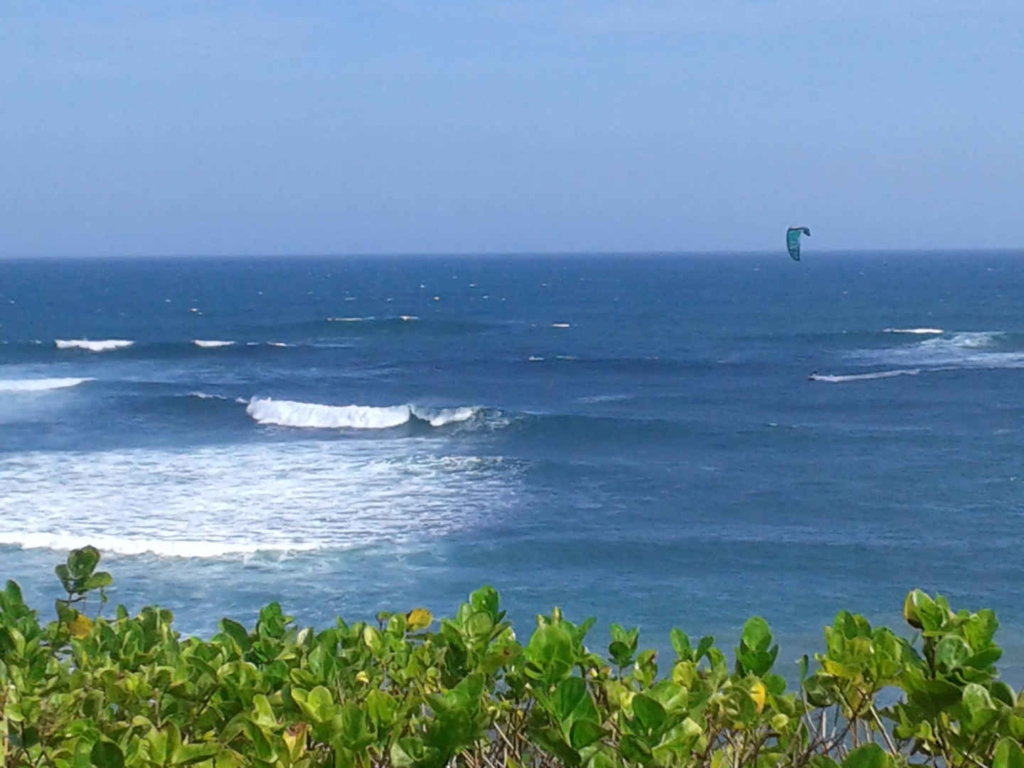 Yoga is a great way to ease tired post-surfing muscles. In Balian, you can find daily yoga classes at the large studio in Pondok Pitaya Balian Hotel, which offers lessons for all levels of students, as well as yoga teacher training. Another popular place to go for yoga in Balian Beach is Nicky's Yoga Shala.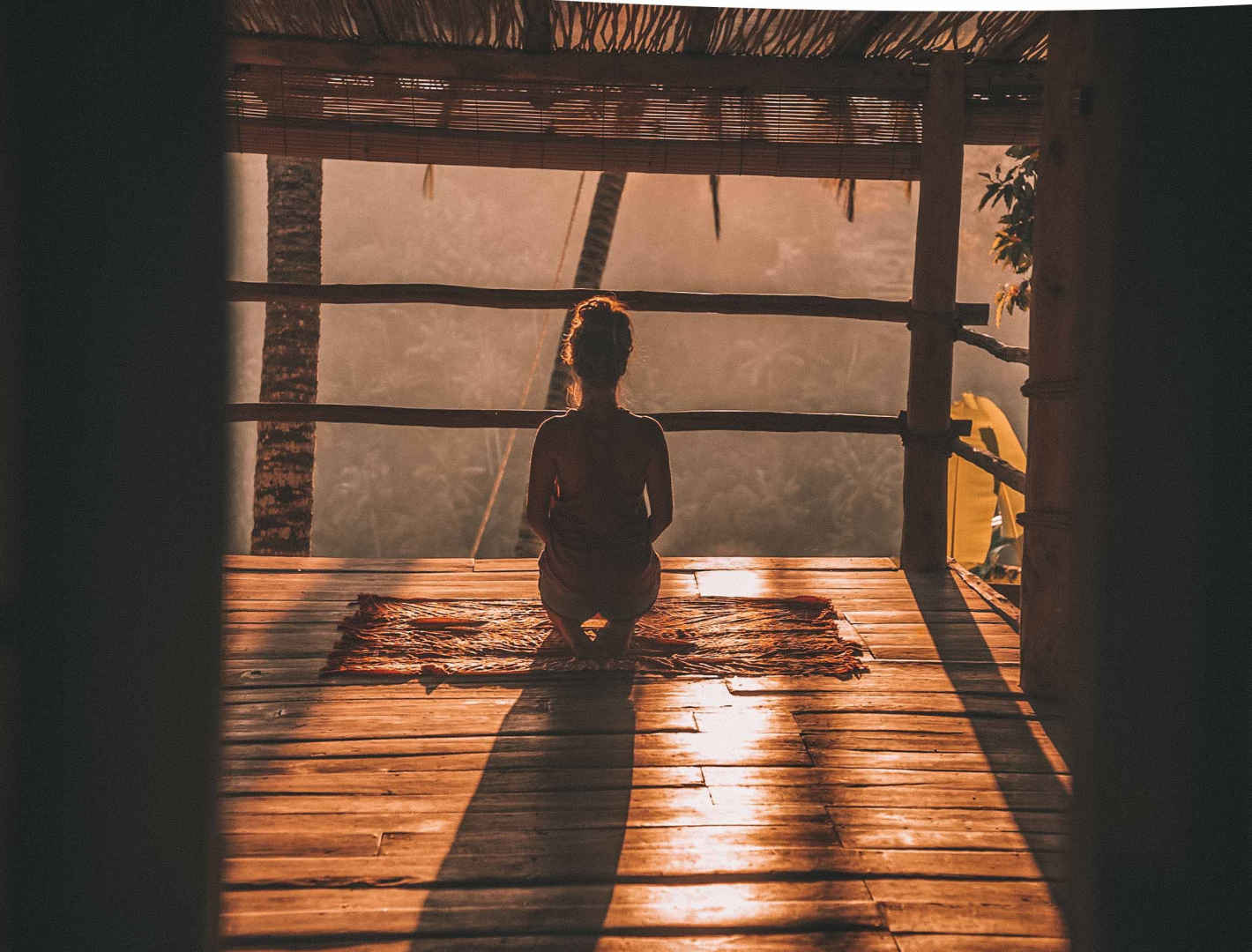 Delightful day trips from Balian Beach
Ten minutes' drive east of Balian Beach is the Luhur Srijong Temple. This Hindu temple is a nice place to spend an afternoon paying your respects in its calm surroundings and touching its healing holy water.
For a fantastic day trip from Balian, take time to visit the famous Tanah Lot temple, which is a 75-minute drive south along the coast. This is an ancient Hindu pilgrimage temple on an island rock formation off the west coast of Bali. It is a cultural icon and tourist attraction for photography.
Book a spectacular guided tour of Tanah Lot temple directly from your hotel, here.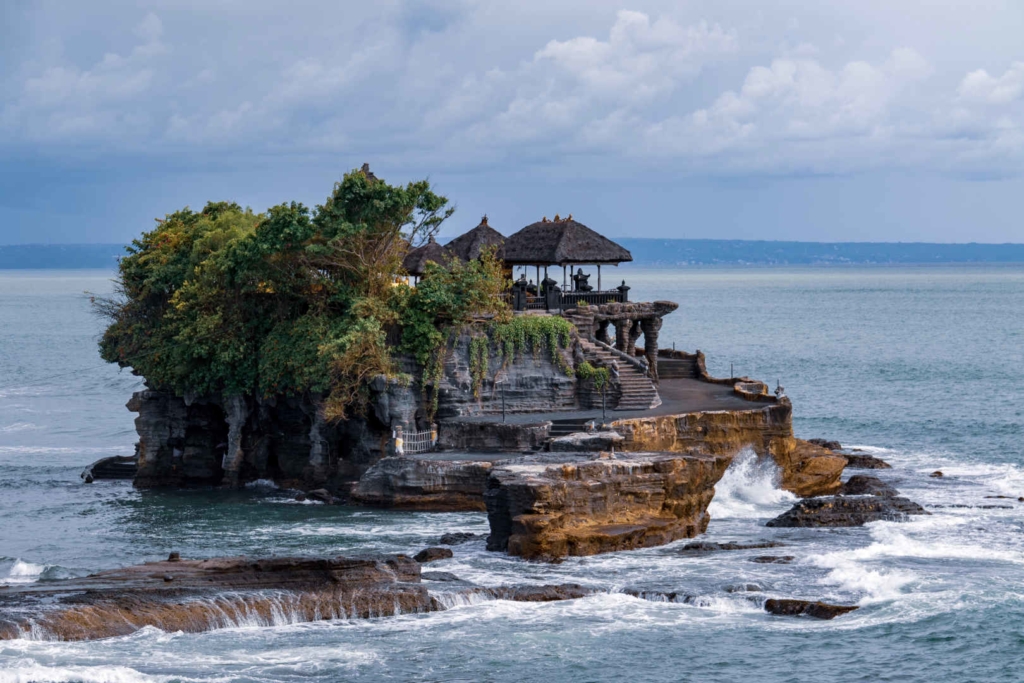 Meanwhile, the popular hipster beach resort of Canggu is just south of Tanah Lot, where you can feast on organic food in boho-chic cafes and learn to surf.
The famous Jatiluwih Rice Terrace is 75 minutes by car northeast of Balian Beach and this UNESCO World Heritage Site is well worth a visit.
Avoid the queues when you visit Jatiluwih Rice Terrace and more UNESCO sites on this full day tour.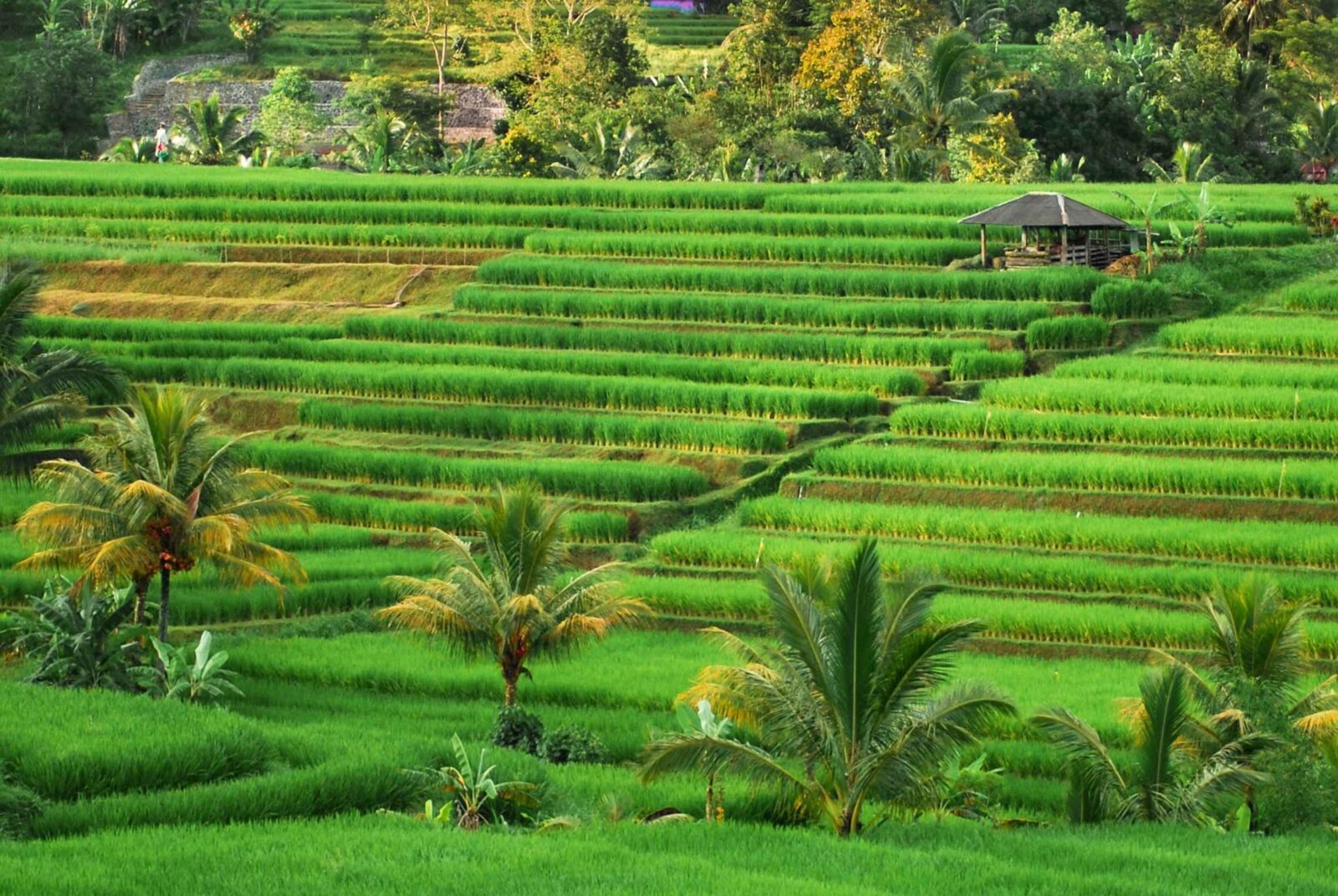 These are the cheapest and best ways to get to Balian Beach
One of the reasons that Balian is so blissfully quiet is because it's off the beaten track. There are plenty of taxi drivers who will offer to take you there, but to save money I recommend taking one of the government-run Bluebird taxis.
If you are driving by scooter or motorbike from South Bali on the road along the west coast (the Jalan Raya Denpasar to Gilimanuk), look out for a broken surfboard on the left-hand side of the road with Balian written on it. Follow this road (Jalan Pantai Balian) for around five minutes and you will arrive in the village. It's easy to find free parking here – outside Deki's Warung is a good option if your accommodation doesn't have parking available.
Alternatively, for a fraction of the price of a taxi, you can travel to Balian from other locations in Bali by bemo. This is a local minibus that operates roughly every 50 minutes. Luggage is piled high and the service stops to pick up passengers along the way.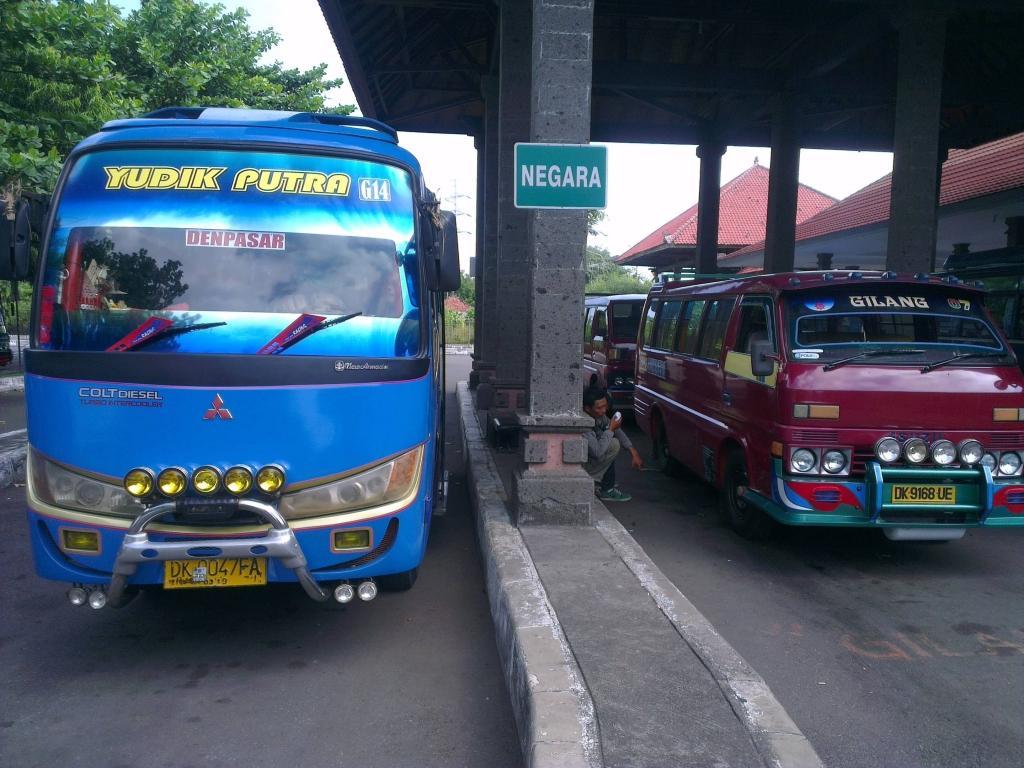 I travelled to Balian Beach from Pemuteran and stopped to change bemo at the bus station in the western port town of Gilimanuk, close to West Bali National Park.
Here, I tucked into a tasty and affordable lunch of bakso, a spicy meatball noodle soup. The guy serving at this street food stand was happy to put on his cap and strike a pose for my photo.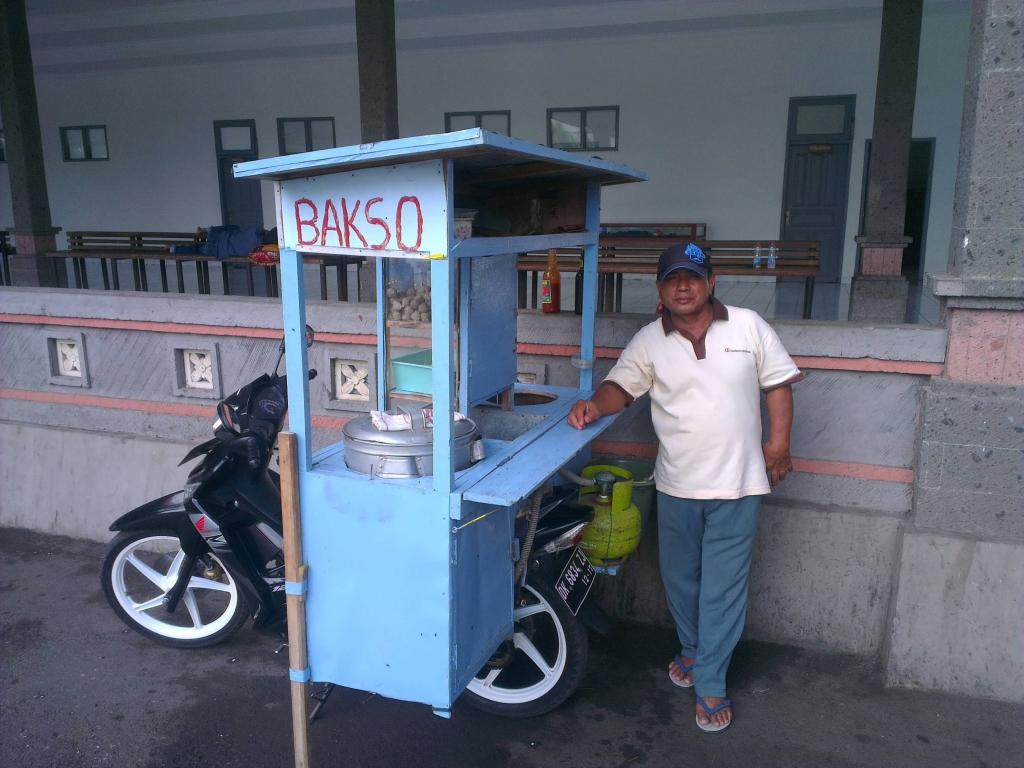 Travelling by bemo is interesting to say the least. Blaring from my bus's small TV in the front were Balinese pop videos, which the driver was captivated by. As a result, the bemo was crawling at a snail's pace down the road, with cyclists overtaking us. In the seats in front of me a Balinese lady was vomiting into small plastic bags, which she would then throw out of the window. Lovely. But it's all part of the fun and great to experience the local way to travel.
If you're travelling to Balian beach to the airport, I recommend you take a taxi to be sure you will arrive on time. Balian beach is two hours' drive by car to Bali's Ngurah Rai international airport.
Final thoughts on Balian Beach, Bali
In recent years, so many of Bali's most famous destinations have become over-commercialised and overrun by tourists, so it's wonderful to go somewhere that feels relatively undiscovered.
Balian Beach is a special place if you are looking to get away from the crowds and find time for yourself to walk among the beautiful natural surroundings get to know a bit more of the real Bali.
Now, read about all the best things to do and places to go around the island when backpacking in Bali.