It's strange waking up to a new year when you know that your loved ones back home haven't even started celebrating New Year's Eve yet.
Having arrived in Auckland, from London via Hong Kong, the day before and navigating the spaced-out wooziness of jetlag and 'power naps' that last 13 hours (whoops), I was ready to see in 2014. Cue a rooftop party at a plush city centre apartment, good friends, bottles of beer and wine cooling in an inflatable pool, and an impressive view of Auckland's Sky Tower, as it burst into a fireworks display on the stroke of midnight.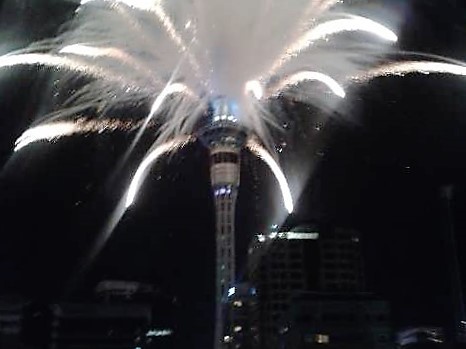 It's good to be back. Whereas a few months ago this place was brand new to me, I enjoyed the familiarity as I hauled my luggage off the bus arriving in my Mount Eden neighbourhood, to a friendly welcome at the hostel where I lived for four months of last year. That sounds strange to say now, that it was such a long time, but I had so much going on – settling in here with work and new friends – that the time really did fly by. Now it's peak summer season, I was lucky enough to secure the last bed in the place – and I smiled as I realised it was my old bed.
As well as being a brand new year, this is a mini landmark for me as this is my 50th blog post. It feels like a time for a fresh perspective and new adventures.
Which is why it's apt that I have booked a bus tour, departing tomorrow, that will take me on a multi-stop trip to explore more of New Zealand over the coming days. After four months in Auckland it's time to see more of this beautiful country.
Looking out of the aeroplane window on my way in, as we prepared for our descent, I was gifted a glorious view of the velvety green rolling hills, dark mossy trees and mile-long stretches of blonde beach that make up the land here. I can't wait to get stuck in.
Happy New Year everyone – wherever your adventures may lead you.
Next up, read about my North Island adventures in New Zealand.