The Gili Islands are a popular side trip from Bali for travellers seeking scuba diving, beaches and parties. Here's how to enjoy gorgeous Gili Trawangan backpacking.
Last year I had a taste of Gili T when I visited for a long weekend with some girl friends. This time, accompanied by my boyfriend Steeve, we intended to come for a week but were so captivated by the island's laid back vibe that we ended up staying for almost a fortnight.
With crystal blue waters and hot white sand, the main port area has an attractive beach, though now more long boats are fighting for space along this strip, as Gili Trawangan backpacking becomes increasingly popular. The boat owners offer snorkelling and diving trips, or a taxi boat to the sister islands of Gili Meno and Gili Air.
It's a great place to enjoy people-watching, especially from the comfort of one of the many beach-side restaurants and bars. These range from appealingly rustic to consciously chic, such as the funky Horizontal Lounge & Bar, which has outrageously comfortable beach beds. Once settled on one of these, you can't help but lie back and sip your drinks as the hours slip by. Another Bintang beer please…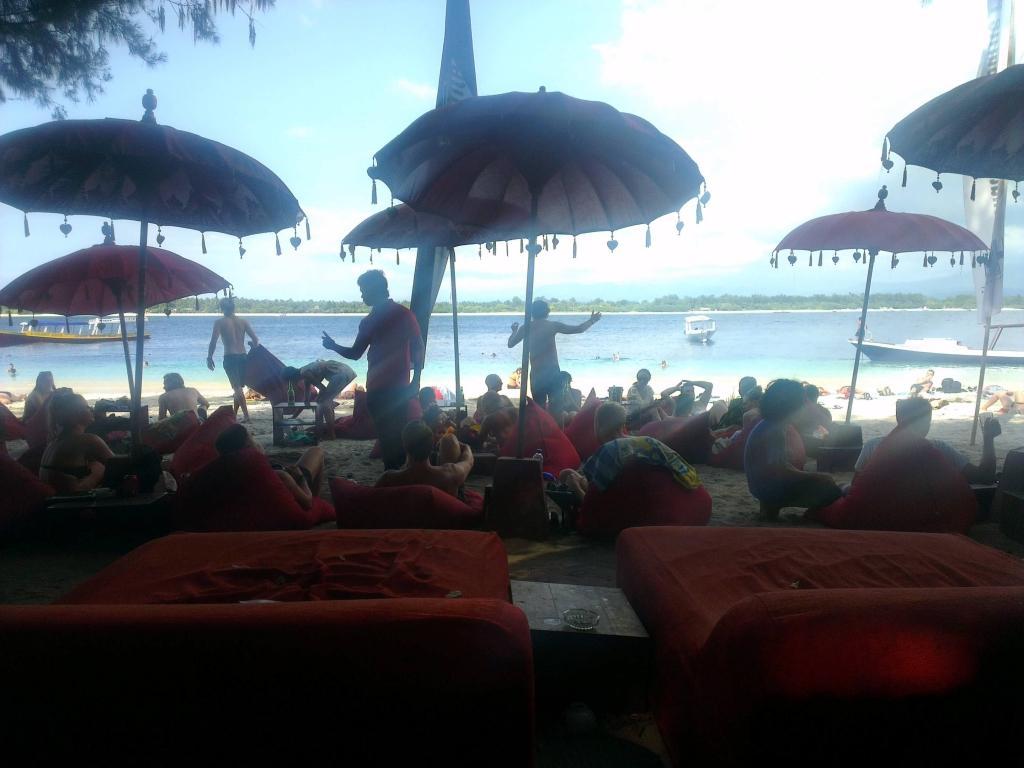 We stayed in Rose Homestay, a small guest house just off the main strip, which was very pleasant – a brand new building with air conditioning, free wifi, tasty breakfast on your terrace and a friendly manager.
A word of advice is to choose accommodation a good distance from the island's mosque, if you are concerned that the daily calls to prayer might disturb you – the first is at 5am. Though you may already be awake after one of the island's legendary parties of course! If you want total bliss, pick a guest house on one of the island's other beaches where there are lush, high end resorts for honeymooners wanting to splash the cash for something extra special.
One of the things that's most charming about Gili Trawangan backpacking is the island's lack of motorised transport. No rattling motorbike engines here or polluting cars, just bicycles and horse-drawn carts roam the streets.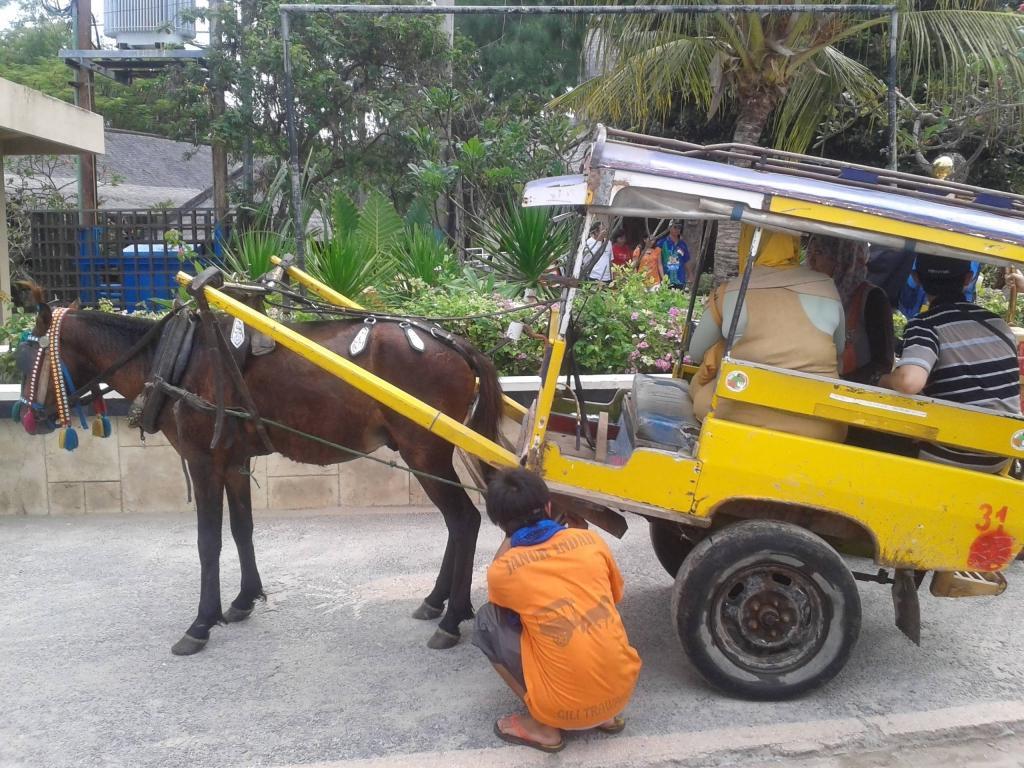 The island takes an hour or two to stroll around and it's a beautiful walk. Just a few minutes north of the main port with its bustling bars you can find quiet and peaceful beaches, with no boats. Why not grab a refreshing drink in one of the serene little wooden bars on stilts overlooking the sea.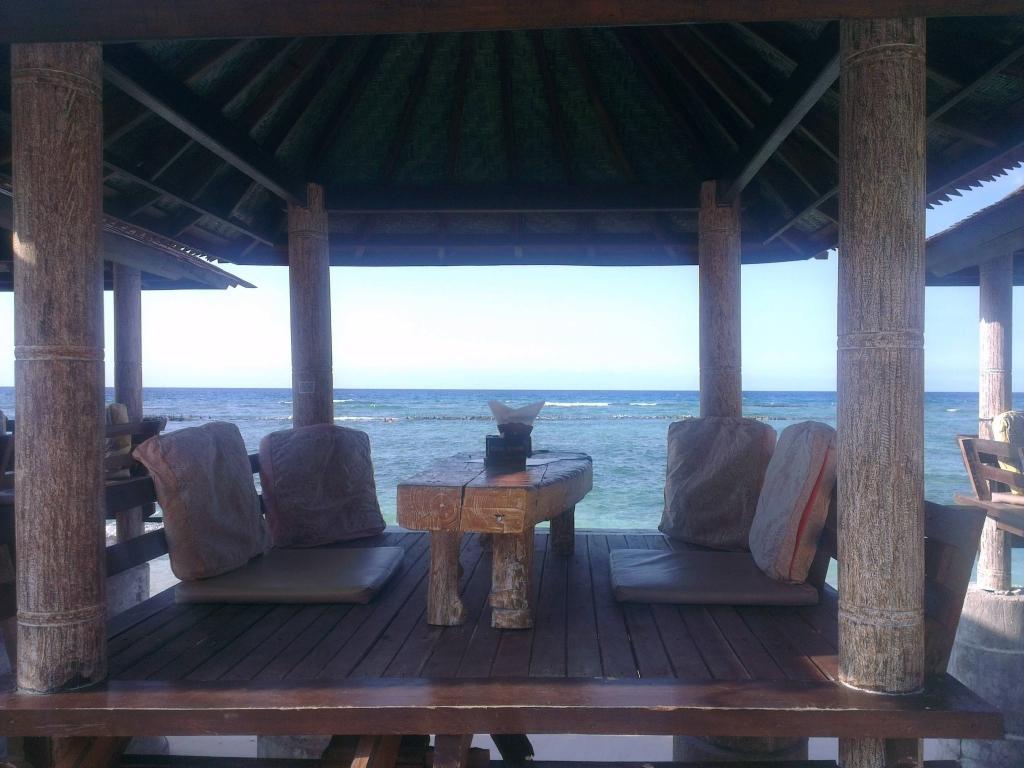 Around the island you may find quirky sculptures, like this coral garden.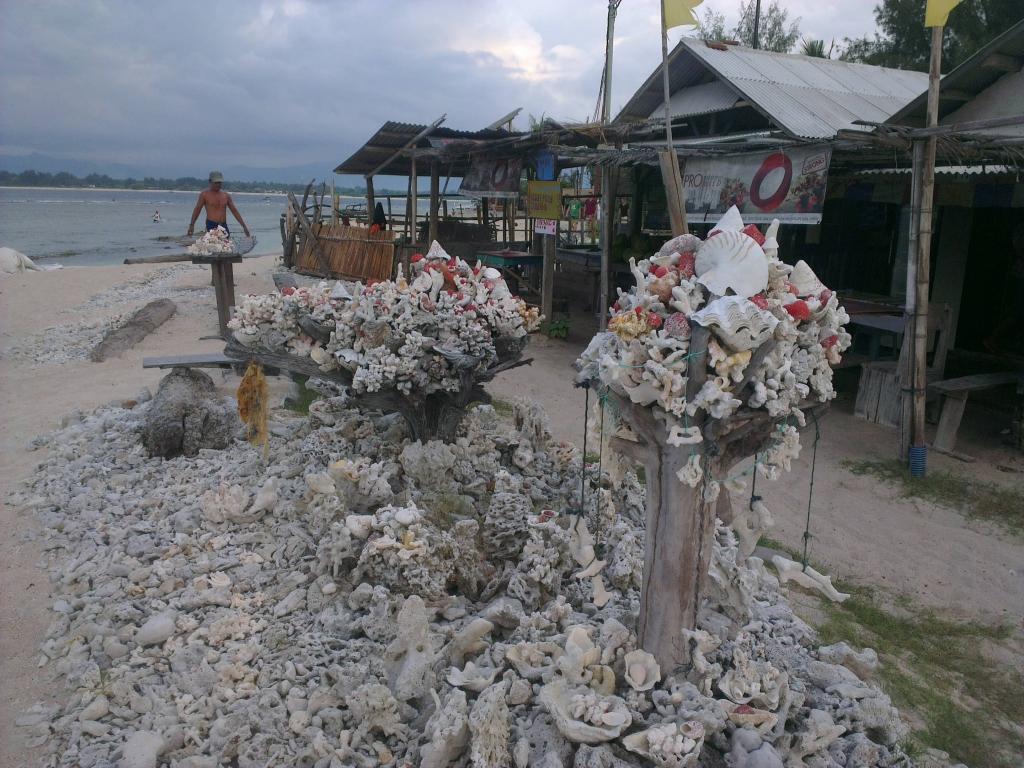 There is also a romantic swing in the sea, perfect for looking wistful and forlorn as your legs dangle in the water. Though this means it's actually quite hard to swing on it unless you stand up!
If you're keen to go off the beaten track, you can head into the centre of the island and see day-to-day life of the locals in the village streets, away from the tourist hustle.
Snorkelling is a popular pastime on Gili Trawangan backpacking trips. Hiring a mask and fins for the day, you can swim among an array of colourful fish, coral and even a turtle or two. If you stick around until evening, you can witness stunning sunsets over the sea. For the ultimate in romance, sunset beach horse-riding is also available.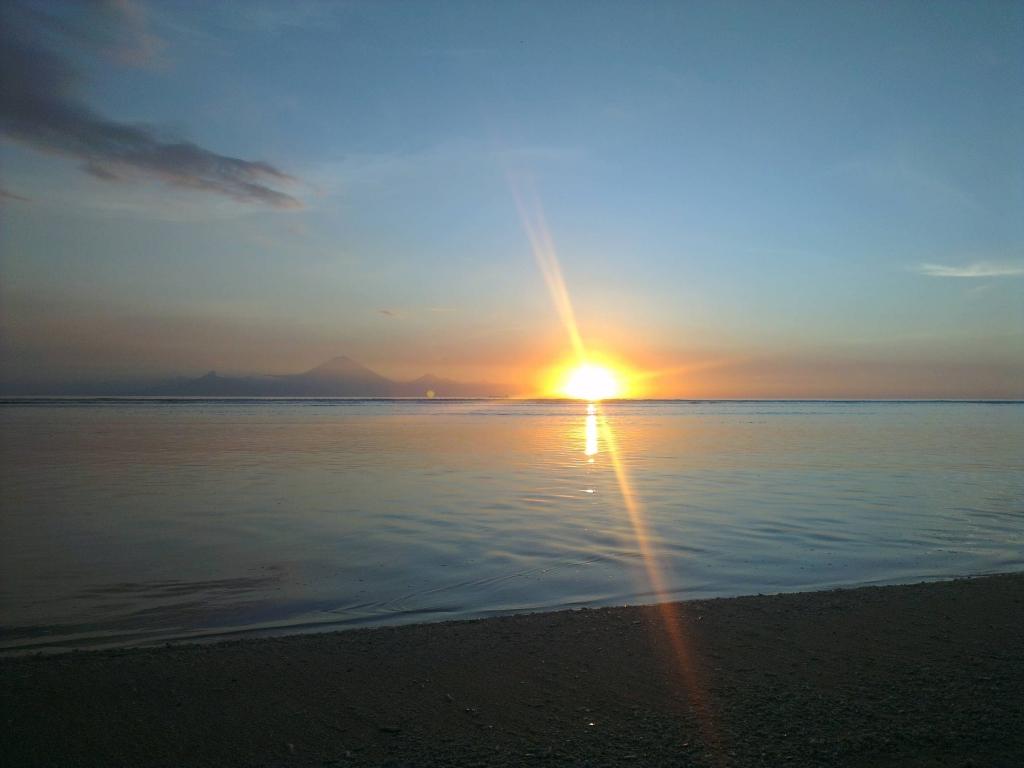 Once you've worked up an appetite with an island stroll, it's time to choose one of the many restaurants for dinner. For a cheaper option, you can check out the night market which sells traditional Indonesian street food dishes, such as nasi goreng (fried rice), sate ayam (chicken satay sticks) and curries. For after dinner entertainment, we enjoyed the reggae bar Sama Sama, which has a live band performing every evening and a friendly atmosphere.
Every other night, one of the island's bars hosts a late night party. For our last evening of Gili Trawangan backpacking, we thought it would be an excellent idea to go to the Full Moon party and dance until the early hours of the morning. Of course it was brilliant fun: the DJs played pumping tunes and fire dancers appeared as if from nowhere. It seemed like everyone on the island was there, locals and tourists alike, spilling onto the beach. The sun was peeking over the horizon as we left. Naturally we suffered the consequences, as we had to lug our heavy bags and wait what seemed like hours for our boat back to Bali, after about two hours' sleep and heavy from our hangovers.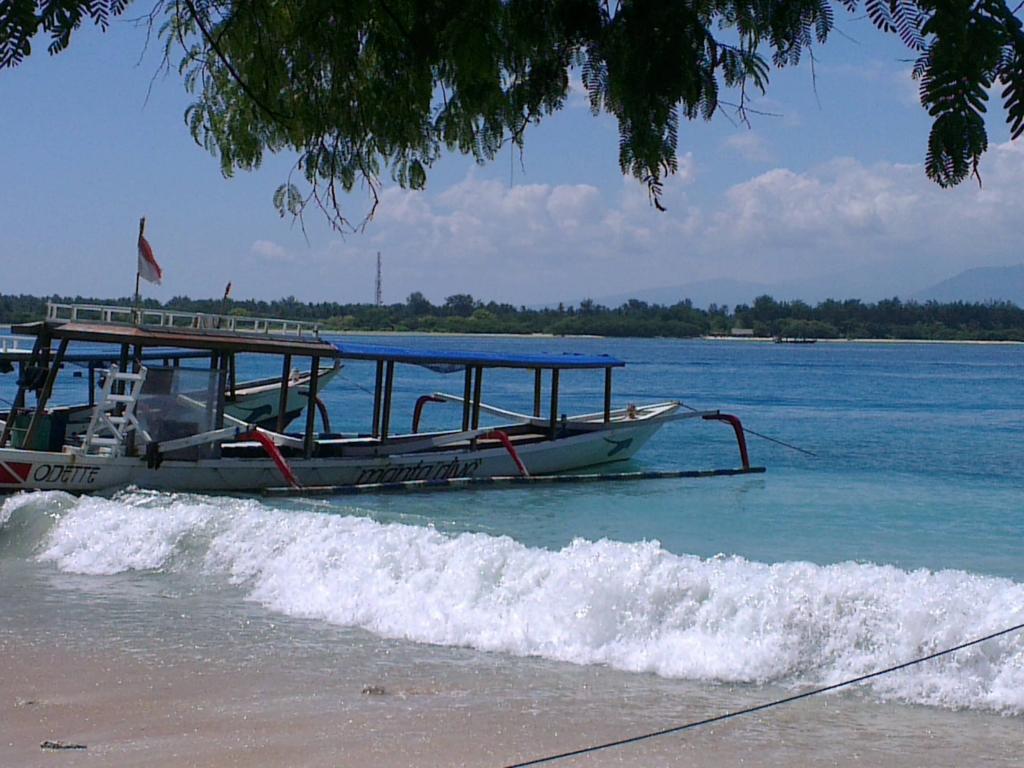 Boats arrive and depart from Trawangan on a regular basis. The Gili islands lie 45 minutes in a fast boat from Amed on the north coast of Bali, or trips can be booked to pick you up from your guest house in Ubud or Seminyak to the harbour at Padang Bai in the east, followed by a 1.5 hour boat journey.
Be sure to check the boat company named on your ticket and check in with the office two days before you depart Gili T, to make sure you have a seat on your preferred date, as they get booked up quickly.
Gili Trawangan backpacking offers a harmonious balance between calm and lively, peace and party time, touristy and remote, activities and relaxation, so you can choose exactly what kind of holiday you'd like to have here. Perfection to a T.