If you are looking for a blissful break from the busy tourist and party destinations in Bali, Amed is the place for you. Amed, Bali is a stretch of coastal villages in the east of the famous Indonesian island. Relaxed, friendly and charmingly modest, the slow pace of life here belies the world-class scuba diving and other activities on offer here. I spent two months exploring Bali, including 10 days in Amed. Like many people, I ended up spending longer than planned in this peaceful area. Read on to discover all the best things to do in Amed that make it a must-visit on your Bali trip.
This post may contain affiliate links. As an Amazon Associate I earn from qualifying purchases.
Is Amed, Bali worth visiting?
Amed is one of those disarmingly relaxed, slow-paced places where you arrive for a couple of days and end up staying for a week. I met other travellers who experienced the same thing. It's a great place to unwind and appreciate the simple joys and life around you. The world class diving is just one of many reasons why Amed in Bali is well worth visiting.
While the area is known as Amed, it is actually a series of fishing villages dotted over nine miles (14 km) along the east coast of Bali. They are called Amed, Jemeluk, Bunutan, Lipah, Lean, Selang, Banyuning and Aas. Amed is a tranquil place to stay for everyone from families to digital nomads. If you're wondering where to go in Amed, read on to discover the best beaches, accommodation and activities.
Buy the excellent Lonely Planet Bali guide book and prepare for your trip.
These are the most awesome things to do in Amed, Bali
Sunbathe on black sand beaches
One of the main things you'll notice when you're in Amed is the imposing Mount Agung, Bali's highest volcano, which dominates the backdrop. Head to Amed beach for awe-inspiring views of this impressive peak. Look down and you will see there is volcanic black sand under your feet. Relaxing and sunbathing on this black sand is one of the most popular things to do in Amed during the day.
Black sand beaches in the area include Lipah Beach and Jemeluk Beach, where you can enjoy a Bintang beer at a local Amed warung called Sunset Point.
This 9-day group tour of Bali includes incredible scuba diving in Amed – perfect for solo travellers.
Go snorkelling with vibrant marine life
Amed is renowned for its snorkelling. If you're at one of Amed's beaches, why not explore the coastline's many pretty underwater spots. The unspoiled coral and colourful marine life make this area an underwater paradise, even if you're a novice snorkeller.
Jemeluk Bay is a well-reputed snorkelling location thanks to its vibrant marine life and its incredible underwater temple and sculptures. Other popular areas to snorkel include Lipah Beach which has many vivid coral formations.
Check out this Amed snorkelling adventure, including equipment, refreshments and lunch.
Explore one of the world's best shipwreck dive sites
A 35 minute drive from Amed is Tulamben, which is home to the USAT Liberty (better known as USS Liberty) shipwreck. This is known as one of the world's top dive sites. The best thing is, it's even suitable for total beginners who are new to scuba diving.
After being torpedoed by a Japanese submarine during World War II, the remains of the US Army cargo ship originally lay on the beach. When Mount Agung erupted two decades later, the tremors caused the shipwreck to slip into the sea. As it is still in relatively shallow waters, it's easily accessible by fun divers or if you're learning to scuba dive in Amed. As you can imagine, there are a number of dive shops in the area so you will have plenty to choose from. If you are looking for somewhere blissful to stay in Tulamben, check out the superb Bali Dive Resort & Spa.
It had been one of my ambitions to explore a shipwreck and it was truly a magical experience. The ship's dark iron skeleton is now home to an abundance of marine life and at one point, we even swam inside the wreckage. Below you can watch a video of our underwater adventure.
After the Liberty wreck it was time to investigate an Amed scuba diving site known as the Tulamben drop-off, a sheer wall covered in colourful coral. We were treated to a rare sighting of a school of large silver bumphead fish on their way to rest in the wreck for the evening.
Reserve your place on this dive trip to Tulamben's shipwreck. Never scuba dived before? This beginners diving experience is for you.
If you're feeling adventurous, Amed freediving is also renowned in Bali. Visit one of the area's freediving centres such as the Apneista Bali Freediving and Yoga School in Jemeluk for full guidance on how to safely descend into the water without equipment.
Celebrate the Balinese festivals
While I was in Amed, the local people were preparing for the Galungan festival, one of Bali's most significant religious ceremonies. While having lunch one day, I chatted to a guy who was creating a penjor, a beautiful decorated bamboo pole which arches over the street, laden with gifts and offerings for the spirits.
For the day of the festival itself, we received kind offers from our homestay owner Ketut and her neighbours to borrow a motorbike and visit their family temple. We dressed in traditional Balinese sarongs that we'd bought from local shops and were welcomed in. Here we watched the women in their colourful lace and sashes carry plentiful offerings of food and flowers. Extended families from all over the country are reunited for this important event in the Balinese calendar.
Chill out with the locals and dance to reggae bands
You may be wondering, what is Amed, Bali like in everyday life? Well, life in Amed is super laid-back but it has an entrepreneurial spirit. We met a group of friendly local guys relaxing on the beach, who told us that many of them have several jobs supporting the area's tourism. Don't be surprised if you recognise your taxi driver serving dinner at a restaurant in Amed, or if you spot your scuba diving instructor later than night performing on stage in a reggae band.
If you ever find you're not sure what to do in Amed, Balinese locals here are so well-connected, they are sure to be able to help you. One day during our stay, we were invited to the launch party for a new bar in a neighbouring village. We wandered up the road to find locals and tourists dancing all night to the band's cool reggae grooves. They made us feel really welcome and we enjoyed this taste of Amed's nightlife.
Visit a peaceful and pretty water palace
Thirty minutes' drive from Amed is the Tirta Gangga water palace. This pretty place is a former royal palace in eastern Bali, named after the sacred river Ganges, which flows through India and Bangladesh.
Here, you can wander around the peaceful gardens and fountains, and hop between paving stones like lily pads across the main pond.
Discover more blissful things to do in Amed, Bali
Take your time and enjoy a relaxing massage in Amed's spas which include the Om Shanti Spa and the Bamboo Sweet Spa, both in Bunutan village.
If you're looking for yoga studios while you're travelling, the best places for yoga in Amed include Apneista Bali and Ocean Prana freediving and yoga schools in Jemeluk, as well as the Blue Earth Village and Buddha Sunset Yoga in Aas.
Otherwise, you can simply spend your time relaxing and dining in Amed's tempting selection of restaurants, organic cafes, and local warungs with live music played by local reggae bands.
How to get to Amed, Bali
The most convenient way to go to Amed in east Bali is by taxi. It is 60 miles or almost 100km from Bali's international airport in Denpasar to Amed. The journey takes about two and a half hours by car. You can avoid hassle at the airport by booking your private transfer in advance.
From the popular town of Ubud to Amed, it's about 45 miles or just over 70km and the same travel time by taxi, around two and a half hours, depending on traffic.
Where to stay in Amed, Bali
Even though it's one of Bali's more off-the-beaten-track locations, there are many great places to stay in Amed. Accommodation is available for all budgets, from beautiful beach resorts to villas, hotels, Airbnbs and homestays. As mentioned, Amed, it is actually a series of eight coastal villages. I will introduce them below, from west to east, and share some of the best hotels and hostels in each of them.
Amed village
The eponymous Amed village has the longest beach, with stunning views of Mount Agung, and a wide range of accommodation options.
Stay at the divine Amed Beach Resort, which has an outdoor swimming pool, friendly staff and live music. Other top-rated hotels in Amed village include the superb Amed Beach Villa, which has an infinity pool and panoramic views, and the Hotel Uyah Amed Spa Resort, which is also a dive centre. Budget hotels in Amed village include the wonderful Mango 5 Hotel close to Amed beach. It has a sensational swimming pool and well kitted-out rooms, making it a good choice for couples. For a total escape, just north of Amed village is the tranquil Balila Beach Resort, which has stunning sea views, a swimming pool and hosts yoga classes and retreats.
For solo travellers looking for the best hostels in Amed, check out the fabulous Black Sand Hostel near Amed beach, which offers garden and mountain views, coffee machines, natural toiletries and a homemade vegan breakfast. Alternatively, the nearby Pacha Hostel has its own reggae bar and restaurant with live music and friendly staff.
Check out the latest availability and prices from this great selection of accommodation in Amed.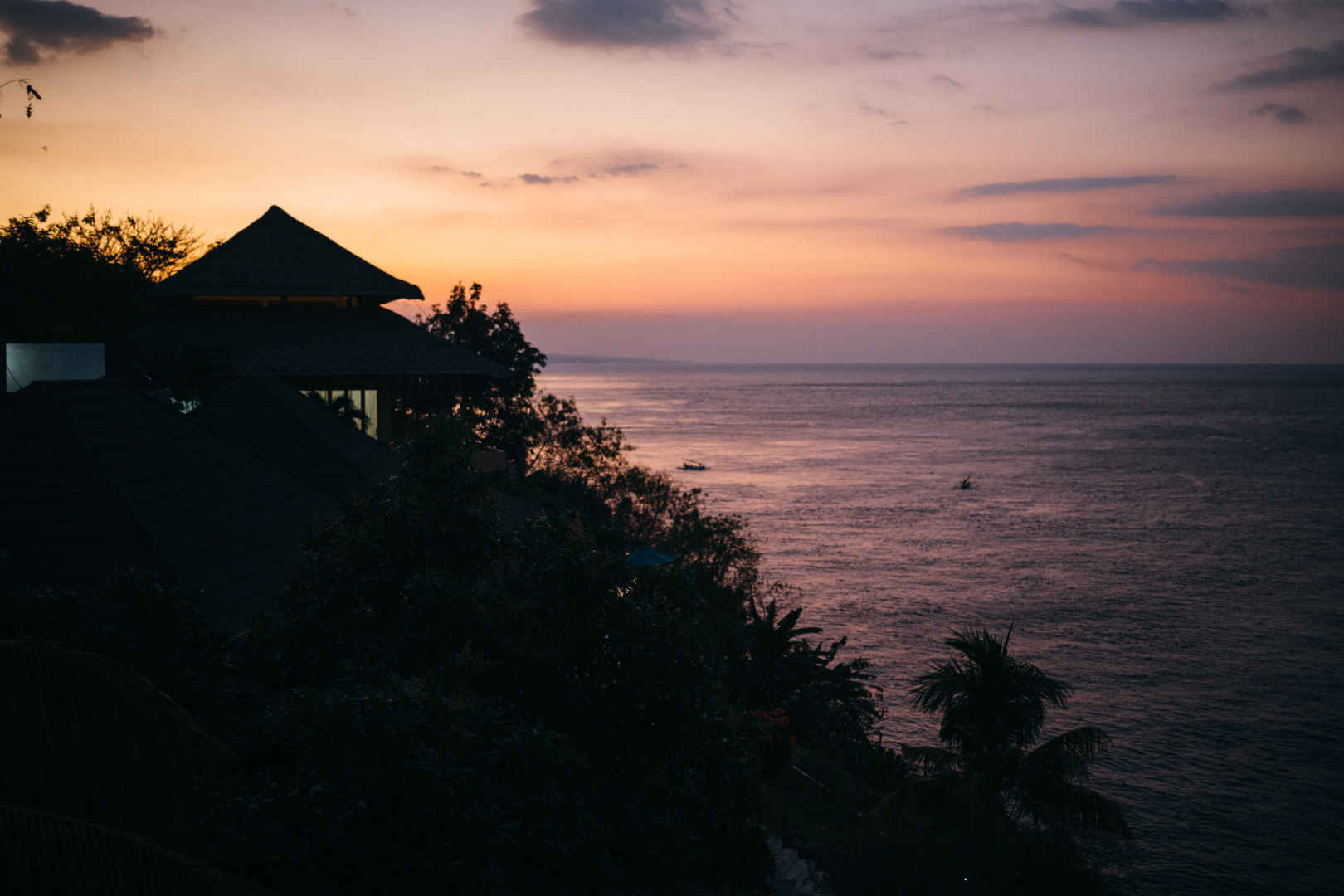 Jemeluk
I liked Jemeluk, a 15 minute walk from Amed village, as it has charming homestays close to friendly bars and restaurants. It is one of the best places to find yoga in Amed. Here, you can also find the ferry terminal where you can catch fast boats to the gorgeous Gili Islands.
I recommend Dharma Yoga, a spacious, sunny and affordable homestay with reliable WiFi connection, managed by the delightful manager, Ketut. The upstairs rooms have a large balcony overlooking the sea and every day we enjoyed the glorious sunrises. Alternatively, try the fabulous Bamboo Bali – its bungalows have their own hammock and terrace with impressive views – or the fantastic beachfront Jemeluk Beach Bungalows.
Yoga lovers will adore the beachfront Ocean Prana Village hostel, with its rustic wooden huts, spacious dorms, yoga classes, swimming pool and on-site restaurant.
The nearby Apneista Bali Freediving and Yoga School also runs yoga classes, as well as freediving courses, and has a lovely organic cafe. The rustic, open air Blue Earth Village restaurant has an eclectic, vegetarian-friendly menu, jaw-dropping views and a beautiful yoga deck. Meanwhile, the Jemeluk Viewpoint is an ideal spot to watch the sunset as you dine.
Bunutan
Places to stay in Bunutan village include the Santai Hotel Amed, which has rustic cabins set in a tropical garden and offers spa treatments. A contemporary hotel option is the hillside Amed Dream hotel, with its sweeping views over the sea.
The superb Bali Dream House has elegant villas and an outdoor pool, while the Apa Kabar Villas have beautiful modern Balinese decor. The Kampung is an exceptional high-end resort in Bunutan, with luxurious wooden villas.
For Balinese massages and spa treatments, try the Om Shanti Spa or the Bamboo Sweet Spa. If you're looking for a fun place to enjoy a Bintang beer and music, check out Bunutan village's Peace Bar.
Lipah
Lipah beach has warm black sand and fantastic snorkelling, though be aware that there are jellyfish in the area.
Its gorgeous places to stay include the picture-perfect beachfront Puri Wirata Dive Resort and Spa, which has two swimming pools, and the highly-rated luxury Griya Villas and Spa. The Hidden Paradise Cottages have spacious, well-appointed bungalows surrounded by tropical gardens and an on-site beachfront restaurant.
For backpackers, the lively Wawa Wewe1 hostel at Lipah has live music twice a week and a great restaurant. Another good place to eat in Lipah is Waeni's Sunset View Bar & Restaurant, which serves large portions and happy hour drinks.
Lean
For a slice of luxury, check out the 4-star Life in Amed boutique hotel in Lean village, which has a restaurant and a fabulous outdoor pool.
As well as swimming and sunbathing on Lean's tranquil beach, you can dine at the popular Sails restaurant, with its outstanding food and magnificent sea views.
Selang
The scenic Selang Beach is known for its beautiful coral reef and is another good spot for snorkelling and diving. For tasty food in a relaxed setting, try the catch of the day at the local Green Melon Warung.
The Aquaterrace Amed hotel is Bali's answer to an Ibiza-style boutique retreat, with hillside and beachside rooms, an infinity pool and a fabulous restaurant. The Blue Moon Villas Resort is another popular choice.
The beachfront Good Karma Bungalows is a fabulous place to stay in Selang if you're on a budget. Its bamboo bungalows and villas have private terraces with views of the beach and gardens. There is an onsite restaurant called the Komang John Cafe and two swimming pools, as well as yoga and water sports facilities.
Banyuning
About 5 miles or 8km southwest of Amed village is the fishing village of Banyuning. Here you can find the sandy Ibus beach and the nearby Japanese Ship Wreck Point, which is a unique place to snorkel. Trattoria Amed is a popular local Italian restaurant.
Places to stay in Banyuning include the fabulous Villa Infinite Horizon, which has an infinity pool and panoramic sea views. The nearby Nalini Resort has a private beach area, swimming pool, yoga classes, cooking classes and a vegan-friendly restaurant. A private chef is on hand to prepare a candlelit seafood barbecue dinner on the beach.
Aas
Amed's final village of Aas is all about total relaxation. The superb Villa Sky Dancer is a hidden paradise hotel run by all-female staff. The four rooms have their own flatscreen TVs and hot tubs, and there's a lovely outdoor pool and restaurant.
Yoga fans will adore the peaceful Meditasi Bungalows & Villas, where classes are held at the on-site Buddha Sunset Yoga centre and organic food is served at the Smiling Buddha restaurant.
For a full health retreat to get you glowing again, check out the Golden Rock Retreat centre in Aas.
Where to go next after Amed, Bali
Amed is the perfect location to catch a fast boat to the popular Gili islands, which backpackers love for the chilled-out scene, fun parties and its famous sea-swing.
Departing from Jemeluk bay, the fast boats operated by Freebird Express leave daily at 9:30am. The fast boat from Amed to Gili Trawangan only takes an hour, which is quicker than other boat routes from Bali to Gili. To Gili Air it's 1.5 hours, then the boat's final stop is at Lombok, which is two hours by fast boat from Amed. The price for boat tickets is around €33 one way or €65 return.
You can read my full backpackers' guide to Gili Trawangan.
Next up, discover more perfect destinations that will make you fall in love with Bali.