For my birthday in Bali, I decided to forego my usual backpacker's budget and book a boutique hotel and a table at one of the most talked-about eco-friendly restaurants in Seminyak. If you can't splash out for your birthday, when can you?
Getting to Seminyak
My birthday in Bali began with a long taxi ride from Ubud, as my taxi driver had difficulty finding the location of the hotel. Bali is not known for its helpful road signage or GPS systems. I stopped at a café to to access WiFi on my smartphone and download a map to help my driver, who had resorted to stopping to ask clueless people on the street for directions. The road we needed to take was in fact a narrow alleyway only accessible by scooter! In the end, the hotel staff kindly came to meet us and led us to the place. 
Birthday boutique hotel
Our boutique hotel was conveniently located close to the shops, restaurants and just a 20 minute walk from the beach.The room was white, clean and contemporary: there was a glass wall separating the bedroom from the bathroom, so you could see straight into its large bath and raincloud-style shower (my favourite kind). You don't encounter too many baths when you're backpacking – it's all showers. You also don't get too many minibars, which this room also had, so of course I dipped into both without hesitation.
On the bed was a decoration of rose petals and towels shaped as swans, which I was reluctant to dismantle as it looked so beautiful. Outside, the room's sliding doors opened directly onto an attractive pool area – perfect for cooling off after a day in the Balinese heat.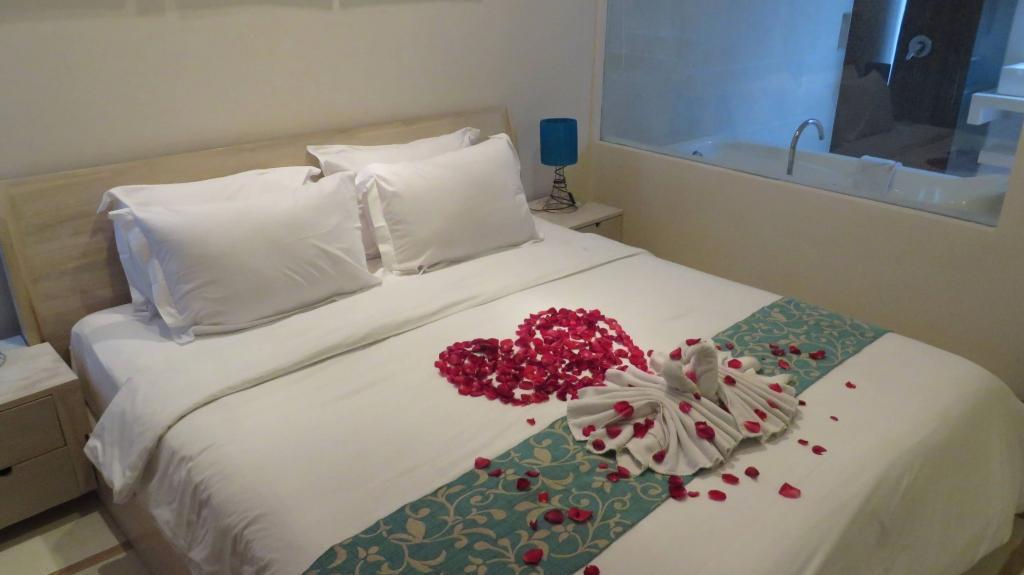 Where to eat in Seminyak
That evening, it was time to visit Merah Putih, the latest new restaurant on the Seminyak scene, which received rave reviews from publications such as the Bali Bible. We weren't disappointed. The restaurant's mission is "honouring tradition with authenticity and blending the best of the past with the most exciting developments in food today." It serves high quality, innovative creations, inspired by both traditional Indonesian and modern cuisine. They include nendang bebek – Sumatran duck leg curry and roast breast with cucumber – and babi guling Gianyar – Balinese suckling pig accompanied by red bean 'kalasan ' coconut and crackling. You choose, tapas style, a number of small and large plates. Every single dish we tried both looked and tasted heavenly, succulent and perfectly balanced, and each one competed with the last as our favourite.
The setting for the restaurant is equally impressive, with a stunning and eco-friendly visual design. The high marquee-like roof and columns capture rainwater for recycling, while solar-filtered glass walls mean the space is comfortable to reside in whether it's night-time or under the tropical heat of day. The lighting is subtle, and there are even fairy-lit trees inside. I must also mention the staff who were kind enough to give me assistance before and after our visit, going above and beyond what you'd expect from a busy new venue.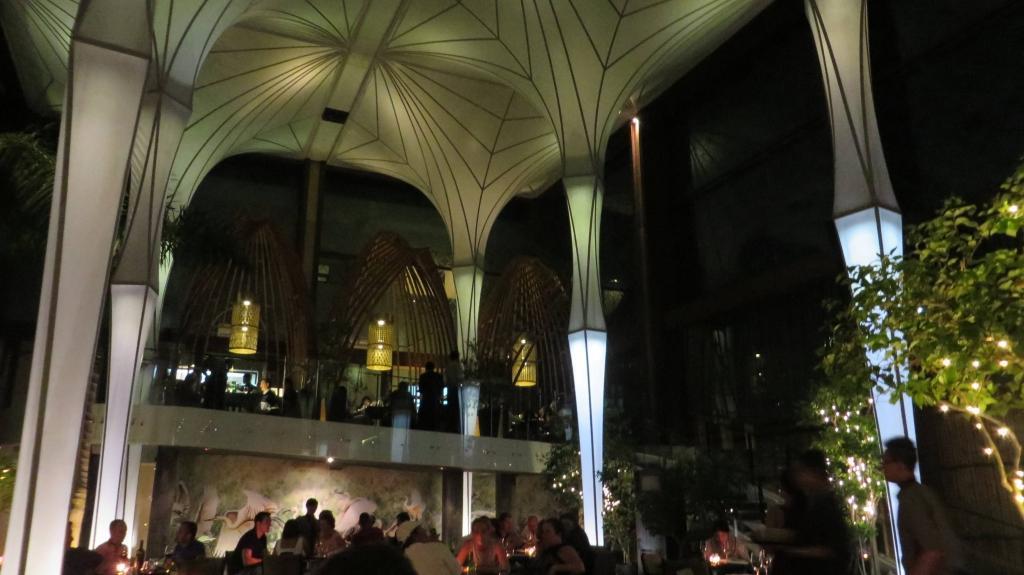 Where to drink in Seminyak
With its bumper-to-bumper traffic, Seminyak itself isn't my favourite part of Bali, though it is perfect for a boutique birthday treat somewhere a bit fancy. This region also boasts high end spas and bars aplenty, including the famous Potato Head Surf Club, if you're keen to indulge further. The next day, our eyes popped as we were served an almighty tower dispenser of the local Bintang beer, providing us with our own on-tap supply for several glasses in the balmy afternoon.
More things to do in Seminyak
Being a nature-lover, I was keen to head for the beach, where we spotted these gorgeous geometric patterns created by the hundreds of tiny artistic crabs that live within the sand. The perfect, natural accompaniment to the man-made madness of Seminyak and an indulgent birthday in Bali.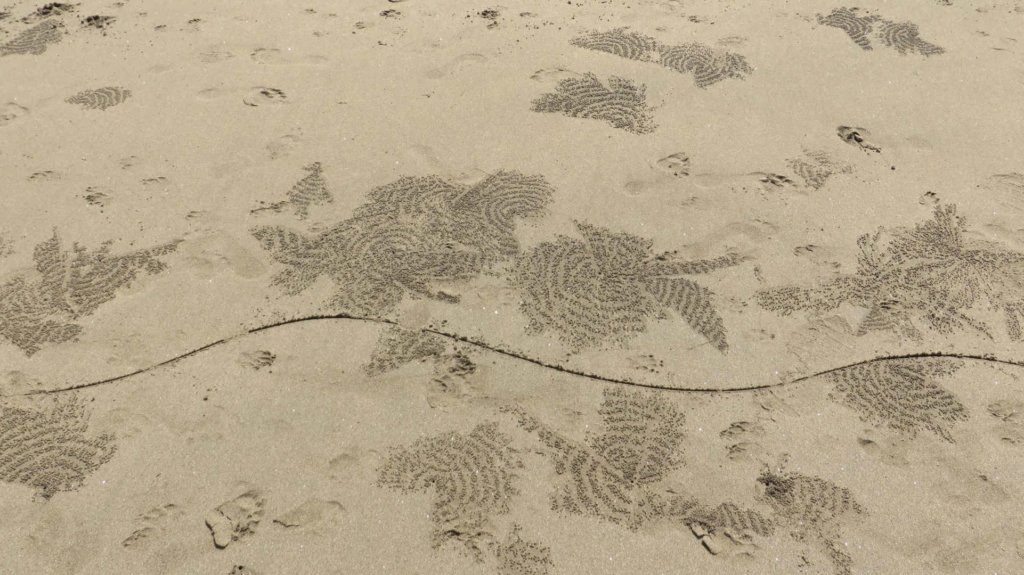 Next up, discover more places and activities that will make you fall in love with the incredible island of Bali.